We checked into the Lajitas Golf and Spa Resort panting, trying to catch our breath after an exhilarating, five-point zip line adventure above the Big Bend of Texas.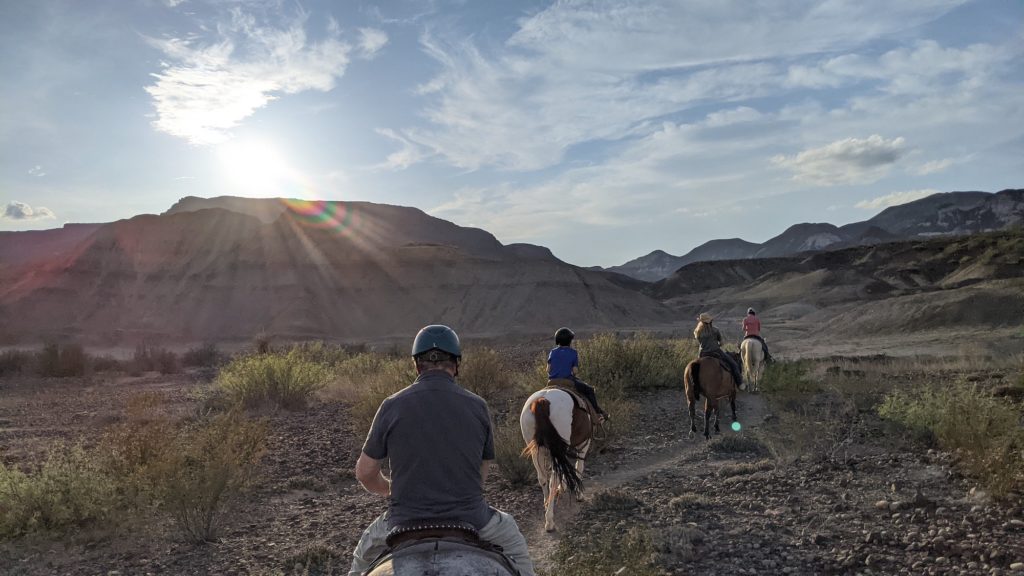 It was lunchtime; the resort's takeout Boardwalk Bakery beckoned. Quietly, a stunning male specimen came up behind me on the deli line. I gasped: tall guy, sheer white linen shirt revealing a Michelangelo-worthy torso, long white ponytail and dancing blue eyes. We both ordered a tuna salad.
Our eyes locked as we reached out to the cooler for a Topo Chico mineral water. Those blue eyes were so familiar. Where had I seen that face before?
Lajitas and Big Bend
Lajitas is located in southwest Texas on FM 170 between Big Bend National Park and Big Bend Ranch State Park. The 27,000-acre property is enclosed by a bend in the Rio Grande, a river known as Rio Bravo del Norte in Mexico. Look for the Lajitas Mesa, like the red rock pommel on a western saddle, is a historical landmark seen from miles away.
It enabled the Comanche tribes who terrorized parts of Colorado and Texas from the mid-1700s to the mid-1800s to find the spot in the Rio Grande where the riverbed was made of lajitas, the flat stones their horses could cross easily.
The rugged landscape is punctuated by steep cliffs and deep canyons dotted with cactus and patches of candelilla. Resembling a bunch of slim candles, candelilla produces a wax to protect its internal water supply from the desert sun. Back in the day, the candelilla trade between Native American tribes and settlers made Lajitas rich.
Today it's hard to imagine anyone fighting over the arid, high desert scrub of Far West Texas, other than for its dinosaur fossils and oil rights.
Right at Home at Lajitas Resort
Although you'll feel like you're at the proverbial Land's End, at Lajitas Golf & Spa Resort you're not.
The two Big Bend parks (national and state) draw visitors year-round despite the sometimes extreme temperatures. Private charter jets fly in golf groups from Austin and Houston regularly. Horseback riding and shooting classes cater to the wannabe cowboy in every American.
Picture a small, intimate resort in a big, big landscape. Surprisingly luxurious in this remote and inhospitable terrain, Lajitas' rustic style comes from adobe and limestone bricks ornamented with leather, cowhide and rusted iron metalwork.
Family Activities In and Around Lajitas
The Boardwalk is the easily accessible commercial area behind the main ranch lodge. Go for the bakery, places to sit, the bar made famous by a resident goat, a small theater and other businesses not available during our Covid-era visit.
Family guest rooms are comfortable and spacious. Send the kids out strolling to the activities center to inquire about zip lining, Standup Paddleboarding, Cowboy Action Shoot or Combat classes. They can ask about river rafting or horseback riding, too, without getting into much trouble. It feels reassuringly safe.
Families especially appreciate the large swimming pool and space to chase geckos and play cowboys 'n' Indians. If the kids prefer a refreshing swim, drive up to the adjacent Maverick RV Park where RVs and trailer tents circle another large pool that is cooled to battle the summer heat.
Big Bend National Park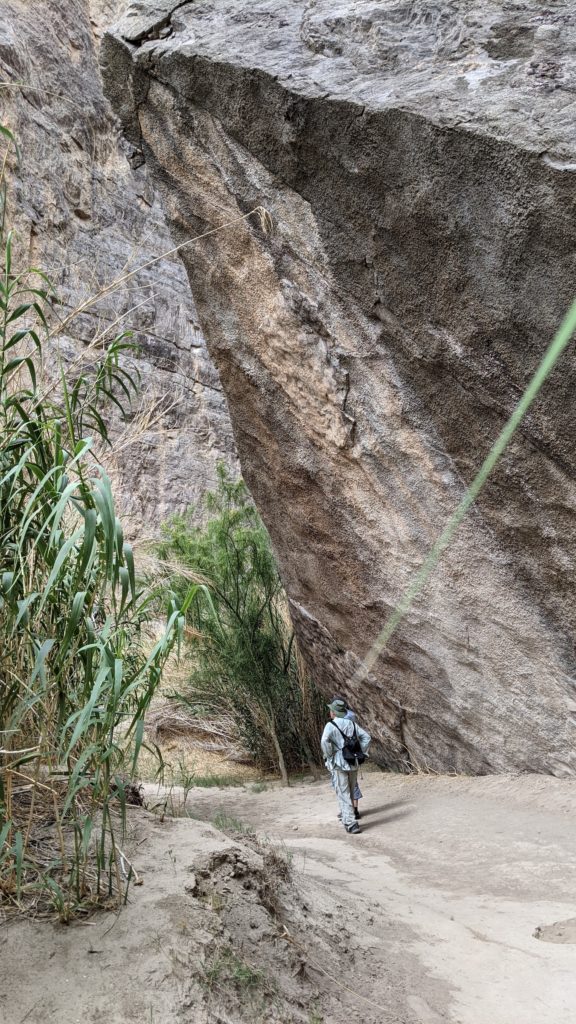 Off campus, explore more than 800,000 acres of Chihuahuan Desert in Big Bend National Park. This unique American environment that crosses the border into Mexico. You can cross the Rio Grande in the shallows, true, but the only legal route into and out of Mexico is the Boquillas Crossing Port of Entry where passports must be shown.
A designated Dark Sky Park thanks to its isolation, Big Bend attracts avid stargazers as well as hikers. Book the unforgettable Star Show at the world-class McDonald Observatory, about two hours' away, if you're as into star gazing as we are.
Hike the well-marked trails along the paved Ross Maxwell Scenic Drive to catch a glimpse of road runners, bobcats, coyote, bears, bats and other wildlife. Admire the colors of the Chisos Mountains that tower above the limestone outcroppings. Many Big Bend hikers prefer to stay at the Chisos Mountains Lodge, tucked into the rocks at 5,400 feet, because it provides easy access to Basin area hikes and evening stargazing. Simple rooms and cottages, plus shops and a dining room, are open year-round.
The park's famous dinosaur finds dating from the Cretaceous Era are showcased at the Fossil Discovery Exhibit. In the middle of nowhere, encounter the full-sized replica of the Quetzalcoaltlus skeleton found in the park, plus marine dinosaurs which prove this desert park was once underwater.
Top Organized Tours in the Big Bend Area Parks
If you have only one day to explore Big Bend National Park's river, desert and mountain habitats, call on Get Lost Tours. Join Chris, the owner, as he shows you around his happy place. Climb into a four-wheel drive and learn from his tales of off-grid living, desert lore, Texas history, slave culture, flora and fauna and the diversity of this national park. Roll up your jeans and carry your shoes to follow him across the Rio Grande at Santa Elena Canyon, one of the park's most scenic spots. It's an adventure – like all those vistas from old cowboy movies shot here — you will not soon forget.
Far Flung Adventures switched our gear from canoes to inflatable rafts for a half-day outing in Big Bend Ranch State Park. Their skillful guides took advantage of high water left by a passing summer rainstorm, enabling us to appreciate the muddy Rio Grande from another vantage point. For a more cultural look at this lesser-known state park, don't miss the Barton Warnock Visitors Center. It's located west of the national park on FM170. Allow at least an hour for terrific exhibits programmed by national park experts from the U.S., Coahuila and Chihuahua.
Lodging Alternatives Around Big Bend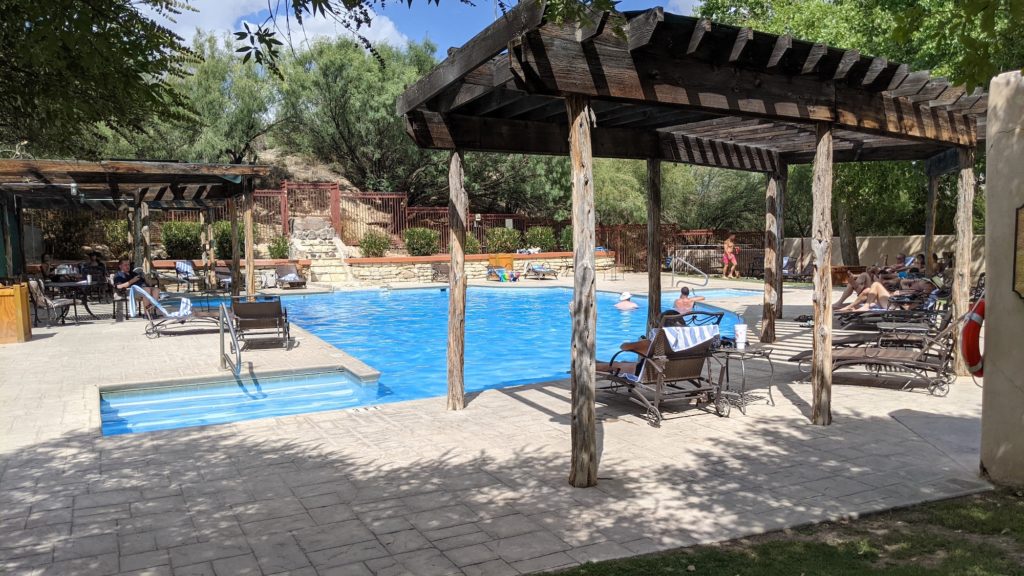 We did look at some of the very rustic sleep options around the town of Terlingua, which is closer than Lajitas to the national park entrance by about 10 miles. For its variety, investigate Base Camp Terlingua, a collection of "Lotus" glamping tents, tipis, one and two-room "bubble rooms," restored Airstream trailers and more.
Another Big Bend lodging option is the Far Flung Adventures base camp. Plan on outings every day and take advantage of the nice swimming pool, hot tub and fire pits. Their simple casitas accommodating up to four have heat, A/C and WiFi.
Dining Well Around Lajitas and Big Bend
Starlight Theatre Restaurant and Saloon is the region's one noteworthy dining spot. It's tucked in next to an over-the-top trading post in Terlingua Ghost Town. Spend some time wandering the cemetery overlooking the abandoned mercury mine that made Terlingua prosperous. Once a popular theatre, the Starlight serves up tasty food, a sophisticated tequila menu and live music. Just line up at the 5pm opening and be willing to wait for hours.
Dining at the Lajitas Resort is surprisingly good. You've heard about the cute bakery, a must-stop for its breakfast items, healthy foods, wraps and fruit salads. Book a table at Candelilla for the evenings. Steaks and fajitas are tasty and the view looking south over a red rock valley catches fire at sunset.
Almost next door is the Thirsty Goat Saloon. It's named for Clay Henry, a local goat who would stand at the bar and be fed bottles of beer by the bartender. Legend has it that Clay Henry could outdrink anyone there. Look for photos of the frequent competitions; it sounds too fun to be true, but it is. Clay Henry II worked the bar briefly and Clay Henry III is now in a pen on property, living with a girlfriend and drinking water.
Why We Love Lajitas and Big Bend
The last day of our trip we saw another very familiar face over at the Lajitas pool. This guy sort of swaggered in his swim trunks and I thought, yeah, he's the actor who plays the older brother in all those movies. It wasn't till the flight home that I connected the face with the name Johnny Drama, the older brother from "Entourage," our son's favorite series.
Yes! We had seen Johnny Drama, the character made famous by Kevin Dillon, at Lajitas. And the blue-eyed guy at the Bakery? With a little detective work we found out Dillon was co-starring in "On the Line" with my blue-eyed friend, Mel Gibson. The entire cast was staying at the Lajitas Golf and Spa Resort!
Love is sometimes an accumulation of experiences. My family loved Big Bend National Park and the soft, black-as-coal skies of Far West Texas. We loved horseback riding the rugged terrain in the hoof-prints of the Comanche. We loved the aerial views imprinted on our brains by ziplining, and our golf cart tour of the brutal holes at Black Jack's Crossing.
Now we love knowing that the Lajitas Golf Resort and Spa is good enough for movie stars — as well as our family.
Dear Reader: This page may contain affiliate links which may earn a commission if you click through and make a purchase. Our independent journalism is not influenced by any advertiser or commercial initiative unless it is clearly marked as sponsored content. As travel products change, please be sure to reconfirm all details and stay up to date with current events to ensure a safe and successful trip.
---