Did you ever think you'd be around to see Disney World at 50? I hadn't even met my spouse when they opened Walt Disney's second magical theme park, in Florida, in 1971. In the past five decades Walt Disney World has evolved from one theme park to 27,000 acres staffed by terrific cast members and packed with fun.
How Disney World Grew Up
We spoke with Eileen Ogintz of "Taking the Kids" who attended the 50th Anniversary Press Preview to get her insights. "The Magic Kingdom, of course, is where it all started," Ogintz recalls. "Epcot didn't come until 11 years later, Disney's Hollywood Studios in 1989 and Animal Kingdom 10 years later – from just the one park with fewer than two dozen attractions and two hotels."
How do you mark such growth? With a party, of course. That's why Disney World at 50 celebrations promise to be unforgettable.
5 Top Reasons To Visit Disney World at 50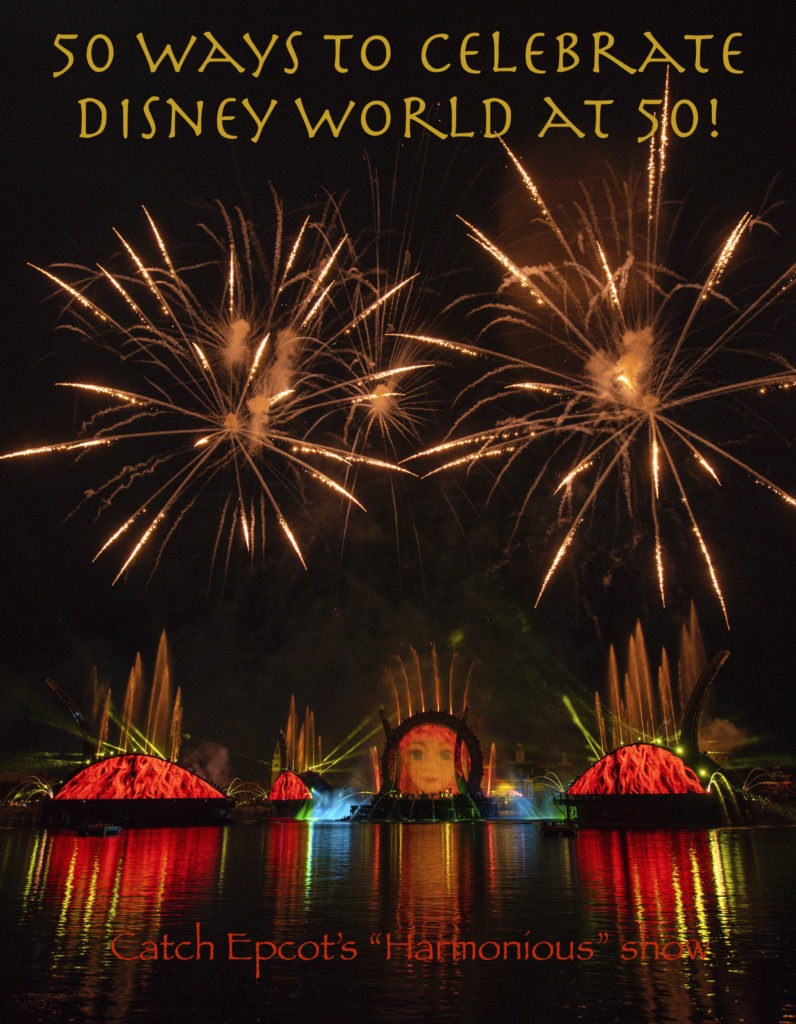 Here are the top five reasons to visit Disney World at 50.
It's the charitable thing to do. Disney is granting $3 million to local charities including Give Kids The World Village to celebrate its anniversary.
Go when you're ready. The Disney World at 50 celebration continues for 18 months, beginning on 1 October 2021.
You can't miss any of the excitement. All the innovations plus a few surprises will roll out on social media. Follow the hashtag #DisneyWorld50 to keep up with everything new.
Take your time, there's plenty to see. Eileen Ogintz reminds us Disney World now comprises "two water parks, more than two dozen hotels, Vacation Club properties, campgrounds, 63 holes of golf, an ESPN Wide World of Sports Complex, Disney's Boardwalk entertainment area and Disney Springs."
Watch as Disney transforms Epcot, its park of the future. Reminiscent of a world expo, Epcot has been fascinating park-goers for decades. Ogintz notes that this year, Epcot is being transformed into four connecting neighborhoods: World Showcase, World Celebration, World Nature and World Discovery.
Epcot is multiculturalism. Epcot is featuring a new nighttime show, "Harmonious," which pairs classic Disney songs with images of cultures, peoples and dancing fountains. Tom Stieghorst from Travel Weekly notes, "the 20-minute extravaganza includes colored jets of water shooting from eight moving mechanical arms, surrounding four giant LED panels and one five-story water curtain, all illuminated."
From Shows to Rides to Snacks, 9 Ways to Celebrate Disney World at 50
Pick and choose how your family will celebrate this Disney milestone.
See your favorite characters in a new show. Magic Kingdom's Cinderella Castle is featuring "Disney Enchantment." Pair all the Disney princesses and characters with new music, fireworks and more for big bang storytelling.
Catch a Disney first for yourself. The innovative computerized light projection used in "Disney Enchantment" extends from Cinderella Castle all the way down Main Streat USA to engage even more guests.
Welcome "Remy's Ratatouille Adventure" to France. The new family-friendly attraction invites guests to explore Gusteau's restaurant from the low-to-the-ground viewpoint of everyone's favorite rat, Chef Remy.
Experience the heat of the kitchen. According to Ogintz, who followed along, guests will follow Chef Remy, "as he scurries under the stove (you'll feel the heat), avoids a wet mop (you'll feel the water droplets) and passes under a hanging, 2.7-ton ham."
Dine in Outer Space. Mars 2112 was always popular in New York's Time Square so we New Yorkers know Space 220, Epcot's latest restaurant, will be huge.
An Army marches on its stomach. Shake up the themes. Take your Jedi to the Centauri Space Station via the space elevator at Space 220. This is Space Tourism at its best.
Explore daily life in Space. As guests blast off from Orlando to the Centauri Space Station, they pass a patch of zero gravity agriculture, see Earth below and catch scenes of new life in the Cosmos.
Ogle the new kids' menus. Ogintz dined at Space 220 and writes, "Kids can choose Space-Ghetti with chicken meatballs, galactic salmon or Mission Macaroni followed by a cosmic cupcake. Accompany it with Moon Rocks, a blue drink with coconut blue cotton candy syrup, lemonade, and Moon Rocks that pop."
Invest in a 50th Souvenir and Make 9 Memories Now
The Disney World at 50 celebrations are marked by bling, glitter and immersive experiences.
Gold is the 50th anniversary color. Fifty "Disney Fab 50 Character Collection" golden sculptures are spread around the four theme parks. Don't miss the Simba from "The Lion King" at Disney's Animal Kingdom.
Collect your own golden (mini) souvenir. Lucky you! These new larger than life sculptures around the parks come in small sizes — easy to carry home.
Disney lights up the night. During the 50th anniversary celebration, several of the parks' icons transform at night into glowing "Beacons of Magic."
Take once in a lifetime selfies. Pose in front of Cinderella Castle as it radiates pixie dust. You can't pose with Disney characters because of social distancing rules but you can still be the star of the show.
Parents can recall their Disney World youth. This golden anniversary celebration gives all ages a chance to relive happy memories of Disney World together. No need to bring out that old autograph book – it's gone the way of many pre-Covid traditions.
Embody the Tree of Life. The centerpiece of Animal Kingdom glows with a warm light as firefly drones encircle it, adding sparks to the magic.
Illuminate your terror. The Hollywood Tower Hotel at Disney's Hollywood Studios turns gold as it dares you to enter the elevator.
Feel good about the planet. New lighting has been installed on the side panels of Spaceship Earth, creating the effect of stars in a nighttime sky. Disney calls it "a symbol of optimism." Stieghorst calls it "a knockout."
Fly a kite vicariously at Animal Kingdom. The "Disney KiteTails" show allows the whole family to watch performers fly windcatchers and kites of all shapes and sizes. Three-dimensional kites of characters – some stretching to 30 feet long – soar above the fountains in time to Disney songs.
Take Advantage of 5 Disney Tricks to Maximize the Fun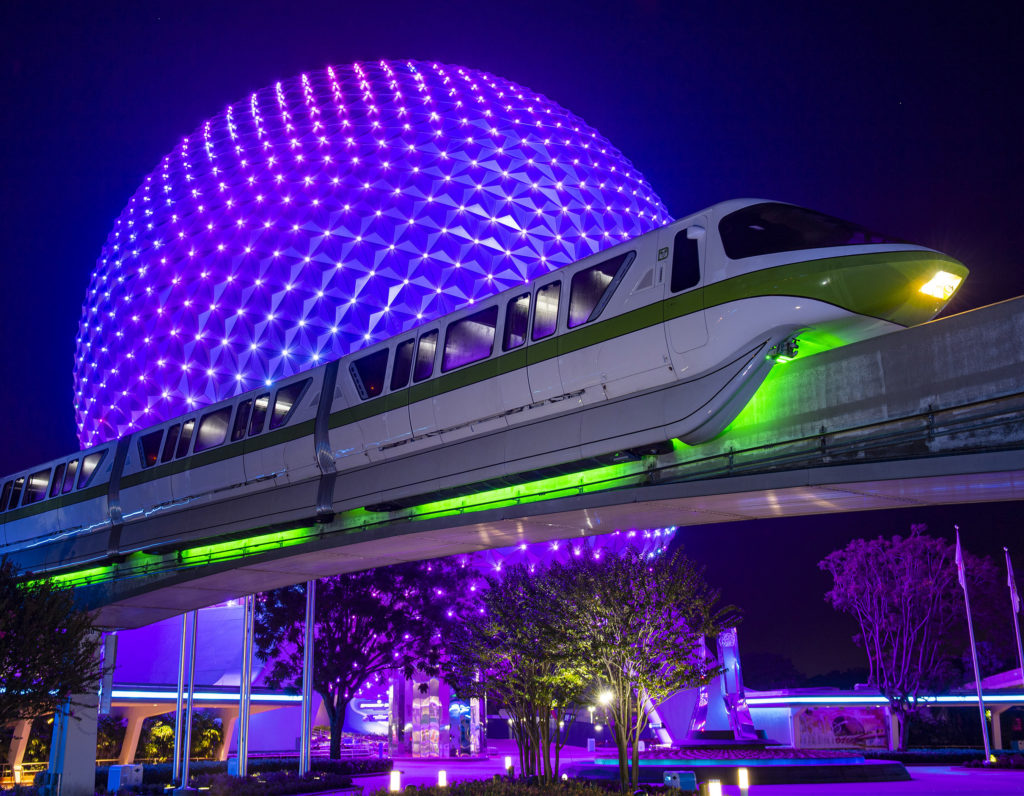 Turning 50 means learning how to use new technology to make life easier.
Bottle that genie. "Disney Genie" is a new, no-cost app that helps families plan their day at the Disney parks in the most efficient and magical manner possible.
Don't waste your time. "Disney Genie+" gives park-goers access to Lightning Lane, a system that replaces Fast Pass in allowing visitors to schedule ride times ahead and minimize the wait. It costs $15 per day.
Investigate the value of "Lightning Lanes." Certain attractions not available through the Genie+ app will require separate Lightning Lane passes if you don't want to wait.
Transcend reality with AR. The Genie+ technology also includes very cool new Augmented Reality (AR) filters and other technological tricks the kids can play with while you're waiting on line.
Meet Alexa's new friend. A new 'Hey Disney!' Voice Assistant supported by Amazon Echo devices will respond to your voice prompts. In 2022, "Hey Disney!" will make weather forecasts, timers, alarms, etc. more magical for hotel guests for those who download the My Disney Experience App.
Ride an illuminated Monorail. In keeping with the iridescent quality of many attractions during the Disney World at 50 celebrations, the monorail trains connecting hotels and the parks have been illuminated. Note that each train is lit from underneath in a color matching its stripe.
Feed the Beast at the Golden Anniversary Restaurants
Sample the new eats!
Foodies are in heaven already. The annual Epcot International Food and Wine Festival is larger than ever, with more than 30 booths serving a staggering array of international cuisine. One event passport covers the cost of all your samples.
Foodies will be in a higher heaven. Throughout the four theme parks and beyond, Disney chefs and mixologists have created more than 150 Disney World at 50 Anniversary snacks and drinks full of color, whimsy and a touch of that golden shimmer known as EARidescece.
Multicultural menus abound at Epcot. Indulge in a chocolate Mayan style filled with Mexican chocolate mousse on a base of creamy tres leches cake in the Mexico Pavilion.
Pig out. Wallow in the new Cheese Fries with Walt's Chili at Animal Kingdom. Chili with Frito chips was a favorite of Walt Disney.
Dine out on the Red Planet. Have a Mission to Mars burger served with a Mars dust topped bun (think cheese puffs) at Cosmic Ray's Starlight Café in Magic Kingdom. Restaurant meals can be ordered on your mobile app so you can avoid lines and crowds.
Enjoy sweets with golden glitter. Try the EARidescent Croissant Doughnut at EPCOT or the EARidescent Ice Dream Cone at Disney's Blizzard Beach Water Park. Or both.
Dine a la francaise. Walk up to the takeout window at the new La Creperie de Paris and order one of their over-size buckwheat crepes with sweet or savory fillings.
Refresh your Happy Hours. Sip on the Magical Beacon Cocktail now found at many table-service restaurants, lounges and poolbars.
There's Much More to Walt Disney World at 50
There's even more opening in year two of the celebration.
Get more airtime with Nemo. Those who visit in 2022 will be able to enjoy a totally reimagined "Finding Nemo — The Musical" show with new songs at Disney's Animal Kingdom. Will this be their next show to go to Broadway?
Take home some 50th anniversary merchandise. As fans can imagine, there are a lot of outstanding collectibles for sale — only sold here — to commemorate the event and save for eBay.
Get new bling for your old MagicBand. The next-generation MagicBand+ wearble device will retain the features of the Magic Band while adding new functionality. Your MagicBand+ will come alive at various times with color-changing lights, vibrations and gesture recognition to match the environment.
Keep up with Guardians of the Galaxy. Visit next year to play "Guardians of the Galaxy: Cosmic Rewind" which begins in the Galaxarium exhibition and transforms into a storytelling coaster that rotates 360 degrees to focus guests on the action, including the first reverse launch on a Disney coaster.
Watch Epcot zoom from fact to fantasy. For the first time ever, the new "Guardians of the Galaxy: Cosmic Rewind" attraction will include a planetarium-like display that teaches guests about another (fictional) galaxy, not an actual place. 
Stay overnight. Popular Disney budget hotels such as Disney's All-Star Resorts are open again, although Disney's All-Star Sports Resort will remain closed while the Sports theming is renovated.
Live in Outer Space. Families will be able to check in to the new Star Wars themed hotel by boarding the "Star Wars: Galactic Starcruiser" for a two-day interactive ride into space. Each guest's choices will affect which characters and plot lines become part of their story.
Safely Celebrate Disney World at 50 and Everything Orlando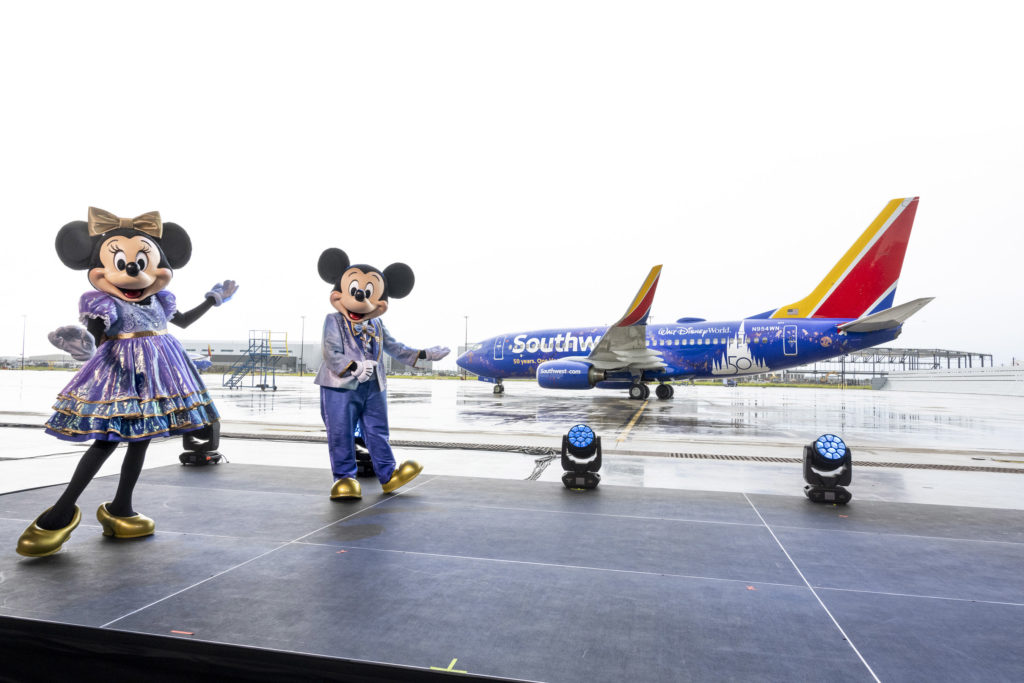 Turning 50 is bigger than Disney, lots of others are getting in on the action.
Experience Orlando in a safe way. The tourism industry has been very cautious about public health – moreso than the state of Florida — and it's working.
Bring your mask and wear it. While forecasts don't predict a return to pre-pandemic numbers for another two years, Ogintz says, that in Orlando, some 2021 summer months already met or exceeded 2019 numbers. That means big crowds.
Get vaccinated. Here's hoping a children's vaccine will be approved for ages 5-11 by the time your family visits. You will all be so much more comfortable enjoying the fun.
Come hungry. In addition to the 150 new treats available at Walt Disney World, the city of Orlando has reopened with more than 6,000 restaurants serving the cuisine of more than 40 countries.
Last chance to bag a "50" golden pin? The Disneyland Park in Anaheim celebrated its 50th anniversary in 2005. The Tokyo Disney Resort opened in 1983 and will celebrate its own Disney at 50 event in 2033. Disneyland Paris will reach the mature age of 50 in 2042 and Hong Kong Disneyland in 2055. As of this writing, the newest park Shanghai Disney, is celebrating its fifth season and will turn 50 in 2071.
There's more to learn, additional information about Disney World at 50 and a variety of travel packages from the Walt Disney Travel Company to plan your next Disney vacation.
Dear Reader: This page may contain affiliate links which may earn a commission if you click through and make a purchase. Our independent journalism is not influenced by any advertiser or commercial initiative unless it is clearly marked as sponsored content. As travel products change, please be sure to reconfirm all details and stay up to date with current events to ensure a safe and successful trip.
---