The United Arab Emirates welcomes visitors to the dazzling Dubai World Expo from Oct. 1, 2021 to Mar. 31, 2022. During this six-month period, the 1,100-acre World's Fair site located between Dubai and the neighboring emirate of Abu Dhabi will showcase the achievements of all nations and promote cultural exchange.
The long-awaited Expo 2020 has been reimagined since its pandemic postponement to comply with current public safety protocols. In order to keep staff, locals and expo-goers safe, every visitor ages 18 and above will be required to present proof of vaccination or a negative PCR test taken within the previous 72 hours. Non-vaccinated ticket-holders will be able to get a test done near to the Expo 2020 site or at testing centers in the city, free of charge.
When you visit, keep up the Covid-19 safety protocols you already practice at home. Hand-washing, face masks both indoors and out and social distancing are required.
Why World's Fairs Are So Cool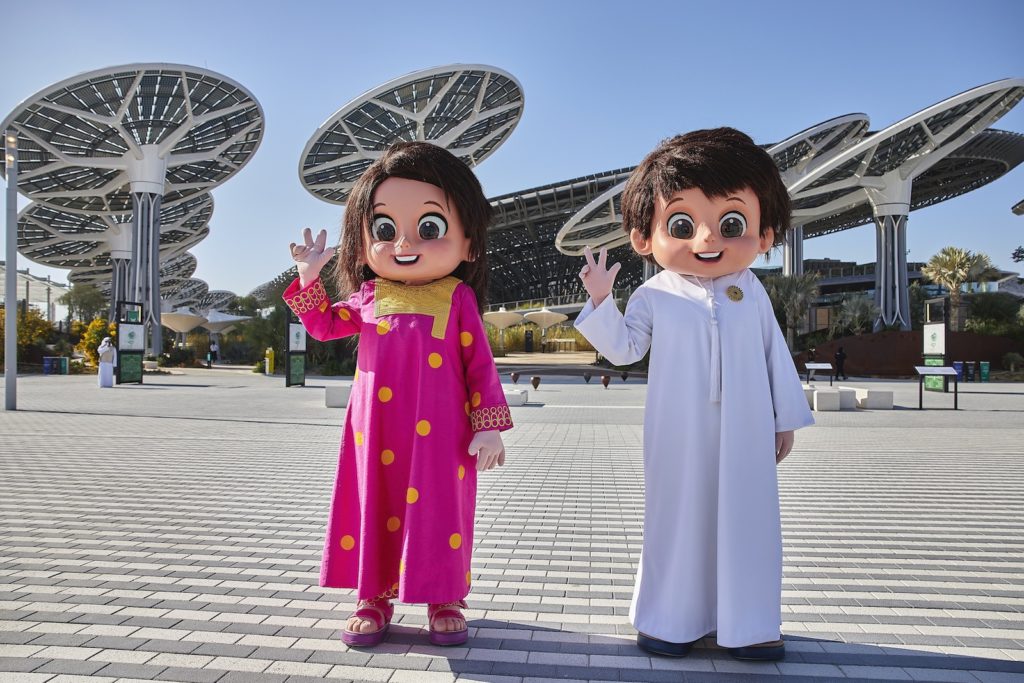 Did you know that architectural icons such as the Eiffel Tower and Seattle Space Needle were designed for past world expos? The San Francisco Palace of Fine Arts, completely rebuilt in the 1960s, was an art gallery built for the 1915 Panama-Pacific Exposition. Your kids may not know what a typewriter is, but it too was first seen at a World's Fair. Even the cherished sauce Ketchup was invented for a past international gathering of visitors.
Although they were held more frequently at the turn of the last century, these days, World Expos are put on every five years. The last World Expos were held in Shanghai in 2010 and Milan in 2015.
All the Expo 2020 preview images and events promise a visual feast for architecture lovers, non-stop excitement for those who want to be entertained and jaw-dropping innovations to thrill the inventor in each of us.
What to Expect at Dubai World Expo
The Expo's theme is "Connecting Minds, Creating the Future" with three main areas dedicated to innovations in opportunity, sustainability and mobility. At its core is the Al Wasl Pavilion whose domed ceiling is the world's only 360-degree projection surface. This pavilion's plaza is for live performances. The UAE Pavilion, designed by Santiago Calatrava to resemble falcon wings, will be another focal point for activities.
More than 60 shows, parades and events will be hosted by the 192 country pavilions. In addition to learning opportunities, expect more than 15 hours of entertainment daily presented by the country pavilions, many of which will highlight local culture and performing arts.
How the Themed Pavilions are Organized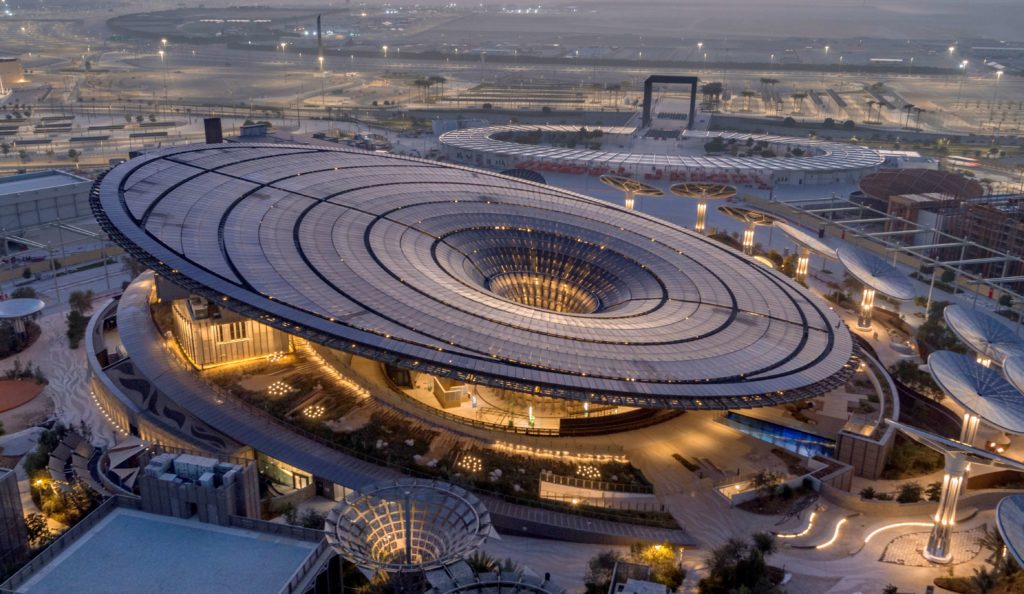 Polish your conservation skills at the Sustainability Pavilion, which generates its own water and electricity. Trying to add plant-based meals to your diet? This pavilion features the latest developments in climate management as well as environmentally friendly food. (Never fear, there are more than 200 restaurants and food trucks, including lots of terrific Middle Eastern food, scattered around this foodie paradise.)
Check out the latest in motorized scooters at the fully accessible Mobility Zone. This pavilion showcases e-bikes, shared scooter systems in urban settings and new ways to get around — never before imagined. In good news for those traveling with family on the spectrum, the Dubai World Expo has also been certified as a Sensory Accessible Event.
Once the World Expo runs its course, the Dubai-built structures will be used in a new "knowledge community" business district dedicated to promoting startups and incubating forward-thinking companies.
The USA Pavilion Features Youth Ambassadors
The USA Pavilion's theme is "Life, Liberty, and the Pursuit of the Future." From a history of inventions to today's accomplishments by USA-based global companies and innovators, the pavilion showcases the country's business, government and cultural communities with exhibits, mulitmedia, personal interactions and live performances. Expect to learn a lot about the work by SpaceX, Amazon and other tech companies and the progress of research by the Mars Rover.
Seventy-five youth ambassadors from 37 states, studying at 78 US universities and colleges and speaking 24 languages were selected to go to Dubai in a State Department competition. As in several past world's fairs, these young people will serve in the UAE to advance people-to-people diplomacy by answering questions and interacting with World Expo 2020 visitors.
Dubai's Rich Tourism Industry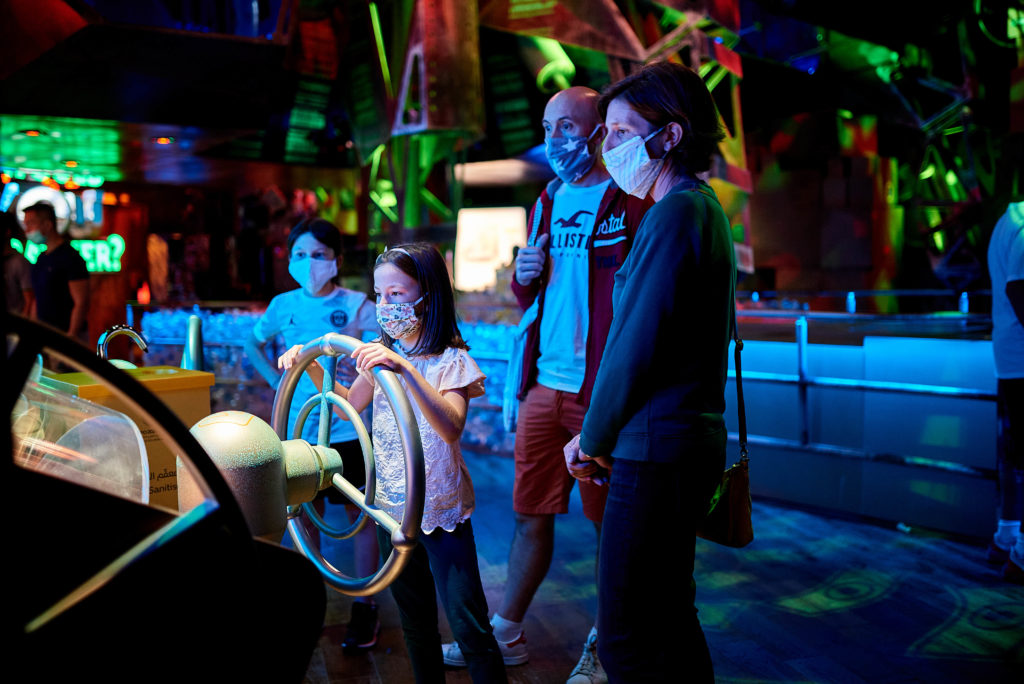 Already the fourth most visited city in the world, according to government estimates, with 16.7 million visitors in 2019, Dubai was expecting millions of Dubai World Expo-goers during the original 2020 Dubai World Expo dates.
With more than 100,000 hotel rooms in every price range, the city-state has been working to add 60% more inventory by the Expo's October opening date. The Dubai Expo team estimates that Dubai's 6,000 restaurants serve the cuisine of 200 nations. So, places to sleep and eat are covered and covered well.
Family Attractions in Dubai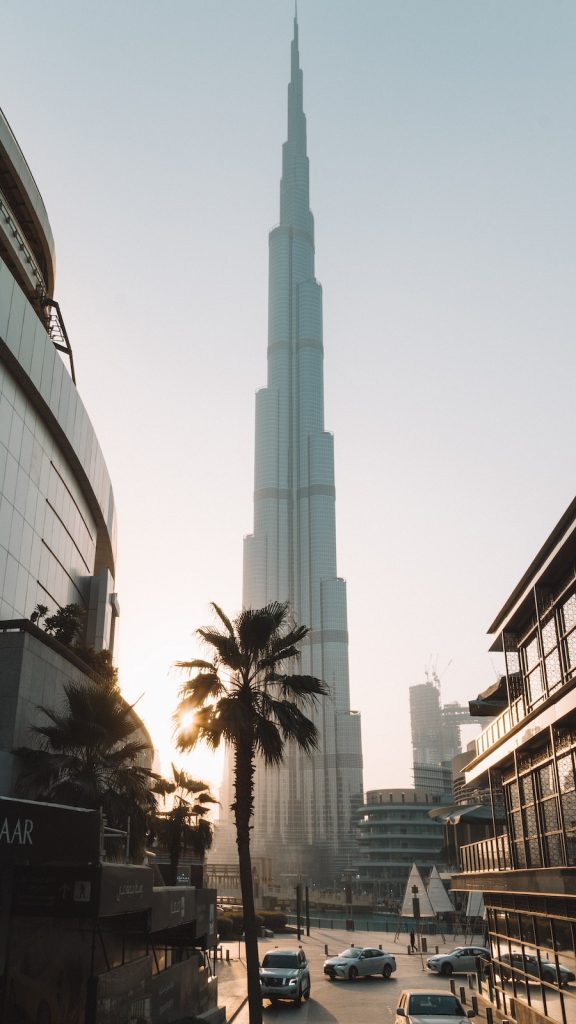 There's more to see and do than the World Expo. The family-focused UAE is famously packed with activities and Dubai family attractions promise fun and thrills.
Dubai's several theme parks range from the familiar Legoland Dubai to the movie-themed Motiongate Dubai with its Smurfs and Dreamworks character zones. There's also IMG Worlds of Adventure — an indoor theme park based on Marvel and Cartoon Network characters, Bollywood Parks Dubai and others.
The Dubai Theme Park Pass provides shorter wait times and up to 50% savings depending on how many parks you want access to and how many days you need to do them all.
In addition to the famous Aquaventure water park at Atlantis, The Palm, there are several other amazing waterplay areas plus easy-to-book family activities such as sky diving, zip lining, car racing and even dune bashing on guided ATV tours.
Dubai Cultural Offerings
If the crowds are too dense at the fairgrounds, spend the day at the city's al Fahidi Fort to see the Dubai Museum's collection of dioramas, archeological finds and unusual exhibits, including one about pearl diving.
The Sheik Mohammed Centre for Cultural Understanding is another interesting venue which hosts meals and public events so that staff can answer questions about the UAE, its culture and religion.
Abu Dhabi is Another Base for World Expo Families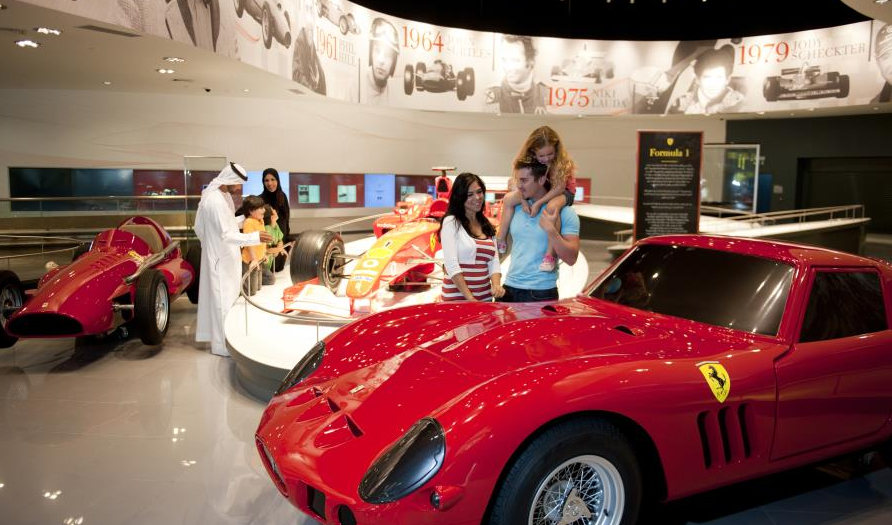 The Abu Dhabi and Dubai Airports are equidistant to the Dubai South location of the World Expo 2020 fairgrounds, and families coming to the Expo will find more accommodation and possibly better values by basing themselves in Abu Dhabi, the government center of the UAE.
This neighboring emirate complements Dubai's attractions with a royal wildlife preserve, falcon rehabilitation center, desert camping and day safaris, family resorts and major arts and cultural organizations.
There are plenty of child-friendly attractions in addition to visiting the Dubai World Expo. On Yas Island, for example, there's a huge climbing wall, Warner Bros. theme park, Yas Waterworld and a Formula One racing track that loans bicycles one day a week to ride around it. Abu Dhabi just may be a more interesting place for families who are not familiar with the region to explore the local desert and historic Arab cultures.
Abu Dhabi Cultural Offerings
Art lovers should start at Abu Dhabi's Saadiyat Island, a manmade development including housing, businesses, a beach that shelters rare Hawksbill sea turtles, golf club and remarkable cultural institutions. The UAE Pavilion from the Shanghai World Expo, designed by the UK's Foster + Partners to resemble a sand dune, hosts the major Yas Island events.
All ages should see the major art collections at Saadiyat's soon-to-open Guggenheim Abu Dhabi, the Zayed National Museum and Louvre Abu Dhabi, a branch of France's famous museum which was designed by French architect Jean Nouvel. The beautiful structure is covered with a lace dome that emulates palm fronds and is surrounded by ponds that can be explored by kayak.
Trip Planning Details for Dubai World Expo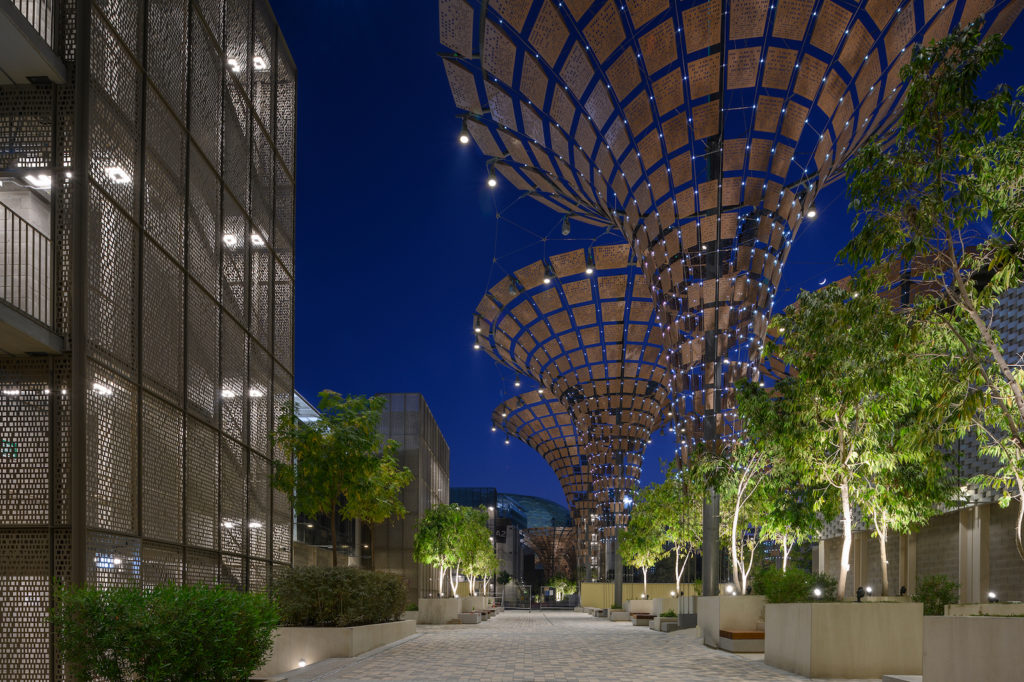 If this long history of man celebrating man's achievements inspires your visit, plan to stay in UAE at least one week. Dubai World Expo is open daily, with 10 Theme Weeks and 18 International Days over six months promising to explore key issues of global significance. Plan your visit around themes such as Space or Health and Wellness, and focus on Day topics including International Day of Women and Girls in Science or World Water Day. More than 220 events will take place as part of the program, ranging from large forums and public conventions, to seminars and workshops. No matter how you attend, the themes and special days material will be available in person and virtually.
Emirates (the Dubai carrier) and Etihad Airways (based in Abu Dhabi), as well as other tour opertors, have developed travel packages. TWC is one company, for example, that is selling a five-night / six-day trip including hotel, airport transfers, several meals and local tours for rates starting from $799 per person, land only.
The Dubai government has expanded public transportation to the fairgrounds with Dubai Metro Route 2020 and the free Expo Rider bus service operating from terminals all over the city. Taxis and ride-share companies such as Uber and Careem are available as well. Within the Expo grounds, a free People Mover and a private Buggy Service will help visitors get around to see everything.
Families will be able to see, learn about and try so many new products during their visits that a Multi-Day pass (AED 195, about US$57) is the best value. It is valid for 30 days of use, includes 10 Smart Queue bookings each day to hold your place in line, and free entry for visitors under age 18 or over 65. For more information, please visit Expo 2020 Dubai.
Dear Reader: This page may contain affiliate links which may earn a commission if you click through and make a purchase. Our independent journalism is not influenced by any advertiser or commercial initiative unless it is clearly marked as sponsored content. As travel products change, please be sure to reconfirm all details and stay up to date with current events to ensure a safe and successful trip.
---