Looking for the top surfing schools and beach breaks because surfer slang has washed over your conversations? Book one of these places to surf and your family will learn the sport and surf together.
For everyone else who heeds the Beach Boys' call, "Let's go surfing now, everybody's learning how…" we present six great beach break destinations where the surf's (almost always) up. Most surfing schools will hook you up with a proper board and if they can't, turn to TheQuiver, where you can rent a board from another surfer (who's getting paid to share it) — it's like an Airbnb for surfboards.
Surfing Back in the Day
For centuries the sport of Hawaiian royalty, modern surfing was introduced to the world by Duke Paoa Kahanamoku, a Waikiki native who at age 21 won two Olympic medals in swimming and set the 100-meter freestyle world record. In 1912 it was rare to see a dark face at the Olympics, and Duke's good looks, graceful style and unusual pastime of wave sliding attracted a lot of attention. He became the sport's unofficial ambassador, introducing surfing to the Atlantic coast, Australia and New Zealand in 1914, and to California the following year.
Before his death in 1968, The Duke as he came to be called, had popularized swimming by doing exhibition meets to raise money for war bonds, won six more Olympic medals, appeared in 28 Hollywood movies, and rode a monster wave in Waikiki for 1.25 miles – the longest ever recorded. When Hawai'i became a state in 1960, The Duke was appointed Official Ambassador of Aloha. Pause at his statue on Kalakaua Avenue in O'ahu to admire the surf he loved so much.
Santa Cruz, California is Surf Heaven
Diving deeper, historians say that California owes its own surfing history to three Hawaiian princes who went to military academy in San Mateo in 1885. Recognizing Waikiki's familiar rolling surf when they visited the spot where the San Lorenzo River meets the Pacific in Santa Cruz, they made O'lo style surfboards for themselves of local redwood (weighing 150-175 lbs and between 17'-18' in length, according to the Santa Cruz Daily Surf) and took to the waves.
Today, California's 1200-mile-long Pacific coast boasts dozens of surf spots for all abilities, many with good surf year round. Heading north from Tijuana, San Diego claims several Dog Beaches. Visit Imperial Beach, which hosts Unleashed, a canine surfing competition in September. La Jolla's Surf Diva school features pink surfboards, women instructors and kids lessons. Check out Oceanside and the California Surf Museum and, in Laguna, Hollywood royalty at the Montage Resort beach.
Huntington Beach has copyrighted the name "Surf City USA." Redondo Beach, birthplace of the modern wetsuit by Bodyglove, is home of The Beach Boys. Don't miss several other towns known for beach breaks that more advanced surfers love, such as El Porto in Manhattan Beach.
Santa Cruz Surfing Schools
Surfers like Daniel McGregor III, a San Francisco Uber driver whose surfboard is always strapped to the roof of his car, say that little Santa Cruz is the real deal. "Santa Cruz has 15 world class surf spots in one town," he says. "You could drive 2,000 miles up the Pacific coast and never even find one spot like that. And the swells are great," he adds.
Adding to this upscale beach town's allure is Jack O'Neill, a local sailor who invented the wetsuit and the leading surf brand. Santa Cruz is also one of nine named surfing reserves around the world, so designated to preserve its 23 surf breaks and surrounding environmental and cultural assets. Beginners should visit Club Ed or the Richard Schmidt Surf School on Cowell Beach, which both provide rental gear and all level. Your hotel can also make recommendations for local instructors.
Parents can check into the stylish Dream Inn and watch kids learn while relaxing on the Jack O'Neill Lounge terrace, next to his first shop. In bad weather, head to the Santa Cruz Surfing Museum in the Mark Abbott Lighthouse, a family memorial to a son killed while practicing the sport he loved.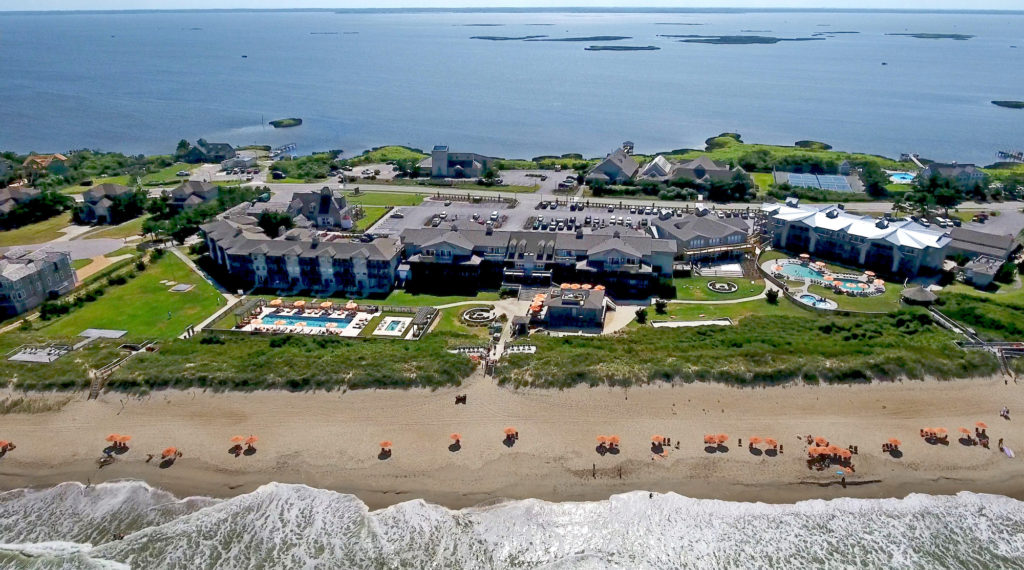 Surfing Off The Outer Banks of North Carolina
Watching "Outer Banks" on Netflix? Did you know that the Outer Banks — a series of barrier islands off the coast of North Carolina — is one of the Atlantic's most hurricane prone regions? That temperamental weather and big wind can make for great surf days. Locals like OBX in the fall season best because the water remains in the 70s and the summer heat has passed. Popular surf breaks for beginners include Corolla, Duck and Nags Head. Mixed abilities should head to Rodanthe, popular with more experienced surfers for its very clear water and larger waves.
The Sanderling Resort, a full service property with 123 rooms and suites between the Atlantic and Currituck Sound, is great for families because there are plenty of activities and waterfront for non-surfers as well. They rent boards, give group and private lessons and have a fun Surf, Kayak & Stand-up Paddleboarding Camp. Over a three-day vacation, campers can try each sport each day plus learn more about the ocean, tides, rip current awareness and water safety. Open to ages 7 and older. And, so you know, "Outer Banks" was shot off the coast of South Carolina.
Surfing Schools on North Shore of Oahu
The world-famous reef breaks off the coast of O'ahu's North Shore can be up to 50 or 60 feet high in winter. This extreme winter weather is what draws surfers and wannabees to the newly renovated resort. Beaches fill with spectators during the winter months to catch champions in town for the Hawaiian Cup, Billabong and Vans competitions.
"There's a reason people come here from all over the world to surf – the surf is better," notes Regan Constad, entrepreneur from Williamsburg, New York who took lessons from Uncle Bryan's Sunset Suratt Surf Academy in calmer Haleiwa Bay. "It's more predictable. The waves break with a certain rhythm, and far enough from shore so that you have time to get up and catch your balance for a long ride in. The water's warm so you don't have to wear a wetsuit, there's no seaweed, and the views are just gorgeous."
Beginning surfers can bunk at the gaudy Turtle Bay resort, spectacularly situated on a peninsula with sunset views on one side and a sand beach (protected by a coral reef) on the other. During the summer, catch beginners, kids, and dogs on boards. Around the point in Kalewa Bay during winter, novice surfers arrive when breaks elsewhere are much bigger.
There's a surfing school outside, a shrine to pro surfer Andy Irons in the lobby, and abstract photos of today's heroes acing Banzai Pipeline, the enormous wave that breaks off Ehukai Park. Advanced surfers can book North Shore surf guides to explore more hidden coves.
Surfing Schools and Resorts of Waikiki, Oahu
The beachfront Waikiki neighborhood of Honolulu is considered the birthplace of surfing, and the huge Hilton Hawaiian Village Beach Resort & Spa was built 55 years ago on land where the Duke was born. Visitors can see his life story in old photo murals near the famous Lappert's ice cream shop, as well as inside on their History Wall. There's more than just aloha shirt shops. Plan time for venues like the classic ca. 1901 Moana Surfrider (a sunset mai tai at the city's first hotel, now a Westin, is a must.) The extensive surfing collection at the Bishop Museum celebrate this city's surf culture.
Dave Carvalho, who founded Big Wave Dave in 2010, runs one of the many recommended surf schools a few blocks from the waves. "Once the fundamentals about balance and focus are revealed," Dave tells first timers, "surfing is a sport that takes practice and instinct because no two surf days are ever the same."
Waikiki is the destination for almost any watersport. Discover the island's many parks and Pearl Harbor waterfront among its land-based sights. AccesSurf Hawaii teaches the mentally and physically challenged adaptive surfing and swimming on the first Saturday of every month at Barber's Point Beach Park. Budget watchers have a choice of Aqua Aston Hotels or the high style Surfjack Inn & Swim Club, a boutique property whose Surf Concierge can arrange private lessons. Another option and one of the few Hawaii all-inclusive resorts is the Hawaii Embassy Suites Waikiki Beach, ideal for families.
Learn to Surf in Sayulita, Mexico
Surfers love the Pacific coast of Nayarit, known as Riviera Nayarit, because it's easily accessible from Puerto Vallarta Airport and offers a variety of long and short waves close by. While Stinky's and El Anclote are the closest breaks to the luxury Punta Mita development – second home to A-listers and Hollywood celebrities — most surfers prefer the counter culture beach town vibe of Sayulita, about 30 minutes north.
New arrivals check in at the beachfront Luna Azul school and ask for El Papas, one of the top local surfers. Oliver at Lo de Marcos Surf Skool is another top guide, who also runs standup paddle boarding and snorkel sessions on flat days. Pretty little Sayulita is packed with shops, cafes and nightlife, galleries and great eateries (check out Chocobanan, Tacos Nati and Paninos) and you may even spot Matt Damon having pizza when you take the family to La Rustica. If you're not going to sleep on your board, Sayulita offers accommodation in all price ranges, including camping, private villa rentals and the popular Villa Amor Hotel.
Bocas Del Toro, Panama Has Surfing Schools Too
Bocas del Toro, a Panamanian province full of tiny islands, attracts young beach bums, remote workers, nature-lovers and surfers to its gold sand beaches and crystal clear Caribbean waters. Surfing conditions vary by location and season, but there are a variety of reef breaks (can be shallow and dangerous), point breaks and beach breaks for all abilities. The most reliable reef breaks come between December and April, with rough surf possible in the height of summer.
The islands of Isla Colon, Isla Carenero and Isla Bastimentos are close to each other and known to have good surf breaks for beginners. Mono Loco, Escuela del Mar, and La Buga Surf School are recommended for rental gear and surfing lessons, and most of the inns and hostels are owned by surfers or have in-house guides. Off board: snorkel, scuba, explore wildlife in the jungle, work on a tan, dine well and go barefoot clubbing in Bocas Town.
With community living areas, co-working spaces and rooms ranging from suites to hammocks, the very popular Selina has lodging for every young taste and budget. They run two Bocas del Toro locations: the Isla Colon on a surfing beach and the solar-powered Red Frog Bungalows on Isla Bastimentos, a short ferry ride from Bocas Town.
Ready to hang 10? Let us know where you find good waves.
Dear Reader: This page may contain affiliate links which may earn a commission if you click through and make a purchase. Our independent journalism is not influenced by any advertiser or commercial initiative unless it is clearly marked as sponsored content. As travel products change, please be sure to reconfirm all details and stay up to date with current events to ensure a safe and successful trip.
---