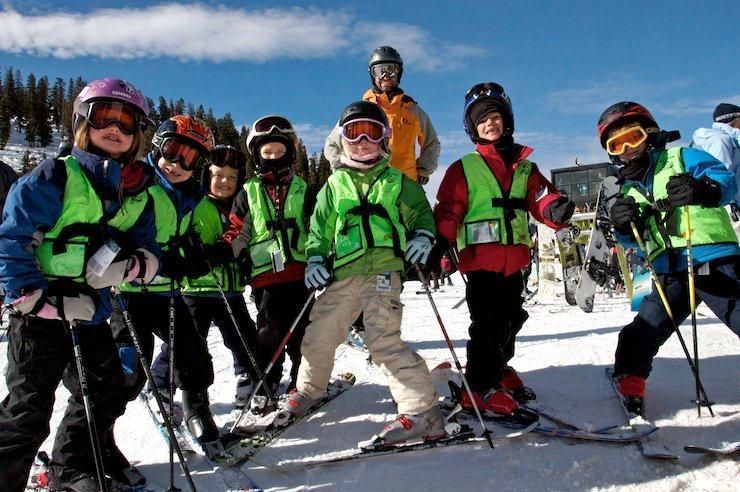 Tackling a new sport like skiing — whether you're my age or a toddler — is a challenge that the snow sports industry helps overcome each January with Learn to Ski and Snowboard Month.
Perhaps a child, a new companion, or a childhood yearning have driven you to try skiing or snowboarding. Some may be ready to face a long-held fear of snow sports… or chapped lips.
Whatever your motivation, being able to take cheap group lessons during the ski industry's month-long promotion is a dream come true.
January is Learn to Ski and Snowboard Month
Mountain resorts in more than 30 states are participating in the 2019 Learn to Ski and Snowboard Month (LSSM), each with its own array of discounts and deals.  I do ski but not well, so I happily joined four other women who were never-evers for three days of LSSM lessons in Utah. It was an enlightening and encouraging experience.
Girl Power at its best.
We drove straight from the Salt Lake City Airport to Ski 'N See, a local chain of sporting goods stores with discounted gear and lift tickets cheaper than anyone else. Carlton, perhaps controlling himself, watched as we stripped off wedge heels and got up close and uncomfortable with our ski boots. Skis, poles, helmets and we were off.  Here's our video to prove it!
First Ski Lessons at Alta
Alta is a classic Utah resort outside Salt Lake City that has not changed its style much since it opened in the 1938-1939 season. Sure, there's new upholstery, boot warmers in the rooms and WiFi throughout its lodges, but basically the people who skied here in the 30s and taught their kids to ski in the 40s and 50s are back — with their grandkids and great grandkids — and expect them to learn just the same way. You see, Alta respects tradition.
No snowboards, no short skis and 'instant' techniques, not even helmet requirements — just positive reinforcement of position, posture and technique.  Our instructor Art, with his long blond hair and boyish grim, epitomized the ski bum culture that is at the heart of Alta's charm. Helping these women up and down the bunny slope at the base of the Sunnyside Lift, crying out "Awesome" and "Way to go" at every snow plough or other sign of improvement, warmed us all against the cold winds that blew off the steep, craggy cliffs.
We stopped for a hearty lunch of Chicken Tikka Masala and burgers at the fancy Rustler's Lodge at Alta — skiers can take a rope tow there midday, slip off their boots and relax over a fine glass of wine if they're not planning to go back out. (Well, lots of hardcore skiers would go back out…)  We washed it down with the new Squatter custom brew, Alta 75, a flavorful pale ale created by the famous Salt Lake City brewery to commemorate the resort's 75th anniversary.
The Alta Lodge was our retro slopeside motel packed with boomers and grandkids who'd skied together the same week for decades. Day one, we lolled around, enjoying an afternoon steam, sauna and hot tub respite. Raging appetites were quenched by afternoon tea and cookies in the lobby library lounge.  As beginners, we needed to fortify ourselves with big doses of ski culture in preparation for day two.
From Never-Evers to Novices Day 2
After a good night's sleep with lots of water, aspirin and humidifiers running to overcome the discomfort of altitude sickness, our group met at breakfast, ready to hit the slopes. Day two seemed easier to carry the gear, get it on, deal with the cold. Today's resort is much more contemporary in style than Alta. Immediately we could appreciate the blue skies and stellar mountain and valley views because, at the former Canyons resort, novices convene at the mid-mountain ski school after a comfortable ride in a gondola. That gave us the lift we needed. (Note that since our visit, The Canyons has become a Vail Resort and merged with Park City Mountain Resort, so both have adopted Vail's excellent teaching style.)
With less fanfare, each of us adults began to "get it" and feel our boots leaning from wedge turns to more controlled sliding.
We lounged over shrimp tacos at Red Tail Grill, overlooking the chaises out on the snow at Ski Beach, listening to gossip about recent guests like Taylor Swift and Lady Gaga. Then we starred in our own signature sports massage at the divine Golden Door Spa. The Waldorf Astoria Park City was our cushy home that night and after a memorable meal of gourmet mountain fare at the pretty Slopes, we were more than ready for lights out.
Park City Mountain Ups the Ante for Beginners
Perhaps because they specialize in teaching snowsports to children, the Vail resort at Park City Mountain was more customized to the personality of each beginner. With just four hours of lessons under their long underwear, my four femme compatriots were able to verbalize their own ability level. We split into three levels for lessons.
Our instructor, Phil, who was required to wear a helmet as are all students under 18, was happy to keep pushing us all uphill. We took one lift up, practiced turning and control and posture, then slowly made our way to the next chairlift, till we found ourselves at the top of the mountain. Park City's three-mile-long Homerun is an easy slope that allows even beginners to get the full flavor of this historic mountain. By lunch, three of the four beginners were hooked on the sport.
We lunched on bison chili and fresh salads at the Legacy Lounge then drove to our Park City condo in town. Staying at the Club Lespri enabled to shop along Main Street and enjoy a great meal at the High West Distillery. Our last night together as beginners was also the first one in which all of stayed awake past nine o'clock.
Beginners Stick Together to Create a Snowsports Tradition
Maybe when we meet again we'll be like the regulars at Alta, sharing stories about the Swiss slopes we conquered and the avalanches we just missed.
But until then, we all have good memories and an intense feeling of personal accomplishment.  What more can you ask for from LSSM, so get out and try it!
Dear Reader: This page may contain affiliate links which may earn a commission if you click through and make a purchase. Our independent journalism is not influenced by any advertiser or commercial initiative unless it is clearly marked as sponsored content. As travel products change, please be sure to reconfirm all details and stay up to date with current events to ensure a safe and successful trip.
---