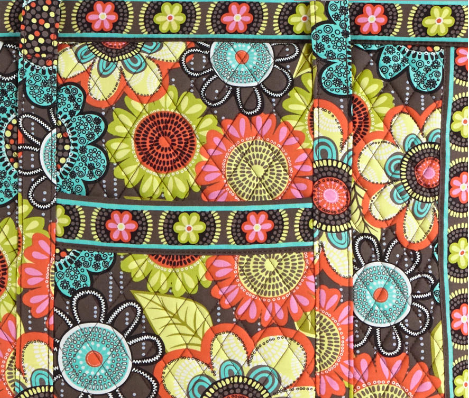 As an East Coaster, it took me awhile to recognize the Vera Bradley label inside a dizzying array of quilted fabric accessories but, as soon as I did, I understood the appeal of her annual outlet sale. Her Pucci-like bright-colored, floral and paisley-patterned fabric totes, purses, and laptop bags are ubiquitous, and expensive.
The Cult of Vera Bradley
Given my late introduction to the cult of VBistas, I was surprised to hear the brand is behind the largest tourism event in Fort Wayne, Indiana: the annual Vera Bradley Outlet Sale. Although manufacturing is now done in China, partners Barbara Bradley Baekgaard and her neighbor, Patricia Miller, began their sewn handbag business in the basement of the Bradley family's Fort Wayne home; their very first 'sale' was in the backyard. At this annual extravaganza — now held in more than 100,000 square-feet of the Coliseum — up to 50,000 acolytes from 50 states and several foreign countries revel in 40% to 60% off retail prices of handbags, luggage, stationary, clothes and myriad accessories. Just take a look at our video:
Made in Fort Wayne Products Join the Fun
The VB outlet sale spurs other local businesses to do sales, too. Count on Peg Perego, the high-end Italian baby goods company, whose stroller is like the Maserati of baby carriages. All the baby items manufactured by the Perego family in Italy are sold at 20% off during the mid April outlet sale. Best yet, the adorable ride-on toys such as John Deere tractors and Polaris ATVs made in their Fort Wayne factory, are discounted up to 50%. All year long, the company gives free factory tours of their Fort Wayne facilities, really fun for children and their grownups. Plus, Nicolas Perego, grandson of founder Guiseppe "Peg" Perego, personally greets every customer who visits.
Local children's clothing line Matilda Jane, made in Fort Wayne, is sold through trunk shows at women's houses. Cinda B, an Atlanta based designer, uses the former Vera Bradley sewing operation to produce quilted handbags, sold through Bob Hinty's Hentz Manufacturing. Check out their sewing workshops and outlet sales which run concurrently.
Love factory tours? Sweetwater, the world's largest online retailer of musical instruments and gear founded by local Chuck Surack in 1979, welcomes visitors to their distribution warehouse every day. A musical instrument sale is not necessarily one when the others are, but it's fun to watch amps go by on the conveyor belt. You can spend a half day at the café, retail shop, kids' rock music academy and just admiring the amazing employee facilities like a fitness center, medical clinic and concierge service to handle daily chores.
A Girls Getaway Galore
The famous sale takes place for five days every April at the Memorial Coliseum, located at 4000 Parnell Avenue in Fort Wayne. Everyone must register for the event (there's a $2,500 per person cap on spending), and timed entry tickets can be acquired online. Paid tickets are required Wednesday through Friday, and cost $5 for each 2-hour session. Trust us, that's about as long as you'll last… unless you really want that vintage February 2012 tote your neighbor found on e-Bay.
Go early! Saturday and Sunday the tickets are free; sessions are open to the raving masses of local public and thrifty fans. Too busy for those shoppers with a curatorial eye!
The Visit Fort Wayne and Vera Bradley websites offer information on Fort Wayne area hotels that are celebrating this shopfest, with specials designed for femme warriors in mind. Book early.
Ready to shop till you drop? Save some energy to share your top finds with us.
---
This story was accurate when it was published. Please be sure to confirm all rates and details directly with the companies in question, and stay up to date with current events to ensure a safe and successful trip.