Thanks to its proximity to Ski Santa Fe in the mountains just to the east, this historic southwestern city affords a multi-generational family easy access to diversions for skiers and non-skiers alike.
Many members of my family are avid skiers or snowboarders — but not all. This has always made going away on a ski vacation together a challenge: The non-skiers tend to get short shrift, with only a limited choice of diversions during the day while the rest of us were on the slopes. I only wish we'd known about Santa Fe, New Mexico back then.
The Beauty of a Santa Fe Getaway for All Ages
Situated at 7,000 feet, Santa Fe is warmer and less snowy than the mountains it borders, a boon to anyone bent on spending the day exploring its historic churches, museums, vibrant galleries, and shops, many in centuries-old adobe structures with deep roots in both Native American and Spanish culture.
Its focal point is the 400-year-old plaza, anchored by the Palace of Governors, the oldest continuously occupied government building in the U.S. Native American artisans sell jewelry and others crafts beneath the Palace's long portal, and the Palace itself houses the New Mexico History Museum.
Exhibits span the 400-year-old history of New Mexico, from the earliest Native peoples and Spanish colonists to railroad builders, artists, outlaws, scientists (think nearby Los Alamos), hippies, and more. One of those artists is Georgia O'Keeffe, whose not-to-be-missed museum a few short blocks from the Plaza showcases close to 1,200 of her works, including some of the famous oversize flowers and New Mexico landscapes.
That cultural legacy, combined with some 250 galleries, encouraged UNESCO to designate Santa Fe as a UNESCO Creative City for craft and folk arts. And crucially for families, many of the museums and galleries host lectures, hands-on creative workshops, gallery talks, film screenings, and youth and family programs to get kids interested in art.
Particularly noteworthy is the Museum of International Folk Art, not only because it houses the world's largest collection of folk art, but also because it encourages families to come together (children 16 and under get in free) with interactive exhibits and free hands-on art-making workshops for all ages.
Santa Fe's Varied Restaurants and Accommodations
And the city's charms extend beyond art and architecture. Though summer is high season, there are also special events — festivals, musical concerts, exhibitions, artist markets — scheduled for nearly every week in winter. There's an expansive Genoveva Chavez Community Center in town with an iceskating rink and indoor swimming pool. And winter is also prime time for hot-air balloon rides in nearby Albuquerque (65 miles to the south).
For a small city, Santa Fe boasts some 250 restaurants, with cuisine ranging from a chili-topped burger at Cowgirl BBQ in town to unexpected Japanese-inspired small plates at Izanami, on the road to Ski Santa Fe. It also an exceptionally diverse selection of tourist accommodations.
There are scores of options, many within an easy walk of the historic plaza. They include bed-and-breakfasts, inns, hotels and motels, full service resorts, vacation rentals, and more. For information and a search form, check out the Santa Fe Convention and Visitors Bureau's website.
Ski Santa Fe by the Numbers
A mere 16 miles separate Ski Santa Fe from the 400-year-old plaza at the heart of Santa Fe itself. The road, Hwy. 475, climbs steeply, coming to an end at a sprawling, big-windowed base lodge high in the Sangre de Cristo Mountains at a give-me-a-minute-to-catch-my-breath elevation of 10,350 feet above sea level.
From there, seven lifts access some 77 trails spread across 660 acres of ski terrain—fully half of it covered by snowmaking to supplement the roughly 225 inches of snow that sift down onto the slopes over the course of the season. Its 1,725 vertical feet provide something for skiers of every ability, with 20% of the runs rated easy, the rest equally divided between intermediate and expert.
A Family Oriented Ski Mountain
Your first clue to the family-friendly nature of the ski area comes as you walk from the parking lot to the lodge. On the way, you pass Chipmunk Corner (more about that below), a tiny hill with a moving carpet where kids as young as 3 (or 5 if they're snowboarder) can get introduced to skiing or snowboarding in a space all their own.
The second clue is the lift ticket prices at my visit, which top out at $72 for adults this coming season–unless they are beginners, who pay only $38. There are also discounts for seniors, teens, and children 12 and under. Better still, kids under 46" in ski or snowboard boots ski free as do seniors 72+. And anyone not wanting to put in a full day can opt for a half day morning or afternoon ticket for $58.
The lodge, too, is very family friendly with rows of big picnic tables indoors and a diverse and economical food court—breakfast fare in the morning, pizza, burgers, deli sandwiches, and salads at lunch, and gourmet coffee any time—though there's no stigma if you bring your own lunch. Ski and snow board rentals are handled out of the lower level, which also houses a well-stocked retail ski shop, restrooms, and lockers.
Caveat: In the rarefied air at this elevation, 10,350 feet, there are two critical issues, not just for kids, but for everyone: hydration, to prevent or mitigate altitude sickness, and sunscreen, even on cloudy days.
Chipmunk Corner for Santa Fe Kids
Chipmunk Corner (505/988-9636) is a dedicated facility to introduce kids to skiing and snowboarding. It consists of several rooms and its own tiny ski hill with a conveyor lift. For skiing it takes potty-trained kids 3-11, for snowboarding 5-11, and divides them by sports into four groups: 3/4 years, 5/6 years, 7/8years, and 9 through 11 years (children ages 10 to 11 can opt for either Chipmunk Corner or the Snow Sports School). Enrolled kids get fitted for equipment rentals right at Chipmunk Corner—no need to trek to the regular rental shop–where a trained staff swiftly and efficiently adjusts skis, snowboards, and boots.
For kids on skis, the staff also alerts parents to the DIM rating they've chosen for the binding (a setting that determines how much pressure is required for a binding to release) in the rental area, so they can feel comfortable about the choice and sign off on the setting. But once the check-in process is complete, staff takes over—completely, to the point of not allowing parents beyond the check-in desk.
The children, once outfitted, move into a large room with places for shoes, lots of small tables and chairs, and, crucially, dispensers for water, which they're encouraged to drink.
Chipmunk Corner is also the staging area for snow play, a half-day or full-day of activities for potty-trained children 3-4 who aren't interested in skiing. And it houses a daycare center for children 3 months to 3 years (divided by age).
Progressive Ski and Snowboard Instruction for Kids
Only kids and their instructors have access to Chippy Hill, although parents can easily watch from a deck outside. The day begins with an evaluation, for everyone. Those who demonstrate that they're able to turn, control their speed, and have experience riding a chair lift then go off to an appropriate part of the mountain with an instructor (who typically shepherds about eight kids).
The others learn some basic skills and once they master those can ride the conveyor lift to the top of this baby hill. (A conveyor lift is essentially a moving walkway that kids can ride standing up while wearing their skis or snowboards).
They then come down a very gentle slope with their instructor. This area also has a chairlift suspended from a frame so kids who have never ridden one can learn a little about what to expect. In addition, there's a snow play area for kids who either don't want to ski or get tired of it and want to do something else, like build snowmen or sled, but most kids want to get on the mountain.
At midmorning, everyone comes back inside for snacks and water, then goes back out for the rest of the morning, returning inside for lunch. The youngest kids, those ages 3 and 4, can come inside at any time they want and take a break to play games, watch movies, listen to music.
At lunch, everyone is retested to determine who's ready to move up to an appropriate part of the mountain or and who's going to be happier staying on Chippy Hill.
Ski Santa Fe Snow Sports School for Adults
The instructors range in age from 14 to their 60s and all have had experience dealing with young kids, who don yellow-and-red bibs so as to be easily identifiable on the mountain. Instructors on the slopes remain in walkie-talkie contact with the base staff so if a child has a meltdown or other issue, a runner can be sent to handle that issue while the instructor continues to work with the others. The program has proven to be so popular that over spring break enrollment can reach 125/day, the maximum they accept. This experience makes instructors well suited for adults too.
For anyone ages 10 and older, Ski Santa Fe offers both group and private lessons in skiing and snowboarding. In the group programs, novices get instruction in the basics; intermediate and advanced skiers work on improving technique—whether they need help with powder, bumps, or the terrain park—and at the same time have an instructor to show them around the mountain.
Beginning and novice snowboarders ages 10+ are enrolled in the Burton Learn to Ride program. Created specifically for beginners, these sessions focus on making the first experience of snowboarding both easy and fun by pairing qualified instructors, proven teaching methods, and Burton equipment tailored by gender and age.
The cost of the specialized program is higher—however they receive two 110-minute sessions, one in the morning and one in the afternoon, so by the end of the day kids are hooked on the sport and want more.
Ski Santa Fe's Adaptive Ski Program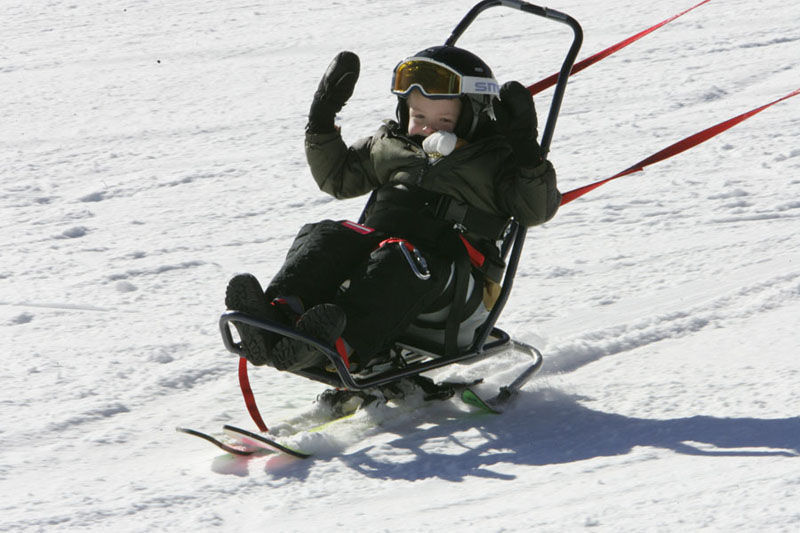 Along with its sister property Sandia Peak near Albuquerque, Ski Santa Fe has a long history of safe and supportive alpine ski lessons for adults and children (5 years and older) with a wide array of mental and physical disabilities. Reservations are required but because the program relies heavily on volunteers and sponsors, it is able to offer private lessons, equipment, and lift access at nominal cost.
On the Slopes of Ski Santa Fe
I had skied New Mexico before, but not Ski Santa Fe, and what struck me most were the views from the top of both the Millenium triple, which tops out at 12,073 feet, and the Tesuque Peak triple, which rises to 12,053. From that ridgeline, you have a panoramic view west across the vast high desert of northern New Mexico and north along the forested spine of the Sangre de Cristos. Well-groomed intermediate trails spill down from both peaks, while stronger skiers can tackle steeper chutes and glades (a few of them rated not just black diamond but double black diamond).
Beginners can get almost as high, 11,250 feet, on the Santa Fe Super Chief quad or the Sierra double chair that depart from near the base lodge. From there they meander back on any of a number of gentle, winding trails. Absolute beginners, meanwhile, can opt for their own chair—or a second short conveyor lift called Pine Flats–on the gently sloping lower part of the mountain, much of its terrain protected as a slow-skiing zone. And finally, there's a modest terrain park for free-stylers on boards or skis under the Sierra double chair.
Ski Santa Fe's other significant assets are its snowmaking and its conscientious grooming. Even though it was unseasonably warm when I skied there late one March, the beginner and intermediate slopes were all in superb condition, which was all the more remarkable considering how quickly the snow seemed to be melting. The season typically runs from late November into the first week of April. Lifts operate from 9am to 4pm until mid March and then from 9:30am to 4:30pm until the end of the season.
Practical Ski Santa Fe Trip Planning Details
Interested in pampering? As you wend your way down after a day on the slopes, you'll pass a tiny resort called ten thousand waves, a peaceful Japanese bathhouse where you can soak out aches and pains in its public and private hot baths or have those pains kneaded away by one of its massage therapists. The perfect end to a day of skiing.
The nearest major air gateway is Albuquerque International Airport (ABQ), 65 miles to the south, although Santa Fe Municipal Airport (SAF) itself also has limited service (via Denver on United Express and via Los Angeles and Dallas on American Eagle). Rental cars are available at both airports, as is shuttle service into Santa Fe. There is also train service on The Rail Runner Express between the Albuquerque and Santa Fe, and AMTRAK stops at Lamy, 17 miles from Santa Fe.
Once in Santa Fe, you'll find a city compact enough that you comfortably can take in downtown and its historic districts on foot. Alternatively, hop aboard the free Santa Fe Pickup shuttle, which connects many of the central hotels with museums and other points of interest. There are many, many family-welcoming activities in Santa Fe. For trips farther afield, there are local buses and taxis. Unfortunately, there are currently no public buses or private shuttles from town to the ski slopes, making a rental car essential.
Dear Reader: This page may contain affiliate links which may earn a commission if you click through and make a purchase. Our independent journalism is not influenced by any advertiser or commercial initiative unless it is clearly marked as sponsored content. As travel products change, please be sure to reconfirm all details and stay up to date with current events to ensure a safe and successful trip.
---