I'm dressed for an Iceland family adventure: puffy, waterproof space-like suit, crash helmet, rubber boots, goggles and gloves. This is Mother Nature at its finest and we're ready to embark on a rugged journey.
Discover Iceland, the perfect place to introduce kids to adventure travel and a world foreign from their own.
I've traveled miles off-road, forded streams, traversed fjords. I park my all-terrain buggy to walk over barren, lava rock-strewn fields. Dormant volcanos, cascading waterfalls and towering glaciers loom in the distance.
I feel like a woman on the moon, alone with the elements. It seems like a magical, other-worldly dream. Known as 'The Land of Fire and Ice' Iceland is one of the most popular travel destinations in the world. Yet, there remain areas so remote you can experience an out-of-this-world feeling daily.
Iceland Is Something New for Us
Here, everything is vastly different from what most U.S. kids experience daily.
Many families live in remote villages. Tell your kids there's no easy access to a mall, movie theater or supermarket. Teens can drive two hours to high school. Kids feed chickens or herd sheep among other chores.
The scenery, language, money, weather, light and even the night skies are different. An Iceland family vacation is a wild and wooly experience like none other.
Did you know?
Iceland is about the same size as Kentucky and slightly smaller than Ohio.
In 1980, it became the first nation in the world to elect a female president.
Only about 20% of the country is habitable.
Our Base at the Hotel Rangá
Experience all the enchantment during an Iceland family vacation. But don't get me wrong. Visitors can have these far-flung experiences while still enjoying luxury and comfort.
We drive 90 minutes from the Reykjavik airport along volcanic ash-littered fields. The adventures start at the Hotel Ranga in Hella. The log-cabin-like one-story building has 51 rooms. Seemingly in the middle of nowhere, it is very centrally located for access to all the scenic South Coast has to offer.
Hrammur (meaning "Paw"), a 13-foot resident polar bear, greets you. Ask owner, hotelier Friðrik Pálsson, to tell his tale (among others) for a unique lesson in all things Iceland.
Feeling More Cozy Than Home in Iceland
Hotel Rangá rooms are cozy and efficient, with heated towel rods and large soaking tubs. Each one has a different mural painted by a local artist. In summer, when daylight can last for up to 19 hours, parents appreciate that black-out curtains provide some darkness. Kids like to hang out at the game room with pool table and board games. There are also plenty of nooks to curl up with a good book while eying the peaceful scenery outside.
Days start here with a panoramic morning view of moss- covered lava fields and snow-capped volcanos in the distance. Nights end underneath a blanket of stars. It is perfect serenity. No one else is around. Oh wait…there are a few sheep grazing nearby.
Hotel Rangá offers one of the best hotel perks: shoe warmers! We left dirty, wet boots with the front desk after the buggy adventure. They were returned the next morning, clean, dry and ready for more action.
Hot Tubs + Northern Lights for an Iceland Family Adventure
I plunged daily into the hotel's deliciously warm geothermal hot tub. (Since it was steps from the room, I didn't even need the fluffy robe that's provided). For the brave, there's an icy river several yards away. Locals prefer to run in for a dip before jumping back into the warmth of one of the many hot tubs and natural springs.
You may be lucky enough to catch the Northern Lights during the months of September to April. The sky above puts on a show of glowing green and violet swirls that dance during winter. Watch the forecast for a clear night. Keep your fingers crossed. Be sure to hit the "Aurora Wake-up Call" button on your room's phone to get alerted should they make an appearance in the middle of the night.
If the lights are visible, Hotel Rangá provides the perfect front row seat to admire them (sometimes right from your room), since nights are pitch dark here.
Additionally, use the two high-tech telescopes in the hotel's observatory to view the stars and planets. On clear nights, local astronomers are on hand. They share stories the kids will love about the constellations and how they got their names.
Iceland is a Magnet for Movie Locations and Celebrity Sightings
To get your kids ready for Iceland, read books or watch movies or TV shows that capture some of its magic. J. R. R. Tolkien, author of The Lord of the Rings trilogy, was inspired by Iceland. His legendary fantasy world of Middle Earth was shaped by aspects of the landscape, language, folk tales and Norse mythology.
Numerous blockbusters have been filmed all over Iceland. Among them: The Secret Life of Walter Mitty, Interstellar, Batman Begins, Thor 2 – The Dark World, and two James Bond movies, A View to Kill and Die Another Day. This map shows where each was set in Iceland.
Kids will also get a kick out of knowing that Justin Bieber once stayed in the Hotel Ranga's room 10. He featured the Fjadrargljufur Canyon and other beautiful scenery in his 2015 music video, "I'll Show You" and came back to give a concert the next year.
Kim and Kourtney Kardashian and Kanye West, plus the cast of The Real Housewives of Orange County, are also fans of Hotel Rangá. They stayed in some of the exquisitely decorated suites themed after the seven continents. Play chess with polar bear and penguin pieces in the Antarctic suite. Sleep under an oversized Icelandic sweater/blanket in the Iceland suite. And soak in a traditional Japanese wooden bathtub in the Asia suite.
Southern Iceland Family Adventures
Horse-lovers will want to visit nearby Icelandic Horse World. Get a guided tour of the stables and learn about the Icelandic horse's unique five gaits. Compare this physical ability to most horses who only have three gaits.
Icelanders strive to keep this breed pure. Once the horses leave the island for competition, they can't return, for fear they may bring back diseases. Admire the crazy, flowing hairdos these lovely beasts sport. Pet them and they'll snuggle up to you. You can also arrange for a ride.
Next up, we entered the Caves of Hella, Iceland's oldest archaeological remains. Four manmade sandstone caves are open to the public. Examine the ancient wall carvings and underground chimneys. These archeological wonders remain a mystery as to when and by whom they were built. Some suggest they were made by Celts who inhabited Iceland before the official Norse settlement in the late 9th century.
Then we headed to Reynisfjara, the Black Sand Beach about an hour further south. The coarse sand gets its color from eroded volcanic material. Be sure to feel the sand; do not to take any home. Fierce waves pound the beach so no swimming is allowed. Instead, take great photos of the striking basalt rock formations.
Explore the Icelandic Village of Vik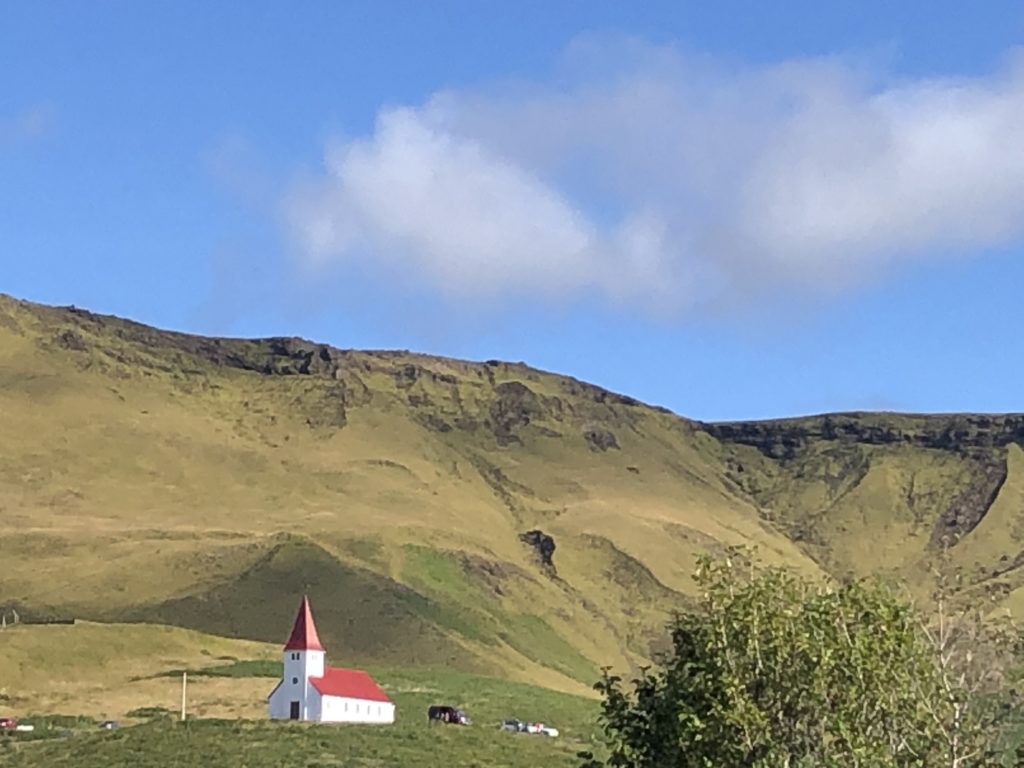 We arrived by lunchtime at the picturesque village of Vik. Stop by the red-roofed church, perched high up for wonderful views. Then enjoy burgers and craft beer at Smiojan Brewery. Kids are sure to devour the Nutella fries! Yes, you heard that right. French fries smothered in Nutella, hazelnuts and powdered sugar.
Get an education in Iceland's fascinating geology at Vik's LAVA Show. The interactive exhibition is about the natural forces that have shaped the country's landscape. Kids are fascinated by the realistic recreation of a volcanic eruption, complete with molten lava, in this cool science museum.
That is, if you aren't on the island when a real volcano erupts. It could happen any time since Iceland is among the most volcanically active places in the world. There's roughly one eruption every five years.
Family Adventures in Iceland's Natural Beauty
Be sure to book a great tour guide to learn about Iceland's geography, history and mythological stories about the elves. These supernatural beings, also known as the "hidden people," are favorites.
The super adventurous sign up first for the unique glacier ice cave expeditions. Dress warmly, grab a helmet and strap on ice crampons for a visit to natural ice caves, formed as glaciers melt. The faceted ice walls shine like diamonds and photograph blue. It's exhilarating to climb through something only Mother Nature could create. Note: Recommended for children ages 10 and older.
All ages love the buggy tour through the Pórsmörk Nature Reserve, site of early seasons of Game of Thrones.
The country has an estimated 7,000 waterfalls. The dense mist at Skógafoss, one of the largest waterfalls, practically guarantees a vivid rainbow on almost any sunny day. Climb the adjacent 527 steps to see it from above. Continue along the trail at the top to see more waterfalls and miles of breathtaking scenery. Stop at Seljalandsfoss, a waterfall you can walk behind. Be ready to get wet from the thundering curtain of water as you feel its full force.
We were amazingly lucky to be in Iceland during Réttir. During the annual fall event, sheep are rounded up from their summer highland grazing and returned to their farms for winter. Locals and visitors are welcomed to help wrangle the sheep into their owner's pens. Trust me, it's not easy to grab the horns of a bucking animal and move it along. The tradition dates back 300 years and is an experience your kids will be talking about forever.
Culinary Adventures in Iceland with Kids
If you have adventurous eaters, there's lots to try in Iceland. Herring in mustard sauce and gravlax (known as lox to most) are popular. Lamb is served many ways from soups to stews and on the bone. Kids may not want to eat "Rudolph," but the Hotel Ranga makes an amazing reindeer carpaccio.
Parents should try a shot of Icelandic cod liver oil that's offered at breakfast, to give you energy for the day. I'm not sure the fermented shark – a pungent Icelandic delicacy – will go over as well.
A kid-fave will likely be hotdogs — practically the Icelandic national dish. Learn how to dress one local style. First into the bun goes chopped raw onions, then fried onions. Add ketchup, remoulade and then place the hot dog on top. Whether you add mustard atop or underneath varies.
Another must-try is Icelandic chocolate. Stop in any local candy store or supermarket and you'll be surprised at all the unfamiliar – but delicious – sweets. Top of the list is the Ris bar with crispy corn puffs encased in chocolate. Draumur (means "dream") is a licorice rope covered with chocolate, a treat for those who love the strong-flavored candy.
Trip Planning Details for an Iceland Family Adventure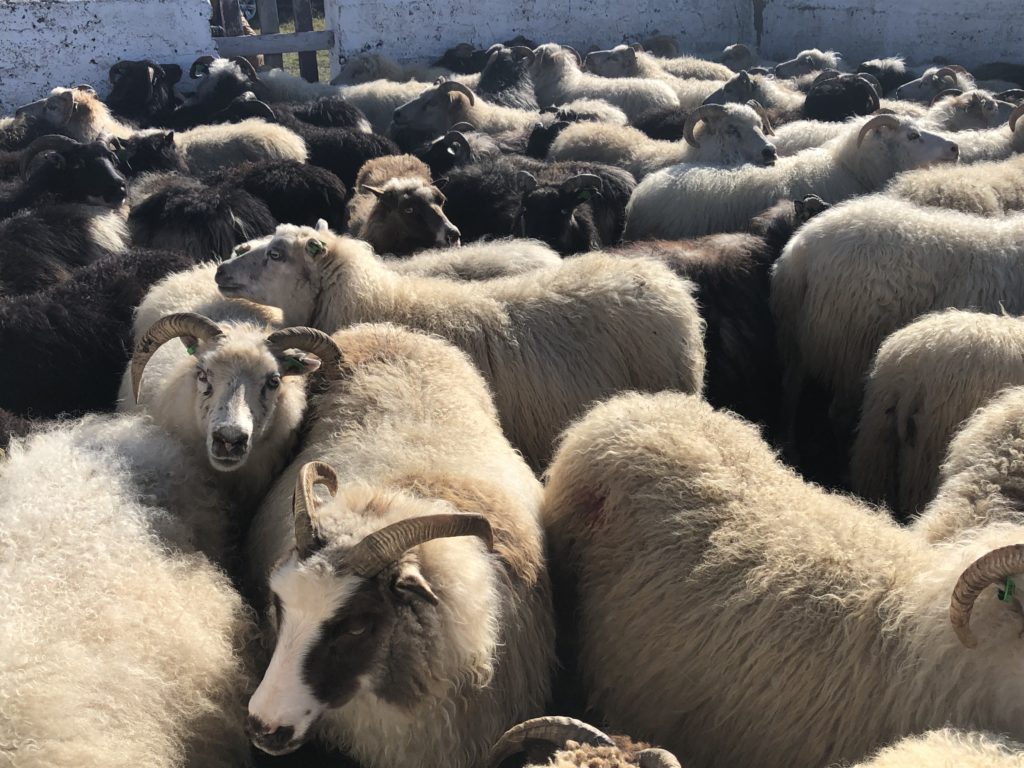 Everywhere, locals are kind and welcoming. Chat them up and they may invite you over for some traditional meat stew.
When To Go, What to Pack. The weather is unpredictable all year long. Pack for warmth and wetness and be ready for the unexpected. Sometimes you'll encounter four seasons in a day, so layers are key. Bring swimsuits for a dip in a hotel hot tub or one of the country's geothermal natural hot springs. Waterproof hiking shoes and warm socks are a must.
Getting to Iceland. Icelandair has direct flights from New York, Boston, Chicago and other major U.S. cities. They offer a great bonus, too. Fly Icelandair transatlantic and choose to add a one to seven-day stopover in Iceland at no additional cost.
Getting Around Iceland. To get to Reykjavik from the airport, hop an inexpensive city bus, or the private Flybus to take you to your hotel. To explore the island, rent a car or hire a guide. You can drive yourself for a southern Iceland family road trip.
However, it's a great idea to take at least one daytrip with a guide. We had the wonderful local expert Stefan Arngrímsson from South Coast Adventure. The kids will learn so much and you'll be safer going off-road to the ice caves or glaciers.
By the way, we heard there was a great Northern Lights show the night before we arrived. But sadly, we did not see them, so we'll have to come back. There's so much more of this amazing country to discover.
Bethany Kandel is a freelance writer based in New York. She's taken her now-grown children on her adventures around the world.
Dear Reader: This page may contain affiliate links which may earn a commission if you click through and make a purchase. Our independent journalism is not influenced by any advertiser or commercial initiative unless it is clearly marked as sponsored content. As travel products change, please be sure to reconfirm all details and stay up to date with current events to ensure a safe and successful trip.
---