There's no better way to appreciate the rugged beauty of nature than a family road trip, especially along Iceland's south coast, one of the world's most geologically diverse regions. Since Iceland has controlled the spread of the coronavirus, if you plan your getaway with the family carefully, you can turn an Iceland south coast road trip into a bucket list adventure.
Clean, green Iceland has a sophisticated infrastructure, including a Ring Road that many film buffs take a few weeks to drive. While that will lead you to some of the country's most interesting volcanoes and geothermal features and "Star Wars" filming locations, it's too much time in the backseat for most children.
When to Go: Iceland's South Coast Itinerary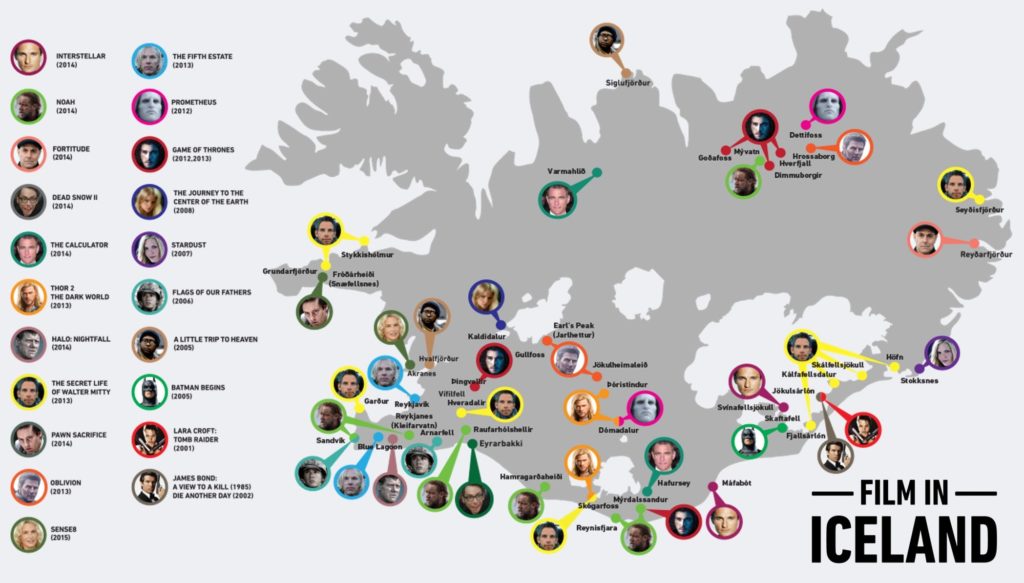 Instead, tour the country's southern coast, which can be done in four days. Iceland is known for its outdoor adventures, so we'll point out a few excursions sure to interest kids, no matter what they're into.
Note that between May and September, the road conditions should be good. June and July bring the famously long days of the midnight sun, and warmer temperatures linger into August. Weather is always unpredictable because rain and strong winds are common. During the winter months, rent a four-wheel drive vehicle to grab any opportunity to see the Northern Lights.
Here are some favorite places to stop on your Iceland south coast itinerary.
Day 1: Reykjavík to Westman Islands – 187 miles roundtrip
Since you've flown into Reykjavík, why not spend a few nights relaxing and indulging in the city's famous foodie scene (anything seafood.) It's easy to arrange a day tour by ferry to the Westman Islands from the port of Landeyjahöfn. This route passes waterfalls, volcanoes and glaciers and, around the many fjords, you may see whales and puffins.
On Heimaey, the largest of the Westman Islands, the small Eldheimar Museum commemorates the 1973 volcanic eruption. This good news bad news event lasted for months, forced thousands to flee and expanded the region's landmass by 20%. It's a great introduction to geologic features that make Iceland's scenery so spectacular. Some day tours also include hiking around the island to see the Eldfell volcano or boating around nearby waters.
Just to the east is Eyjafjallajökull, the famously active volcano whose 2020 eruption sent a huge cloud of ash over Europe that disrupted air travel for nearly a week.
Day 2: Reykjavík to Geysir on the Golden Circle Route – 75 miles
Ready to hit the road? Begin by following the old Viking trail through many small fishing towns on the so-called Golden Circle, a route that returns to Reykjavík.
Þingvellir National Park (pronounced Thingvellir) is famous for many reasons. It's both a national park and a UNESCO World Heritage Site as the place where the world's first national assembly met in 930 A.D. It's also where the North American and Eurasian tectonic plates meet. Watch your step because constant volcanic activity has torn open fissures in the earth that fill with water. Þingvallavatn, Iceland's largest natural lake, has such clear spring-fed waters that divers and snorkelers from around the world come to explore. Let the backseat know that the park has also been a popular filming location for "Game of Thrones."
Older kids will be fascinated by LAVA, the Iceland Volcano & Earthquake Centre that combines lots of amazing movies of erupting volcanoes in a very cool science museum devoted to this fascinating geology. From Thursday-Sunday, buy Family Pack tickets that include a film plus all exhibits for two adults and unlimited children under age 17.
From here, it's on to the Haukadalur Geothermal Area, with the not-very-active geothermal feature called Geysir that gave its name to Old Faithful and other fissures that shoot steaming water from the earth's core. Let the kids hunt for venting steam and mud pots, all signs of volcanic activity that are easily seen along the many trails here and in the forest.
The more impressive geyser Strokkur is nearby; unlike Geysir, it shoots out flumes from 45 to 120-feet tall every 10 minutes or so. There's also the active Litli-Geysir nearby.
Geysir Geothermal Region Tips!
This area is a good base for a few nights. There are small horse farms and hostels like Geysir Hestar that provide good value. Even better, accommodations include private cottages if you're concerned about social distancing. This is the place to arrange horseback rides.
Be sure to have water bottles for everyone in the family and snacks for a picnic whenever you find solid land.
Day 2-3: Geysir Region to Gullfoss – 35 miles
Spend day two on local excursions, either a guided horseback ride with a local who can explain the region's volcanic history, or a dip in Iceland's oldest swimming pool.
Swimming pools — natural geothermal lagoons but sometimes manmade ones — are very popular in Iceland. Did you know that swimming is the national sport? Secret Lagoon in the nearby town of Flúðir dates back to 1891 and it's no longer a secret. Change at their bathhouses to soak in the natural springs that stay at a toasty 100-102 degrees Fahrenheit all year.
About an hour from Flúðir is the fifth tallest waterfall in Iceland, Háifoss. Hike from the end of the rough gravel road to the base of the falls; your family will feel they own the place because there are so few other visitors. There are also many other lesser known geothermal wonders around.
Get up close and personal on the slippery stone walkways at Gullfoss, a short drive away. Also called Golden Falls, it thunders down 105 feet in two enormous steps into a canyon carved by the Hvítá River.
Gullfoss & Flúðir Region Tips!
Don't rush your way through this beautiful region.
If your family is adventurous, this is the place to book a jetboat tour or try river rafting on the Hvítá River. Be sure to keep an eye out and a camera ready for the rainbows created by the clouds of mist.
Day 3-4: Gullfoss Falls to the Blue Lagoon – 120 miles
Often considered the last stop on the Golden Circle which returns back to Reykjavík, the manmade Blue Lagoon is on the Reykjanes peninsula, about 10 miles from Keflavik Airport.
Enroute, stop at Kerið Crater. The large crater filled with blue-green water is easy to recognize as a former volcano. It is said to be 3,000 years old and is just about an hour's drive south of Gullfoss on Route 35.
Make an unusual detour before you reach it to Sólheimar Eco Village, a sustainable farming and arts community. Founded in 1930. it's supported by the Church of Iceland. Their mission is to foster individual success, especially for those with disabilities. Make time to visit; volunteers are welcomed. In addition to organic farming, greenhouses and guesthouses at this eco-tourism community, on-site workshops produce candles, carpentry, weaving, soap and arts n' crafts.
Don't miss the Blue Lagoon on Iceland's south coast, justly famous for its volcanic architecture and strikingly blue 104-degree hot springs. The other-worldly color is created by an abundance of Sulphur, Silica and algae; the muddy bottom is considered medicinal.
Blue Lagoon Sightseeing Tips!
With a reputation for enhancing the skin (basic admission gets you a Silica mud mask), an Instagram presence to rival the Kardashians and easy access by motor coach from Reykjavík, you can imagine how crowded this day spa can get.
To optimize your photo opportunities and social distancing, consider staying the night in the posh hotels, or booking a day at the on-site Retreat Spa, with its private pools, treatment rooms and bathing section.
Day 5-6: Moving East Along the Iceland's South Coast – 210 miles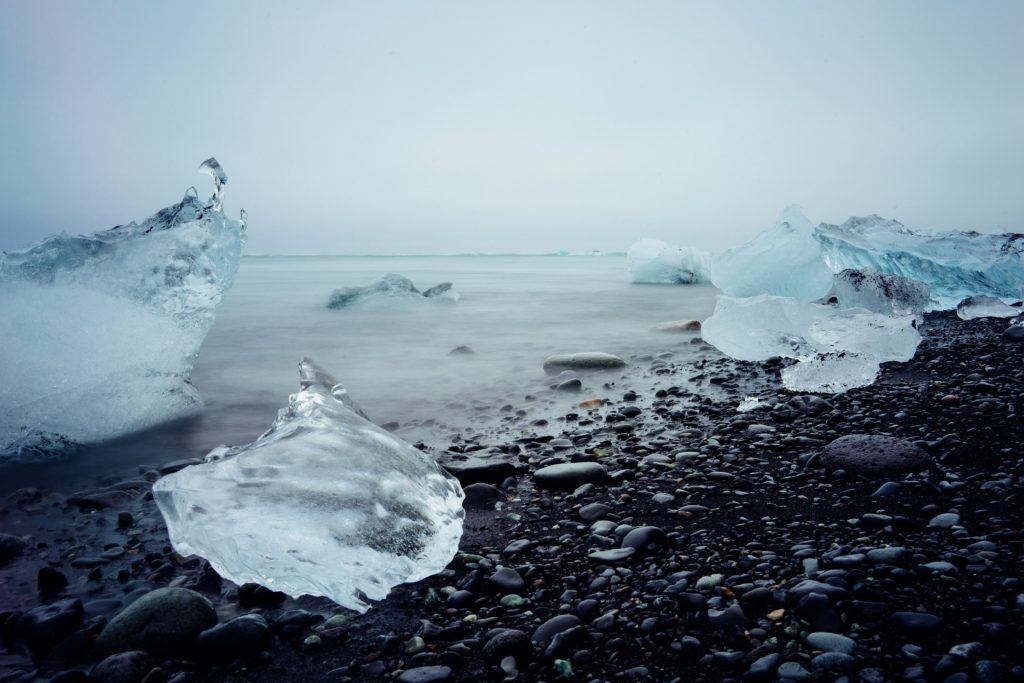 Not ready to go back home? The south coast's natural attractions don't cease at the Golden Circle. Families with more time should drive east from the Kerið Crater. Head along the shore road to Skógafoss, a tall and broad waterfall whose dense mist guarantees a rainbow on almost any sunny day.
At Jökulsárlón Glacial Lagoon, watch, in real time, as chunks of the Breiðamerkurjökull glacier break off into a deep lagoon. The stunning sight is caused by recent ice melt. This living climate change lesson is best appreciated on the ferry and inflatable boat tours that run May to October. From the vessels, you can get close up to the mother Vatnajökull Glacier and icebergs. Look out seals and other wildlife that make this frozen landscape their home. From here, it is about 230 miles west to Reykjavík.
Budgeting South Coast Road Trip Tips!
Plan your itinerary carefully and choose Iceland's south coast accommodations to meet your budget and family needs. True outdoorsmen will appreciate the many camping options available along the route, as long as you know your camping style and can plan ahead to have everything you need on hand.
An important note: The local currency is Icelandic krona (ISK) and while your trip may be very rustic, food, hotels, guided tours and fuel can be expensive. By some traveler accounts, family trips can easily cost $1,000 per day. However, if Iceland is on your bucket list, there's nothing like a south coast road trip to fulfill your dreams.
This blog post written by the Family Travel Forum staff has been sponsored by AirCharterServiceUSA.com to help families planning an Iceland vacation.
Dear Reader: This page may contain affiliate links which may earn a commission if you click through and make a purchase. Our independent journalism is not influenced by any advertiser or commercial initiative unless it is clearly marked as sponsored content. As travel products change, please be sure to reconfirm all details and stay up to date with current events to ensure a safe and successful trip.
---