Determine your camping style if you're dreaming of sleeping under the stars – will it be an RV, cabin or tent experience? The coronavirus pandemic has changed everything, so let's review your options, what camping costs and what to expect at campgrounds during summer and fall 2020.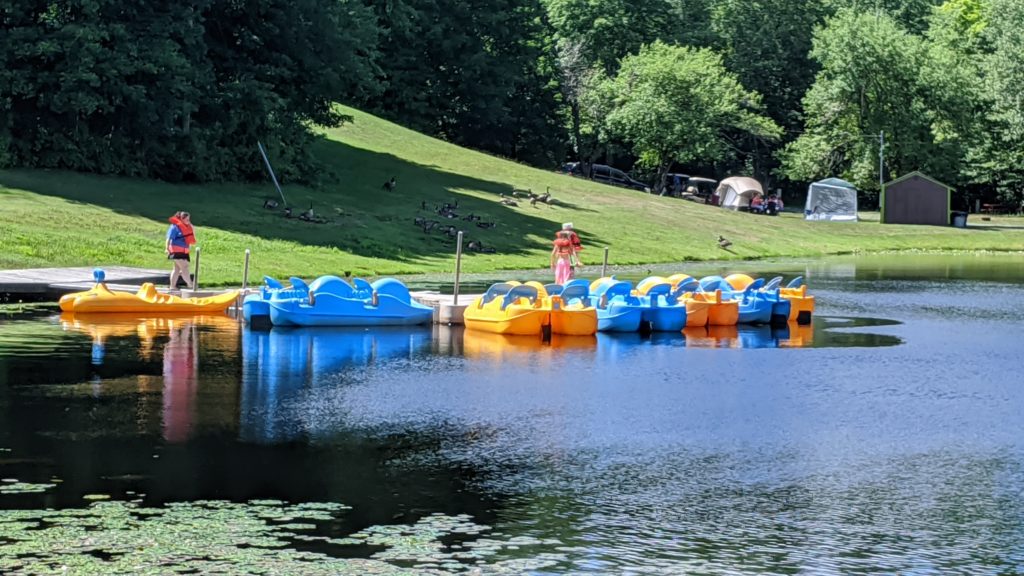 How to begin? To explore the choices available to campers today, we hit the road to try three, very different Mid-Atlantic campgrounds with various sleeping options.
Any Camping Style is Kid-Friendly
The good news? Each campground was fun and affordable with many kid-friendly attributes. Best yet, camping in general allows children more freedom to roam than other travel experiences. Far removed from Zoom lectures, kids played in the mud, ran after fireflies, swam, ate outside three meals a day and goofed around.
Many families we saw were multigenerational groups in which the grandparents' RV was surrounded by younger generations sleeping in tents. Others were young families with toddlers nesting in travel trailers towed by SUVs.
My urban family doesn't own any camping gear so we picked nearby campgrounds which offered a variety of rentals.
Picking A Location – What Fits Your Camping Style?
For newbies, backyard camping is enough of an adventure and a safe place to practice your fire-starting skills.
Before you decide to head farther afield, examine the regional COVID-19 infection rate at your planned destination and be ready to pivot to a new country or state if things look bad or there's a quarantine in effect.
The other important aspect of location is what's available at or near the campground if fishing or hanging around the pool gets boring. Families with young children need water play. School-age and older children may want to break up quiet days in nature with local outings.
Campground Locations Can Be Good For Different Reasons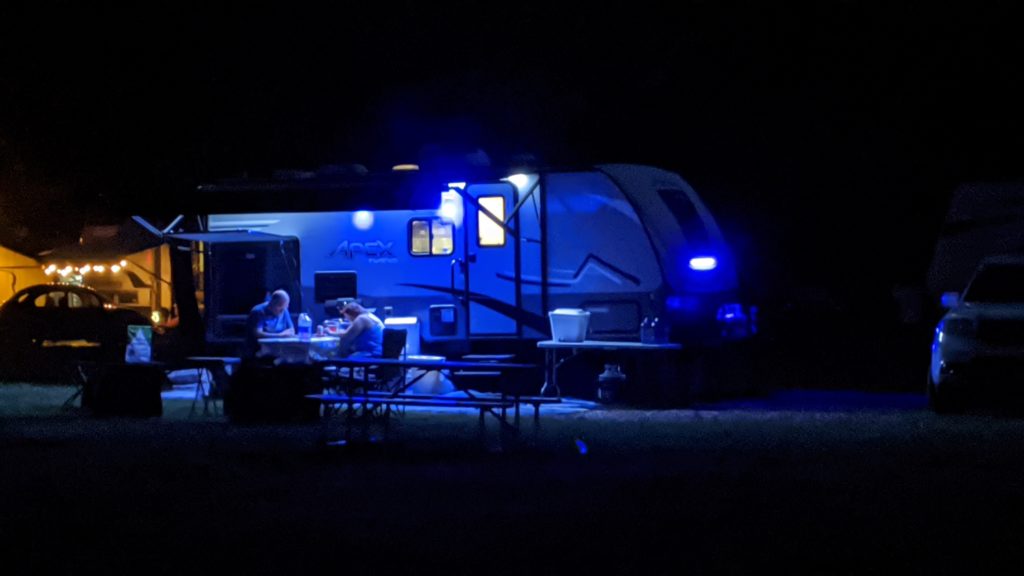 We lucked out at the Circle M RV & Camping Resort in Lancaster, Pennsylvania (read more about Circle M) because it was within an hour of two national parks whose historic sites were open to the public, although at limited capacity.
A beautiful lake at the Keen Lake Campground and Cottage Resort in the Poconos meant you never had to leave (read more about Keen Lake here.)
Jellystone Park at Birchwood Acres (read our review of this Yogi Bear-themed campground) had a remote setting in the Catskill Mountains and, like the others, a great ice cream parlor nearby.
Density and Privacy are Important Camping Considerations this Summer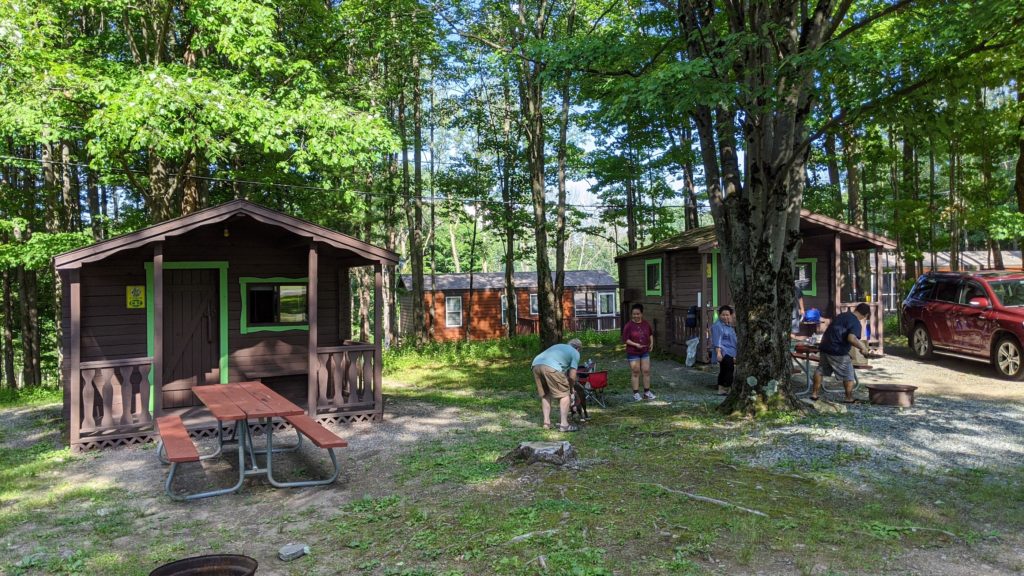 Although we stayed in busy campgrounds, tents and RVs were spaced apart and several even had landscaping in between sites. Other campers, especially the full-time RVers, were friendly yet naturally socially distanced — perhaps the unwritten code of the campground.
Ditto for noise: there was no loud music, no disco lights, no barking dogs. Other campers told us that Saturday nights could, however, be more raucous.
Since many campgrounds have a first come, first serve policy about picking sites, call ahead to find out how early you need to arrive.
Choosing Camping Facilities and Activities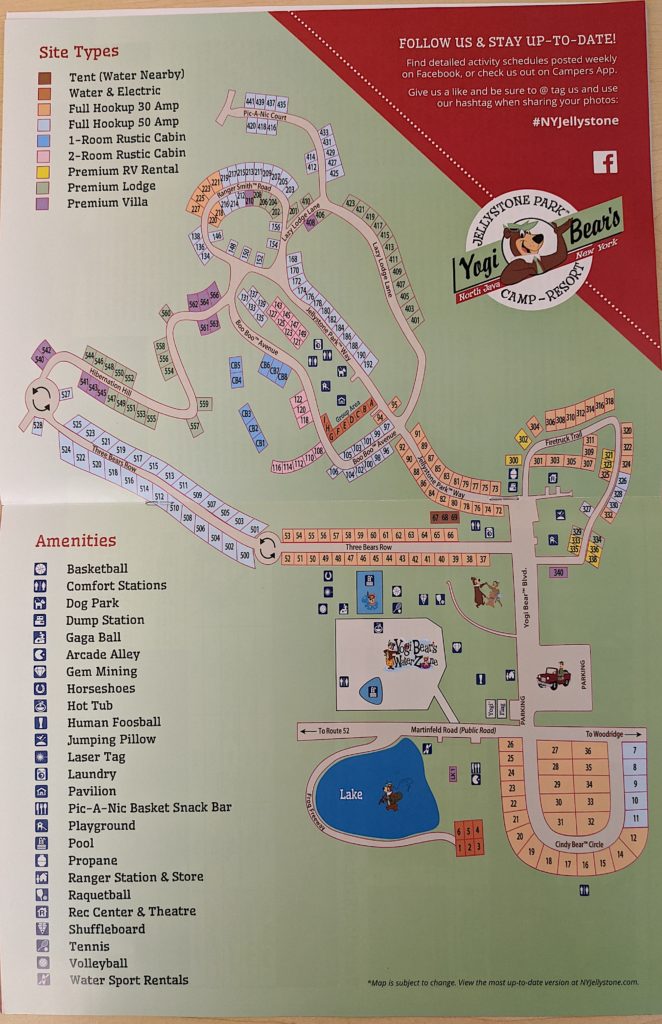 You don't have to fret about finding a campground with the best facilities and activities. These key aspects of "normal" camping shouldn't be of concern because every campground has had to adapt to regional COVID-19 safety regulations.
Maybe the indoor buffet or games arcade have closed. Some will have cancelled nightly Bingo. The extensive schedule of children's programming has been heavily curtailed at most, with many campgrounds only having a few socially distanced events on weekends.
Instead, if you're going to shelter in place, spend your time exploring the choice of shelters.
Choose the Right Shelter for your Camping Style
Before we hit our first campground, we wanted cleanliness, quiet, a natural setting and barbecue facilities; these are common in most campgrounds. We didn't know what our camping style was, so we tried three: an RV (Park Model RVs are designed for those interested in purchasing), a cabin and a tent.
Camping has grown and innovated so rapidly in the past few decades that you'll be amazed at the choices available — from net-and rainproof enclosed hammocks to yurts, Conestoga wagons, train cabooses, to actual RVs and parked RVs made to look like tiny houses.
A Park Model RV, Cabin or Cottage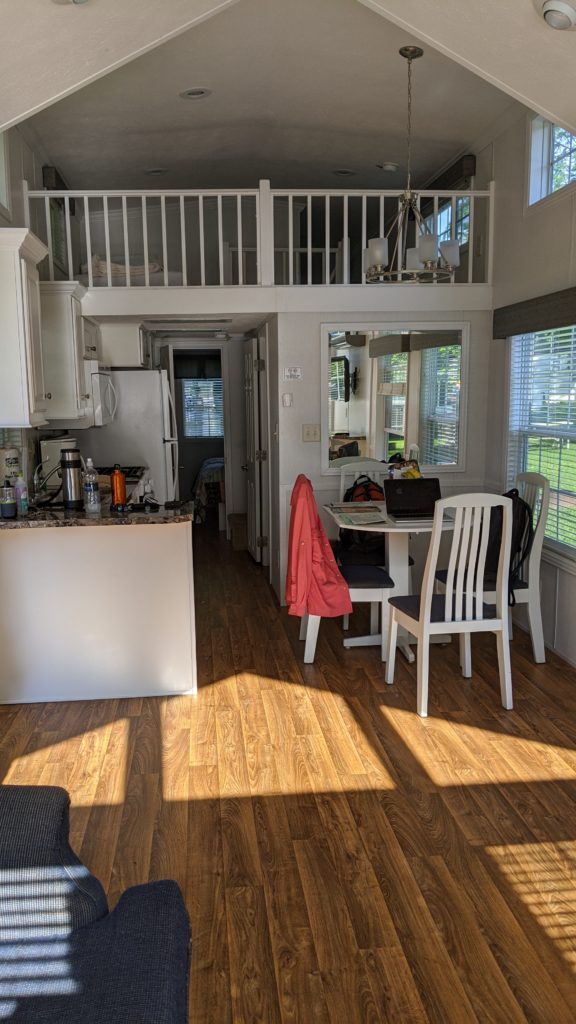 Is not having your own bathroom a dealbreaker? At Circle M, we slept in a comfortable Park Model Loft Cabin whose sanitized bathroom had a tiny toilet, sink and shower with great water pressure.
According to Go RVing, Park Model RVs (sometimes referred to as cabins or cottages) are unique units designed to look like a home that provide temporary accommodations. Stylish in an IKEA way, our Loft Model RV had a compact kitchenette with stove, oven and microwave and a nice dining area, two small flat screen TVs and air conditioning.
That meant once inside our disinfected space, we didn't have to interact with anyone or share any facilities. Like having a starter country house.
Rustic Cabins Are Super Stocked
At the New York Jellystone Park, our Rustic Cabin was a compact wooden box akin to what Abe Lincoln might have slept in. We were stunned to find a queen bed and bunks, TV, air conditioning, microwave and refrigerator inside plus – just enough room to turn around.
It was quiet and not having a toilet wasn't as bothersome as we'd imagined. Our tiny house helped us minimize our impact on the land.
Glamping Tents Are Very Romantic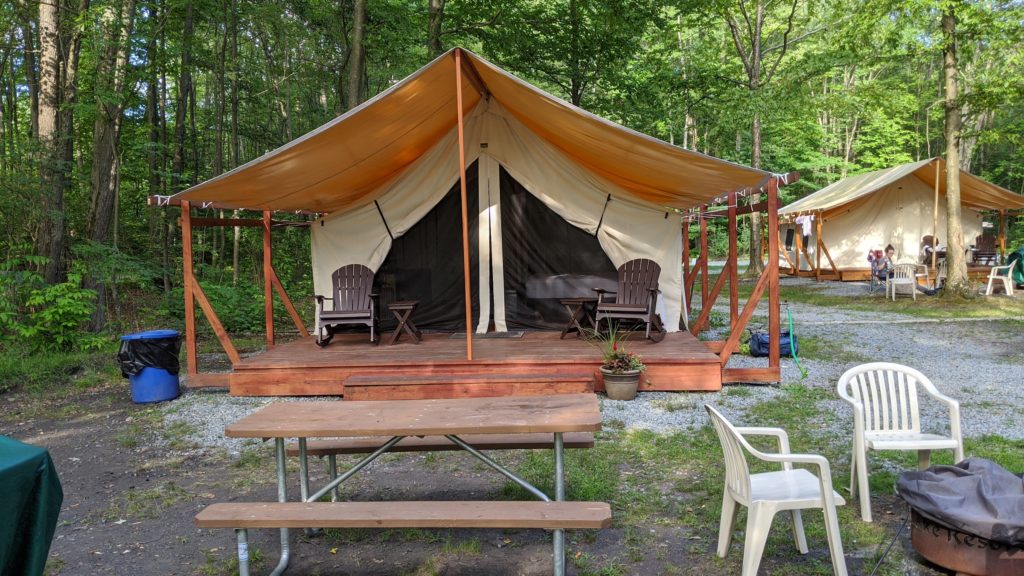 Having stayed in a luxurious safari style tent at Safari West in Sonoma, we looked for glamping options in the northeast and found Keen Lake. There, we slept in a large, rustic chic canvas abode with mosquito net windows and modern appliances. Our porch had Adirondack chairs, a view of the picnic table, firepit, grill and the lake beyond.
The experience imparted a real feeling of camping outdoors while balancing comfort with the inconvenience of being far from the bathhouse and the swimming beach.
Did we like all of them? Yes! We would go back to all the campgrounds and try alternative sleeping options, too.
How To Budget Your Camping Style
Camping is more affordable than your average resort vacation, up to 40% less than resort hotels according to the Recreational Vehicles Industry Association. (Some savings are attributed to preparing your own meals.) And camping is definitely a bargain if you have lots of children.
Keep in mind some of our general rate rules:
Prices are higher the closer you get to metropolitan areas.
Private campgrounds cost more than those in state parks or federal land.
Campgrounds with lots of facilities cost more than rustic wilderness areas.
At most places, you'll have to rent or bring your own linens and kitchenware.
Spring and fall are the best value times to book a site.
In summer, weekdays and weekends cost the same but weekdays will be much less crowded – a good thing.
Camping Rates for Summer 2020
In our experience, mid-summer rates range from $50 per night for a tent site with no water or electricity, to about $100 for a 50 Amp site hookup for your RV. Here are some tips for renting an RV if you want to try one.
If you're not bringing your own shelter, plan on about $140 per night for a one-room rustic cabin (sleeps 4) or $170 for a glamping tent, up to about $220 for a one-bedroom loft cottage (usually a Park Model RV that sleeps 8). A fancier cabin sleeping 12 such as those at the KOA Mount Rushmore Resort at Palmer Gulch — more a full service South Dakota town than a campground — start upwards of $425 per night.
Most campgrounds offer annual memberships to frequent guests and discounts for multi-night stays. During the coronavirus pandemic, many campgrounds have instituted a no-fee cancellation policy.
Resources to Find Your Camping Style
Are you ready to set your camping style? Start with this super comprehensive Camping Checklist. Among thousands of camping resources online, a few focus on where to sleep.
Glamping Hub is the place to browse nearly 30,000 listings of unusual – often unique – camping spots and places to sleep in 115 countries and organize choices by location and lifestyle.
Another popular site is The Dyrt, a robust directory of U.S. campgrounds with lots of blogs and helpful tips on the camping life, from buying a travel trailer to storing favorite cooking utensils.
New for July 2020 is The Dyrt Pro Trip Planner, a tool that allows you to plan a road trip and select the top campgrounds by camping style, as you go. Take advantage of their one-week free trial and test it out.
Is This The Time to Try Camping?
Of course, you have to first consider carefully whether you, your family or your community will be negatively impacted if you choose to travel at all.
Masks on, socially distanced travel and lots of fresh air felt very healthy and restored sanity to our family. You'll have to decide for yourselves.
Dear Reader: This page may contain affiliate links which may earn a commission if you click through and make a purchase. Our independent journalism is not influenced by any advertiser or commercial initiative unless it is clearly marked as sponsored content. As travel products change, please be sure to reconfirm all details and stay up to date with current events to ensure a safe and successful trip.
---