Travelers who are timid about leaving their safe zone after emerging from stay-at-home orders should consider RV rentals for a vacation this year. Several companies are making fully sanitized rental RV units with sleeping, cooking and lounging spaces on wheels, available at locations around the U.S.
Are RV Rentals for You?
Before you make a time and budget commitment to this type of vacation – rentals can be expensive especially on holidays and when demand is high – ask yourself a few questions.
Can we afford this trip now? Rental RVs are good value in comparison with hotels and gas prices are at an all-time low this summer. But there are always extra expenses, ranging from propane or firewood for the barbecue to park entrance fees and insurance.
Will being confined in an even smaller space with loved ones be the break you are looking for? As much as RV living can be, it does not afford a lot of privacy.
Will I be too stressed out by having to drive and manage a new living setup? Any RV, whether a rental or one parked in a campground, requires some learning to operate.
Are outdoor activities and limited recreation options enough to keep us interested? Campgrounds have limited group activities, closed pools and are enforcing social distancing, while many state and national parks have closed all facilities and opened only hiking trails.
Picking a Destination for Your RV Rental Vacation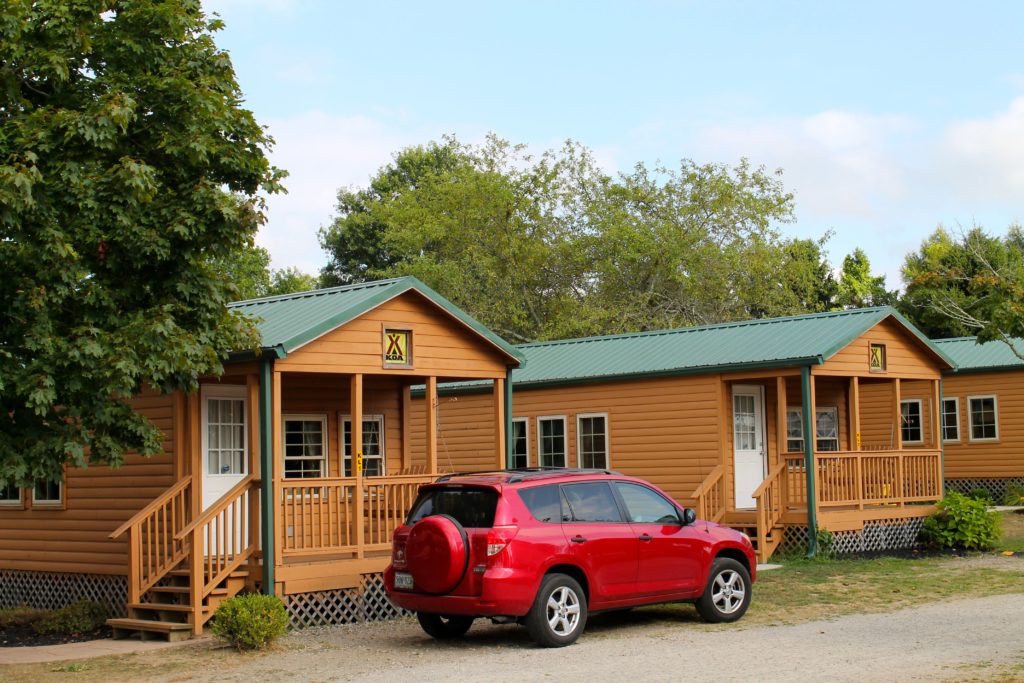 If you decide that RVing sounds fun, go online and choose a destination – an RV park with on-site staff, hookups and a dump station; or a commercial campground such as the family-focused Yogi Bear's Jellystone Park Camp-Resorts, with more than 75 locations in the U.S. and Canada, will be the easiest option for first-timers. Ask in advance if you plan to travel with a pet. During this pandemic, some facilities will not be opening so you'll have to check on the destination campground of choice.
Like KOA and the other big campground companies, Jellystone is planning for a busy summer season packed with attractions like Virtual Bingo. Make reservations early, as some campgrounds are controlling the number of visitors to ensure social distancing. Keep in mind that many campgrounds will stay open this year through Halloween and that fall camping is another good option.
Sounds fun? Check. Sounds easy enough? Check. Sounds affordable? Check. Love the destination? Check. So, make a shopping list, pack a big cooler, load up on barbecue supplies, reading material, binoculars, a compass, fishing gear and anything else you fancy and – after reading our tips – away you go.
Tips for Finding RV Rentals
Enlist the kids to help do your homework! Visit GoRVing.com , the website of the Recreational Vehicle Industry Association, for lots of resources and a fun comparison tool for different RV models. Or, if you don't want to get distracted by what you can't have, start at the GoRVing tab "Where to Find" then use "Rentals" and enter your preferred starting destination.
The results will include local RV dealers such as the large El Monte RV Motorhome Vacations that rent RVs so you can see what's available. Their 33-foot Slideout Family Sleeper model, for example, has automatic transmission, a TV inside and sleeps six. Browse all the different makes, models and floor plans to decide which size, style and features best suit your needs.
When Renting an RV, What Size RV is Right for You?
With run-around space at a premium, how much do you really need? First, a good night's sleep is crucial to a vacation so you will need to choose an RV with enough room for each family member to sleep comfortably. About 11% of RV owners choose motorhomes because they are easy to drive and have more space than you think inside.
Models have letter names; for example, for example, the Type A is the is the mack daddy of motorhomes! It's normally the largest and the most luxurious type of motorhome.
First time renters should consider the smaller Type B camper vans or the Type C, which is popular because there is a variety of floor plans and comfortable sleeping options. With the Type C, you may have a bed over the driver's area or bunkbeds, and most offer a pullout couch and a dinette that turns into a bed. Ideally, you will want to tour the RV you're interested in before committing to the rental.
The team at GoRVing reminds us, if you decide on renting an RV motorhome, you must choose one with enough room to seat your family because everyone should be seated using a seatbelt when the RV is moving.
What Responsibilities Come with RV Rentals?
Driving an RV is different from driving a car and KOA has some great tips on what you can expect being behind the wheel. You'll also want to know what to expect on the dashboard.
Rental companies are used to inexperienced RVers so don't be afraid to ask questions. Make sure you read and understand the rental contract and the fine print. Be sure to ask about 24/7roadside assistance. Some rentals charge extra if you go over a certain number of miles or use the generator more than the specified time.
Some RV rental companies charge fees if you don't empty the RV tanks or return the unit without cleaning it. While most rental companies do a deep cleaning at the beginning and end of every rental period, be sure to inquire about what's been done and what sanitary precautions have been taken in your unit.
Take the 30 to 60-minute tutorial offered on how to drive the RV and use the operating systems. A pro tip from GoRVing: use your phone to take short videos during the tutorial because they'll come in handy when you're unsure how to work something. Make sure your rental RV has a manual in it. Trust us on this one; these campers endured a freezing cold night because they didn't pay attention to how the heat worked.
Insurance is a must, too. You can purchase it from the rental agency you are using, your travel insurance provider, or possibly your own insurance agent – ask for quotes beforehand.
Ready? Choosing an RV Rental Company
Among rental companies renting an RV, Outdoorsy, RVShare and Cruise America are popular. Outdoorsy works like Airbnb because you are renting directly from other RV owners and your rig may have that personal touch. Pricing depends on the owners, the season and what they think they can get for their vehicle.
RVShare, now offering 25% off on summer rentals
, operates in a similar fashion, and both companies ask RV owners for verification before listing them. Both have listings all over North America and more variety in styles and prices than you would find elsewhere. While they are reliable, we cannot guarantee the cleaning protocol used on these units between rentals.
Cruise America is a more established company that owns its RVs and rents them out from locations around the U.S. Instead of having the variety of offerings such as camper vans or tent campers that the first two might offer, their rentals are classic morothomes and travel trailers. While their rates may be higher – rates depend on the nightly rental charge which rises according to demand plus a per mile fee for usage — you will also have to commit to a round-trip rental. However, we hear they often have one-way RV specials with extrememly low rates when they want to move vehicles from one locaiton to another.
Renting an RV Sounds Scary, Can I Test One Out?
If the process of renting an RV and getting it to your destination sounds scary, there are options. Our family has tried two of them: renting an RV locally with another family and parking it nearby for an overnight adventure; and booking an RV parked in a campground a long drive away. Both options gave the kids a chance to crawl into beds made from dining table cushions and try a shower in those tiny stalls.
Both adventures are still worthy of family storytelling, even if the tales have gotten very tall!
Park Models are the Easiest RV Rentals
These days, most successful campgrounds have expanded facilities to accommodate glampers – those glamor campers who want more comfort and amenities according to the annual KOA North American Camping Report. That means in addition to fixed tents on platforms (check out the teepees at the Westgate River Ranch Resort in Florida) and rustic cabins with en suite bathrooms, you will find fixed or permanently parked RVs.
Known as Park Model RVs, they generally have a bedroom, full kitchen, bath and living area and look like a cabin from outside. According to GoRVing, these park models comprised about 1% of sales in 2019 to campgrounds or second homeowners because they can be towed to a final destination, hooked up to water, sewer and electric and parked permanently. Some of the fancier models even have a sleeping loft, a front porch and a swing in an enhanced version of the homes in old trailer parks you may remember from your own childhood road trips.
Rent a Travel Trailer and Test It Out
Here's another idea if you want to try out a special model. "Rent a travel trailer and ask to have it delivered to your campsite," says a spokesperson for GoRVing, the industry's trade organization. "The rental company will hook it up leaving you plenty of time to enjoy the area and the campground."
For those thinking about buying an RV, a travel trailer – remember the Airstream? — is a popular option. More than four in five owners choose a travel trailer as their RV because you can still drive your own vehicle while towing sleeping and cooking space in the trailer. Prices range from $7,000 for a small unit that "pops up" to provide headroom once the unit is parked to more than $500,000 for lots of bells and whistles. Keep in mind the fully loaded trailers are heavy and may require a pickup truck to tow — your vehicle's owner's manual should have towing weight restrictions. Before you even consider the purchase, why not rent one?
These trailer units can usually be arranged with bedding and kitchen supplies, or you can bring your own and save on the expensive day rental rates.
End the vacation totally stress-free when the rental company picks it up from the campground while you drive back home.
Vacations don't get any better than this!
Dear Reader: This page may contain affiliate links which may earn a commission if you click through and make a purchase. Our independent journalism is not influenced by any advertiser or commercial initiative unless it is clearly marked as sponsored content. As travel products change, please be sure to reconfirm all details and stay up to date with current events to ensure a safe and successful trip.
---