Fighting cattle are an unusual natural attraction and a good enough reason to go to places we've never heard of to experience such a treasure. Since we know that cattle battles are a local sport in parts of Indonesia, the cow fighting season in Switzerland caught our eye.
I can't speak for the cattle of Switzerland, but their tourism office says the region of Valais is proud to possess a bovine breed that is unique in the world: the Herens breed. According to them, "This robust cow has the particularity of being a natural fighter in order to establish the hierarchy within the herd. These combats take place without any provocation."
They occur in spring when the animals are released from their winter barns in a custom formally known as tranhumance, so that they can spend summers eating the sweeter grass of the mountains. It is during this journey up to the alpine pastures, that they challenge each other to see who will be the leader. As expected, the ever neutral Swiss have a rational explanation for this sport.
Fortunately, it's a victimless sport — after locking horns, the first cow to turn his head away loses. Consequently, it has become a big tourist attraction, with officially scheduled "battles" between late March and October throughout the region.
Spring and Fall Cattle Battles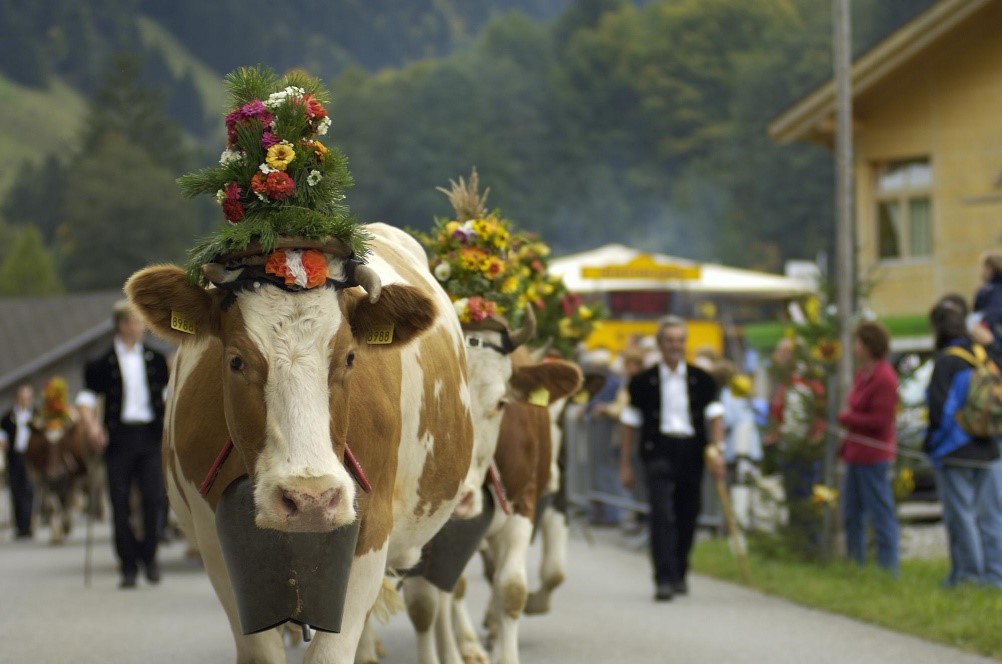 In early fall, the animals are brought back down during the yearly Désalpe. Cattle throughout the Lake Geneva region, some of whom will fight on the descent, are finally adorned with flowers and brought in to join village parades. Typically in late September (this year Sept. 26, 2020), small towns like l'Etivaz in the Pays d'Enhaut or St. Cergue near Nyon stage these events.
That means there are many upcoming opportunities for you and the kids to watch one of these matches in person. Here's a sneak preview of it from YouTube:
Planning your Valais, Switzerland Getaway
Valais lies in the southwest of Switzerland, stretching for about 100 miles along the narrow ribbon of the Rhone Valley between Lake Geneva and the Rhone Glacier. It's most famous for the winter resorts of Zermatt and Verbier, and the Matterhorn is simply gorgeous at any time of year. The wide range of mountain holiday accommodations, from hiking towns with B&Bs to cottage communities or rural farmstays, is unusual.
According to their tourist office, in the non-snow season, you can choose between fashionable sports and recreation resorts, places with big swimming pools and waterparks, golf-focused resorts in the countryside, or yoga and wellness spas.
Our favorite part: Swiss holiday resorts that are particularly suited to family holidays are categorized that way by the government, so family-friendliness and amenities are guaranteed. A resort or hotel property has to make special efforts to tailor their programs to the needs and desires of children, their parents and other people who may accompany them to get on the list.
To help you plan your upcoming trip to admire the bovines of the Valais region, here is a list of families welcome places available in this area. After some research, we've learned that local hotels and inns keep prices fairly stable throughout the the six-month cow fighting season — except in July, when rates can rise as much as 35%. Given that cows are more frisky in spring, we say May or June are the best times to go.
For more information about fighting cattle, visit Valais Tourism; for more sightseeing in Switzerland with the family, visit the Swiss Tourism website.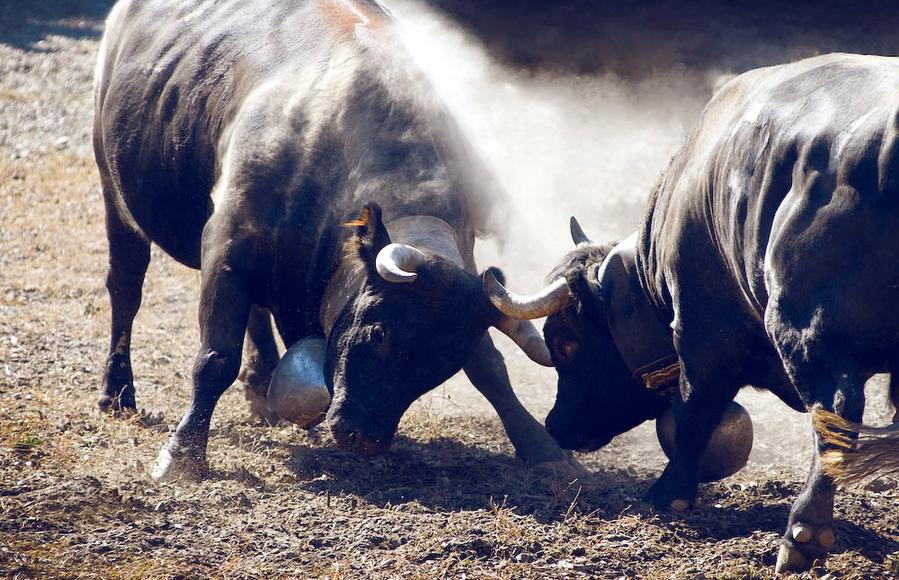 And Cattle Fights in Indonesia?
Yes, cattle do fight in parts of Asia as well. In Sumatra, Indonesia, farmers enjoy bringing their feistiest water buffalo out into the town field each weekend and letting them have a go at each other.
While onlookers cheer wildly (no, we didn't cheer, we just watched in amazement), the cattle bang into each other with their horns, or butt bottoms or chase their opponent around. Eventually, one bull will get tired of the whole thing and just walk away and the other one is declared a winner. While a few did get banged up, in the 20 or so bouts that we saw, none were badly hurt. Quite an adventure.
Dear Reader: This page may contain affiliate links which may earn a commission if you click through and make a purchase. Our independent journalism is not influenced by any advertiser or commercial initiative unless it is clearly marked as sponsored content. As travel products change, please be sure to reconfirm all details and stay up to date with current events to ensure a safe and successful trip.
---