Instead of tackling six million acres of wilderness, explore the family-friendly Adirondacks Mountains from comfortable Saranac Lake, the region's self-proclaimed capital. The picturesque lake at the heart of this large town draws outdoorsy families with hiking, canoeing and kayaking during spring and summer. Fall attracts many visitors to leaf peeping. During the long, cold winters, downhill skiing at Whiteface Mountain, cross-country skiing, snowshoeing and snowmobiling are popular.  
The village of Saranac Lake prospered as a health retreat and center for scientific research during the 19th century. Then in 1884, Dr. Edward Livingston Trudeau, suffering from tuberculosis, moved to Saranac Lake for his health. Having cured himself, he established the Adirondack Cottage Sanitarium, now the Trudeau Institute doing scientific research. Thanks to lush forests, log mining was big business as well.
Vintage red brick facades have evolved from lumberjack to hipster. Many historic buildings are repurposed as outdoor clothing stores. Others are bars, coffee houses and restaurants. It's an interesting place to walk around and a good base for roaming the northern Adirondacks.
Going Wild in Tupper Lake
The top attraction in this part of the family-friendly Adirondacks is The Wild Center. The "wild" museum and natural science center was built by a benefactor in the small town of Tupper Lake, part of the Tri-Lakes region comprising Saranac Lake and Lake Placid. Of course, there are many more than just three lakes.

Lake Placid, on Mirror Lake, is the best known town because it hosted two Winter Olympics. Flower Lake is one of Saranac Lake's best assets, thanks to a bike trail and strolling path. Tupper Lake has grown along the 146-mile-long Racquette River, site of many boating activities.
Browse Tupper Lake's main Park Street. The Washboard/Donut Shoppe is a combo laundromat and donut shop worth a stop. Window shop at the thrift stores. At night, head over to the Raquette River Brewing Company for craft beer and a food truck meal. Families with a nostalgic streak can bed down at the pet-friendly Park Motel and Cabins in business in Tupper Lake since 1942.
The Wild Center Is a Top Family-Friendly Adirondacks Attraction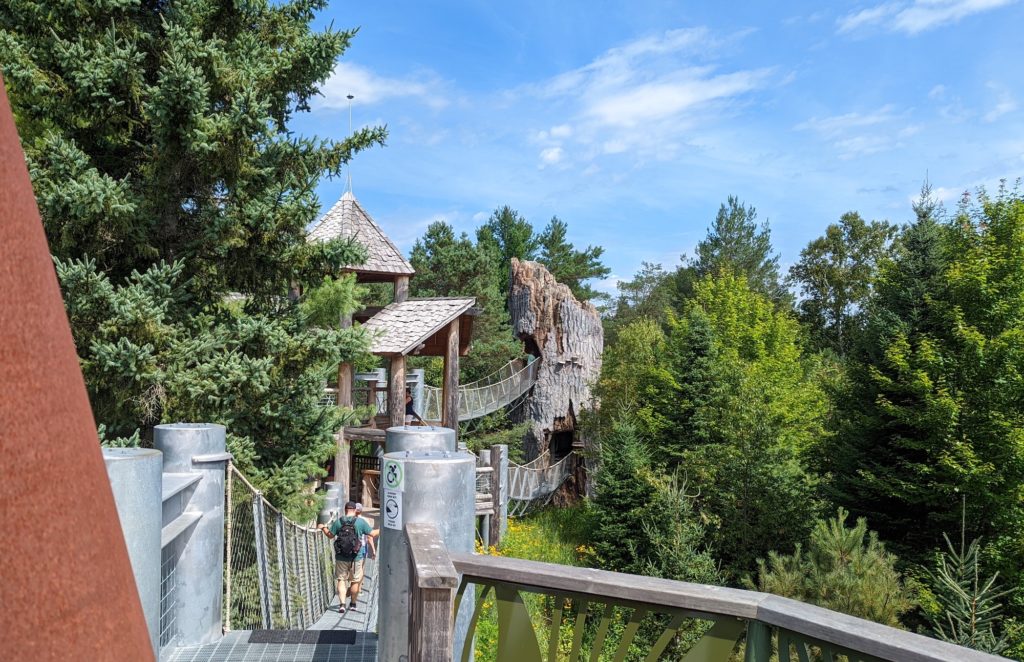 There's a lot to see both inside the nature exhibits and outdoors on the walking trails of The Wild Center. Having both provides options in inclement weather and enough of a range of activities to return a second day. Check the schedule on arrival for animal encounters, fish-feeding demonstrations and programs with the adorable North American River Otters. Staff and volunteers, widely available and eager to answer questions, enrich the experience.
We love The Wild Center's award-winning, imaginative, outdoor climbing and observation structure. Wild Walk is suspended high in the tree canopy providing a treetop vantage point. Just like the birds, enjoy an aerial view of sculptures created from dead trees and brush around the grounds. Look out at the river. Climb ropes, jump up and down, swing from side to side. There are so many ways to engage with Wild Walk that make it fun for all ages.
Hike the trails to interact with nature and discover visual and audio art installations. The Wild Center runs canoe trips every day at noon from May through October with guides that show you the Racquette River and the flora and fauna on the river.
The Wild Center for All Seasons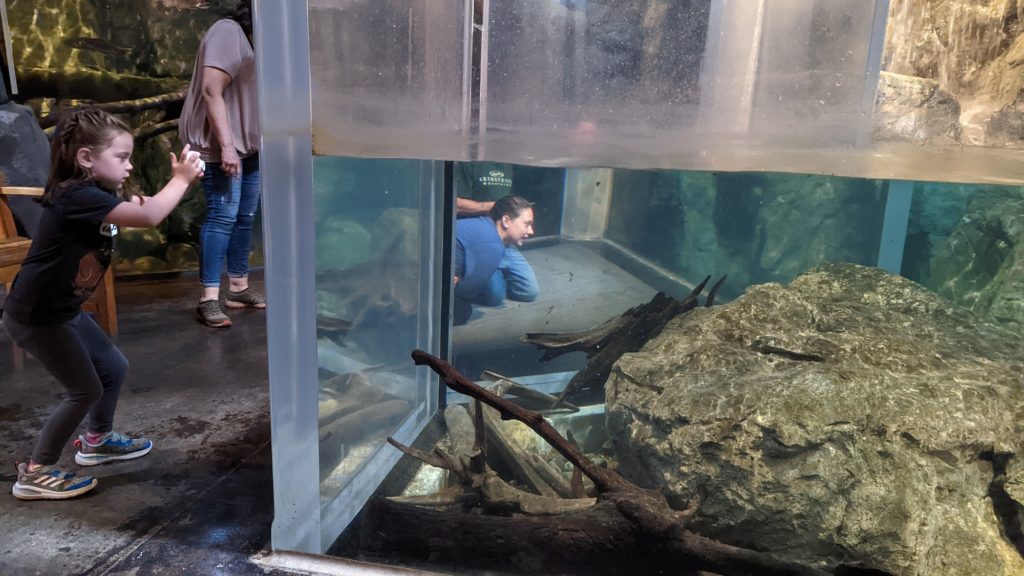 Inside, there's a terrific family-friendly Adirondacks exhibit explaining how the mountainous region was shaped by glaciers. Feel the large piece of "glacier ice" on display; the texture is remarkable. Another Wild Center gallery is dedicated to the Native American traditions used by indigenous peoples to live in harmony with the Adirondacks. Local climate activists making a difference are also profiled. Several interesting films rotate through the theater, which is used for live science demonstrations as well. The whole place is inspiring.
New for 2023, Birdly is a virtual reality flight simulator that flies over mountains, lakes, and forests. Participants control the direction and speed of their flight with body movements and the motion platform, wind effects and a high resolution display enhance the effects.
The Wild also takes advantage of the seasons to offer even more outdoor programming. Fall is peak season for family-friendly autumn Adirondacks activities. Over the winter holidays, Wild Lights illuminate the 115-acre campus after sundown in a family-friendly Adirondacks tradition. Targets are hung in the trees for snowball pitching practice. Guests can borrow snowshoes and kicksleds free of charge to explore the grounds. Dress in layers to try ice fishing under the watchful eyes of their guides.
Hotel Saranac, Queen of Saranac Lake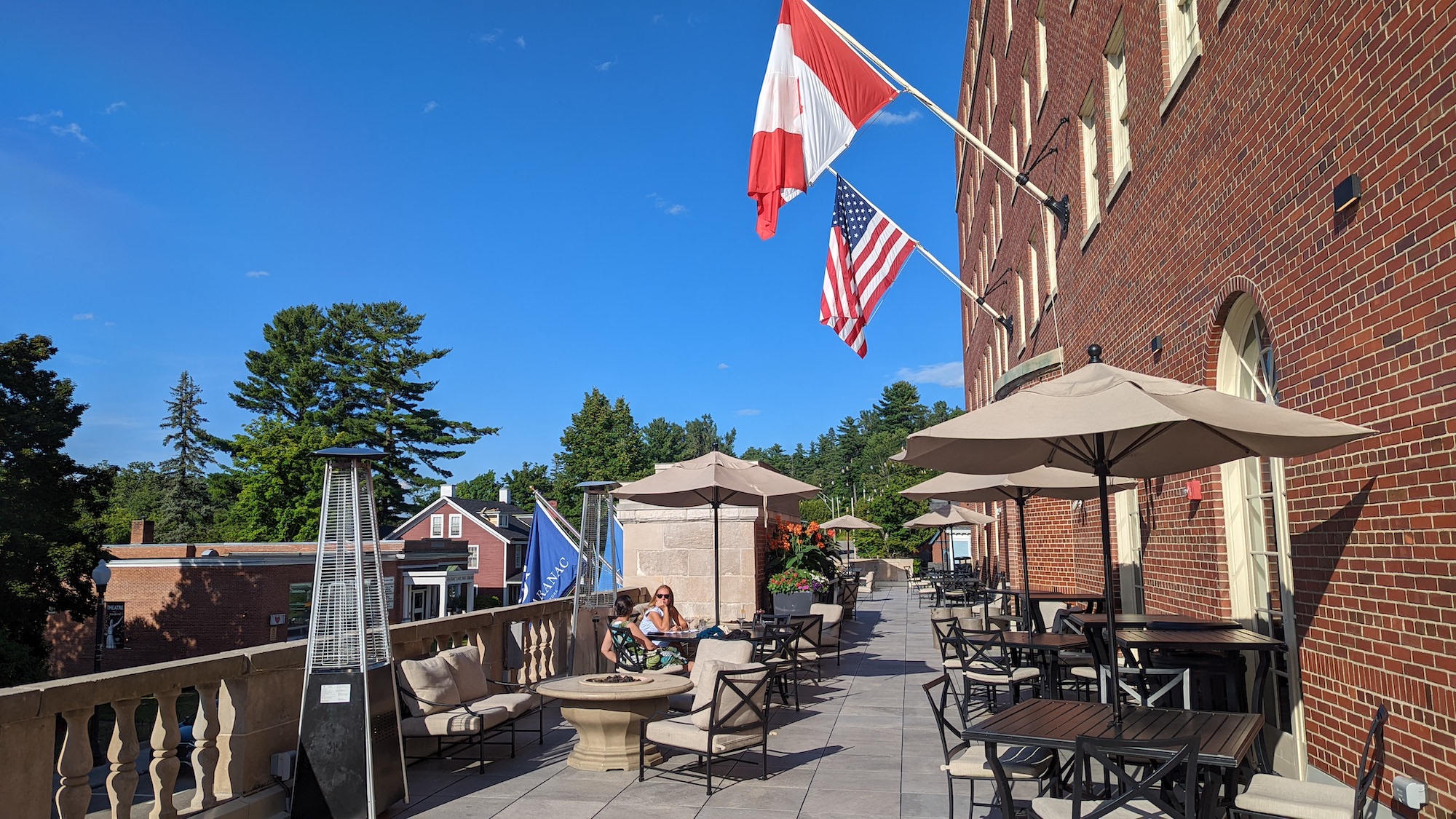 We found the larger Hotel Saranac, a vintage resort from the 1920s in Saranac Lake, a good family-friendly weekend base. Delivering a buzzy scene and pure comfort, the tall and imposing structure with luxurious finishes and an Art Deco flair is right off the village's main street at Broadway.
Once boasting a broken neon sign that read "Hot_ _Sara," the ca. 1920's red brick structure holds a lot of stories. Especially ghost stories. According to Historic Hotels of America, "Every floor has a story, from the specter sightings near the ballroom on the second floor of Frances Peroni, who taught there when the hotel was owned by Paul Smith's College, to the scratching of a ghost cat on the third floor."
Rest assured. The entire hotel and its nearby wing of residential-like suites were renovated when it became part of Hilton's Curio Collection.
An elegant balcony bar dominates the ornately decorated second floor. During mild weather the balcony is an ideal place to people watch along Main Street. Any time of year, the speakeasy scene is fun. Lastly, book a table at the hotels' Campfire Adirondack Grill, where chefs prepare all-American fare from local purveyors. Our dinner and breakfast were first rate.
Exploring the Family-Friendly Adironadacks' Tri-Lakes Region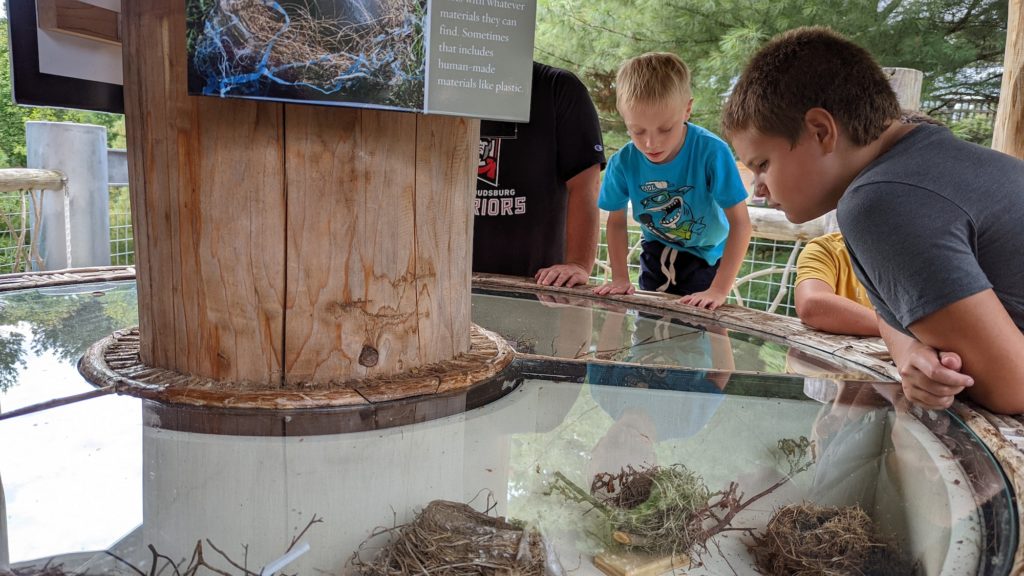 Spend your last day at the Paul Smith's Visitor Information Center in the town of Paul Smiths, which is also home to Paul Smith's College of the Adirondack. A hands-on exhibit introduces the glacier period that formed the Adirondacks. Learn more about how soil, swamps, bogs, and forests were created. The small interpretive center is very manageable for families and a great base for trail hiking.

Trails range from a half- to a mile-long loop to much longer. (In winter, trails are also used for cross-country skiing and winter sports.) They are well organized and a fun way to introduce kids to the forest.
Walk into the conifer forest of the Bird Conservation Area to look for three-toed woodpeckers, Gray Jays, Flycatchers and Lincoln's Sparrows. Walk the half-mile Barnum Brook Trail to cross wooden bridges and a heron marsh. Notice the huge Tsuga Canadensis tree, an Eastern hemlock thought to be the longest living tree in the Adirondacks… up to 600 years old.
Paul Smith's College runs another terrific facility for families with disabilities. Their International Paper John Dillon Park is fully ADA compliant and has tents and lean-tos that are wheelchair accessible.
Like The Wild Center, it's another example of the locals' commitment to getting every family outdoors in the Adirondacks.
Dear Reader: This page may contain affiliate links which may earn a commission if you click through and make a purchase. Our independent journalism is not influenced by any advertiser or commercial initiative unless it is clearly marked as sponsored content. As travel products change, please be sure to reconfirm all details and stay up to date with current events to ensure a safe and successful trip.
---