A generation has grown up to raise their own children since ROW Adventures ran its first Family Magic rafting trip. Since then, the award-winning tour company have refined its adventure on Idaho's Salmon River into one of the most amazing family vacations for ages 5 and older you could ever experience.
Just ask this Family Travel Forum family who enjoyed that same Family Magic rafting trip with ROW nearly 25 years ago. Classic family vacations which have stood the test of time are just as much fun for future generations.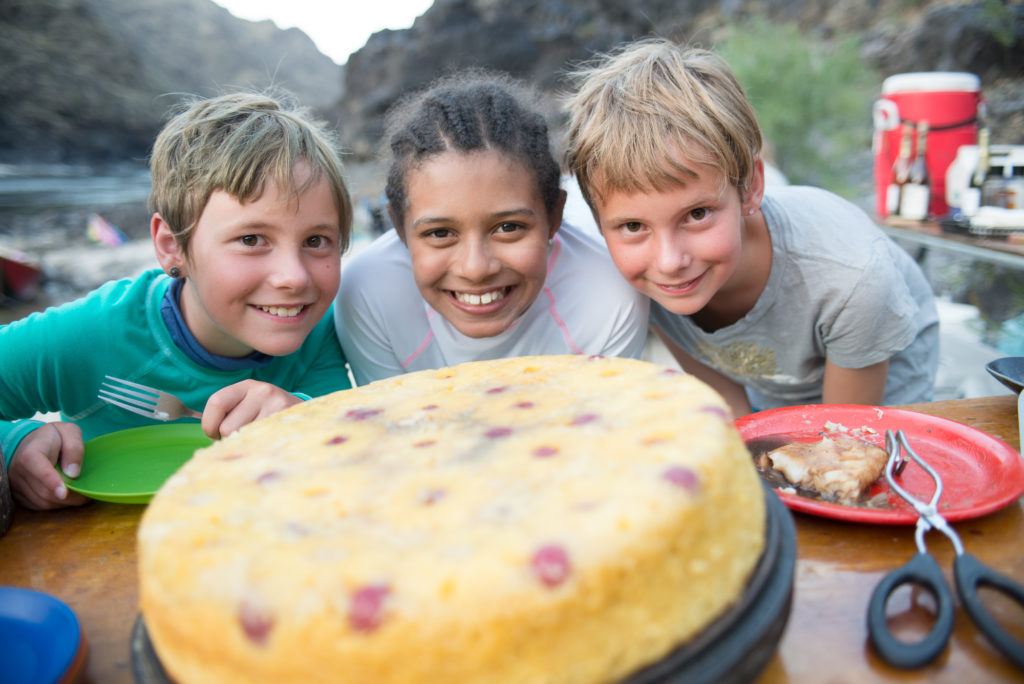 "The ROW Adventures Family Magic Trip is, hands down, the best family vacation possible," says guest Sydney Lloyd. "My husband and I and our 3 sons (ages 9, 15 and 17 at the time) took this trip in 2019. Because of the 6-year age difference between our youngest and middle sons, it can be difficult to find activities that everyone enjoys. As soon as I read about the Family Magic Trip, I knew it would be perfect! Each day, we ate delicious meals; we had an incredible amount of fun running rapids, swimming, play games on the beach, etc.; and we were unplugged and able connect with nature, our family, and our trip mates. For me, the best part was watching my boys have fun and knowing that all 3 of them loved every minute of this trip!"
And this year, when snowpack in Idaho is well-above average, there will be great water flows all season. High water is expected till July so ROW will be rafting with ages 10 and older till then — call their team to learn how soon ROW safety experts recommend that smaller and lighter children can go along.
What Makes a ROW Family Magic Trip Magical?
ROW has evolved into a large adventure tour operator with dozens of departures to destinations around the world. These five-day trips on Idaho's Salmon River, however, are exclusive to families. It's magical that no one can join unless they bring a child to remind us all of the joy of discovery.
Whitewater rafting Class II-III rapids involves dunking, waves, splashing and water immersion of all kinds, for a safe and playful adventure. That makes ROW's talented, fun-loving and professional guides essential to keeping each raft on course.
The Family Magic Rafting trips run gentle enough rapids through the Salmon River Canyons to welcome kids as young as 5. That makes them ideal for multigenerational travel with active grandparents, parents and kids. In fact, ROW has had many families charter entire trips to include cousins, aunts, uncles and other extended family along for the adventure. Call them at (208) 765-0841 for more info.
Additionally, each Family Magic rafting trip has its own River Jester. This specially trained guide is all about facilitating fun, learning and games with the youngest guests. From the moment they wake in the morning until they're nodding off beneath a star-studded sky, kids enjoy fun-filled nature hikes and engaging activities that celebrate the area's natural and cultural history. Read about the life of a River Jester in this blog post.
Connect, Slow Down on a Family Magic Rafting Trip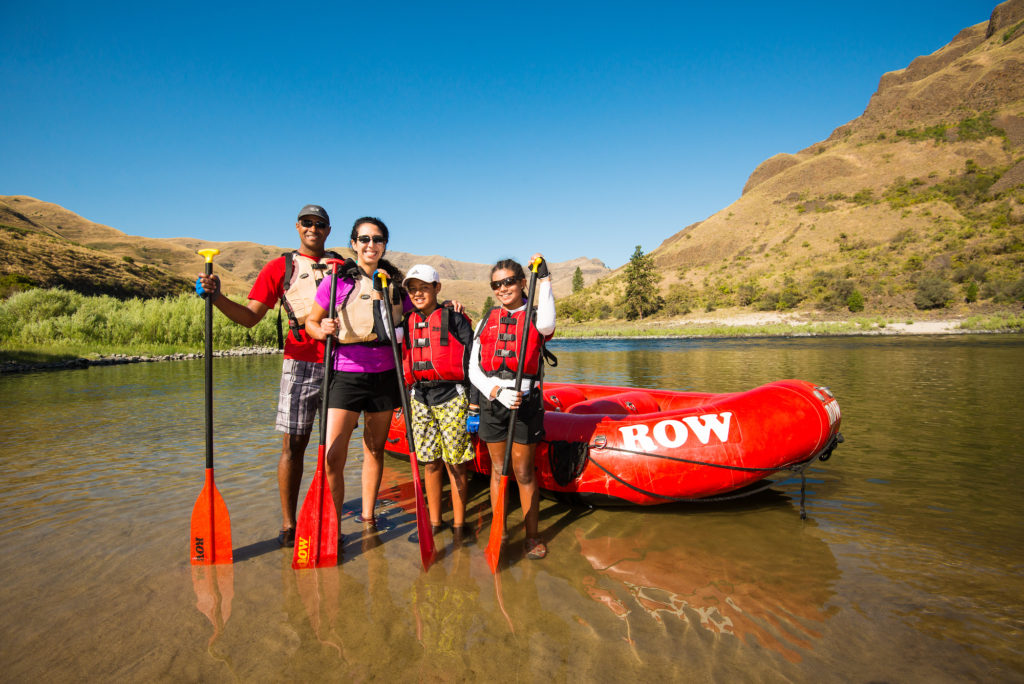 The ROW teambrings river games, board games, jokes and energy to your five days together so you can slow down and reconnect. Enjoy meaningful connection in a giant natural playground on a well-orchestrated river trip. In these remote river canyons, there's no cell service so unplugging is not even a conversation. This is such a rarity in today's world. Take advantage of this vacation, says co-owner Betsy Bowen, to focus, listen to each other, laugh, play and share undistracted time.
ROW uses their long experience to make planning these trips easy and worry-free. Just check their website for Family Magic Rafting trip departure dates and they do the rest. The ROW team provides all the specialized rafting equipment, including camp kitchen where guides prepare delicious and healthy meals that appeal to all ages.
Dine together without rushing home to fix supper. A special early kids' meal is served daily for hungry and active children. Sit together and catch up when kids join in the adult meal that is served about an hour later.
Everything Plus Magic Included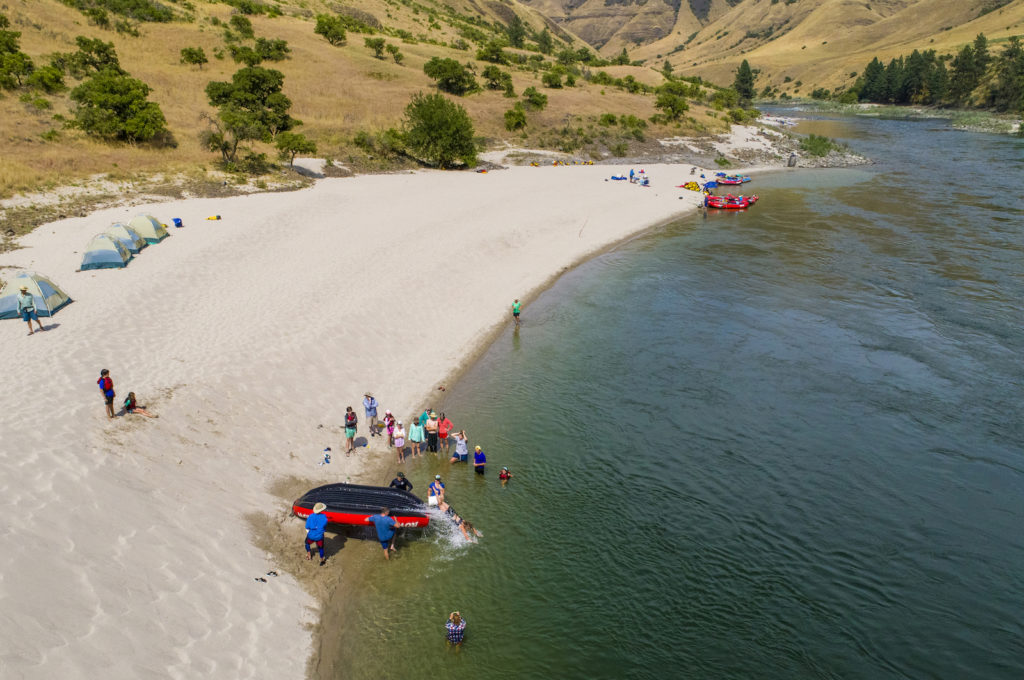 Another travel stressor that's simplified is packing for this adventure. Plus, they send a detailed packing list to help all ages prepare personal items.
Many families play with the idea of taking their kids camping but aren't sure where to start. ROW has all the camping gear you need. On these trips, there's no need to worry about your tent-pitching skills. When you arrive at a flat sandy campsite, tents are already set up. Climb in and get organized or change out of the day's gear. Many Salmon River shoreline beaches slope gently into the warm water, inviting swimmers for a cool dip.
Rates also include guided daily hikes or excursions. The knowledgeable ROW guides share their stories and the cultural history of the river. As you float down, make stops to visit Native People's rock art, pioneer homesteads and natural wonders. The Salmon River Canyons are filled with trees and plants, birds and wildlife. Watch for eagles, mergansers, hawks and perhaps deer, river otter and big horn sheep.
Don't worry about working up an appetite because healthy meals, snacks and beverages are included in rates.
Guests Find Magic in ROW Rafting Trips
Guest Angela Van Poppel said about her ROW trip: "If I were a teacher I would most certainly give this company an A+!! The grading began long before the trip that my family of four just finished last night. The office staff (Jason, Candy, and Molly) answered my many phone calls, emails, and even chat sessions with kindness and patience for this family new to rafting. I never felt silly or rushed. An excellent FAQ, blog, and YouTube videos to help with planning and packing. Then the trip finally arrived and the magic approached the level of David Copperfield and Houdini!"
"The level of experience, service, safety, education and fun just BLEW OUR MINDS. Each of [the guides] had a way of taking the fun and turning it into a magical adventure of connections, friendships, and family…. From impromptu history and geology lessons, rattlesnake relocations, fireside s'mores and singalongs to cliff jumps and river slides and swims…. an atmosphere of family and a lifetime of memories were created by these 6 guides in our short time together. We are forever grateful for this company and these people who have touched our lives in a very significant way…."
"And as they say as we toast "To the River!" she adds, "Thank you!!!"
Details for Booking Your ROW Family Magic Rafting Trip
This season, four and five-day trips will be running July to September. ROW Family Magic Rafting Trip pricing is $1,990 per adult and $1,860 per child under age 10. These rates include a special $200 off per person when you mention you're "Taking the Kids." Group of 10 or more get special rates, too. Book your Family Magic Trip now!
Author Maia DeGaetano is an avid whitewater river rafter and wrote this blog post for sponsor ROW Adventures. She enthusiastically recommends the Family Magic Rafting Trip to families.
Dear Reader: This page may contain affiliate links which may earn a commission if you click through and make a purchase. Our independent journalism is not influenced by any advertiser or commercial initiative unless it is clearly marked as sponsored content. As travel products change, please be sure to reconfirm all details and stay up to date with current events to ensure a safe and successful trip.
---