It wasn't been voted the "World's Best Waterpark" for more than 20 years for nothing; Schlitterbahn Waterparks are fun, imaginative, aquatic entertainment centers.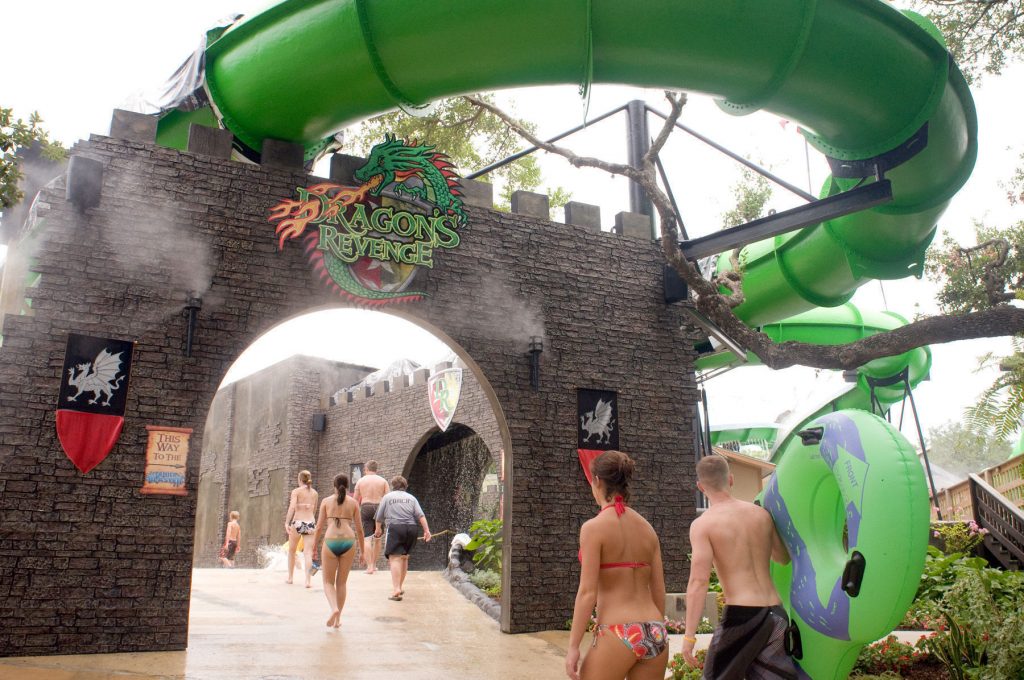 However, several things have changed since last season.
New in New Braunfels and Galveston
Starting with the purchase of the original New Braunfels and Galveston parks by theme park operator Cedar Fair in 2019, there's lots of news. In addition to transitioning to being part of a large company from a family-owned business, the parks have opened for the 2020 season to limited capacity (reservations required) and stringent safety guidelines to stop the spread of coronavirus. But that doesn't mean you can't have fun.
We expect great things because since 1979, the original 70-acre resort in New Braunfels, Texas -– both an amusement park and a hotel with 238 rooms -– has been one of the top-attended amusement parks in the country. The name is German for 'slippery highway' — a good description of what all these water play areas offer.
For those who remember them, the smaller Schlitterbahn parks in South Padre Island and Corpus Christi, Texas have been rebranded as local waterparks and Schlitterbahn Kansas City may reopen in 2021. Fortunately, the Schlitterbahns in New Braunfels and Galveston still pride themselves on being family-friendly, offering free parking and picnic areas so that families can swim and play without having to buy the park's food.
Schlitterbahn's Water Rides for Toddlers & Tykes
Within the New Braunfels park's 70 acres, there are more than 51 attractions. The biggest sections of the park are Blastenhoff, Surfenburg and Schlitterbahn West.
The original section, Blastenhoff, has a classic wavepool and large kiddie pool. At the Wolfpack Raftslide, three-person rafts hold the entire family on a spiraling 700-foot run, making it a more staid option than the newer shorter rides distinguished by special effects. Families with younger children appreciate that the older section is more shaded in the waiting areas, and lines are generally not as long.
Facilities cater to young children too, with kid-friendly water playgrounds and shallow, gentle wave pools. The park's iPhone application uses the phone's GPS capability to allow you to track family members' whereabouts and find the nearest locker room. Lifeguards put safety first and they're very careful with young swimmers. The park staff will close a ride if the source water turns brown (much of the park is lake-fed so the water supply is subject to rainfall).
The enormous Tubenbach area, with a 3,600-foot-long river ride (the world's longest), pits riders on inner tubes against whitewater rapids, waterfalls, and waves. In addition to a whirlpool ride, there is a Boogie Bay Kids' Area stocked with pint-sized water slides, several Treehaus cabins that hang over the the riverride banks, several beaches, large family-size cabanas and the Wasserstrasse river walk along the banks of the Comal River.
Grown Up Thrills at Schlitterbahn
Of the signature rides, (many exist at the other Schlitterbahn locations), Torrent is a very popular one that propels guests through space with powerful blasts of pressured water. Appropriate only for thrill-seeking older kids and parents, the Master Blaster Uphill Water Coaster is over 1,600 feet in length combining the thrills of a roller coaster with a waterpark slide.
Dragon Blaster is another, dragon-themed inner tube ride that speeds you along a track, as if you're in a rickety wooden roller coaster.
Teens can go straight to the Dragon's Revenge in Surfenburg, described as "spinning tunnels, theatrical lighting, fiber optics, riveting original music, aromatic atmosphere, fog, faux fire and an encounter with an angry dragon." Yes, it all takes place in 1 minute 45 seconds.
Another award-winner is the Congo River Expedition, a multi-sensory jungle adventure (possibly scary for your littlest ones) in which the brave cross a makeshift rope bridge, enter the Congo River Outpost, and find a camp under the glowing mouth of an erupting volcano. Special effects and animatronics kick in to keep all water play fans engaged in the story, until they're tossed over the edge of a plummeting waterfall.
Schlitterbahn in Galveston
With literally miles of tube chutes, rivers to float on, uphill water coasters, surfing, splashing and relaxing, there's something at the original Schlitterbahn for all ages, and a little something more at the other Cedar Fair-managed waterparks, Schlitterbahn Galveston.
At each one, rides and slides have evolved with the times so that the original German Tower at New Braunfels is now surrounded by a tubing river instead of slides, creating the park's famous "transportainment" system that allows families to get around the whole park without touching dry land.
The Galveston Island Waterpark is advertised as the "world's first convertible, climate-controlled indoor/outdoor waterpark." Being under cover and playing in heated pools at Wasserfest is a very different family experience compared to what is usually found at a beach resort. Galveston's more than 30 family attractions include three interconnected rivers, two uphill water coasters and the signature Boogie Bahn surf ride, so it's a good bet year round.
Don't miss the new Massiv said to be the tallest watercoaster attraction in the world.
New Braunfels Family Attractions
Beyond the waterpark, New Braunfels is a fun family vacation destination located just a half-hour from San Antonio and 45 minutes from Austin, Texas. There are some signs of the town's German heritage such as Wurstfest, (It was founded by German settlers in 1845).
Additionally, each October and November, families can join in the festival that calls itself "a 10-day salute to sausage." The festival takes place in Landa Park, an expansive park that doubles as one of the state's top destinations for family reunions. Year round, there is boating on two beautiful rivers and a number of affordable hotel options.
New Braunfels also has one of the top children's museums in the region, the McKenna Children's Museum as well as Natural Bridge Caverns (a National Natural Landmark discovered more than 50 years ago). At the Natural Bridge Wildlife Ranch, families can see wildlife from their car windows on a Texas Hill Country style safari.
For an old-fashioned version of water fun, head to the Comal River or Guadeloupe River, where local companies rent inner tubes for a float down an authentic river.
Schlitterbahn Trip Planning Trips
All of the Schlitterbahn Waterparks typically open in late April and continue daily operations until late September, then reopen for certain weekends and school holidays throughout the year. One admission fee includes all the rides and fees vary by park and season. Children ages 3-11 and those over 55 years get a 20% discount. Infants 2 and younger can enter free.
The original Schlitterbahn Waterpark Resort (830/625-2351) in New Braunfels, Texas is extremely popular. If your family has experienced the pain we have of being at a theme park all day and only going on two rides, you know why we suggest visiting Schlitterbahn on a weekday, preferably not in the heat of summer. You may also want to book a hotel nearby, so you can break up your visit over a few days.
For more info about the region, visit the New Braunfels Chamber of Commerce.
Dear Reader: This page may contain affiliate links which may earn a commission if you click through and make a purchase. Our independent journalism is not influenced by any advertiser or commercial initiative unless it is clearly marked as sponsored content. As travel products change, please be sure to reconfirm all details and stay up to date with current events to ensure a safe and successful trip.
---