With more than 15 months to go before its maiden voyage, the media was treated to a virtual Disney Treasure reveal on Sept. 5, 2023.
Studying floor plans of cruise ships, staterooms and passenger decks is not uncommon for travel reporters, so getting a "Live" tour online with actors was a nice surprise.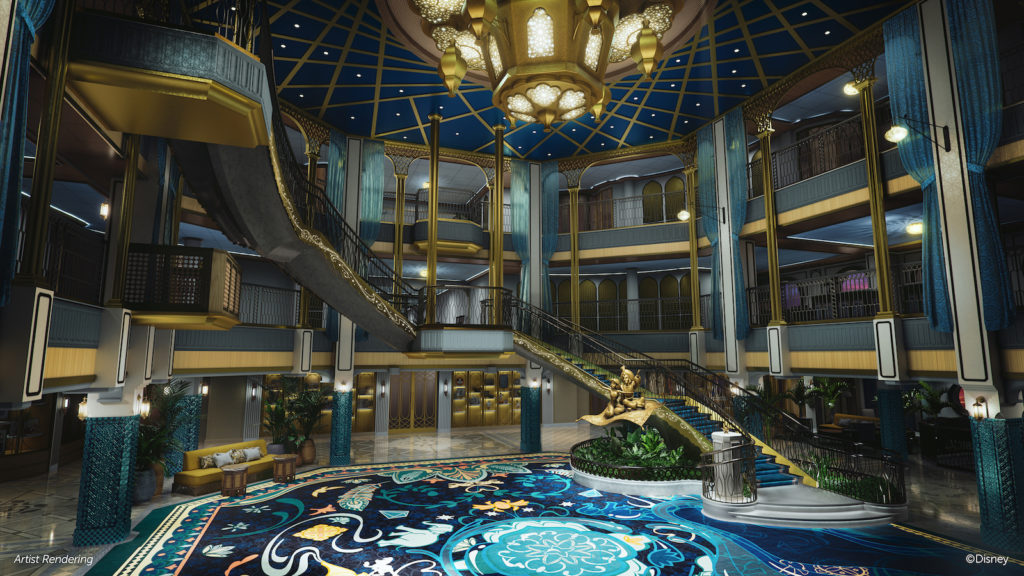 After a friendly greeting by Capt. Minnie sporting a playful cowboy hat, we were invited to follow an explorer and unseen narrator on the ship's tour.
First Thoughts On The Disney Treasure Reveal
A disembodied voice and roguish explorer, however fun, are more adult tour guides than expected for this virtual experience.
When the Grand Hall is revealed, it, too, is darker and more adult than expected. The new ship's atrium evokes the magical thousand and one nights scenery of the "Aladdin" films. Artist renderings reveal a Grand Hall that appears moodier, more exotic and sophisticated than previous ships. The black patterned carpet, midnight blue walls and Moorish elements add a sense of international adventure.
Intriguing Arab patterns and calligraphy in a striking blue – the color of the Evil Eye used to protect Istanbul's Blue Mosque – cover columns that divide the space into smaller, more intimate sections. In contrast, a string of familiar porthole windows let natural light into the atrium.
Upper Decks Devoted To Water Play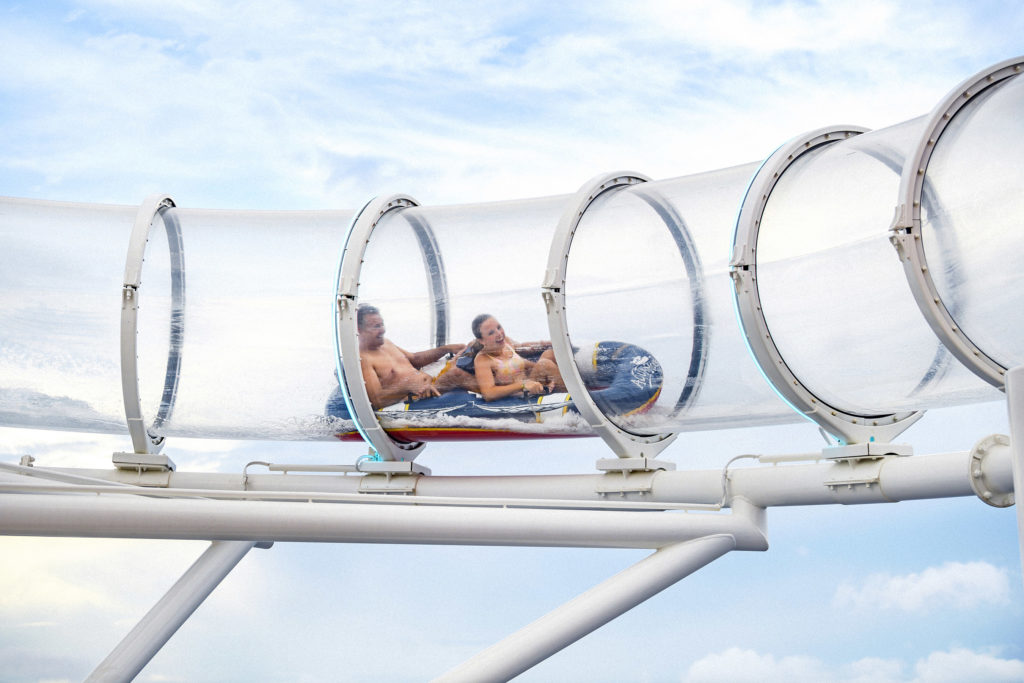 The top decks described on the Disney Treasure reveal three water play zones. Each will have different water features, casual dining and sun loungers. The family-oriented Mickey and Friends water play zone is slated for seven pools on several levels.
Aquamouse (and other features) is back after its triumphant debut on Disney Wish (read more here). The aquacoaster has a new storyline: "Curse of the Golden Egg."
In the new adventure that themes the 760-foot-long enclosed waterslide, animated video and audio of Mickey and Minnie touring a mysterious temple will engulf Aquamouse riders during the dark parts of the ride. Once you and your speedy raft enter the clear tube swooshing around the ship's upper deck, the terrifying thrill of a genuine aqua-coaster returns.
Treats For All Ages Revealed On Disney Treasure
The latest generation of cruise ships has designated several spaces as premium boutiques selling everything from artisanal coffees to champagne, to artwork, and more. Since the pandemic, studies show, traveler spending on ancillary fees and luxury upgrades has grown rapidly. Onboard shopping is also a growing revenue stream.
On Disney Treasure, you'll have to control the budget at Jumbeaux Sweets. The cute pink, vintage ice cream parlor decorated with characters from "Zootopia" serves ice cream, gelato, sorbet and a variety of mouth-watering treats for a fee.
No need to splurge on movies. There are two cinemas with state-of-the-art sound and visual systems showing first-run movies from Disney, Pixar, Marvel, Lucasfilm and more.
The larger family entertainment zone is Sarabi, with décor inspired by the pridelands of "The Lion King." This two-story section of the ship is home to the Walt Disney Theatre and additional lounge areas. That's where you'll find favorite live cruise line shows such as "Match Your Mate" and new ones like "Villains Game Night."
In big news, Disney announced that a new Broadway style live show would be coming to Disney Treasure. All hints pointed to a "Beauty and the Beast" musical but the exact name was withheld from the Disney Treasure reveal.
Treasures Are Reserved For Adults Too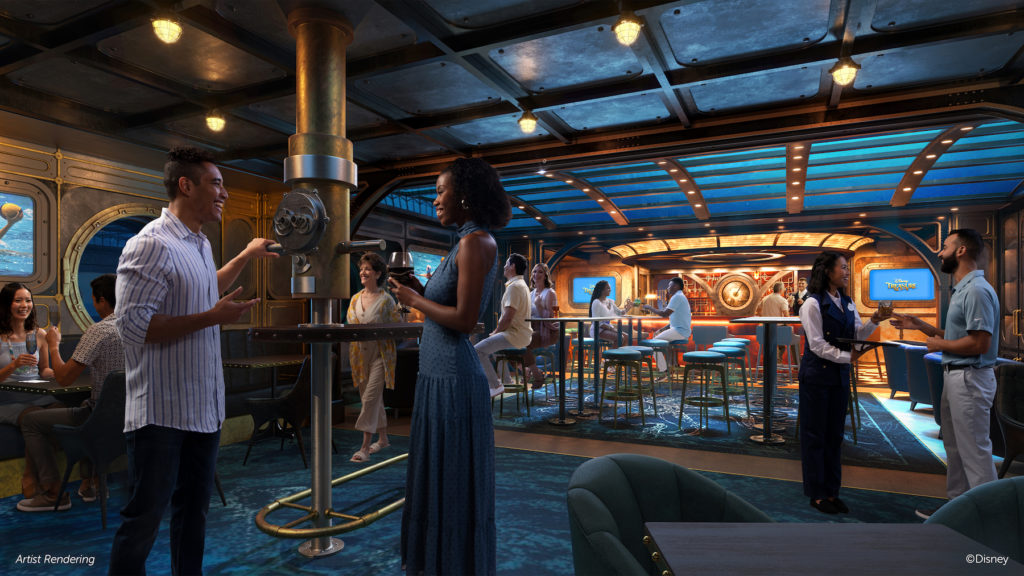 Adults and Disney fans can look forward to the Skipper Society, an adult lounge and sports bar. It appears to be draped in foliage and will be themed to the "Jungle Cruise" ride. The Disney Cruise Line team promises lots of retro humor and a heaping dose of that favorite Magic Kingdom ride for diehard Disney fans.
Periscope Pub is another adult venue featuring craft brews and pub food. Interestingly, this bar and lounge also has dark and cozy tones using some of the navy and undersea colors featured in the lobby. Since it's Disney's first venue inspired by the 1954 film "20,000 Leagues Under the Sea," there's more to come. We can't wait to see, for example, this bar's "living" glass ceiling which is meant to immerse guests in views of marine life and the deep sea.
Adults looking for a more romantic venue may retreat to Quiet Cove, an upper deck area for lounging with adults-only private pools and a bar.
Count on facilities such as a Hair Salon, Barber Shop and the popular Senses Spa, themed to new Disney classics, coming back.
Dining Aboard: Disney Treasure Reveals Some Gems
The Worlds of Marvel dining experience – a highlight on Disney Wish — was a technological breakthrough. Anyone who experienced "Avengers: Quantum Encounter" and met Ant-man and The Wasp over dinner remembers the night. Several clues were dropped as part of the reveal about the next super hero dining adventure. A bit of playful teasing and the addition of Queens to the treasure map suggests that Spider-man may be the new focus of a Marvel dinner party.
The village of Santa Cecilia from "Coco" is the setting for another new dining environment with live Latin entertainment — mariachi and dancing — as well as cuisine. Renderings revealed that cut-out paper lanterns will adorn the warm and inviting space. Expect two nights of storytelling as the saga of Miguel and his family from "Coco" continues.
We also love the sound of Mickey & Friends Festival of Foods, a casual food hall where animated "Mickey Mouse" cartoons serenade five food stalls. Look for BBQ, a Mexican cantina, grill, pizza shop and more. There is enough variety for the kids to sample one cuisine each day. In fact, the dining options, like so many of the new facilities aboard Disney Treasure, address a broader, more inclusive audience than we've seen on other Disney ships.
Variety of Accommodations with Some New Wow Factors
All Disney staterooms have some luxurious amenities and fun decor with a splash of nostalgic charm. Apparently, on Disney Treasure, this will remain true while most will also have a spacious verandah. Some family staterooms have an overhead third and fourth bunk. Others accommodate more than two with a queen sofabed and king bed.
The Disney Treasure's Concierge Suites are inspired by "The Lion King." Decor features earth tones, soft patterns and animal artwork. Concierge Level Suites will share access to a lounge and private deck serving complimentary food and drinks.
There are also some specialty suites for high-rollers and celebrants. Save up for one of four two-story Bagheera Royal Suites (inspired by a panther character from the "Jungle Book".) Or choose a Raja Royal Suite celebrating the tiger who protected Princess Jasmine in "Aladdin." These suites will have their own lounge where food and drinks are served all day.
Lastly, the Tomorrow Tower Suite has two levels inspired by the futuristic décor of Epcot. In addition to chandeliers that mimic the solar system, it has great views to the sea through a two-story window in the forward funnel.
Kids Play Zones Beat The Cruise Competition… Again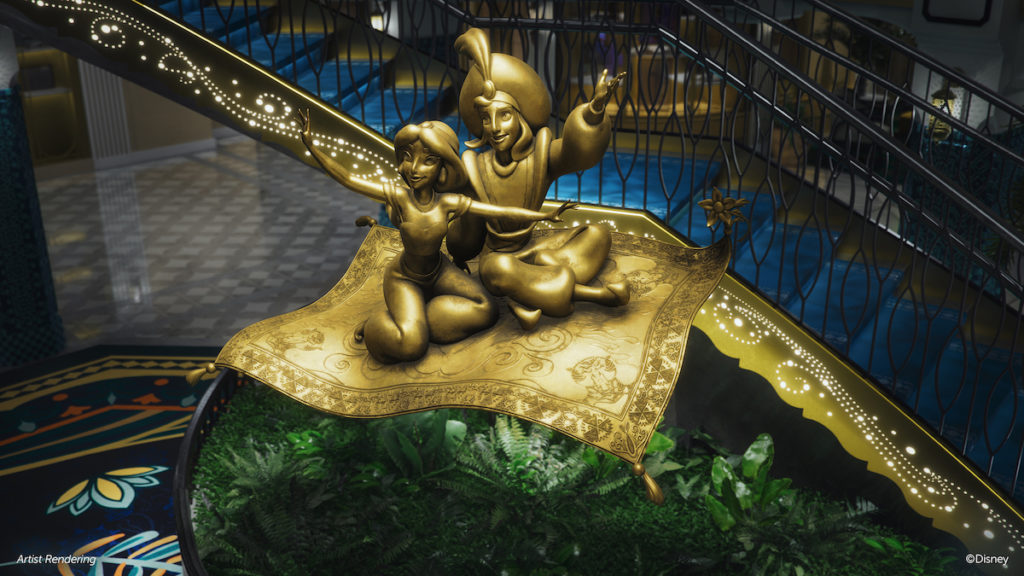 No one does childrens clubs and play areas as well as Disney Cruise Line. As seen on the Disney Wish, Hero Zone is a sports and recreation area for all abilities. In addition to staff-led games, families can challenge each other on inflatable sports equipment or in game-show style competitions.
Aboard the Disney Treasure, kids will slide down into Disney's Oceaneer Club from another deck. You may want to pack autograph books. Favorite Disney characters will come into the Club to meet 'n' greet the kids.
Look forward to the Marvel Superhero Academy and a Walt Disney Imagineering Lab, supervised spaces that added such magic to the Disney Wish.
Kids ages 6 months and older (varies on some itineraries) are welcomed aboard. The ship has dedicated, age-appropriate programming for infants, toddlers, children, tweens and teens. Tell the kids that Fairytale Hall, the special Vibe Club for tweens and Edge for teens will be their exclusive spaces.
As part of the Oceaneer's Club facilities, there will also be a "Star Wars" base. It was a huge hit aboard Disney Wish and showcases artifacts and interactive, multi-touch screens sharing stories from galaxies far, far away.
"Familigia Es Todo" Reveals The Disney Treasure
We began our virtual tour of the upcoming Disney Treasure cruise ship with a lone explorer. Perhaps he was a nod to the latest travel trend – solo travelers. Fortunately for this story, after discovering the ship's new bells n' whistles, our explorer decides to invite his family aboard.
The Disney message is clear: Adventures are better if you share them with loved ones.
We join Captain Minnie in declaring, "Adventure Awaits" and look forward to the ship's launch in December of 2024.
Dear Reader: This page may contain affiliate links which may earn a commission if you click through and make a purchase. Our independent journalism is not influenced by any advertiser or commercial initiative unless it is clearly marked as sponsored content. As travel products change, please be sure to reconfirm all details and stay up to date with current events to ensure a safe and successful trip.
---