Simplify your family vacation planning with these five top train trips for exploring America's Western states. Each of these rail travel adventures are sure to make for interesting family travels.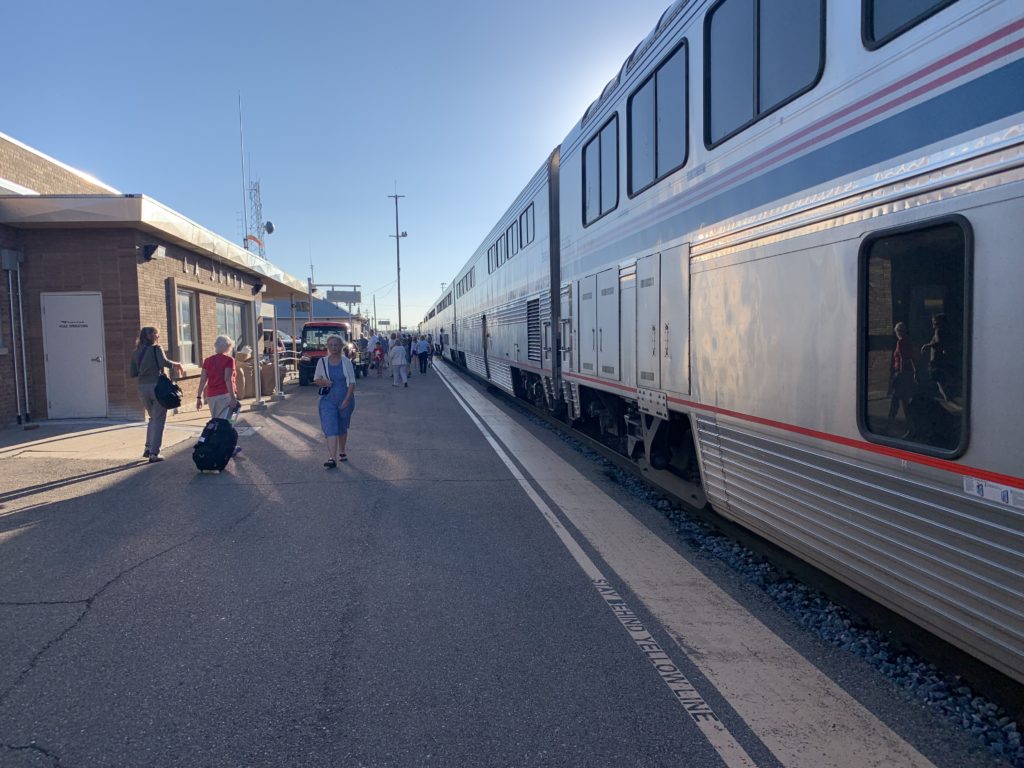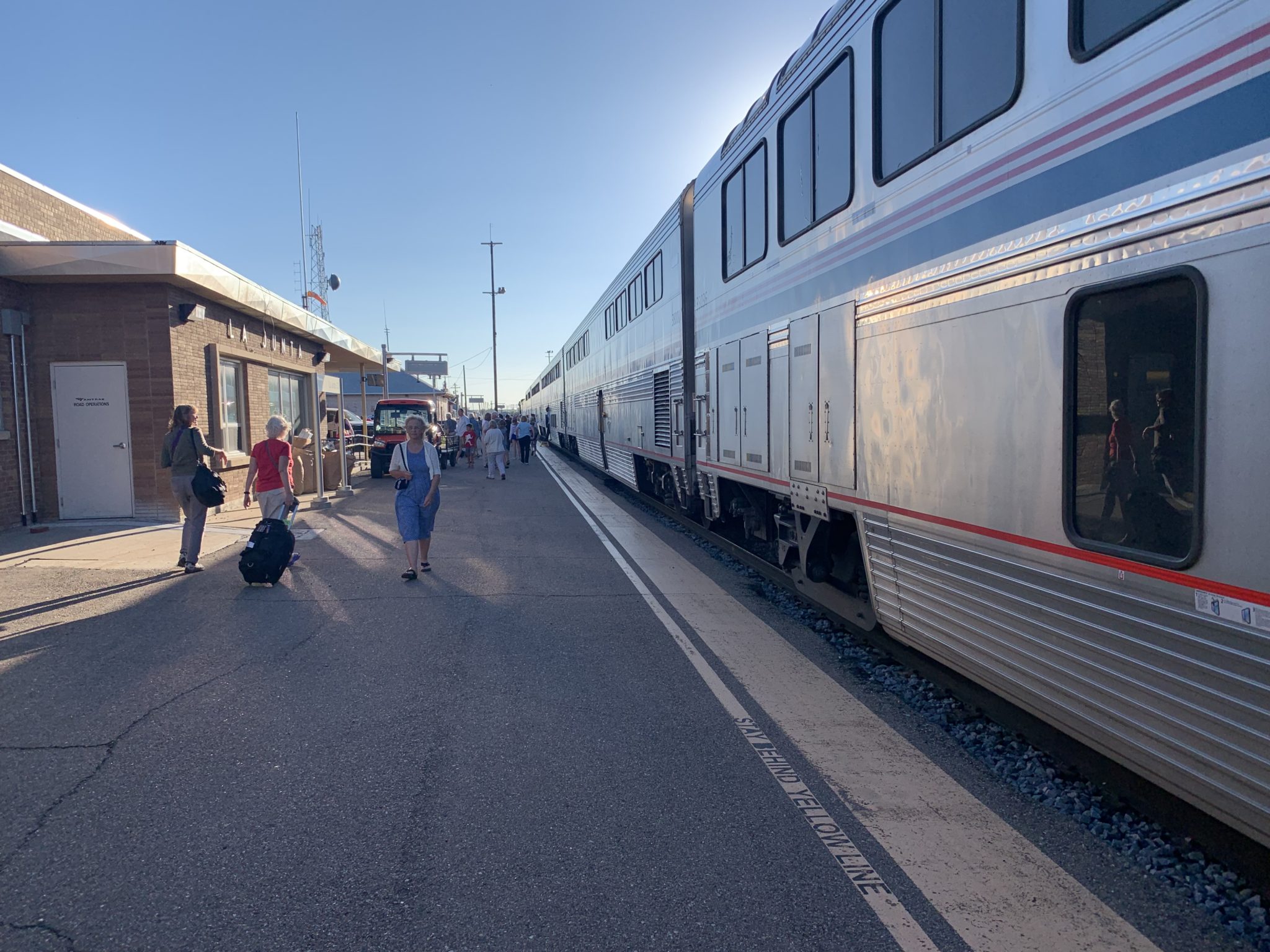 What could be simpler than train travel? No driving worries, strange motels, bad food, security checks, airport hassles or cramped seating afflict those who experience about long distance travel by train. Flights are much faster, but train trips are much more immersive at eight feet or 12 feet above the ground versus 35,000 feet and, not as bumpy.
Have your kids been cooped up at home, practicing online learning skills and hanging around the virtual Amtrak Activity Center? Post-coronavirus, or as soon as you feel safe, it will be time to introduce them to train travel and the ability to move around train cars will be more desirable than ever.
Heading Out on Amtrak
As an avid train traveler and vacation-lover, I want to share a few of my favorite longer train trips in the West that are suitable family travel fun, filled with history, geography and the natural sciences.
They're all operated by Amtrak, the national rail operator that connects America with 21,000 route miles in 46 states, the District of Columbia and three Canadian provinces. Did you know that Amtrak operates more than 300 trains each day to more than 500 destinations? ?
If that sounds daunting, there are travel agents who specialize in rail travel and you can even consult with Amtrak Vacations, the railroad's official tour operator. Let's look at my top five train trips for exploring the Western U.S. so you can plan ahead for future journeys.
What Makes These Western Train Trips Memorable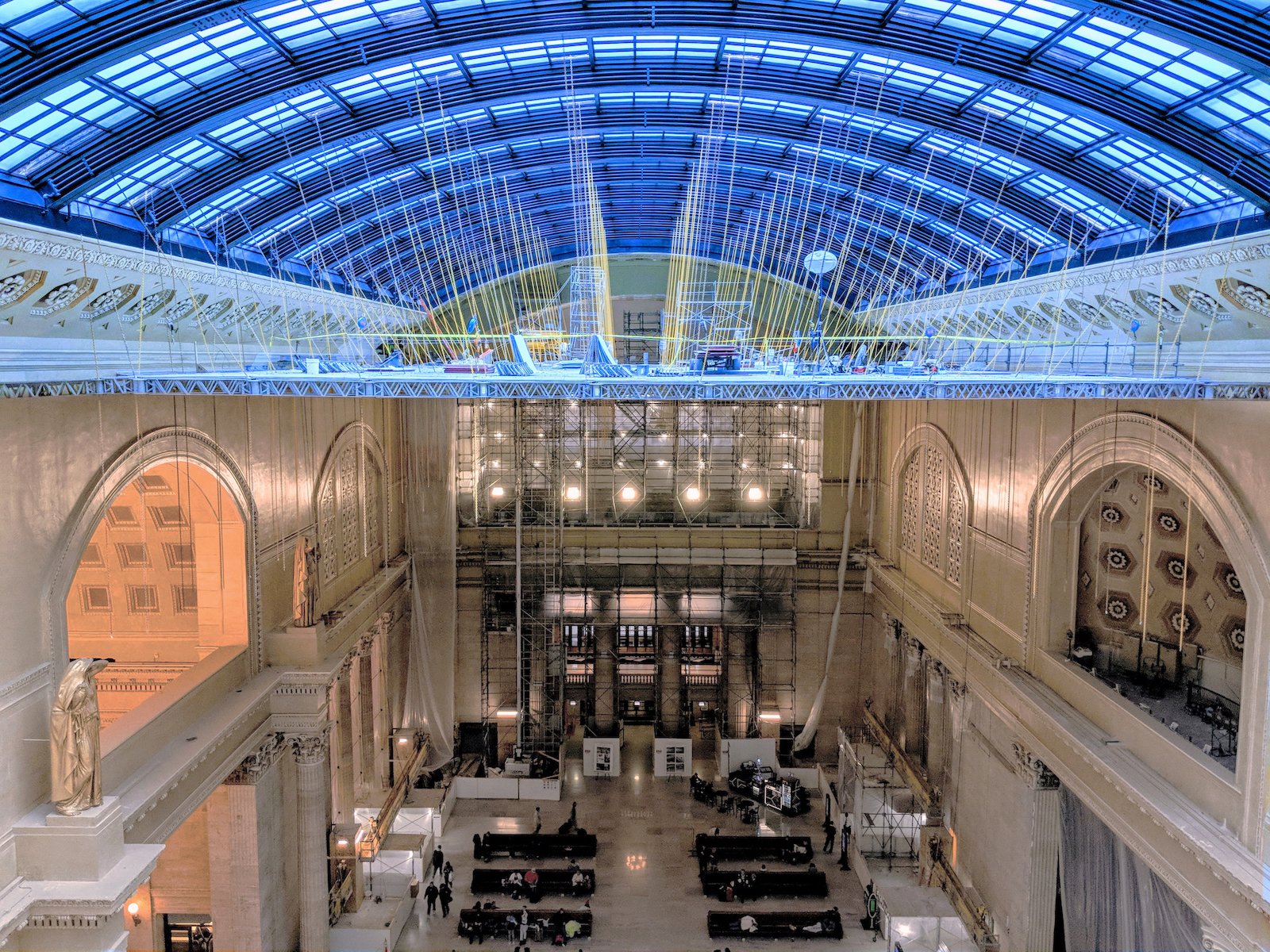 Any train travel offers great sightseeing out the windows and, as a bonus, these trains also make servicing stops, which range from five minutes to an hour and allow passengers a chance to get off the train and walk around a new station a little.
There's no special responsibility weighing on the driver – that's someone else's job so your family can relax together. All of the Amtrak trains noted offer reasonably comfortable seats and meal services, with a selection of food, snacks and drinks for the duration of the trip. Vegan and vegetarian alternatives are also available.
One item to remember is train timekeeping is not always exemplary; on all these runs, Amtrak owns or shares track with host freight-carrying railroads, the "landlords," who may be bent on putting their freight train in front of yours. Expect possible delays.
Keeping Everyone Busy When They're All Aboard!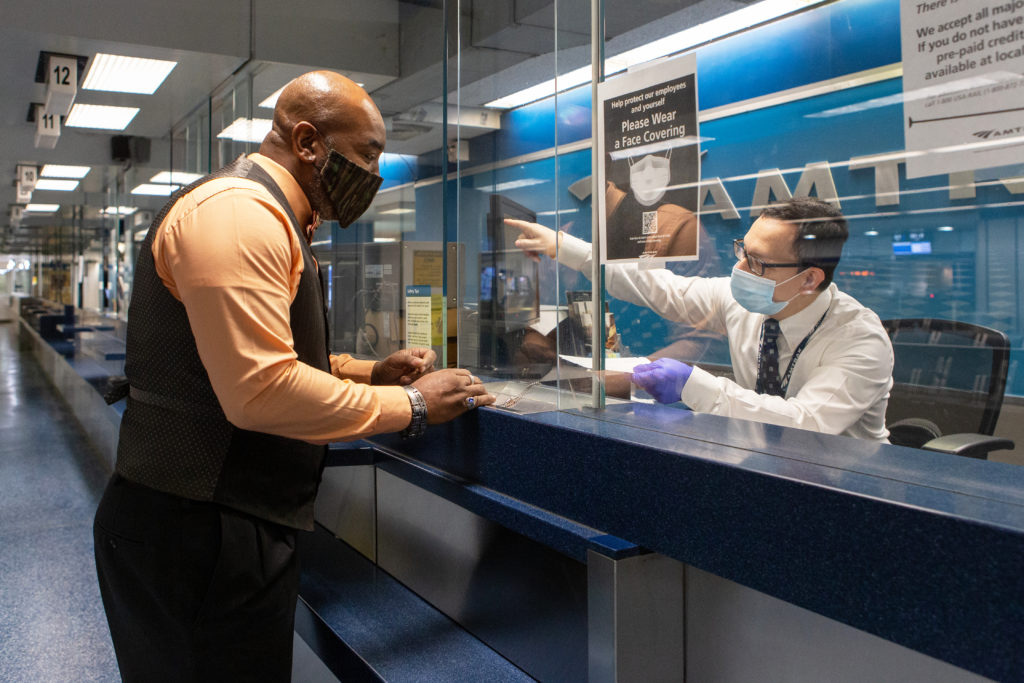 Another item worth remembering is that WiFi is not generally available on these trains, but some of the larger stations should have it. Given the lengths of these suggested trips, you might want to bring favored snacks and games (both board and electronic games).
Unlike flying, there are a lot of toilets to choose from and strollers are free to carry on. Many stations offer advanced boarding for families with young children. If you are traveling in a sleeping car, the showers on-board can be a big help, with big towels supplied by Amtrak.
And even if your kids don't belong to Greta Thunberg's Kids Rights movement, they surely know that rail travel is much more environmentally friendly than CO2-burning road and air transport.
What's Special about Overnight Amtrak train trips in the U.S.?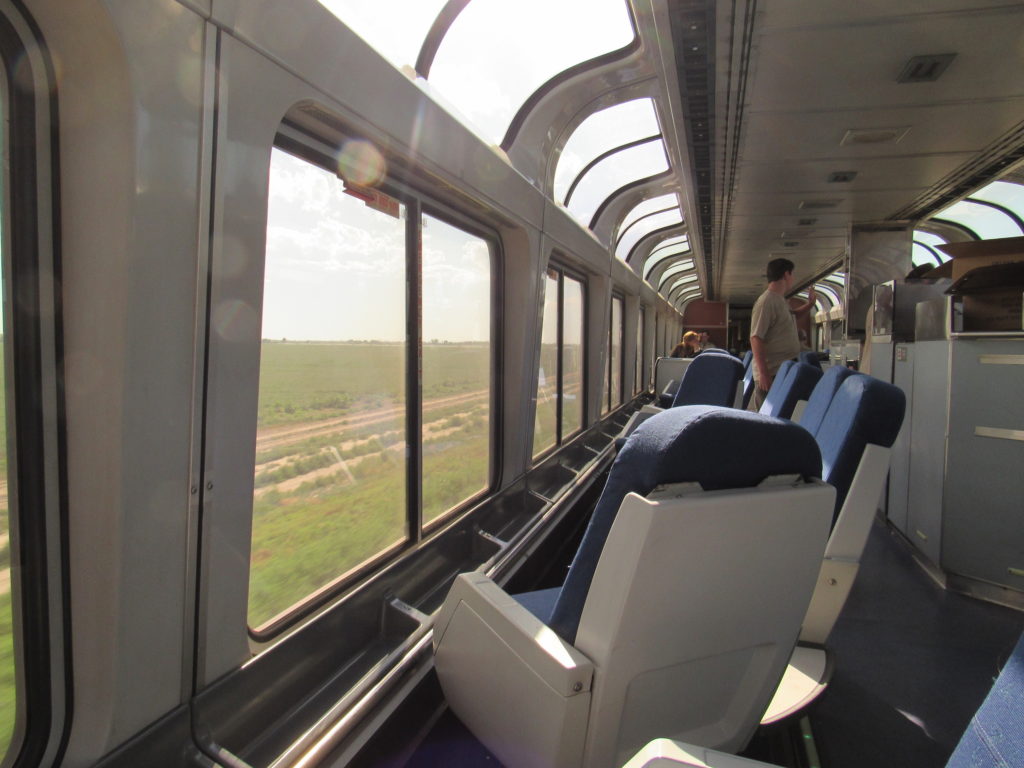 This author has had occasion to travel overnight in long-distance coaches, where every seat is comparable to an international business class airline seat. It is, surprisingly, better than you might think, relatively quiet at night and very affordable for families. The long-distance rail cars are built for the job and big windows on each side afford some fantastic views of scenic areas.
Why go West? Sleek double-decker trains carry everyone in quiet luxury with longer horizons and large windows for better viewing. When you alight at a service stop and look down the length of the train, both the length and height of your rolling home combine to make it seem like a linear apartment building. These rolling behemoths stretch more than three city blocks in length.
If your budget can afford it, the way to travel is in a sleeping car on the runs west of Chicago.
Special Facilities & Amenities on Western Train Trips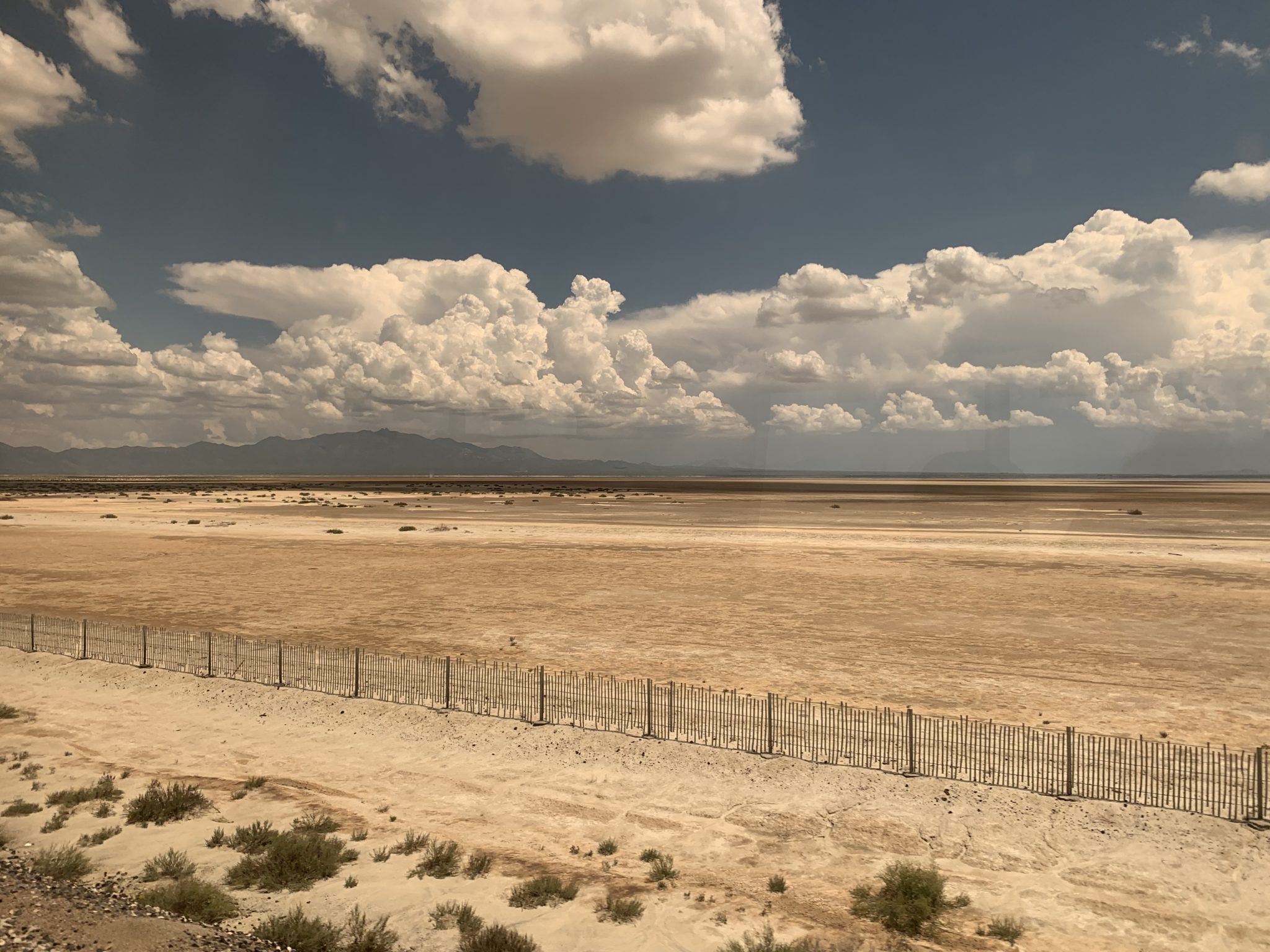 The sleeping car first appeared in the 1850s and, for my money, is the most unique way to travel anywhere in the world, especially in that part of our nation. These Western trains travel from Chicago and New Orleans to Los Angeles, San Francisco, Portland, Oregon and Seattle.
Each two-level Western train offers an upper-level dining car with tableside meals, and an upper-level sightseer cafe/lounge car, with floor to ceiling windows to ensure memories and incredible photos. Chances are, either sleeping car or coach, your accommodation will be on the upper level with its own amazing views.
Train Trips with Sleeping Cars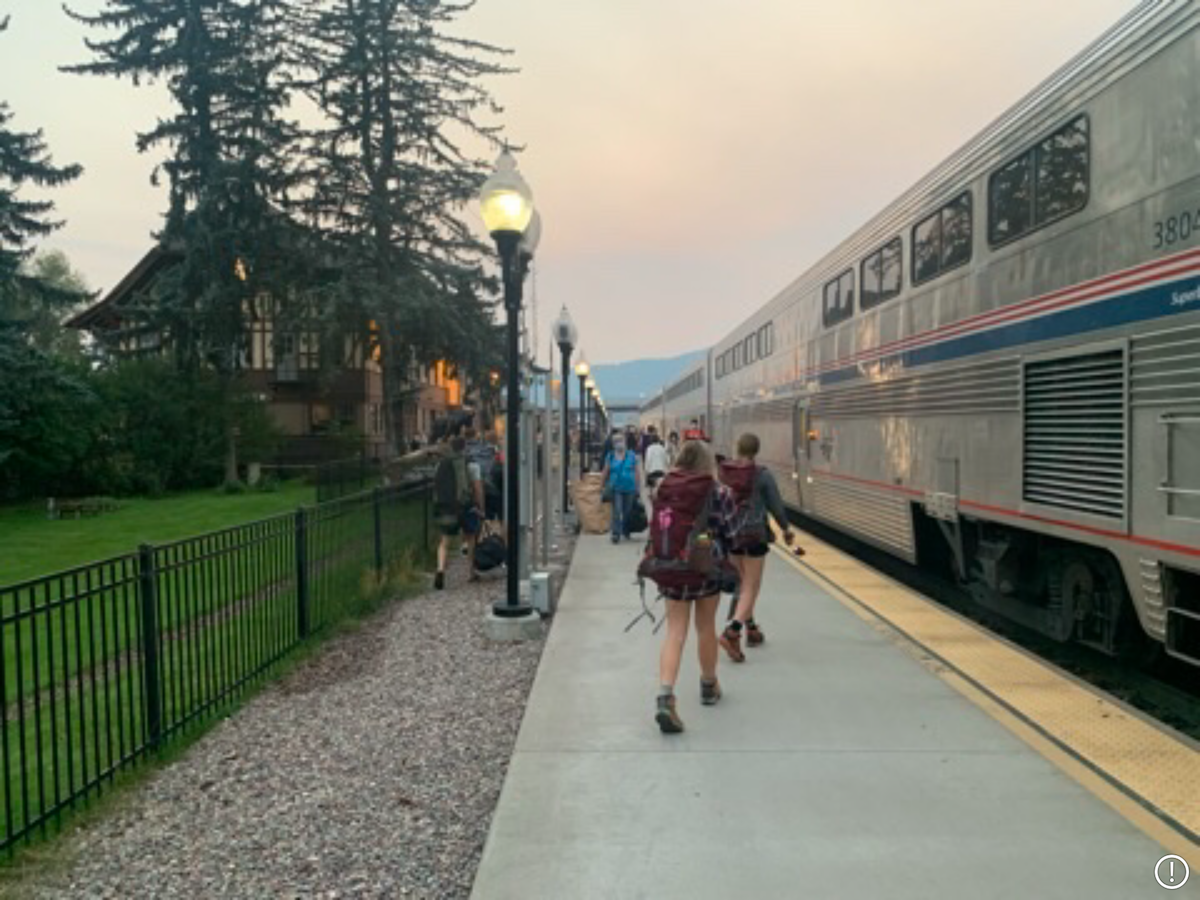 The gamut of overnight offerings starts at a lower-level, full-width family room, suitable for as many as four family members! Other accommodations offered are a cozy roomette, suitable for two in upper and lower berths and deluxe double bedrooms, suitable for up to three people, equipped with an ensuite shower, sink and toilet.
Accessible rooms are suitable for physically challenged travelers plus a companion. Showers are available for all sleeping car passengers.
While there are roomettes on both levels, the family and accessible rooms are on the lower level. Double bedrooms, the premium accommodation, are strictly on the upper level, and offer amazing views.
Favorite Amtrak Stations in the West: Albuquerque, Denver, Fort Worth
Servicing stops in places like Albuquerque, New Mexico; Denver, Colorado; and Fort Worth, Texas afford breaks in the ride. The whole family has a chance to take leg-stretching platform walks and witness the activity at the station.
Albuquerque even offers opportunities to purchase Native American handicrafts during the stop the Southwest Chief makes there.
I've tried to describe westward journeys in most cases to give everyone a longer day as you chase the sun on its westward journey. Let's hop aboard each one for a look at their respective routes.
Have a memorable trip, no matter which train you decide on!
Chicago and New Orleans>Los Angeles; Texas Bayous, Farms and Deserts on the Sunset Limited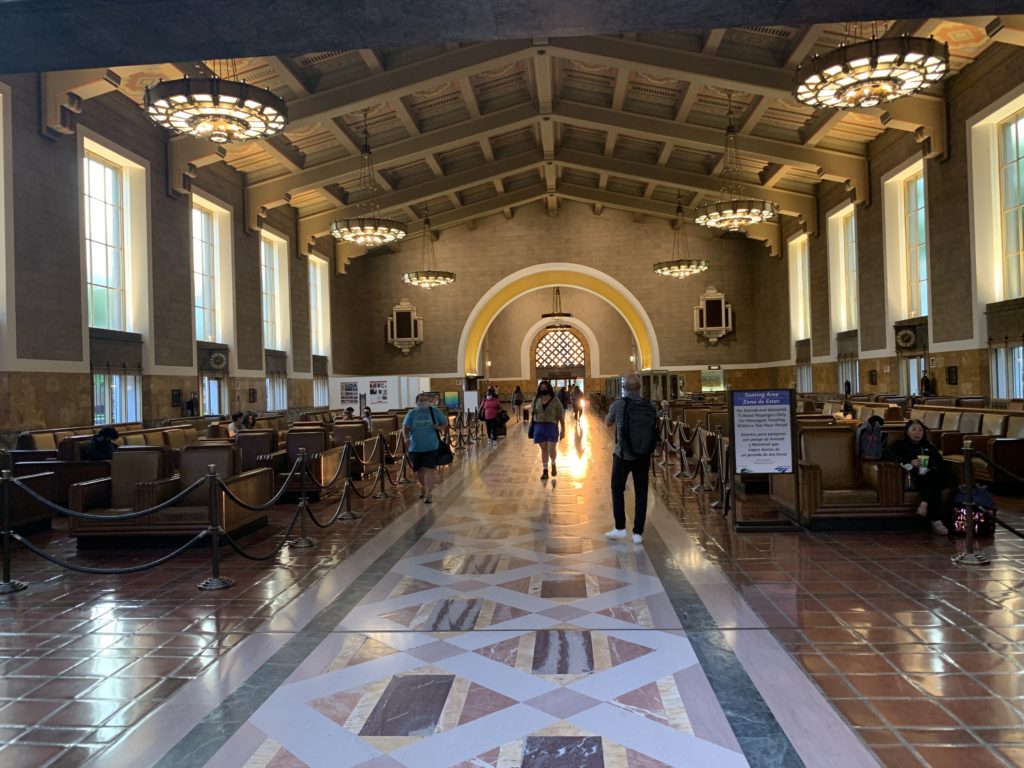 With a set of through cars from Chicago joining the New Orleans-originating Sunset Limited in San Antonio, Texas, the southernmost transcontinental Amtrak train travels three times a week in both directions.
Should you depart from New Orleans, the Sunset will whisk you west by way of a 900-mile transit of Texas. Bayous, farms, ranches and desert are all visible on this trip.
Should you book from Chicago or St. Louis to connect with the Sunset Limited, a sleeping car and a coach start on the Texas Eagle, which runs through Little Rock on its way to the San Antonio rendezvous, where both trains join. By the time the sun rises heading west, you are gazing on the farmlands of eastern Texas.
Traveling southwesterly through the state, it takes 16 hours (about the time to drive from New York to Chicago) to go from the Arkansas border to your connecting point.
West from Texas>Los Angeles; Crossing New Mexico on the Sunset Limited
When both parts of the Sunset Limited unite and head west, a New Mexico morning greets passengers. Daylight in New Mexico and Arizona takes the train through what was the Gadsden Purchase, land the U.S. purchased from Mexico to build the very route the train travels on.
The Arizona desert gives way to nocturnal transit of California's Imperial Valley with an early breakfast arrival at Los Angeles.
Chicago>Los Angeles; From Lake Michigan to the Pacific on the Southwest Chief
While the Texas Chief/Sunset Limited will take you from Chicago to Los Angeles through the desert, the shorter way between those two points is on the daily Southwest Chief, which travels through scenic, largely unpopulated Northern New Mexico during daylight hours in both directions.
You view the High Desert, a riot of reds and browns against a sunny blue sky, through large windows. From an elevation of 600 feet in Chicago, the train climbs to an amazing 7,588 feet above sea level at the Raton Tunnel in Northern New Mexico. This marvel of engineering is the highest point in the Amtrak system.
Fun stops for the family to disembark and tour would be Lamy, New Mexico — a short taxi ride from Santa Fe – and Albuquerque. Flagstaff, Arizona is the gateway to the Grand Canyon. Fullerton, California is close to Disneyland in Anaheim.
Along the way, the friendly crews will be happy to point out attractions of interest; you may just see wild stallions on the range in Southern Colorado! It's a wonderful way to see the Southwest go by, instead of zooming above it at 500 mph. The thrill of having a leisurely meal while floating through scenic vistas from the flat Illinois plains to the Rocky Mountains? Priceless.
It's a lot more real than flying over.
Chicago>San Francisco; Through the Mountains on the San Francisco Zephyr
If Denver, Salt Lake City, or the San Francisco Bay Area are points on your destination horizon, a mid-afternoon departure on the daily California Zephyr makes for perfect family travel to your special destination. It is a spectacular transit between Denver and Salt Lake City in daylight in each direction. There are 44 tunnels through the Rocky Mountains, a 50-mile climb out of Denver and a six-mile long Moffat Tunnel to keep everyone interested in the journey. The views on a clear day from the sightseer lounge car climbing out of Denver on a clear day are breathtaking.
The full trip, at over 2,400 miles, is one of the longest routes Amtrak currently offers. The western end of the line in Emeryville, California is but a short connecting bus ride to San Francisco over San Francisco Bay.
Northern Crossing; Empire Builder and the Pacific Northwest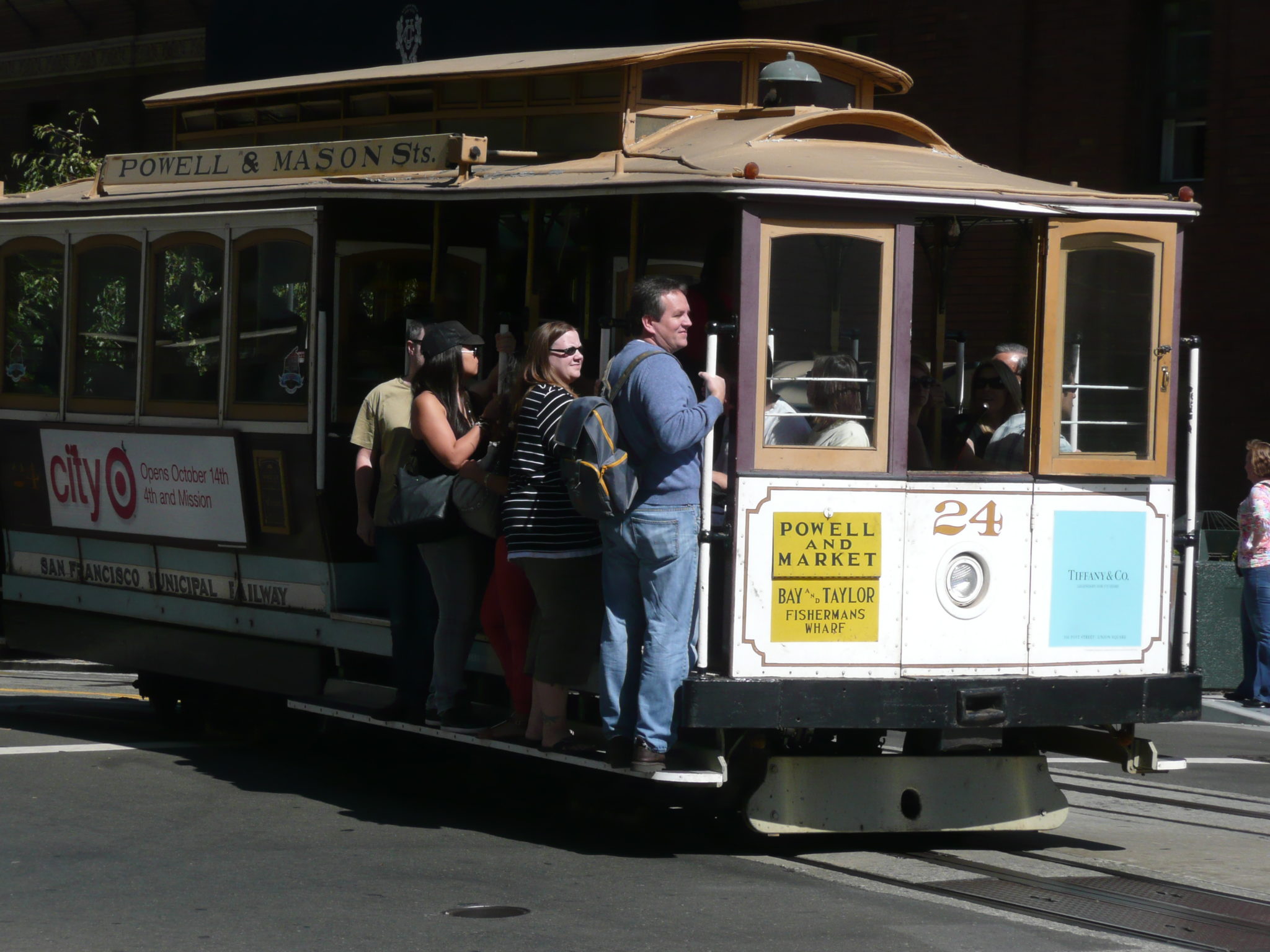 The daily Empire Builder offers up the plains of the Midwest, the Rockies and Pacific Northwest forests en route from Chicago to its twin destinations, Seattle, Washington and Portland, Oregon. The window of your coach or sleeping car room will afford a better than wide screen television 3D view of constantly changing vistas.
Heading West, the trains leave in the afternoon, with second day arrival at the last stop in the late morning. The Eastbound train leaves in the late afternoon, with an arrival in the late afternoon in Chicago on the second day of travel.
Kids will love daylight views of the Northern Rocky Mountains through miles of Montana wilderness, dotted by the occasional small town. If you look closely on the way through Glacier Park, you might just see some mountain goats! On the way to and from Seattle, you will travel through almost eight miles of the Cascade Tunnel, currently the country's longest railroad tunnel.
These Stations Encourage You to Stay Awhile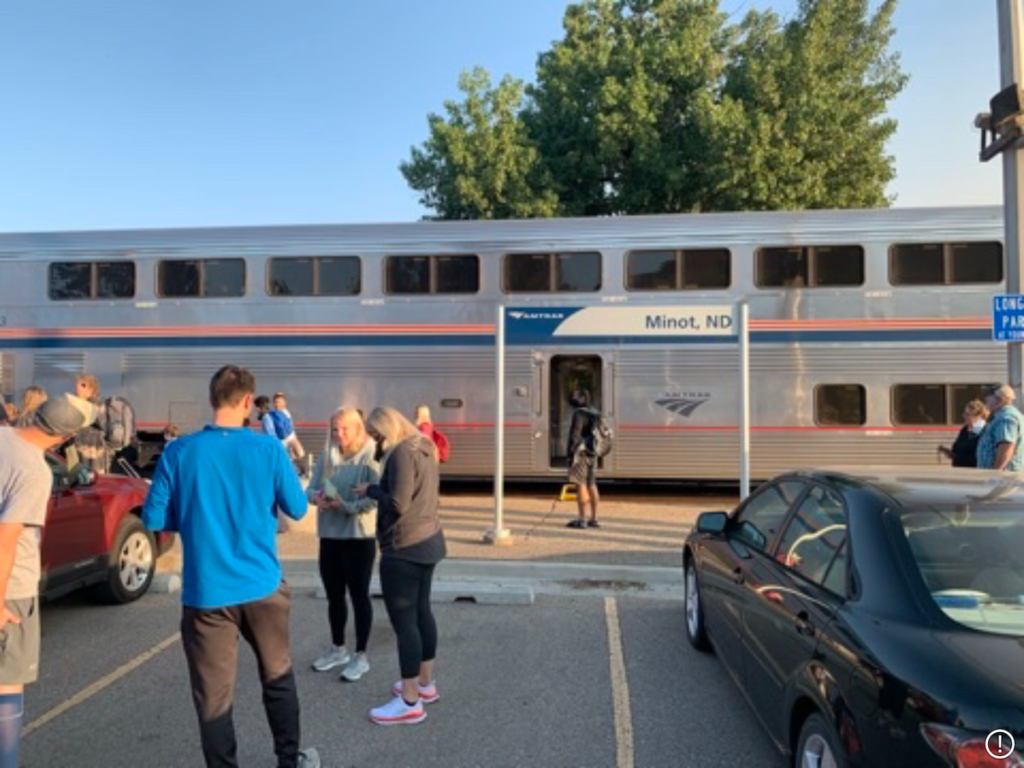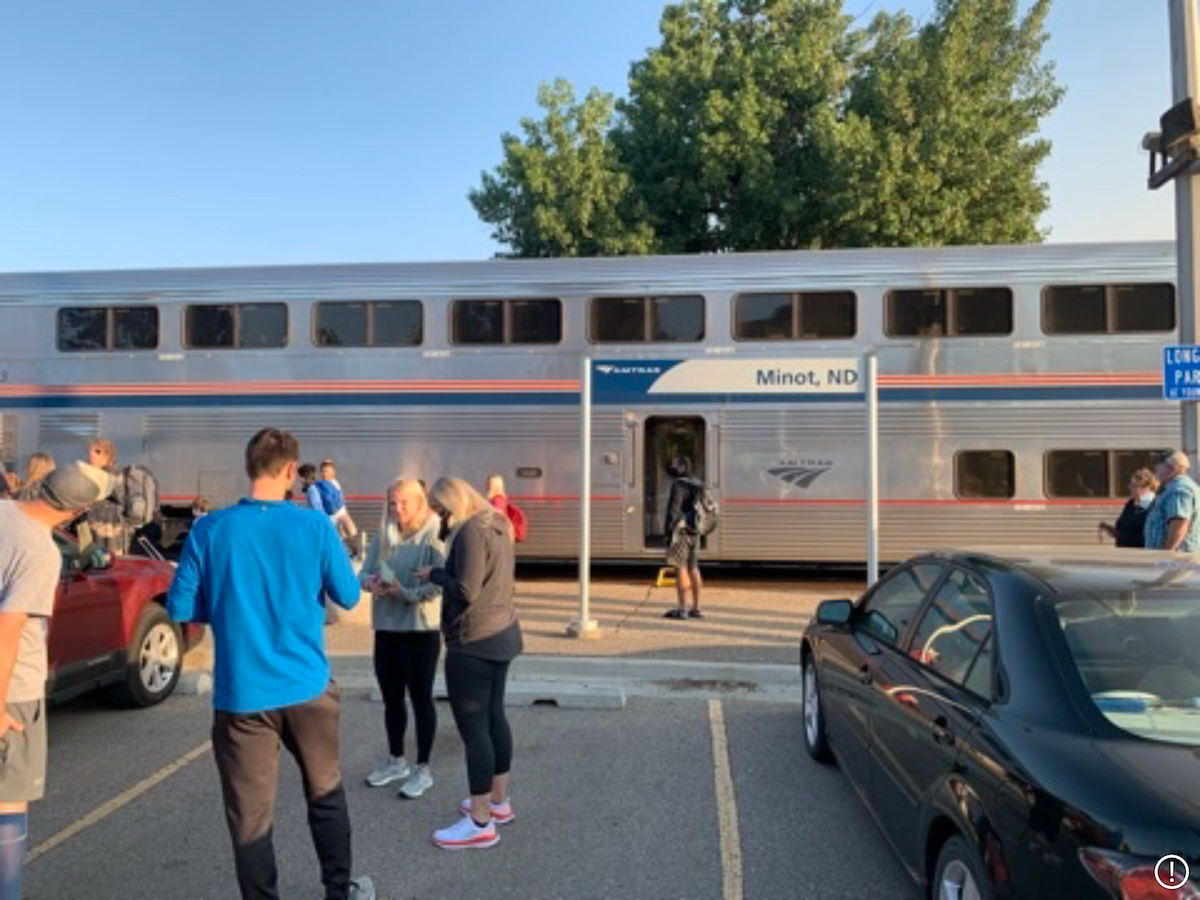 You might want to make a family friendly detour, perhaps at Glacier National Park, served by stations at East Glacier Park, Essex, West Glacier and Whitefish, all in western Montana. Or, spend an overnight in the Twin Cities, filled with family-friendly museums, restaurant, and cultural events.
If you want a shorter flavor of local culture, a 30-minute stop in Minot, North Dakota; a 25-minute stop in Havre, Montana; or a 20-minute stop in Shelby, Montana; will allow for some daytime platform strolling as your two-level train is serviced. Train time is always busy at these places, integrating the locals with the travelers arriving at each station. For your budding engineers, there is a large Great Northern Railroad steam engine to glance at as part of the Havre Station.
Please note: the Sunset Limited only runs three days a week in each direction; the other trains run daily.
Ralph's Train Trip Tips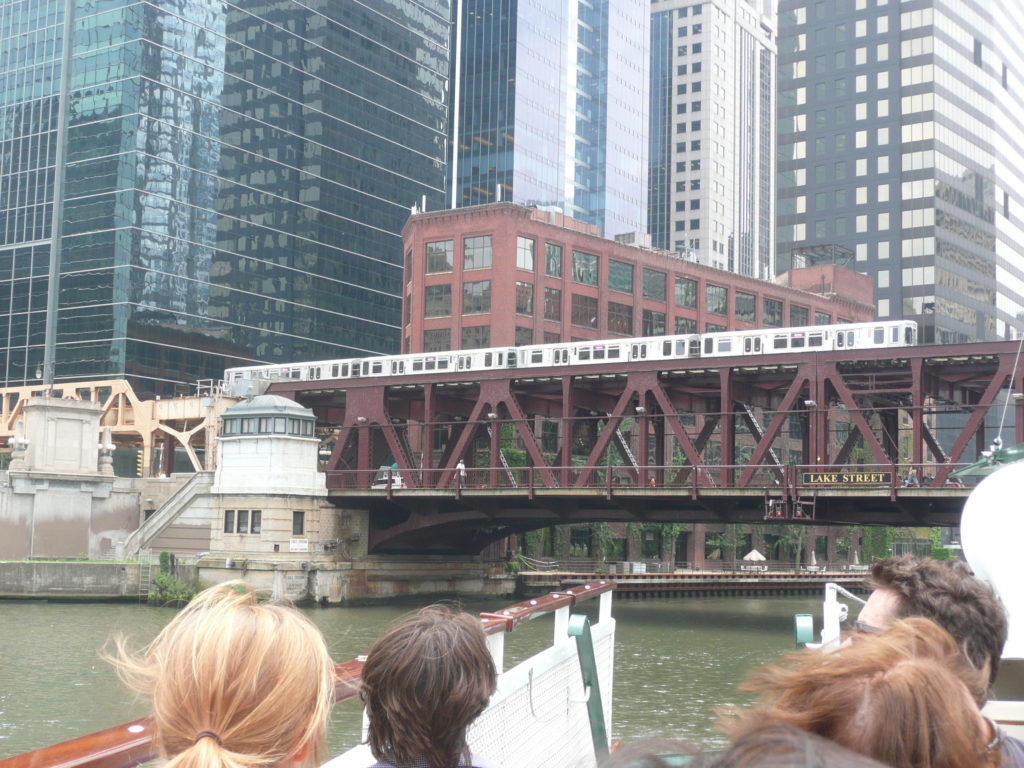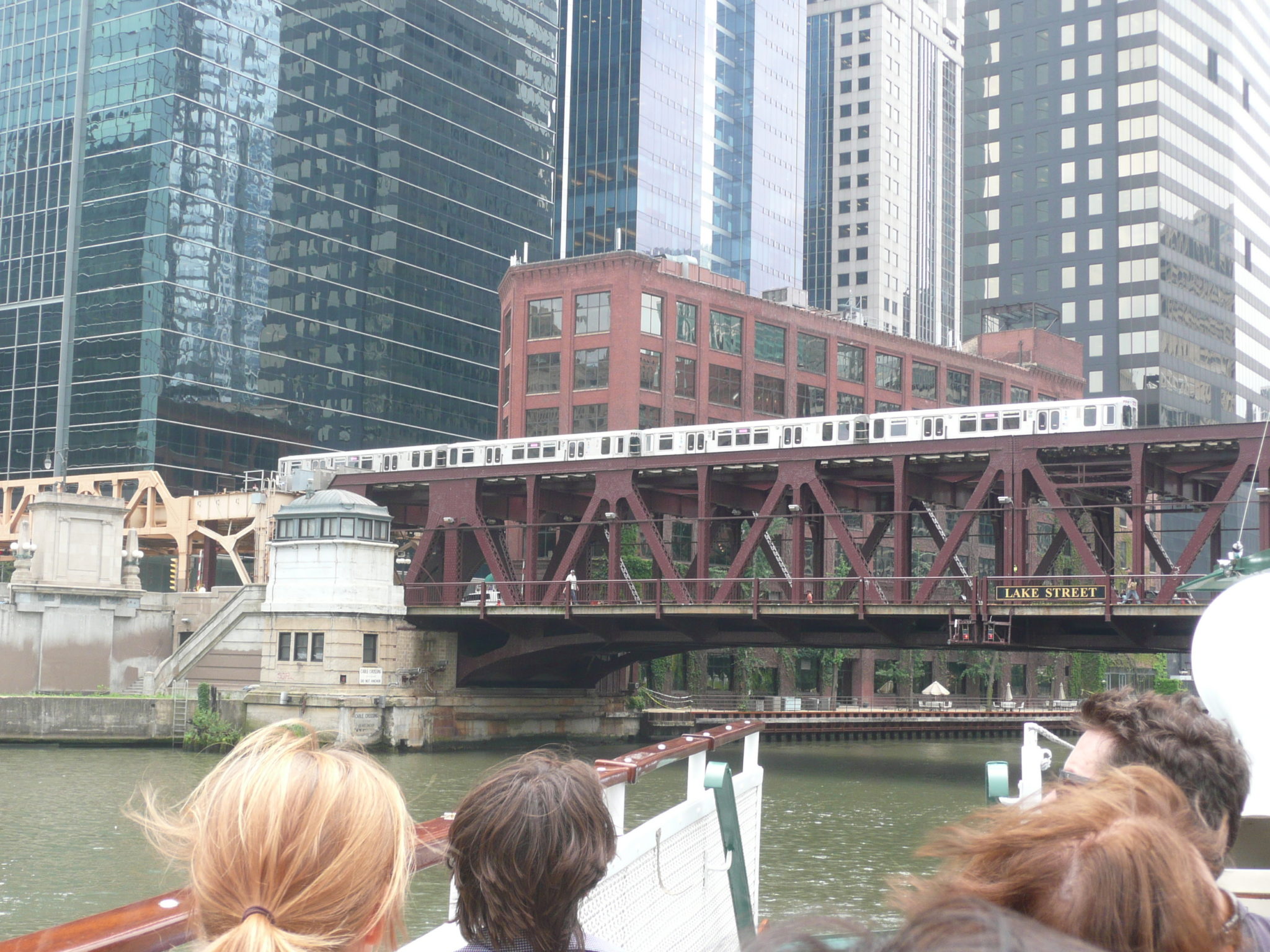 It pays to book your Amtrak tickets in advance online or in person. Young trainfans will probably enjoy a visit to their local station to plan and purchase tickets for their next journey.
On Amtrak, with a few exceptions, one child ages 2 – 12 rides at a 50% discount on the lowest available adult rail fare with each fare-paying adult (age 18+). Single parents traveling with more than one child pay the full fare for additional children. However, infants under age 2 ride free; one infant per full-fare adult. Additional infants under 2 pay 50% of the full fare.
Full dining car service is available to both coach and sleeping car passengers on long distance trains. On many trains, the original china and silverware are back in use too.
Coach passengers can purchase food in the cafe car. Full dining car service (plates and linen on the tables) is available to all passengers on the Sunset Limited, the Southwest Chief, San Francisco Zephyr, and the Empire Builder section to Seattle. The Empire Builder section to Portland, Oregonand the Texas Chief offer a lessened meal service for sleeping car passengers.
Our Next Station?
Please share your feedback in the Comments section below! If you're interested in more rail travel ideas for tweens, teens and lifelong railfans, let us know.
The last time, I covered my favorite train trips in the East. For our next installment, we will travel up the Pacific Coast from Los Angeles to Seattle, visit Canada for some great across-the-border train trips, and visit a few tourist railroads for some short, family-friendly and truly memorable rides.
Ralph Spielman is a retired Fortune 500 Corporate Travel Administrator, a lifelong train enthusiast, a volunteer docent at Grand Central Terminal and a volunteer at The High Line, both in New York City. He has ridden many trains, large and small in Asia, Europe, North America and Australia.
Dear Reader: This page may contain affiliate links which may earn a commission if you click through and make a purchase. Our independent journalism is not influenced by any advertiser or commercial initiative unless it is clearly marked as sponsored content. As travel products change, please be sure to reconfirm all details and stay up to date with current events to ensure a safe and successful trip.
---