With more than 50 years of service experience, Amtrak presents seven top Eastern train trips — all short ones ideal for family-friendly trips. We know families with little ones and big ones love trains. So as a father, avid train traveler and vacation-lover, I am sharing a few of my favorites family railroad adventures available in the eastern United States.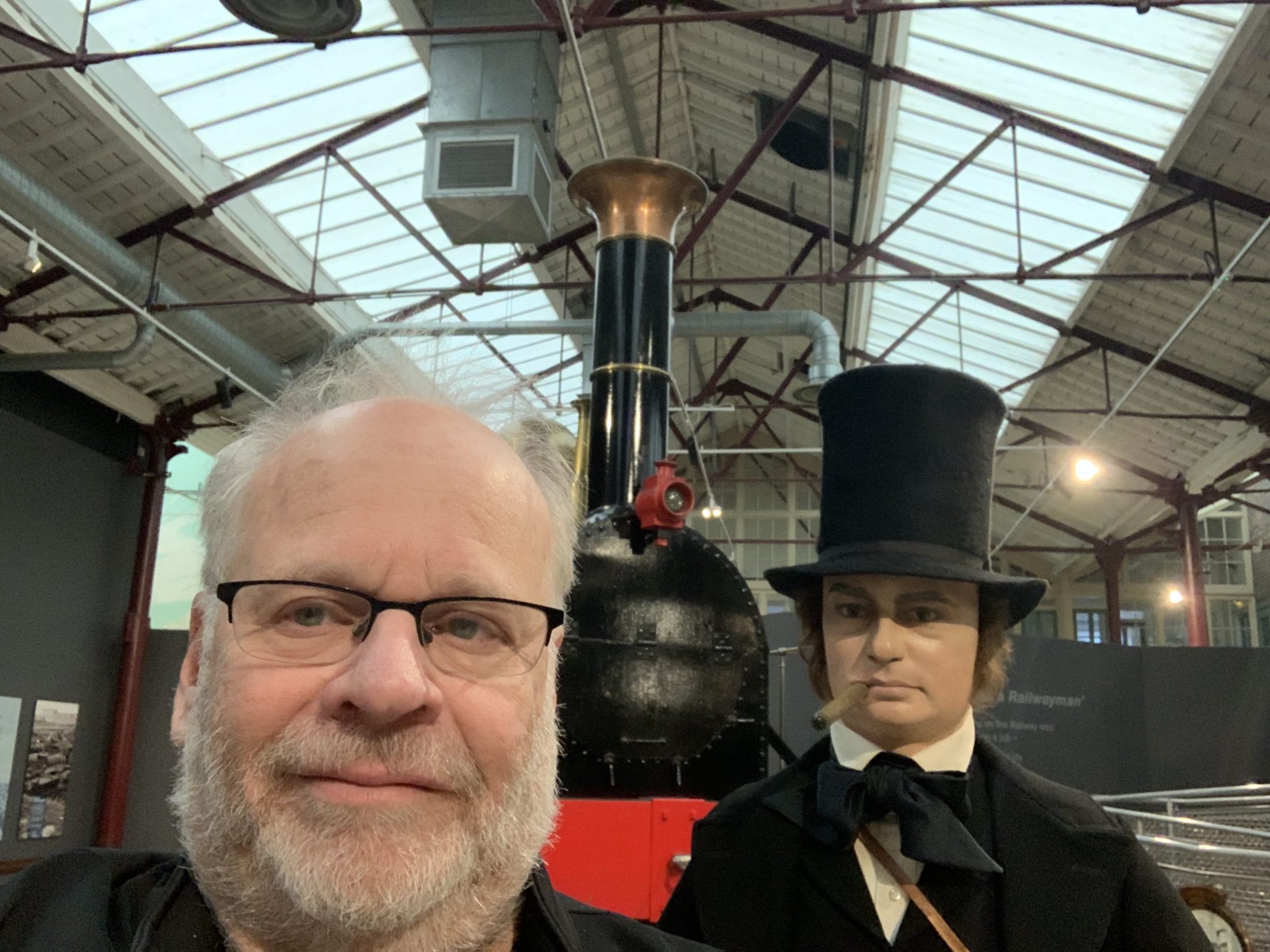 Riding the Rails on Eastern Train Trips
I'm sure you have heard of Amtrak, the national rail operator, connecting America with 21,000 route miles in 46 states, the District of Columbia, and three Canadian Provinces.
Did you know that Amtrak operates more than 300 trains each day to over 500 destinations? Of interest to families, Amtrak operates more trains in the eastern states than other places.
Whether you live there, or are planning a visit, these trips will make an excellent introduction to travel by train. With my specific criteria, the outlined Eastern train trips should be family budget-friendly. They are relatively short in duration and bound to keep your young ones amused from the first utterance of "All aboooaard."
Take the train? Why, when we have a car?
While an automobile gives you mobility, when you are on the train, for example, it's fun to walk around and stretch those little legs. Instead of the usual car trip fraught with traffic, train travel offers a great chance for the whole family to look out the windows and see the fabric that is our America.
With the engineer at work in the front of train, no adult has any driving responsibility. Almost all the Amtrak trains noted offer reasonably comfortable seats, and a cafe car, with a selection of food, snacks and drinks.
Even if your kids don't belong to Greta Thunberg's Kids Rights' movement, they surely know that rail travel is much more environmentally friendly than CO2-burning road and air transport.
In fact, all the Eastern train trips from Washington DC to Boston on Amtrak utilize electric propulsion power, without any fossil fuels. You aren't just saving wear and tear behind the wheel, you are saving the planet on these trips.
So, just as you would on a toddler-laden car trip, I've included kid-friendly destinations to keep their interest and break up the journey for some off-track adventures.
A New England Weekend Getaway from New York City?
New York City's beautiful new Moynihan Train Hall handles more Amtrak passengers than any other in the US. They have more Eastern trains scheduled than any other station in the National System. Adjacent to Pennsylvania Station, Moynihan Hall revives the nostalgia of long-distance train travel in the 21st century. It is a natural place for beginning family-friendly adventures.
If you can splurge on cost for comfort and speed, you want to take one of the Acela high-speed trains. Tickets are cheapest (although pricey) in business class seats (there is no coach offered). (Please note that children's discounts, see below, do not apply on weekday Acela trains.)
Acelas are quick! New York to Boston is a little over four hours on the Acela; Providence is about three-and-a-half, a little longer on the Northeast Regional trains in both instances.
New York > Providence; New York > Boston Train Trip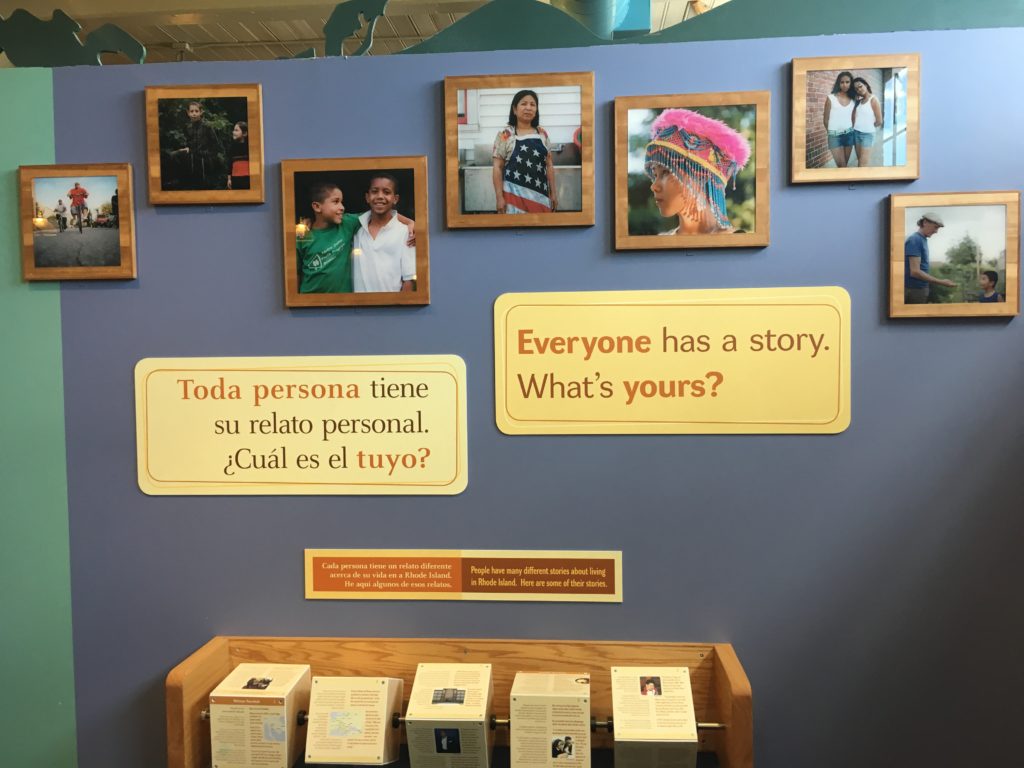 On Northeast train trips, the Acela's huge, kid-friendly windows afford great views of southern New England, plus an enchanting look at the small towns and beaches along Long Island Sound as you whizz along the Connecticut shoreline.
Providence, Rhode Island offers a great stopover on this run as well, with the kid-friendly Providence Children's Museum and The Roger Williams Zoo.
Staying on to Boston? A huge array of kid-friendly activities, museums, restaurants appear at almost every block, a great place for your younger ones to learn about history and culture.
An overnight Eastern Train Trip trip sure to thrill
One of my favorite rail destinations? You will want to visit Pennsylvania, a favorite destination of mine.
Head west from New York's Penn Station on a three-hour trip to Lancaster, Pennsylvania, served by Amtrak's Keystone Trains. Lancaster is the closest rail station to Strasburg PA.
While lacking coastal vistas, I hope views of suburban New Jersey, big-city Philadelphia and scenic Pennsylvania farmland will occupy the younger set with ever-changing landscape. As a New Jersey native, to me, the vistas from the Jersey Meadowlands, just outside New York City, to the Delaware River provide young travelers with a microcosm of Eastern United States geography.
Strasburg, Pennsylvania Rail Adventures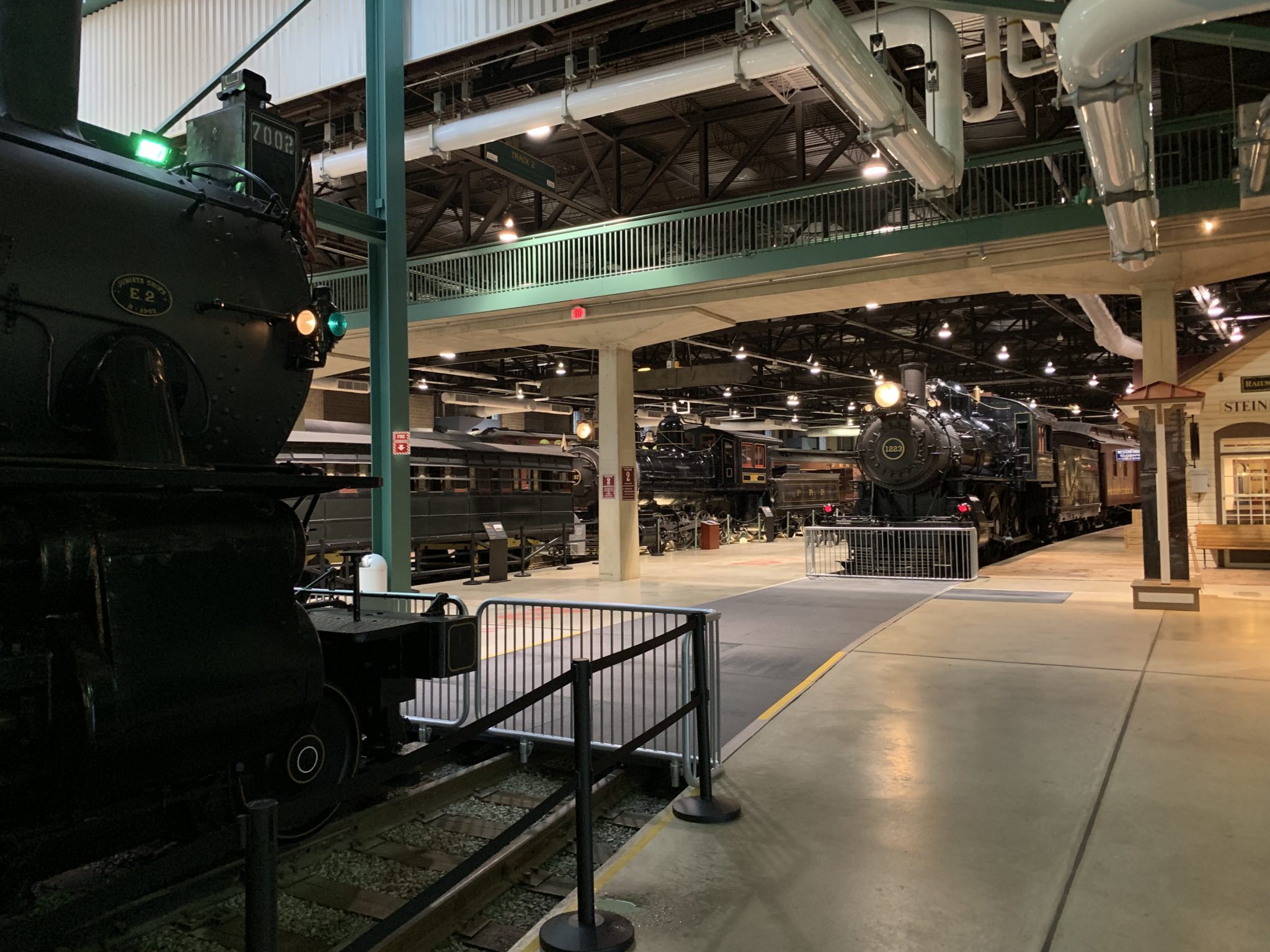 Why are we riding to kid-friendly Strasburg, Pennsylvania? It's the most train-friendly spot in the United States!
This locale boasts The Strasburg Railroad, The Railroad Museum of Pennsylvania, the National Toy Train Museum and The Red Caboose Motel, where the family can stay together in a caboose. Don't miss the Casey Jones cafe too. It's Nirvana for kids both large and small!
The motel is walking distance from all three attractions. The fall is the best time to visit. That's when Thomas the Tank Engine provides future engineers a chance to ride behind the legendary steam locomotive and get up close and personal on the Strasburg Railroad. If you haven't read the "Thomas and Friends" series of books that originated in England and have been translated around the world, please do so.
The Railroad Museum offers real, wonderfully-preserved engines and railroad cars, both indoors and outside, and the Toy Train Museum is filled with different size replicas, some of which run on full model train landscapes called "layouts," creating the sounds and smells of a bygone era.
For parents and grandparents take note; unlike other trains mentioned, the Keystone Trains from New York and Philadelphia offer no food or beverage service, so pack some snacks and things to drink for all.
Train trips from Washington, DC
How about capital ideas for Eastern train trips? If you live in or are visiting the Greater Washington DC Metropolitan area, including the District of Columbia and parts of Maryland, Virginia and West Virginia, family-fun train travel choices to relatively close destinations exist at Amtrak's second largest destination.
If you want to take a break from the routines of home or if you're a visitor sightseeing at the many wonderful free attractions in our nation's capital, here are some one day and overnight rail alternatives, which can easily be part of your visit.
DC to Baltimore Train
Want a short ride with some great family activities?
Baltimore can be reached by both Amtrak and MARC (Maryland Area Regional Commuter), which navigates through northeast Washington, then threads through the suburbs of both cities on the way to Baltimore
The ride times range from 40 minutes to about an hour, with both rail operators leaving from Washington's magnificent Union Station, arriving Baltimore's Penn Station, slightly north of downtown.
A taxi ride from the station will take you to the museums that dot the city; Little railroaders will love the Baltimore and Ohio Railroad Museum. Young scientists will enjoy other Baltimore family attractions such as the Maryland Science Center, and everyone will enjoy the Port Discovery Children Museum, just a short walk from the fabulous National Aquarium. And that's just a few of the many museums in Baltimore bound to keep all family members busy for a one-day or overnight excursion.
MARC offers less frequent service than Amtrak. However, it is less expensive and worth checking out, especially if commuter trains do not exist where you live. MARC is a much different experience than an Amtrak train.
Washington DC > Delaware and beyond Eastern Train Trips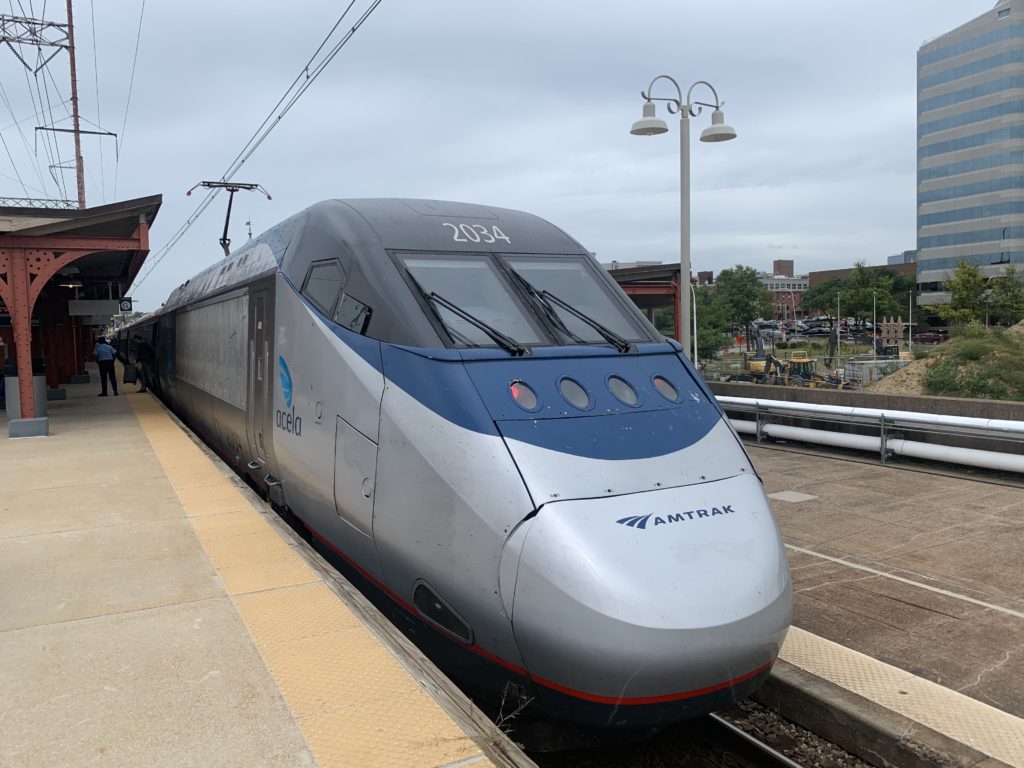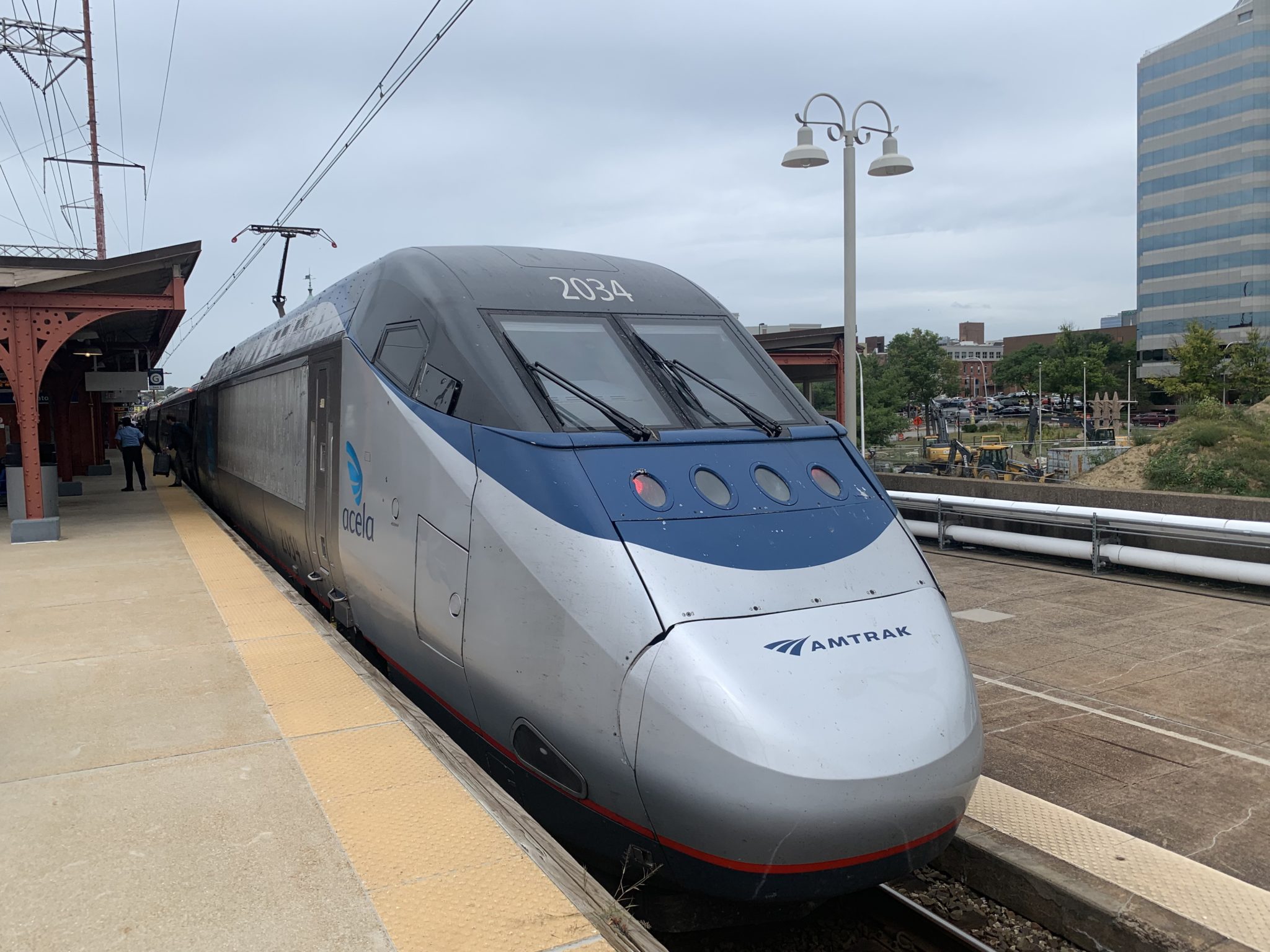 Ride the high-speed Amtrak Acela train for the most comfortable ride. If you want to travel a little further, another Acela splurge provides remarkable views of Chesapeake Bay on the 75- minute ride to Wilmington, Delaware.
Wilmington is home of the Delaware Children's Museum, easily reached via a scenic walk along the redeveloped Christiana Riverfront.
If you want to include Philadelphia on a weekend away, just a half an hour past Wilmington lies historic Philadelphia, filled with many wonderful museums, countless food options, and enough activities to enthrall everyone.
Both cities are also easily reachable by train from New York City as well, for a good long day's outing, or a family-friendly weekend.
Short Trips South from Washington DC > Richmond
If it's South you wish to travel, a two-hour ride will take you to Richmond, Virginia. Amtrak offers frequent service from DC. A scenic ride heads through many Civil War-era sites and, before you know it, you are at the Richmond Station.
A short taxi drive away is a unique museum worth visiting in Richmond — the American Civil War Museum at Historic Tredegar. Many other museums, restaurants and activities are also available here. Richmond offers a glimpse of the South, as it was, and as it is now.
A short Eastern Train ride past Richmond? Williamsburg, Virginia
Also worth a visit, if you have at least one night, is Williamsburg, Virginia. The fascinating modern and historic city is an hour's train ride beyond Richmond. Little history devotees will be able to experience life as it was in the 1700s at Colonial Williamsburg, a historic recreation village and living history museum which offers entertainment, history, period dining and lodgings, all within its grounds.
This would be another budget splurge but it makes for a great week's vacation when combined with the contemporary art, food and craft brewery scene in Williamsburg, the Historic Triangle sites at Jamestown and Yorktown and the Busch Gardens Williamsburg theme park and waterpark.
The region is especially interesting with school-age children who have studied the arrival of the first settlers, slavery, the American Revolution, the origins of democracy or the colonies' independence movements. Historic interpreters, dressed in garb that befits the era, explain how things were done way back when, and are always happy to take questions from children.
Train Travel Tips from Family Travel Forum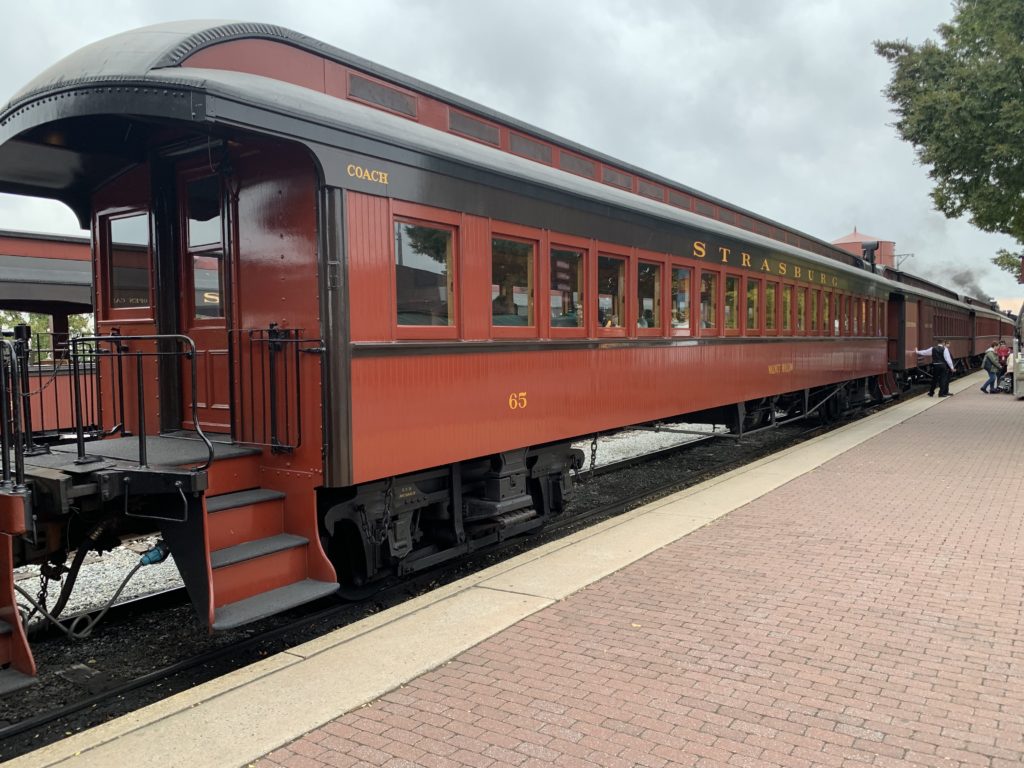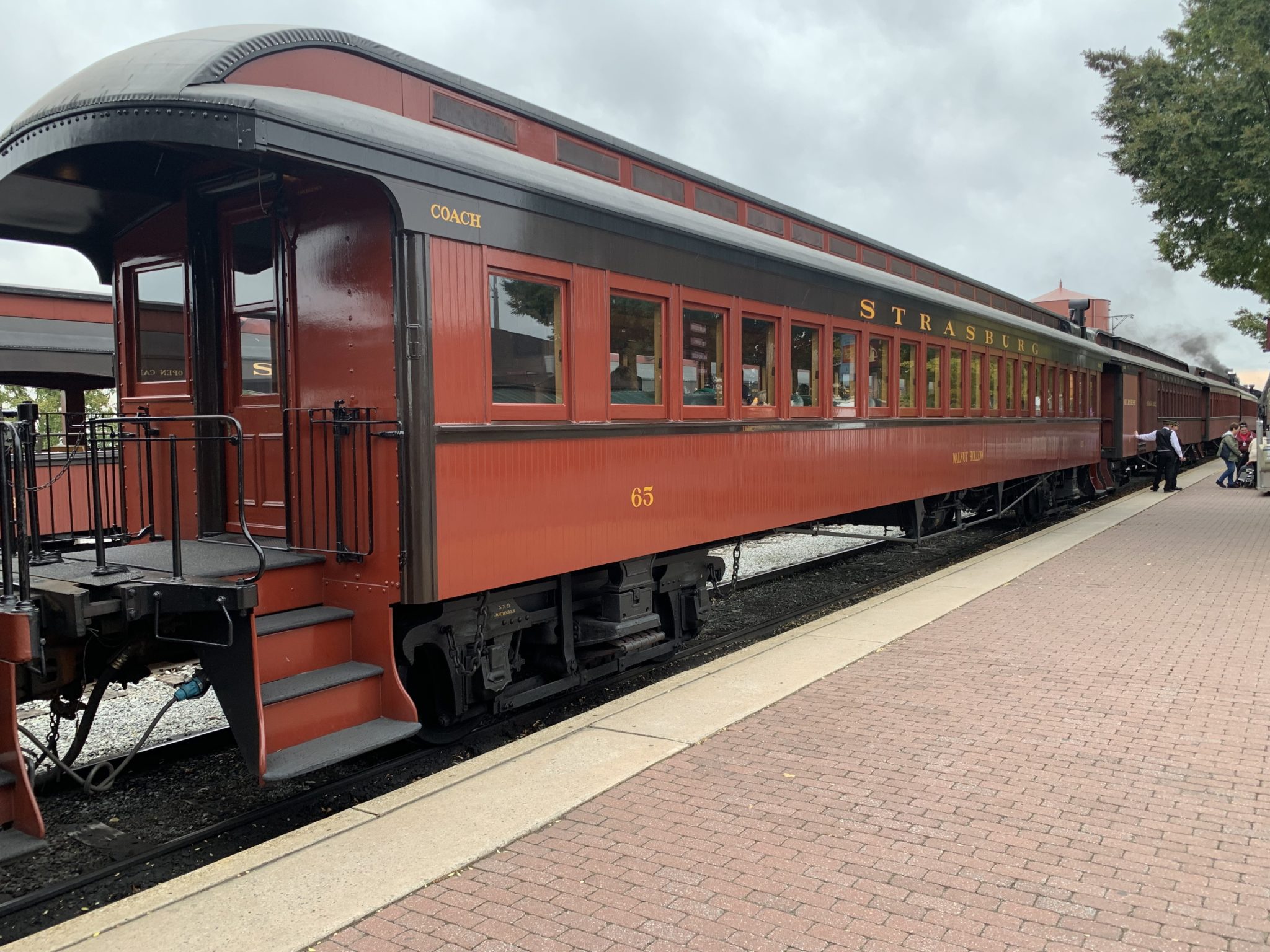 It always pays to book your Amtrak tickets in advance online or in person. Young trainfans will probably enjoy a visit to their local station to plan and purchase tickets for their next journey.
On Amtrak, with a few exceptions, one child ages 2-12 rides at a 50% discount on the lowest available adult rail fare with each fare-paying adult (age 18+). Single parents traveling with more than one child pay the full fare for additional children. However, infants under age 2 ride free; one infant per full-fare adult. Additional infants under 2 pay 50% of the full fare. Occasionally, the Amtrak website will offer special fares that may be cheaper.
And if you're ready to go big, Amtrak.com features current travel deals, such as the 10-segment USA Rail Pass ($499) good for 30 days.
Our Next Stations on this trip?
Please share your feedback! If you're interested in more rail travel ideas for tweens, teens and lifelong railfans, our next installment will offer tips on which longer trips to take throughout the continental United States. This link leads you to my favorite train trips in the Western U.S.
Ralph Spielman is a retired Fortune 500 Corporate Travel Administrator, a lifelong train enthusiast, a volunteer docent at Grand Central Terminal and a volunteer at The High Line, both in New York City. He has ridden many trains, large and small in Asia, Europe, North America and Australia.
Dear Reader: This page may contain affiliate links which may earn a commission if you click through and make a purchase. Our independent journalism is not influenced by any advertiser or commercial initiative unless it is clearly marked as sponsored content. As travel products change, please be sure to reconfirm all details and stay up to date with current events to ensure a safe and successful trip.
---