These unique Israel family activities prove that the country, turning 75 in 2023, is a very special place. It's more than just a destination for religious pilgrims. Thoughtful experiences and ancient sites guarantee that all families will enjoy an Israel cultural immersion.
During my fully-escorted weeklong tour in December, I discovered 16 experiences that have had lasting impact. I also corrected several misconceptions, including that the climate was warm and dry. (It's not necessarily so in winter.)
Jerusalem is a Hotbed of Israel Family Activities
Jerusalem rises like a golden haze above rolling hills. Some on the West Bank are capped by domed mosques; others crowned by the many startups that call this city home.
On practical terms, we stayed at the Prima Kings Hotel Jerusalem, a convenient base for sightseeing just outside the Old City. Although Jerusalem has a large Ultra-Orthodox population, there are enough tourists to support several non-Kosher restaurants. We ate very well; try Satya for Indian-European dishes, Zuni in the Nahalat Shiva quarter for late night burgers and Bistro Joy in the international luxury Malmilla Mall.
Here are my top seven Israel family experiences to enjoy together in Jerusalem.
Feel the pain at Yad Vashem.
The multimedia Holocaust memorial is an important first stop for ages 13 and older. Packed with artifacts of religious persecution, the assembled pain helps visitors understand how Israelis view Israel's place in the world today. Their Holocaust educational materials are full of smart ideas to discuss what you've seen.
Explore the Old City of Jerusalem as a Family.
The many historical and religious sites which are venerated by Jews, Muslims and Christians are a must-see. They're among the top Israel family activities, no matter your faith. Stroll the ticketed Ramparts Walk atop the Old City Walls or, for those with mobility issues, take the Old City Train. You'll appreciate how the golden 'Jerusalem Stone' limestone buildings (a design requirement of the British Mandate of 1923) gives the city its famous glow.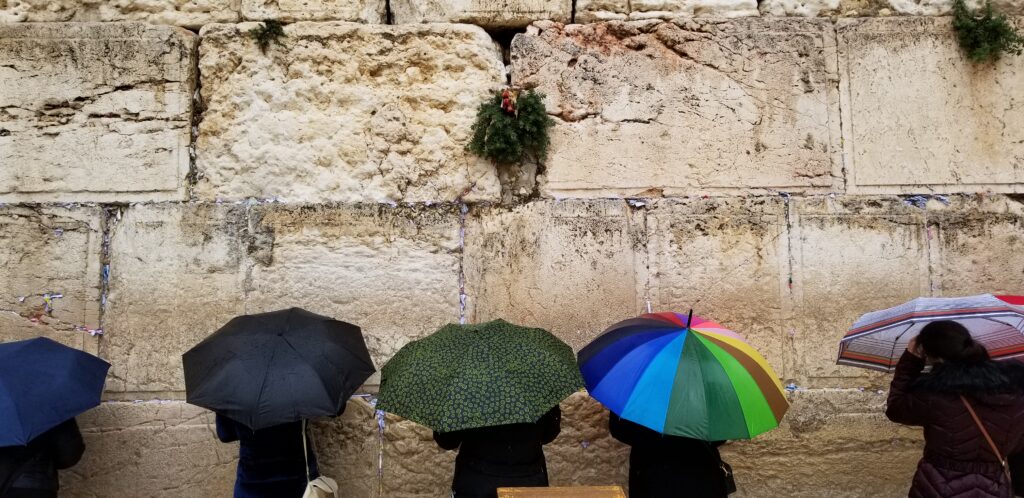 Find passionate families at the Western Wall.
Men and women pray separately at Kotel, also known the Wailing Wall. It dates to 37 BCE and is considered Judaism's most sacred site. Join the faithful by pressing your prayer notes into the cracked limestone, where rabbis collect and burn up to 1 million annually, sending the prayers up to Heaven. More than just an Israel family activity, it's a rite of passage. Everyone does it.
Go deeper on a Kotel Tunnel Tour.
The Western Wall Heritage Foundation provides knowledgeable guides who go deep under the Western Wall. They explain the religious significance of Mount Moriah and the two temples which stood there. Learn about the historical context of Jerusalem's Old City. It's the real deal; for me, the key to understanding Jerusalem's significance in the world today.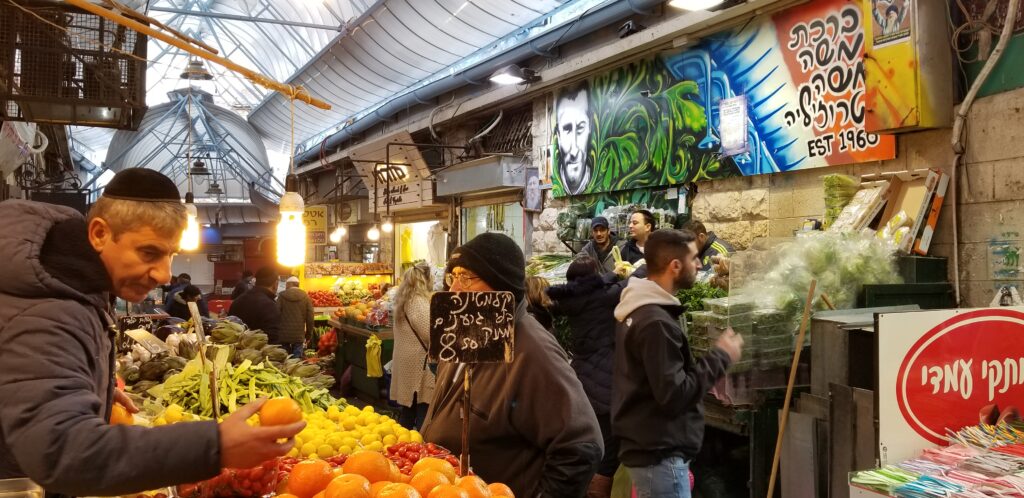 Feel like a local at Mahane Yehuda.
Eating is one of Israel's top family activities. That makes this teeming produce, fish and meat market at the heart of the Israeli kitchen a must-see. Plan ahead because it's closed on the Sabbath (Friday afternoon to Saturday evening). Follow the dense lanes into the Christian, Armenian and Arab Quarters, where buyers and sellers mix. (Abu Shukri has won prizes for serving Jerusalem's best hummus.) The market is busiest on Thursdays and at night, when many shops open as bars and music clubs.
Ogle at the Shrine of the Book.
This shrine is part of an extraordinary collection of new and old artifacts at the Israel Museum, kept in its own architecturally distinct wing. They are better known as the Dead Sea Scrolls. (The hundreds of parchments inscribed with segments of the Old Testament were found in jars hidden in caves around the Dead Sea.) Read up or hire a guide (there are occasional family activities in English) to appreciate why they are priceless.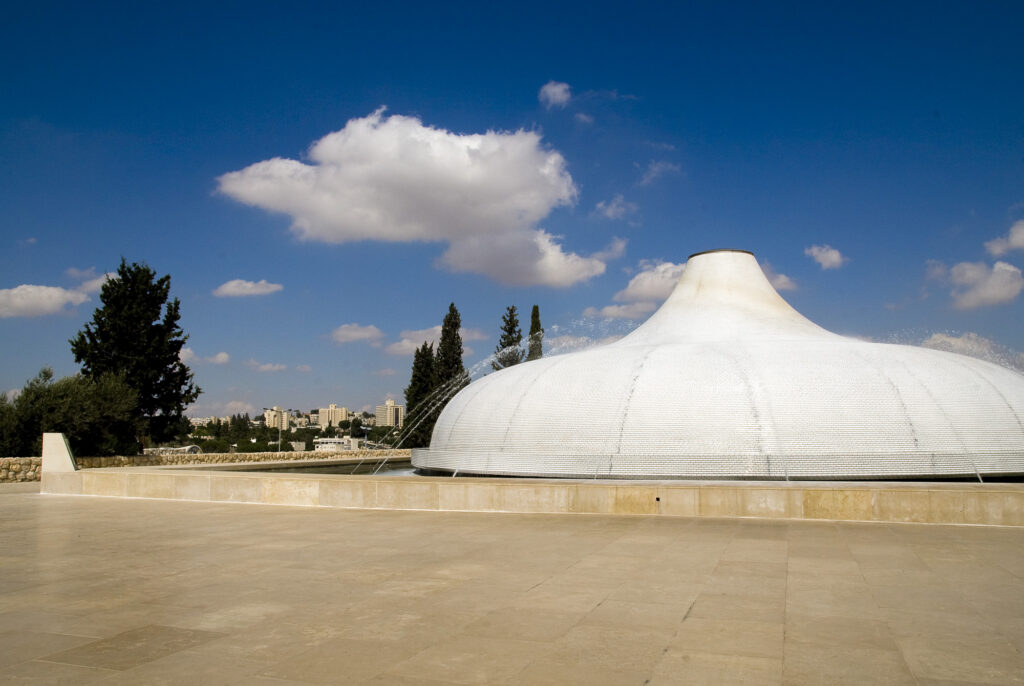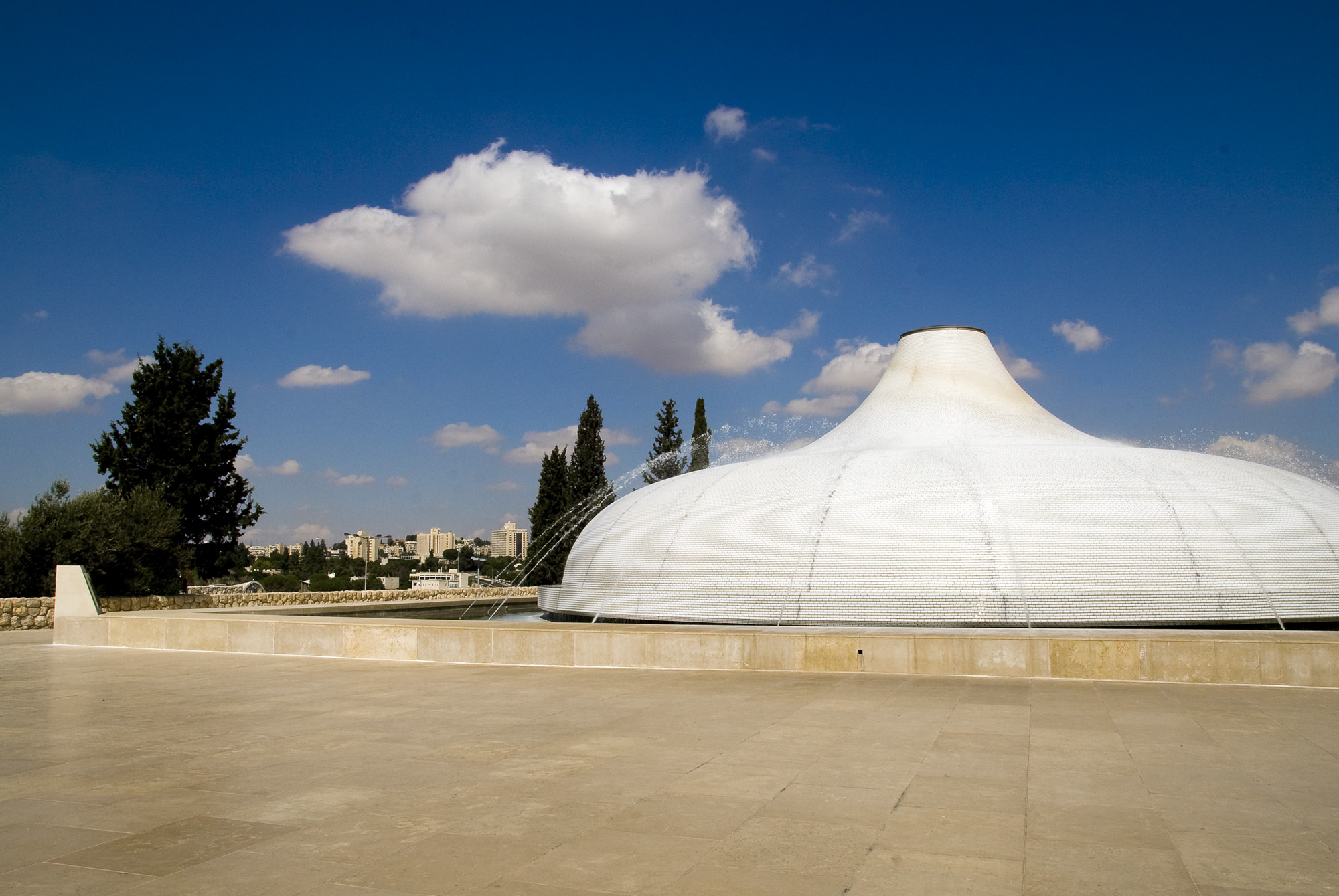 West Bank Family Activities and Tours.
Explore current events, politics, the Wall, Israeli settlements and daily life for Palestinians. Depending on your religious and political leanings, the West Bank may not be among your approved Israel family activities.
That's why it's so important to do. Several one to multi-day West Bank tours depart from Jerusalem and many visit the Banksy project, Walled Off Hotel.
The Best of Tel Aviv for Families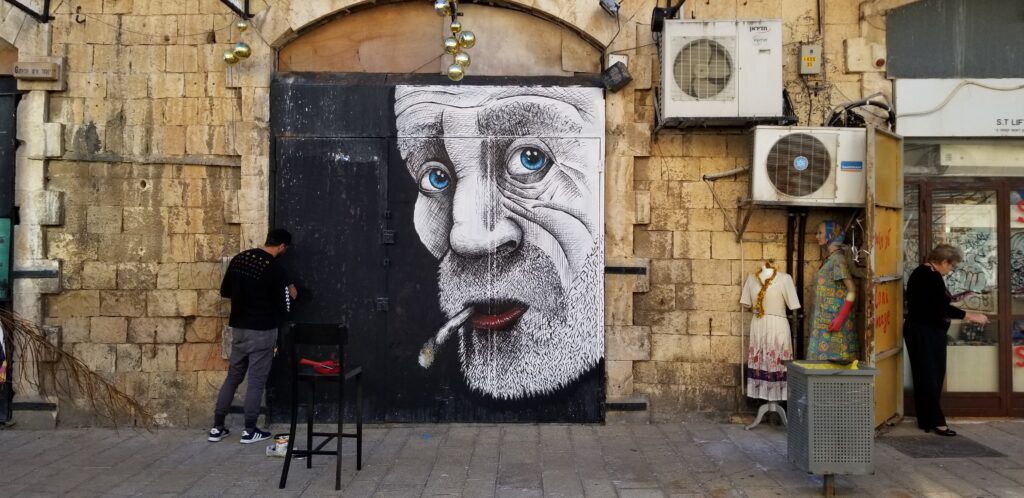 Tel Aviv is full of young people in skinny black jeans, checking their mobiles, drinking lattes, on scooters, or all of the above. While the mix of old and new, low-rise and high-rise architecture resembles Brooklyn, the mood of this beachfront city is more comparable to laidback Santa Monica. It's fun.
We loved the food, starting with our meal at Ha'Achim, a casual hipster joint serving Israeli vegan where herbs growing on the bar counter are clipped as garnish. Vicky Cristina is the stylish tapas bar hotspot at the Old Turkish Railway Station. It's central to the old Palestinian neighborhood at Manshiya (Tachana), now an entertainment area. Bino bePitta, on Rothschild Avenue, boasts a sleek open kitchen where you can watch the team grill and roast meats to accompany tasty salads and thick pita.
Here are five Isreal family things to do to get to know Tel Aviv, or TLV as it's fondly known.
Discover Israel Family Activities in Neve Tzedek.
TLV's oldest neighborhood is full of winding alleyways and charming stucco houses that have been restored into one-off shops, cafes, museums and galleries. We could already appreciate this is a hot neighborhood for young families. Plus, your kids will love seeing "Wonder Woman" star Gal Gadot's house.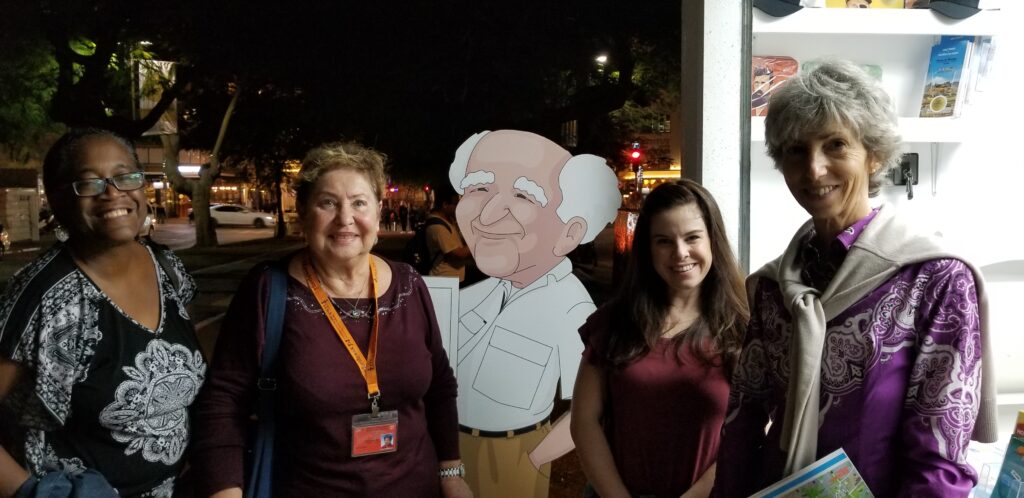 The Independence Trail.
Learn about the country's independence history around the Meir Dizengoff House. This is thesite of the signing of the Israeli Declaration of Independence. The information booth on Rothschild Boulevard rents iPads with clever, interactive history chapters about several Tel Aviv monuments and the Shalom Tower, a shopping mall built on the site of the first Hebrew language 'gymnasium' (high school) in the world.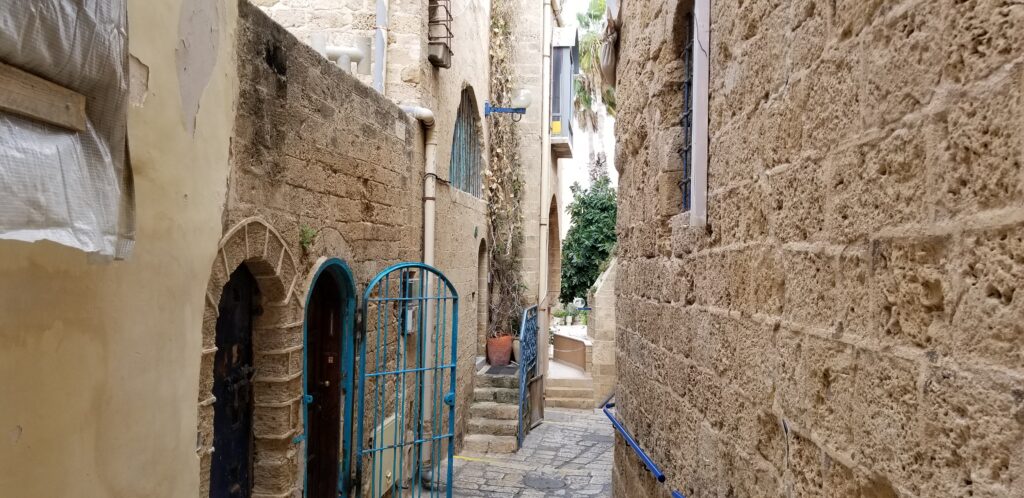 Touring Old Jaffa is a Cool Israel Family Activity.
The walled citadel above the southern part of the city once guarded the ancient seaport of Jaffa. Take in the texture of historic stone buildings that have been converted into high-style hotels in a neighborhood rapidly being gentrified. There's a funky Flea Market (most active Tuesday and Thursday) where elderly merchants trade tools, cheap clothes and auto parts. Nearby, cobblestone lanes feature shops of fashion-forward, handmade goods from local artisans.
Bike the beach.
Cycling is a popular Israel family activity. Explore 16 white-sand Mediterranean beaches using Tel Aviv's bikeshare system. E-bikes and Bird electric scooters also available (helmets recommended.) Stop for a selfie with the playful statue of former Prime Minister Ben-Gurion doing a yoga headstand. Or, watch surfers and go swimming in summer when lifeguards are on duty. Tal Hotel by the Beach is a good base near Metzitzim Beach for summer visitors. The many public buses and taxis make sightseeing easy. Here are more beach-focused family activities if you have extra time to explore Israel.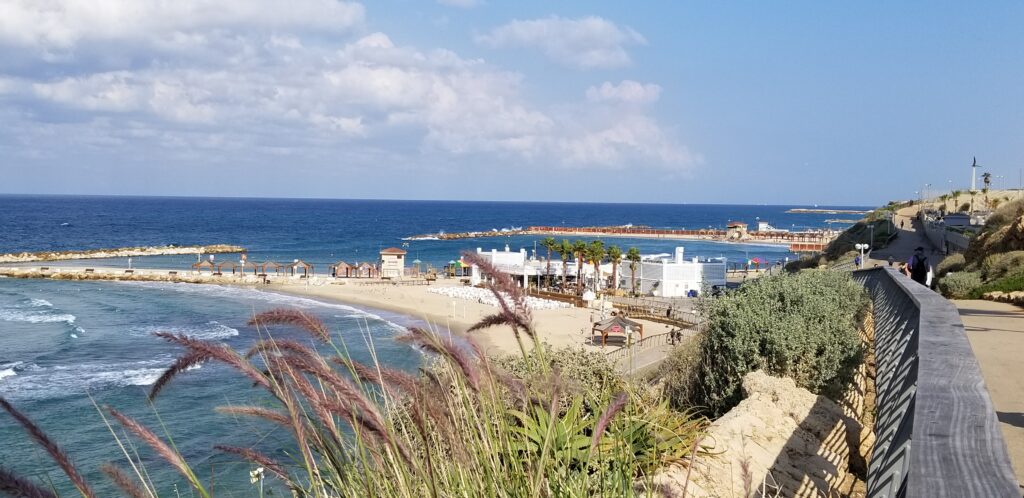 Free Family Fun at the Carmel Market.
Carmel city's lively covered market has some street food tucked between the spices, dried fruit and nuts. On Tuesday, combine it with a visit to the upscale Nachlat Binyamin Arts & Crafts Fair to meet local artisans.
Israel Family Activities & Day Trips Worth the Drive
"Israel is a small country, but we are very noisy," said our wonderful guide Ziva Cohen, acknowledging how famous her homeland has become. We were happy to see the quieter countryside outside these two very different cities. From several unforgettable excursions, these are the favorites.
Go blind and see the light.
The Israel Children's Museum, a huge complex in Holon about a half-hour from Tel Aviv, is focused on building empathy through guided, hands-on experiences of disabilities. As if play is not enough, by-reservation Dialogue in the Dark tours for ages 9+ explore sight, hearing and aging. We became "blind" in a pitch-black environment with only a cane and the reassuring voice of our blind guide to lead us. An eye-opening family experience.
Family Activity: Live the Bible and learn its wisdom.
Neot Kedumim Biblical Nature Reserve, between Jerusalem and Tel Aviv, is a hand-crafted landscape contoured to resemble Biblical scenes, with guided activities designed to bring Bible stories to life. We sampled their VIP Family Experience, including shepherding real sheep (much harder than you think), making food and tree planting. Our fascinating guide Yair gave leadership lessons, identified herbs and kept us enthralled. This fascinating journey into some of the world's great religions is a unique and must-do Irael family activity.
Check the Dead Sea off your bucket list.
The Dead Sea is most Instagrammable when seen from the palisades, above salt marshes and the Jordanian shoreline. Wade in! The super-salty water and mud are considered medicinal. The hamlet of Neve Midbar Beach has changing rooms.
Sacrifice time at Masada.
Ascend a plateau within sight of the Dead Sea by cable car or on foot to see excavations of this fortress-palace. Masada, built by King Herod, was last stronghold in the Jewish revolt against the Romans (73 CE.) A good guide will bring this UNESCO World Heritage Site's story about freedom and self-sacrifice alive for history buffs.
Please let me know in the Comments section your favorite parts of your trip and your list of top Israel family activities.
Dear Reader: This page may contain affiliate links which may earn a commission if you click through and make a purchase. Our independent journalism is not influenced by any advertiser or commercial initiative unless it is clearly marked as sponsored content. As travel products change, please be sure to reconfirm all details and stay up to date with current events to ensure a safe and successful trip.
---