Plan a driving trip to experience many national parks and monuments, as well as other interesting Western sights in South Dakota, Montana, and Wyoming.
When Yellowstone, America's first national park, was founded by Congress in 1872, it established a tradition for the preservation of our country's natural resources. Today, we count nearly 400 natural treasures from Acadia to Mt. Zion in our National Park system, and they continue to entice travelers from around the world who are passionate about the splendor of the great outdoors and American history. Spending one to three weeks in this fascinating part of the American West will introduce you to many of our most popular parks and monuments, and expose you to the history of several Native American tribes as well as the prairie pioneers. Plan well and select from these suggestions the sites and attractions that will most please your family.
Our suggested 7-10 day itinerary follows:
Day 1/2:  Rapid City, South Dakota
Day 3:  Rapid City to Custer State Park
Day 4/5:  Custer State Park to Badlands National Park
Days 6/7:  Badlands National Park to Buffalo, Wyoming or Billings, Montana
Day 8:  Little Big Horn to Yellowstone National Park, Montana
Day 9:  Yellowstone National Park to Jackson, Wyoming
Day 1/2: Rapid City, South Dakota
If you have to fly in and rent a car or SUV or family minivan
for this classic road trip, start slow in Rapid City, located on the outskirts of the Black Hills National Forest of South Dakota. If you can slow down and spend a few days exploring this area, the local Rapid City Quality Inn with its clean indoor pool, free hot breakfast and convenient location is a good pick. In addition, WaTiki Waterpark is perfect for cooling-down, fun activities during the summer.
Since its founding in 1870, Rapid City has grown from a Wild West outpost to a thriving small city with craft beer bars (think Firehouse Brewing Company), hearty steak and bison eateries (Dakotah Steakhouse has gourmet chislik, a local specialty) and terrific hand-crafted dining (try the habanero pulled pork sliders with watermelon or anything else served at Tony DeMaro's Murphy's Pub.) There's even a rooftop bar with mixologists and skyline views (Vertex on top of the classic red brick Alex Johnson Hotel) which is not to be confused with the view from a bike trip along Skyline Drive. Unless you're there in August over the famously wild Sturgis Rally motorcycle fest, you'll enjoy the laidback charm.
The Journey Museum & Learning Center is a mixed bag, well worth a visit for the insights it provides. Picture a collection of local treasures brought together after a horrific flood that tore apart the city: it features Lakota culture, the settlers' Gold Rush history, a geology center with locally-found dinosaurs and STEAM lab supported by NASA — a rainy day indoor space with lots of hands-on activities for families. Toddler Tuesday activities and the mid-October Native American Festival are calendar highlights. ? fetival name
Don't miss Art Alley, the colorful back lane downtown where the city has channeled the artistic energy of would-be graffiti artists. It's an intriguing gallery of political statements and pretty images that will get your kids talking. Another must-stop is Prairie Edge, a local Native American trading post with curated boutiques selling Western wear, landscape paintings and the arts of Chris Ravenshead and Mike McCloud among other, ball caps, turquoise jewelry and a huge collection of glass beads imported from Italy for use by Native artisans.
Day 3: Rapid City to Custer State Park – 47 miles
Southwest of Rapid City via Routes US 16 and SD 244, it is about 25 miles (40 minutes) to the most recognized symbol of this region, Mount Rushmore National Memorial. Danish-American sculptor Gutzon Borglum began the project in 1927 at the age of 60, and when he died in 1941, it was not yet complete. Known as the "Shrine of Democracy," this awesome site has offers a walking trail, a 2,500-seat amphitheater, a visitor center, a museum, a foodservice facility and a gift shop. The nearly 3 million visitors each year learn about the almost 400 men who helped to carve the monument for an average salary of $1.00 per hour, and that the presidents' noses are 20-feet long and their mouths are 18-feet wide. From May through September, the evening lighting ceremony is a particularly impressive sight.
Continuing southwest from here, it's about 17 miles (25 minutes) via Routes SD 244, US 16 and US 385 to another sculptural marvel, which is still under construction. The creation of the Crazy Horse Memorial complex was begun in 1948 at the request of Lakota elders who wanted the white man to learn about Native American heroes. Chief Henry Standing Bear, an Oglala Lakota Chief chose Crazy Horse because he symbolized their spirit, pride and courage. When finished, this mountain carving, done in the round, will stand 563-feet high and 641-feet long. The complex, which welcomes over 1 million visitors a year, also includes an Indian Museum, a Native American educational and cultural center, the sculptor's home and studio, audio/visual presentations and galleries and the Laughing Water Restaurant.
If you're planning to stay overnight in this area, consider the beautiful 71,000-acre Custer State Park or Custer itself.
Exploring More of the Black Hills
Custer is a fun central base for exploring Mt. Rushmore, bison herds at Custer Star Park and boomer-fueled shops and fine dining. This cute Wild West town has been attracting retirees for years and the young entrepreneurs who've opened local businesses to serve them create a fun, buzzy atmosphere that kids will enjoy. It's more authentic in some ways than Deadwood and that much closer to the national park and attractions.
The Bavarian Inn is a truly fun central base with a splash of mid-century modern furniture, fine toiletries and rubber duckies wearing lederhosen in each bathroom. The motel style resort has an indoor pool with hot tub, and a small playground, outdoor pool and tennis court scattered among a few two-story room wings and a bunch of rolling lawns. A very tasty breakfast with a pancake maker, yoghurt and fruit bar come with and the hotel's separate Good Times Cafe next door packages snacks and yummy lunches for take-in room service or to-go picnics. If you're looking for comfort and style in a not-too-pricey motel setting, this is the place.
While this region is great base for hikes and more exploration, some families will want to stay right inside Custer State Park, about 30-60 minutes south of Custer depending on weather. If you're moving south to the Southern Hills of the Black Hills (?) consider the classic stone lodge, The State Game Lodge at Custer State Park. We loved the cozy log cabin feel of the main lodge and one- to three-bedroom log cabins; think buffalo print pillows and retro Western décor in comfortable rooms. WiFi is confined to the lobby of the rustic main lodge which served as the summer White House under President Calvin Coolidge. There's a large dining room and more remote buildings for events, plus a gift shop and very helpful staff.
Don't miss the park's Jeep Safari, a two-hour adventure that brings you up close with otherwise shy bison a.k.a. buffalo who may come up and sniff your vehicle. The driver guides are enthusiastic and knowledgeable about all things bison and will take the family off-road for a little spin to get closer to them. During the September roundup and November Auction, thousands of visitors show up and prices soar but you'll get to watch them cull the herds to maintain the park's sustainability as a bison habitat.
Day 4/5: Custer State Park to Badlands National Park – 55 miles
The Hot Springs region is about 20 miles south of Custer State Park or 35 miles (1 hr) southeast of the Crazy Horse Memorial via Route US 385. Here you will find the fascinating Mammoth Site, an ongoing dig featuring 26,000-year-old bones of woolly mammoths that lived here. After the half-hour guided tour, you can spend an hour or two exploring on your own. For some relaxation, visit Evan's Plunge for a soak in the healing waters of natural mineral fed pools.
On the way to Hot Springs, you can make a stop at the underground attraction Wind Cave National Park. One of the longest cave systems in the world, it is made of ancient limestone, and creates a complex subterranean maze. Above ground, its over 28,000 acres of land are home to native wildlife such as bison, elk and mule deer. Visitors will see rare formations of crystals, and can learn about the "windy" sound which accounts for its name, on one of several cave tours which are rated by activity level.
Need a family-friendly hotel in the Mount Rushmore area? Go here.
An extraordinary side trip to consider, even if somewhat out of the way, is the stark, barren Badlands National Park about 80 miles (1 ¼ hours) southeast of Rapid City via Routes I-90, SD 240 and SD 44. The 244,000-acre park was so-named by 19th century fur traders who referred to it as "bad lands to cross". Its geological formations fascinate visitors who are intrigued by its desolate beauty. Select from eight hiking trails ranging from a quarter-mile to 10-miles long to see native prairie grasses, wildflowers, wildlife, fossils and the striking steep canyons, jagged spires and moon-like landscape.
For more suggestions of family-approved attractions of interest, visit BlackHillsTourism.com
A Detour Worth Taking: Wall Drug
What's 50 miles east of Rapid City and less than eight miles from the Badlands? Yup, you can't missWall Drug, a vintage road trip attraction that became world famous when they installed billboards pointing the way to their pharmacy back in 1931. The Hustead Family, now four generations strong with the founders' great granddaughter Sarah waiting tables, has maintained that Dust Bowl-era charm rarely seen these days.
Dorothy and Ted Hustead were quick to realize that providing medicine wasn't as compelling a reason to visit as "Free Ice Water!" in a region where summer road trippers – before air conditioning – were sweltering in their cars.  And with that and coffee for 5¢ (still 5¢) they were off, expanding over the years from 4,000 square-feet of pharmacy and beverages to a full 76,000 square-feet of dining, Western wear and souvenir shopping and photo opportunities. There is games arcade, mechanical T-Rex who roars every 12 minutes, outdoor area with fun stuff for the kids (like a giant jackalope to climb upon). The restaurants are packed with 320 gallery-worthy Western paintings, including two portraits painted by X Borglum, sculptor of Mt. Rushmore. If the Badlands made Wall Drug, then Wall Drug certainly made Wall, a must-stop on your road trip.  If only for the juicy bison burgers with onion rings.
You really can't miss it because there are still tons of signs along Route 16A (the family manages 300 billboards which are constantly refreshed by a staff mural painter.)
Days 6/7: Badlands National Park to Buffalo, WY – 259 miles or Billings, MT – 370 miles
En route to Yellowstone National Park, you could choose to travel west across Wyoming, or northwest through Montana. To traverse Wyoming, take Routes I-90 and US 14 about 400 miles (7 hrs.) to Cody, one of the Yellowstone's gateways, about a one-hour drive from its eastern entrance. While here, you can have an authentic "cowboy" adventure including a visit to the Buffalo Bill Center of the West and Buffalo Bill State Park, as well as stay on a dude ranch for a few days of riding and rodeos.
We especially recommend the Paradise Guest Ranch, located 6 miles west of Buffalo, WY, making it a great mid-way overnight point between Rapid City and Cody. The ranch offers luxury log cabins with private baths and fireplaces, three family-style meals a day and a host of activities from fishing, riding, square dancing, spa and pool, an overnight teen pack trip and sing-along bonfires. Contact the Dude Ranchers Association for listings of other ranches in the region and be sure to ask the minimum age at which kids can ride. Families interested in staying in town will like the indoor and outdoor pools at the Best Western Sunset Motor Inn, just a few blocks from the Buffalo Bill center.
Alternatively, you could travel on Route I 90 375 miles (5 ½ hours) to Billings, Montana, through the Crow Indian Reservation. Here you can tour the Little Big Horn Battlefield National Monument, the site of General Custer's Last Stand, where his troops were crushed by Sioux, Cheyenne and Arapaho warriors. In addition to a museum and memorial, guided tours focusing on military history are offered by Native Americans and Park Rangers. Unless someone in your group is a military history buff, a self-guided tour is more appropriate for families. You'll want to spend the night in Billings; for lodging selections visit www.visitmt.com.
Day 8: Little Big Horn, MT to Yellowstone National Park – 130 miles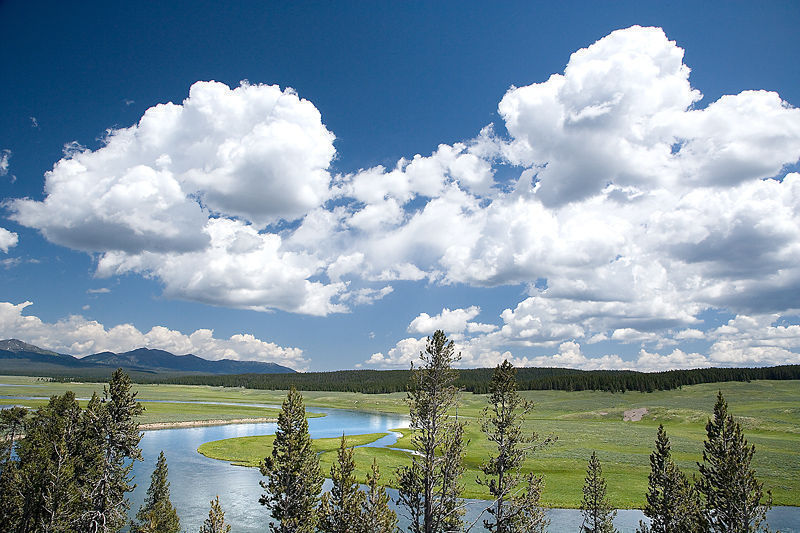 From Montana's Little Big Horn, it is approximately 130 miles (2 ½ hours) to "Old Faithful," Yellowstone National Park which you could enter from its north, northeast or east entrances.  Please note that the north entrance at Gardiner is the only one open to cars all year. During the winter months, the west, south and east entrances are open only to tracked over-snow vehicles such as snowcoaches and snowmobiles.
This vast natural treasure encompasses two million acres and entrances visitors from all over the world. Your exploration of nature will include viewing steaming geysers, hot springs and other geological wonders, in addition to a variety of intriguing wildlife and activities such as hiking, horseback riding and snow-shoeing. The park is divided into the following five regions:
Mammoth Country, North Western Region: Site of the Mammoth Hot Springs and home to elk and bison.
Geyser Country, South Western Region:  Home to Old Faithful and other geothermal features such as fumaroles, mud pots and hotpools.
Lake Country, South Eastern Region:  Where you will find osprey and bald eagles at the cold, blue Yellowstone Lake located at an altitude of 7,735 feet.
Roosevelt Country, North Eastern Region:  An area covered in sagebrush, spruce, fir, pine, aspen trees and a petrified forest. Inhabited by deer, bison and wolves, it is reminiscent of the Old West.
Canyon Country, East Central Region: Home to the "Grand Canyon of the Yellowstone," the Hidden Valley and Lower Falls, twice as high as Niagara Falls. Elk, bison and deer roam this area.
Several sightseeing excursions within Yellowstone are available. Visit Travel Yellowstone for information on "The Circle of Fire" tour of the caldera rim including the Upper and Lower Geyser Basins, "Yellowstone in a Day" which introduces you to Mammoth Hot Springs and Old Faithful, a "Yellowstone Lake Butte Scenic Tour," as well as several other tour options during the summer. In winter you can explore the park on snow via snowcoach, cross-country skis, snowshoes and snowmobiles. For great family programs, visit the Yellowstone Association for information on year-round Lodging and Learning programs.
Special programs and activities for children include the Junior Ranger program which offers visitors from age 5 a chance to complete a series of activities during their park visit, share their answers with a park ranger, and receive an official Junior Ranger badge or patch and Junior Ranger certificate. Additionally, The Young Scientist Program welcomes kids from age 5-years-old to solve science mysteries and earn a Yellowstone patch or key chain.
Several rustic but comfortable lodges such as the Lake Yellowstone Hotel and Cabins, The Lake Lodge Cabins, The Mammoth Hot Springs Hotel on the parade grounds of the old Fort Yellowstone and The Old Faithful Inn offer accommodations with private baths, restaurants, hiking, boating, wildlife viewing, and sightseeing tours. A popular new hotel built in the traditional park-lodge style (with heavy timbers and a cedar shingle roof) is the Old Faithful Snow Lodge and Cabins, just a five-minute walk from the geysers.
Day 9: Yellowstone National Park to Jackson, WY – 122 miles
Located via Routes 89/191, only 7 miles south of Yellowstone, Grand Teton National Park is also known for its abundant wildlife and dramatic scenery. The jagged mountain range rises more than 12,000-feet above sea level, creating a habitat which offers families an opportunity to see a trumpeter swan, visit the National Elk Refuge, hike to a mountain lake or waterfall, fish, or raft down the Snake River.
For lodging suggestions, visit the Grand Teton Lodge Company. We suggest Colter Bay Village which offers a choice of well-priced rustic log cabins and tent cabins and is popular with families. Other options include the Jackson Lake Lodge, a full-service resort, and the deluxe and historic Jenny Lake Lodge, named one of the "Top 500 Hotels in the World," featuring 37 cabins situated in a pine forest.
If you prefer a bit more civilization (galleries, shops, fine restaurants), consider staying at one of Jackson, Wyoming's many hotels or fancy resorts, then commuting to Grand Teton (within an hour's drive on Routes 89/191) for day adventures. We can recommend both the luxurious, wilderness Spring Creek Ranch,  the Snow King Resort, and condominiums surrounded by Bridger Teton National Forest (a popular ski area in winter, and a great hiking spot in summer) and the funky, wild west-themed, motel like Cowboy Village Resort in town.
Dear Reader: This page may contain affiliate links which may earn a commission if you click through and make a purchase. Our independent journalism is not influenced by any advertiser or commercial initiative unless it is clearly marked as sponsored content. As travel products change, please be sure to reconfirm all details and stay up to date with current events to ensure a safe and successful trip.
---