Travel close to home, stay longer, and don't go at all are key takeaways from ITB Berlin on how to make travel sustainable.
In a year when being able to sustain the rapid growth of global travel has been called into question, ITB Berlin's first press conference underscored what was on everyone's mind: sustainability. "Tourism is both at risk from climate change, and one of its causes," noted the first speaker at the huge travel trade marketplace held March 7-11, 2018 in Berlin.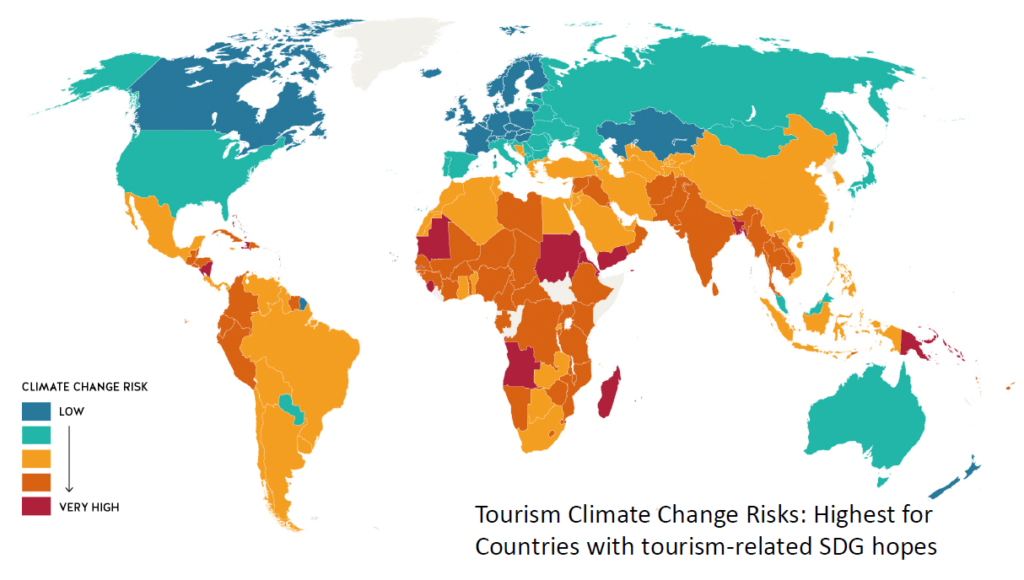 Sustainable Tourism is the Theme
Sustainable tourism: a fresh approach to travel that enhances welfare in host communities, while enriching the lives of visitors and those they come into contact with, has been the industry's Holy Grail since the 1990s. Voluntourism, or giving back to destinations, has become a popular vacation option.
But the growth in tourists has outpaced efforts to help them travel better.
According to the UNWTO, in 2017, international tourist numbers grew a record 7% to reach 1.3 billion. As German Chancellor Angela Merkel told the ITB crowd, "Tourism is an example of the opportunities of globalization," others noted that overtourism has become its own problem, with 'Tourist Go Home' protests roiling Venice, Barcelona, Hong Kong and other cities over the past year.
The opening conference by the European Travel Commission presented the study, "Tourism And Climate Change Mitigation – Embracing The Paris Agreement: Pathways To Decarbonisation" published by the ETC. Ironically, due to severe winter storms, only one panelist was present and the report's lead scientist spoke via video conferencing.
Sustaining the Environment through Technology
The message was clear: achieving the goals of the COP21 Paris Climate Accord is an enormous challenge, requiring an estimated 70% reduction in the tourism industry's carbon footprint from 2015 levels. Getting there will require big changes from all sectors, including aviation – which now accounts for 13% of all transport emissions within the European Union — and shipping.
Globally, the outlook is worse. Aviation emissions are expected to increase 300%-400% from 2010 to 2040. Technology used in new aircraft entering the market should achieve some energy efficiencies but, analysts said, new jet fuels are also essential.
Sustainable Numbers to Combat Overtourism
Findings from an IPK International survey done earlier in 2018 affirmed that nearly one quarter of all international tourists felt their destination was overcrowded, although only 9% said that impacted the quality of their trip.
Certain cities – most of them on travelers' bucket lists — had a worse reputation for crowds: Mexico City (23%), Shanghai (22%), Venice (20%), Beijing (19%), Hong Kong (18%), Istanbul, Amsterdam and Florence (17% each) and Barcelona (16%) scored the most negative ratings.
Over the course of ITB Berlin, other workshops focused on ways that tourism organizations can steer tourist hordes to their least visited areas, to reduce overuse of facilities at the most popular ones.
Sustaining the Environment by Raising Prices
The ETC report made 10 recommendations, including taxes on the use of fossil fuels in aviation, based on miles flown. Since tax subsidies on plane and cruise ship fuel currently keep travel prices artificially low, this move to raise costs would also reduce the frequency and distance of consumer trips, a controversial outcome.
Additionally, the ETC recommends that Europe's national tourist organizations take climate developments into account in future promotion. For regions suffering from overtourism, this means marketing to a more upscale traveler so that fewer travelers would be required to provide the same revenue as mass tourism.
Sustaining the Environment by Curbing Wanderlust
Incentivize travelers to stay longer said other experts; it's the best way to reduce damage from day trip tourism.
While popular with tour operators and hoteliers, this approach would adversely impact the cruise sector, whose megaships are blamed for environmental pollution at small ports of call and lesser developed islands.
There was also talk of only promoting travel to regions near the traveler's home, in order to reduce travel time.
Given the millennials' well-documented wanderlust, this may be the most challenging initiative of all.
Dear Reader: This page may contain affiliate links which may earn a commission if you click through and make a purchase. Our independent journalism is not influenced by any advertiser or commercial initiative unless it is clearly marked as sponsored content. As travel products change, please be sure to reconfirm all details and stay up to date with current events to ensure a safe and successful trip.
---