Explore Massachusetts from a base in Pittsfield and the Berkshire Mountains will start to look like Norman Rockwell's classic New England. Pittsfield and the Berkshires attractions are now easily accessible via eco-friendly Amtrak rail service. Whether you're searching for a cool breeze, history lesson, local cuisine or typical New England sights, it's all there.
Explore Pittsfield for a memorable, interesting family vacation at bargain prices, especially compared with staying in the Berkshire's famous countryside.
Eco-Friendly Berkshires Family Getaway In Downtown Pittsfield
Until the October Columbus Day weekend, Amtrak's Berkshire Flyer departs New York City's Moynihan Station at 3:15pm on Fridays. Board a comfortable, mass transit option for the four-hour journey to Pittsfield and leave your car behind.
The train travels along the scenic Hudson River to Albany, New York. Then ascends 1,500 feet on the 50-mile journey through the Berkshire Mountains to its terminus.
Stops along the way serve several cities along the Hudson River, but there are no traffic worries. You won't need to make a bathroom stop, either.
The ever-changing landscape is perfect to entertain kids who are looking out the window. The train returns from Pittsfield Sunday afternoons at 3pm. And, due to demand, on the Labor Day and Columbus Day holiday weekends, it returns that Monday, giving you an extra day for fun.
Learn A Lot From Pittsfield And The Berkshires Activities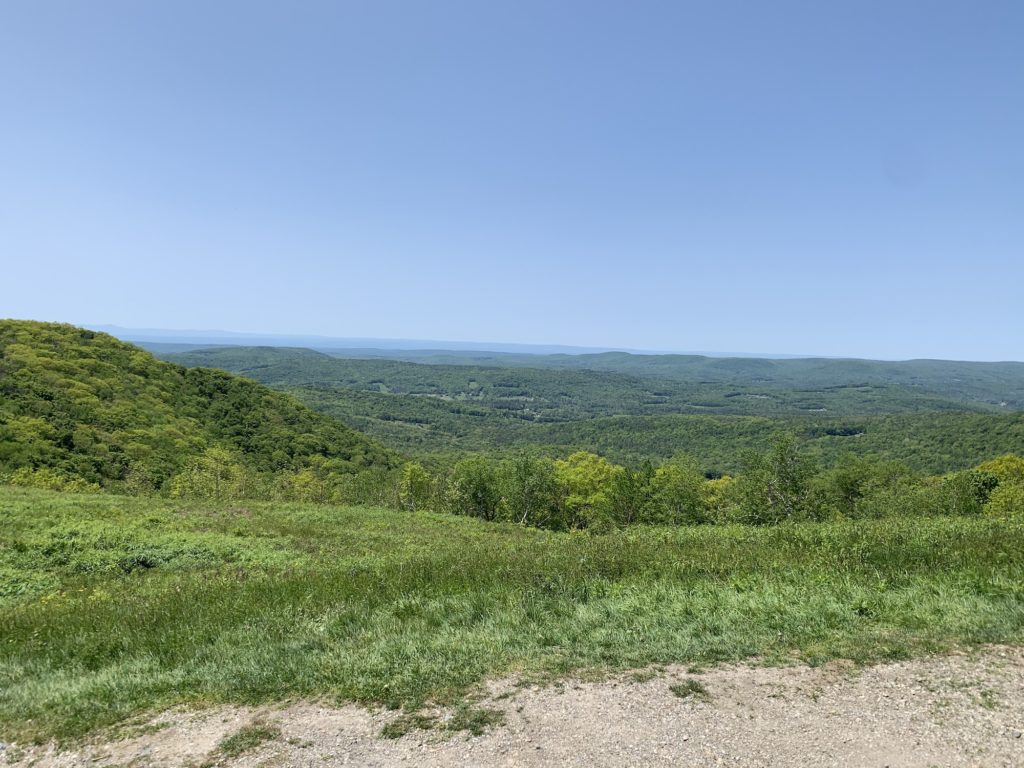 On a recent Berkshire Flyer trip to this area we thought we knew well, we discovered there was much more to learn about visiting here.
Did you know that a Pittsfield resident was 19th-century author Herman Melville?
Want to learn who the Shakers were and what their lives were like?
Or, hike up to a prosaic 2,100-foot-high pond?
With many unique paths awaiting discovery, this weekend train adventure is perfect for families.
Ride The Berkshire Flyer to The Downtown Pittsfield Farmers Market!         
What could be better than to take a short family stroll on a Saturday morning to visit the local produce and crafts market? Local teens love it and yours will too.
From 9am to 1pm, the teen-run Saturday Pittsfield Farmers Market is open until mid-October, offering local fruits, vegetables, local maple syrup, artisan crafts and more.
Discover The Life Of An Author At Arrowhead
Arrowhead, just south of Pittsfield, includes the grounds, house and barns of Herman Melville. Berkshire County Historical Society stewardship of the 1780s farm estate seeks to ultimately restore the house to the era between 1850 and 1862, when Herman Melville owned it, and wrote "Moby Dick" while residing there. It's open now, with an orientation and guided house tours that are better for older children.
The guided house tours, grounds tours and the Melville Trail cover the scenic woods and mountain-filled estate. On the house tour you can see the desk by a window overlooking the mountains, where he sat and wrote. Peer into the other rooms where his extended family lived.
As noted, the indoor orientation probably not resonate with younger children. However, the grounds contain some walking trails, good for families. The tours are given until the end of October.
Hancock Shaker Village In The Heart Of The Berkshires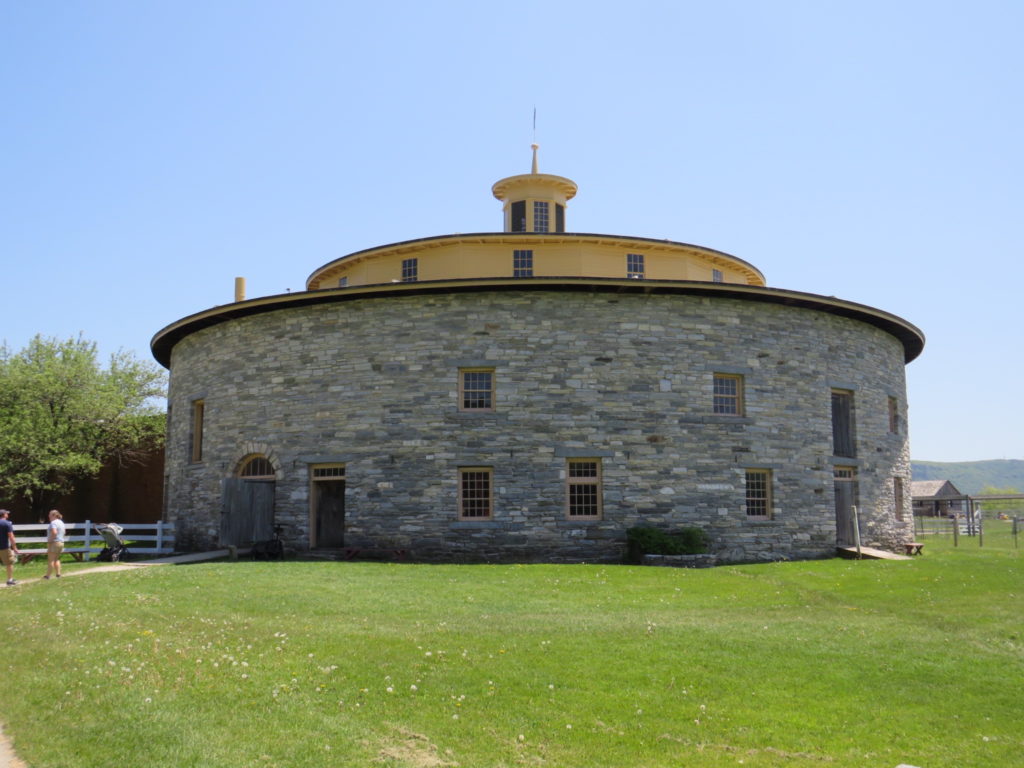 Perfect for families, Hancock Shaker Village was founded in 1790. Present day activities include watching baby chicks hatch and milking Mary Jane. (She is a life-size replica of a Holstein cow.) Don't miss the heritage breeds of sheep, cows, goats, chickens, turkeys and pigs also on view.
The 1910 Discovery Barn has a hands-on center where children can spin wool, construct a Shaker chair, or weave on a loom that's sized just for them.
The Village is also an historic site, started in 1960. It is a short ride by taxi/Uber or Lyft from Downtown Pittsfield and brims with furniture, household objects, art, textiles and commercial graphics. Take time to look together at the archival trove of 10,000 images that document Shaker life. Here, there are over 22,000 Shaker artifacts.
There are many kid-oriented activities, including 'Try-on' Shaker-style clothing, spelling with letter boards, and writing with a quill pen. Herb and heirloom vegetable gardens and a mile-long loop trail are also part of the mix here. The Museum Store sells books, replica Shaker crafts, foods and seeds which make for a fitting end to a visit to this repository of the life of an almost vanished group.
With 20 buildings on 750 acres, the Village offers a view into the life of The Shakers as a community. Read more about this memorable family excursion accessible via the Berkshire Flyer.
Walk The Berkshire Camino Through Pittsfield And The Berkshires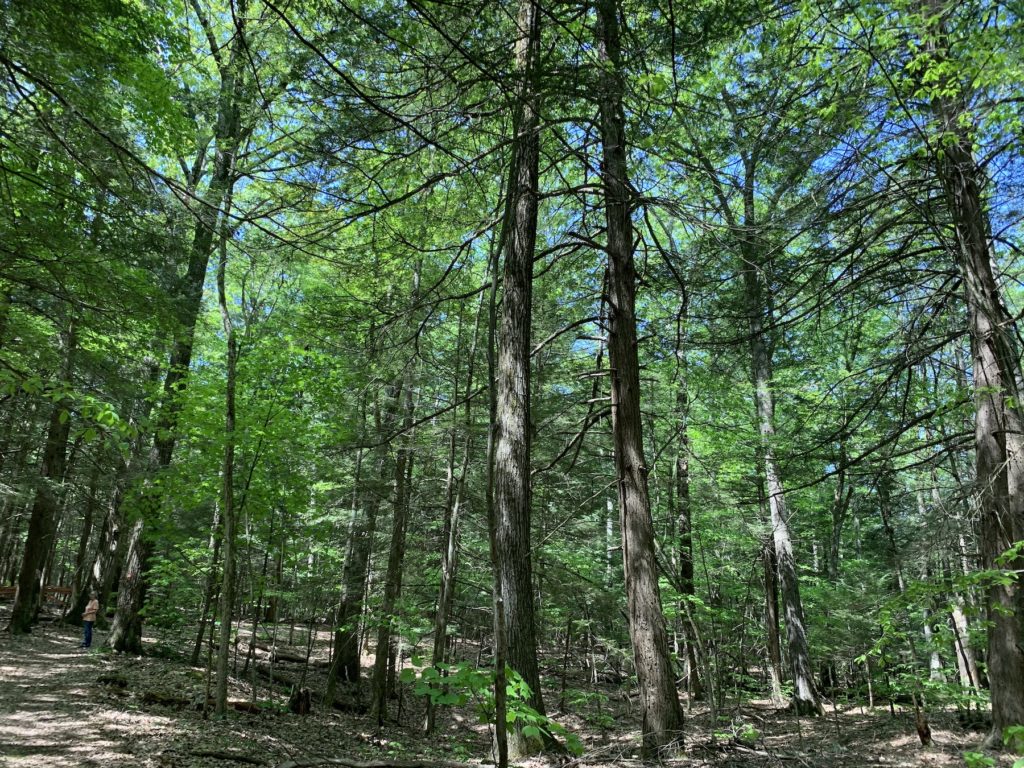 For those kids who are 10 years and older and their parents, a rare nature and history tour may be just the ticket to enjoy the glorious Berkshires. Berkshire Camino was founded by Mindy Miraglia. She was inspired to create these walking tours after completing the 500-mile Camino de Santiago across Northern Spain — twice — in 2018 and 2019.
Meeting people along the way gave her the idea to give others, visiting her native Berkshire Mountains, a chance to push the envelope and observe nature's beauty and reflect on their lives as well.
Ms. Miraglia has curated the perfect family hike, a 2½-mile walk from The Mount (Edith Wharton's home.) This family friendly stroll wends through the beautiful gardens of Wharton's Gilded Age home, through peaceful woodlands and then to the High Lawn Farm. On the farm tour, you visit with the cows and meet Clarity, the Berkshire Camino-sponsored calf who was born on April 15.
The High Lawn Farm creamery is the perfect end to the approximately 2½-hour hike. The start of the tour is in Lenox, which is reachable by taxi/Uber or Lyft from Downtown Pittsfield.
Expore The Berkshire Museum
The Berkshire Museum provides art, history, and natural science through diverse exhibitions. Located in the center of Pittsfield, the 120-year-old museum has a range of holdings. Don't miss the 143-pound meteorite and exhibits of the Berkshire ecosystems.
Stop by their collected trove of paintings, notably the museum's Hudson River School collection, with works of Thomas Cole, Frederic Edwin Church, Edward Moran and others. All ages will appreciate the beautiful landscapes from the 1800's. In total, there are two floors of exhibits, even an aquarium and many kid-friendly activities to enjoy. It's perfect place to spend a few hours.
The Best Downtown Pittsfield Lodging Options For Families
Downtown Pittsfield has two economical hotel choices for you within walking distance of the train station.
Holiday Inn And Suites Pittsfield
The 175-room Holiday Inn & Suites Pittsfield is located just a few minutes' walk from the train station. Perfect for families, the indoor pool, a full-service restaurant and fitness center enhance the 14-storey hotel. It's also within walking distance to most Downtown restaurants and venues.
Hotel On North
The 45-room Hotel on North is a repurposed boutique hotel, comprising two former mercantile buildings. Relaxed and casual, no two rooms are exactly alike, but each brims with modernity in its appointments. The Berkshire Palate on the lobby floor offers a weekend brunch, lunch and dinner with a modern American menu. With a very friendly, accommodating staff, its proximity to Downtown Pittsfield works well.
Enjoy Downtown Pittsfield's Culinary Scene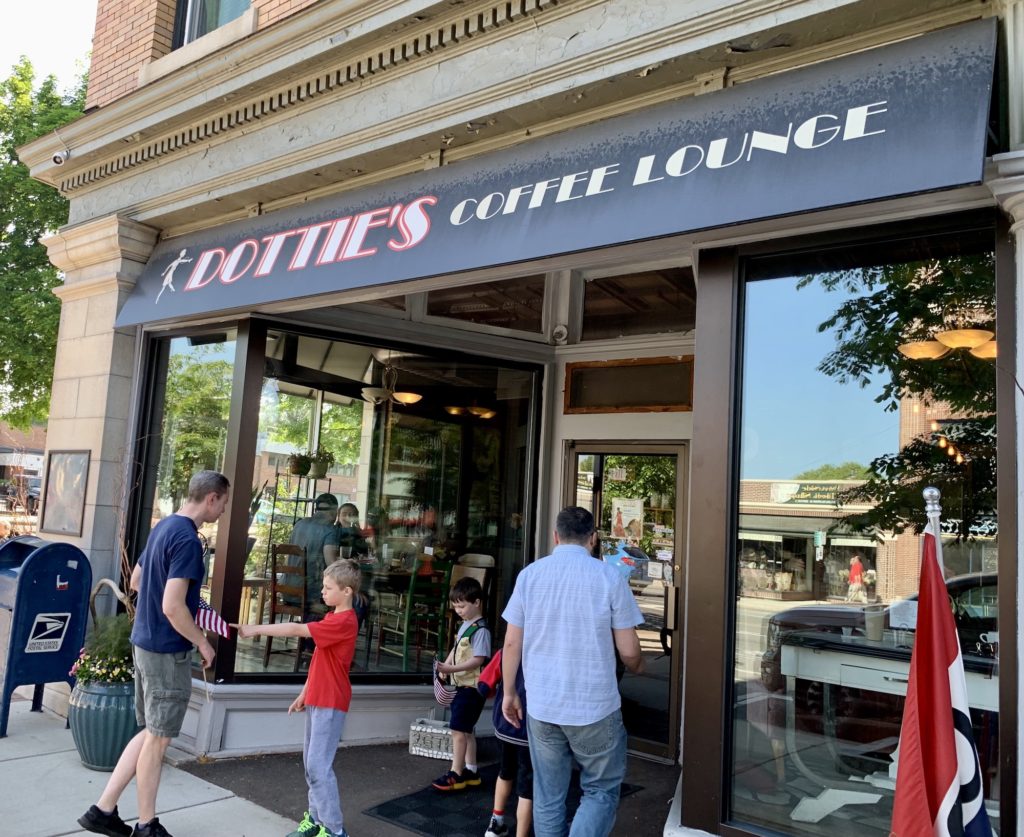 As part of a large agricultural belt in Western Massachusetts, Pittsfield has wide access to farm-fresh foods of all kinds. That's how the food spots here take advantage of what's locally available.
Dottie's Coffee Lounge For Coffee And Snacks
A local favorite, and rightly so, Dottie's Coffee Lounge is three storefronts worth of great coffee, fresh baked goods, and a Manhattan vibe. Open Monday to Friday, 7am to 2pm, weekends from 8am to 2pm, you may have to wait a little while to have your order taken, but it's worth it. Owner Jess Rufo takes inordinate pride in what she does, and it shows. This is a      shining beacon on North Street.
Misty Moonlight Diner
Offering large breakfasts and lunches from 6:30am to 2pm except Tuesdays and Wednesdays, a weekend breakfast at Misty Moonlight Diner is epic. From a breakfast sandwich to a Sirloin Steak Benedict, perhaps a moonlight burger with cheese, bacon, onion/peppers and an over easy egg, this is a place for all tastes. Look for all the Harley-Davidson memorabilia placed throughout. Worth the short cab ride from Downtown to experience.
King Kone Ice Cream    
This basic, simple, ice cream stand offering generous portions and toppings is at 133 Fenn Street, Pittsfield. King Kone (tel: 413/496-9485; no website) is a pleasant throwback to the 1950s. When Pittsfield native, actress Elizabeth Banks comes back to visit, she makes a beeline for this place. Nondescript, this downtown location proffers ice cream daily from 11am to 9pm. It's worth visiting for the nostalgia alone.
Marketplace Café
To dine outside, head to Marketplace Cafe, a great place to pick up a picnic lunch or sit at tables outdoors. Discover their well-prepared fresh food, home-made lemonade and desserts. This is one of North Street's best food assets. It is open for breakfast and lunch from 10am to 6pm except Sunday.
Patrick's Pub In Downtown Pittsfield
Drop in daily (except Sunday) 11:30am to 9pm this Irish pub in the center of Pittsfield. nd the corner from the Berkshire Museum. The food and staff will win you over with a varied menu. Don't let the Pub name scare you; a kids menu is available for lunch and dinner.
Trip Planning Details For Visiting Pittsfield And The Berkshires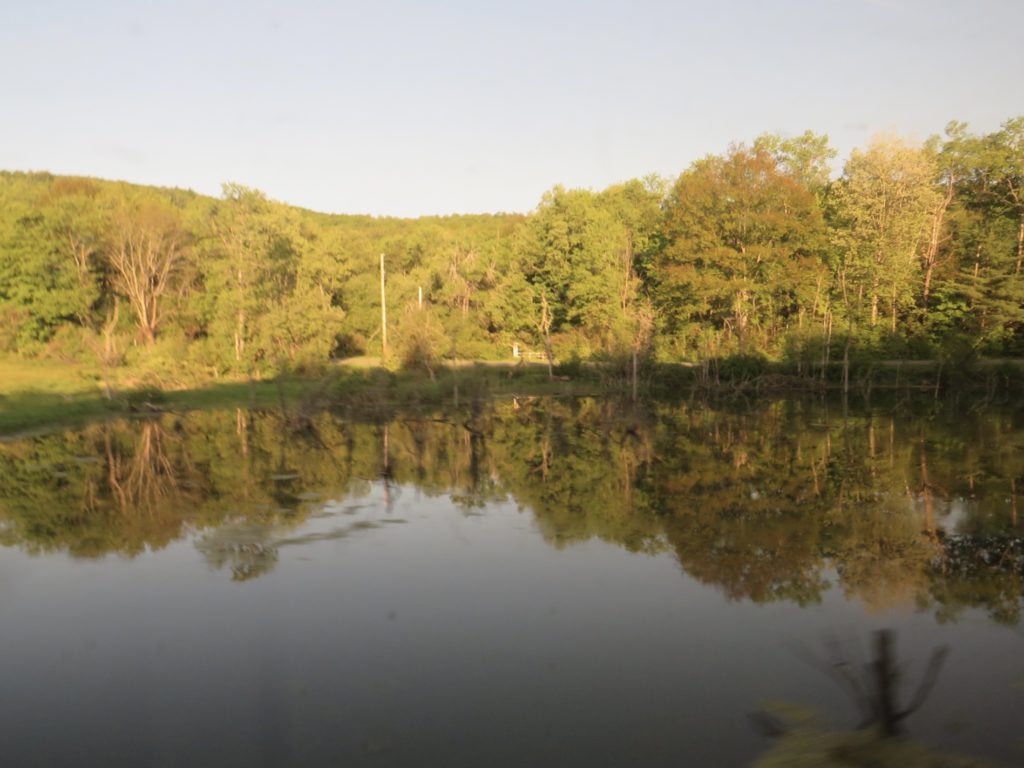 Should you wish to go further afield, Pittsfield is central to the Berkshire Region of Western Massachusetts. Remember the Berkshire Flyer travels to Pittsfield from New York City every Friday and returns on Sundays or, on three-day holiday weekends, on Mondays.
You can also book your go and return Berkshire Flyer tickets one week apart and stay 10 days.  For a longer stay, take a taxi/Uber or Lyft from Downtown Pittsfield to an inn in Lenox, Stockbridge or Great Barrington. Each has a walkable downtown with plenty of kid-friendly attractions that will entertain the family for several days more.
Amtrak reservations should be booked as soon as possible as seats do go fast. Do bring beverages and snacks with you, as there is  no food services on the train in either direction.
Casual, comfortable clothes and shoes will work well, perhaps some rain gear and a jacket for later in the summer and early fall. Hiking shoes for going up and down the hills might be a good idea.
There is a wealth of information to plan your next adventure at LovePittsfield.com.
Most of all, enjoy your weekend experiencing Pittsfield!
Ralph Spielman is a retired travel industry professional, who likes to spend his time traveling, writing, and volunteering.
Dear Reader: This page may contain affiliate links which may earn a commission if you click through and make a purchase. Our independent journalism is not influenced by any advertiser or commercial initiative unless it is clearly marked as sponsored content. As travel products change, please be sure to reconfirm all details and stay up to date with current events to ensure a safe and successful trip.
---