For an all natural family vacation, look to upstate New York and Huttopia Adirondacks. The year-old glamping resort outside Lake George – just 3 hours north of Manhattan — exudes a purity of purpose and a European flair. Pronounced "ooo-topia" by its very French founders, Huttopia is a sophisticated and homey getaway designed for urban families.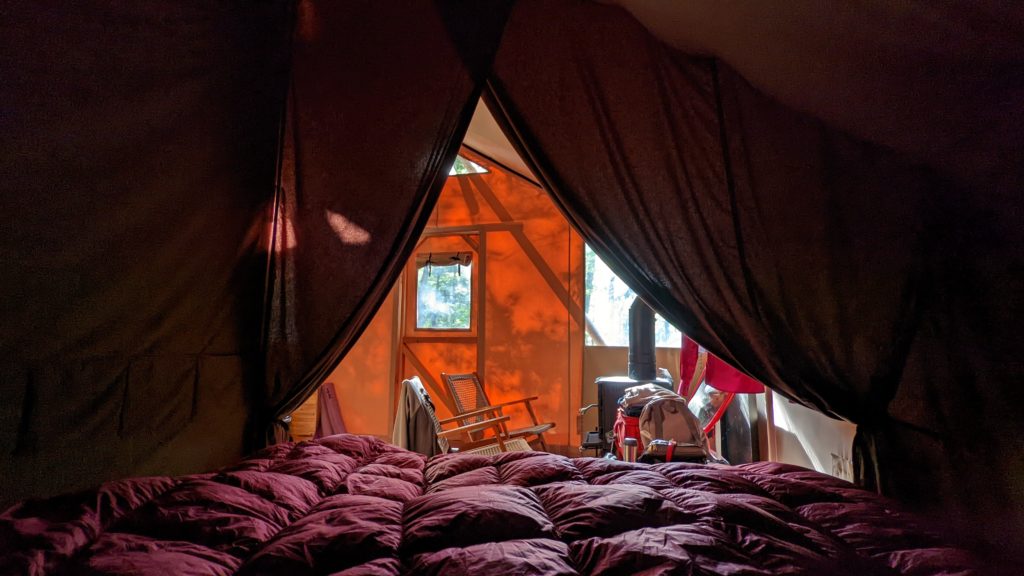 Huttopia's thoughtful — some would say idealistic — owners are Céline and Philippe Bossanne. They began the Huttopia concept in Lyons, France in 1999 and today own more than 60 properties across Europe. There are currently five Huttopia camps in North America: Quebec, New Hampshire, southern Maine, upstate New York and the newest, in Paradise Springs outside Los Angeles.
Huttopia Adirondacks is Different than Most Glamping Grounds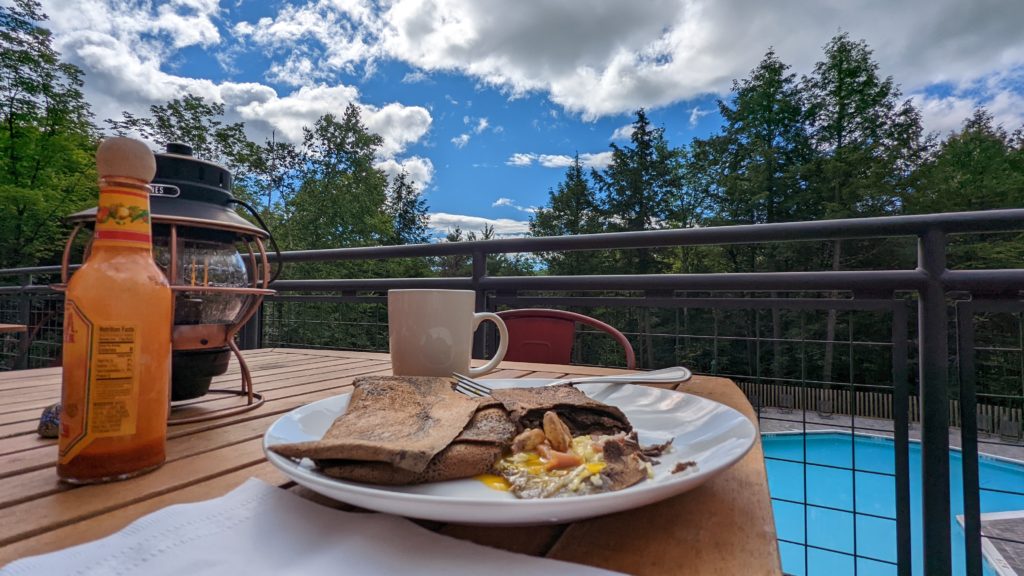 As many travelers know, the term "glamping" is a mashup of glamorous and camping. Picture an "Out of Africa" safari camp with fixed canvas tents furnished with beds and Persian rugs. An ensuite bathroom and chandeliers add to the glamor of a luxury wilderness hideaway.
During our interview, Céline, Huttopia's co-founder, quickly denies there is anything glamorous about Huttopia. There are better reasons why Huttopia is different from other glamping resorts. It is not a franchise, it's family owned. Another difference is that it's a chain. (Huttopia even has its own Guide Routard guidebook, "Huttopia Nature Destinations.")
Yet families terrified of pitching a D-I-Y tent — only to be shamed in front of their kids when it collapses — take great comfort in knowing that Huttopia's soft-sided "homes" are ready to go. If not glamping, Huttopia Adirondacks is certainly camping prêt à porter.
Several Styles for Fixed Tents at Huttopia Adirondacks
Huttopia Adirondacks does not have pitches for private tents within its 300 acres. There are no hookups for RVs or camping trailers. (The nearby state park does accommodate them.) Instead, Huttopias exist as one with nature. Tan canvas tents are engineered onto natural wood decks, minimalist furnishings are in earth tones, simple facilities include small kitchen units.
Some units have two "bedrooms" which means canvas curtains (or a bathroom if you have one) separate one king bed area from another section with an upper single bunk and a lower double bed bunk. There are accessible tents, couples units and living off the grid options for those who prefer solar power and no running water. The only place to cook is either outside on your propane grill or, if you're skillful in the ways of the pioneers, on your wood stove.
Even the budget tents without a toilet or wood stove feel authentic, as you can see from our video. All are very well situated among the old growth firs and cypress of the Adirondacks to guarantee privacy.
Why Families Come to Huttopia Adirondacks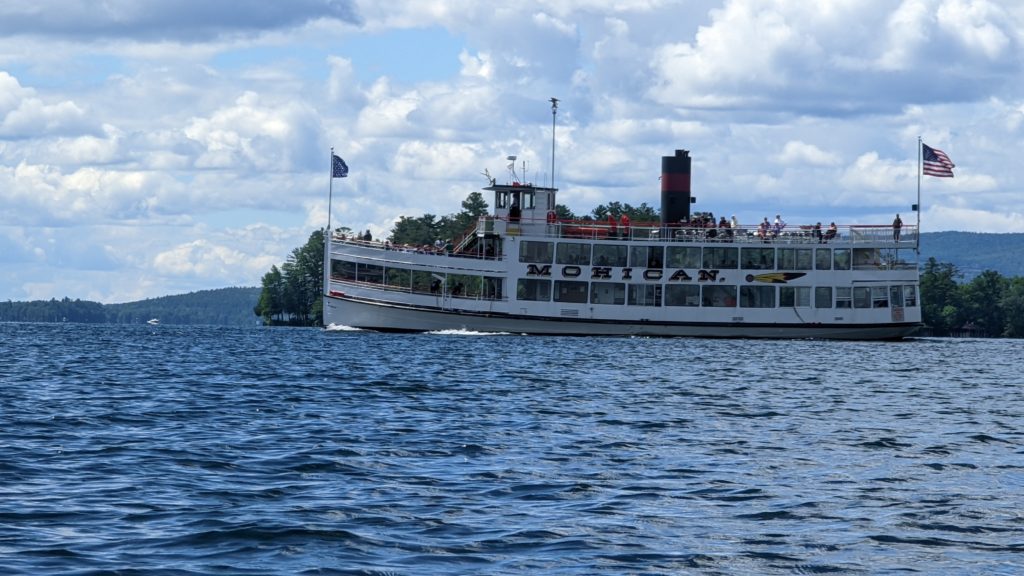 There are several reasons why families appreciate this easy style of camping. The safety factor of spending vacation time outdoors is one. Location is another reason: camps are in remote settings yet near urban centers. The staff tells us most guests in the U.S. live within a two-hour drive of their chosen Huttopia site. Huttopia is also dog-friendly and the nightly fee is only $12. Even more thoughtful — camping babies can book their own bed and high chair to feel right at home.
Our favorite reason to love Huttopia is that their tents make parents look like real outdoors heroes.
Why Kids Think Huttopia Adirondacks is Fun
Children love the range of activities for all ages. In addition to being out in nature, kids are sleeping under the stars, cooking their own meals, and using pinecones to light a campfire to roast s'mores. Each Huttopia village has a heated pool and a shallow toddler pool, playground, plus supervised activities where young campers meet. Try to catch a concert or magic show during your visit. The main lodge has loaner board games and new friends to meet.
Stretch at yoga classes; we took one with Jamie who comes to the Adirondacks location a couple of mornings a week. Weekends during the May to October season and daily in summer, they offer special activities like candle making, storytelling and even movies shown out on the lodge deck.
At the main lodge, the morning staff is brewing espresso and making fresh French crepes and pizzas. That kind of a bistro menu isn't designed to feed your family for several nights. Instead, dine out in nearby Lake George. Or, stay chill and bring your own food to the camp and cook a meal.
Fun Adventures In and Around Lake George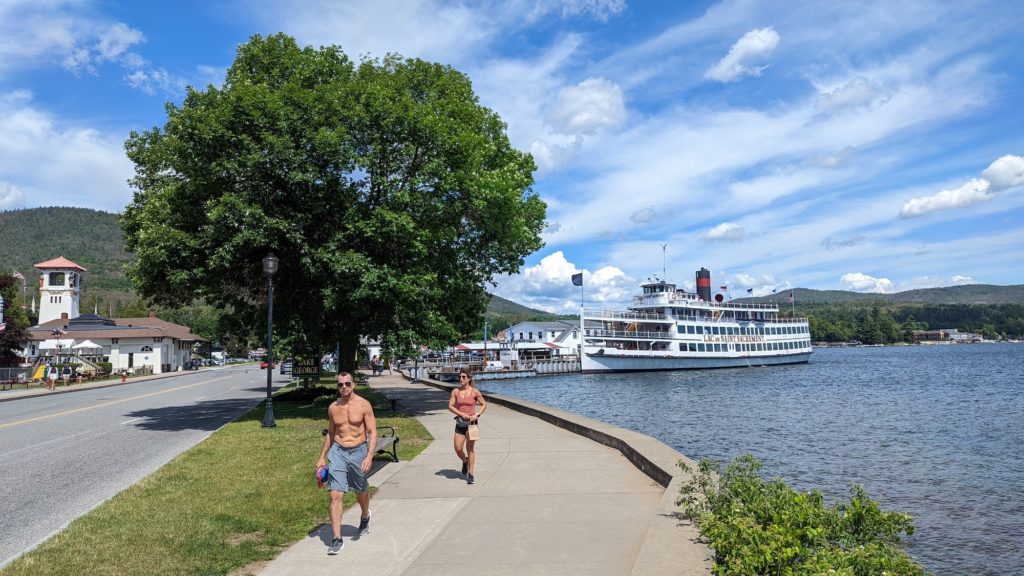 Huttopia Adirondacks location in the hamlet of Lake Luzerne is 10 minutes from the summer resort of Lake George. If kids tire of honing their wilderness skills, there are boat rentals, mini-golf, restaurants and ice cream parlors nearby.
Don't miss the Lake George Visitors Center. Inside are hundreds of useful brochures you thought were no one printed any more, plus displays on the lake's geography and natural habitats. Outside, behind the Visitors Center, is a badly faded floor map that's become the famous local Mystery Spot. Stand on the center part of the map's metal framework, call out, and you (only you) can hear your amplified voice!
School age kids should walk the main drive, Canada Street, and drop into one of the games arcades, the carousel or the dozens of souvenirs shops. Gyro Hut is a good place for a tasty quick lunch.
The Views and Vistas of the Adirondacks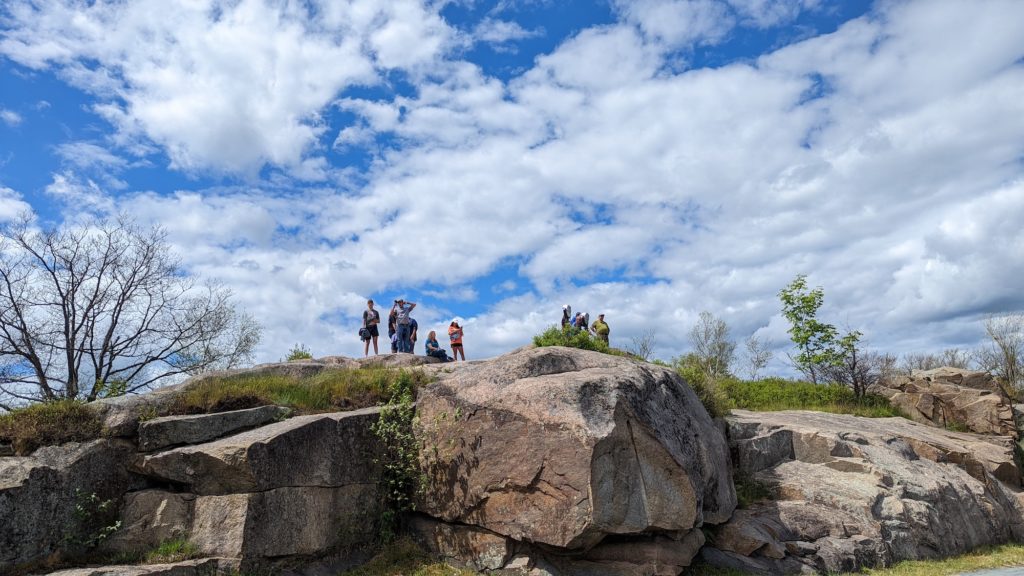 The Lake George Steamboat Company operates the ideal multigenerational orientation tour on three large sightseeing vessels. Cruise the crystal clear lake and enjoy the guided narration as other families have done for more than 200 years.
After fortification, drive up the Veterans Memorial Highway to Prospect Mountain. The hearty among your clan will hike up. Others will drive up and pause at each rest stop and marker. From the highest parking lot, enjoy the steep, 10-minute hike to the summit. Our bluebird-skies day provided the advertised "100-mile view" over New York, Massachusetts and Vermont -– a fun outing.
Fun Family Activities in Nearby Adirondacks Towns
We picked up kayaks for a one-hour self-guided tour at the Lake George Kayak Company in Bolton Landing. Although Bolton Landing is a 25-minute drive from Huttopia, its quieter marina at the historic Sagamore Hotel makes it worth the drive. Explore the grounds as you drive in, then paddle around to see the hotel in its ca. 1883 splendor. If you're rusty from your summer camp days, book lessons in SUP (standup paddleboards), double kayaks or canoes as well.
The very casual Water's Edge Deli is across the inlet. On a local recommendation, we headed to nearby Tavern on the Lake, located in the historic Stone Manor vacation cottage, now the centerpiece of the Blue Water Manor resort. Relax over very good salads, a burger and splendid views of Lake George. Take a good look at the restaurant's fireplace, modeled after the extraordinary one designed by Mary Colter at the Grand Canyons' Hermit's Rest.
Our favorite off-camp experience was a Revolution Rail bike tour in North Creek. We were surprised to sightsee while recumbent cycling on train tracks. Two and four-person rail bikes allow anyone of any age to try this stimulating — not exhausting — new sport.
Allow plenty of time here. The historic North Creek Depot showcases its role in helping Theodore Roosevelt (an Adirondacks resident) assume the presidency when McKinley was assassinated. Inside, a museum (open limited hours) of memorabilia and model trains delights railfans of any age.
Trip Planning Details for a Huttopia Adventure
For the Bossanne's, the utopian ideal of Huttopia is to bring together people from different backgrounds through their common love of the outdoors. As Céline told me, Huttopia strives for a more natural, simpler and more connected experience in nature. In other words, a natural utopia.
The pandemic led many families to want to live one with nature, so you'll have to book a Huttopia adventure as far in advance as possible. The Huttopia Adirondacks website is the best guide to available facilities, with links to each location. In the Adirondacks, family fun is on call from June 24, through Labor Day of 2023.
We guarantee you'll be a camping hero in no time.
Dear Reader: This page may contain affiliate links which may earn a commission if you click through and make a purchase. Our independent journalism is not influenced by any advertiser or commercial initiative unless it is clearly marked as sponsored content. As travel products change, please be sure to reconfirm all details and stay up to date with current events to ensure a safe and successful trip.
---