We recently corresponded with Sarah and Gavin Steiner of @AwaywiththeSteiners to learn more about traveling the world full time with kids.
Sarah describes their clan as a typical Kiwi family, having taken a year out from a busy lifestyle in New Zealand to travel fulltime with two boys, now 4 and 6. Their passion is for travel that gets them off the beaten track and out adventuring, experiencing traditional cultures and meeting local people.
"We are keen to share our adventure and inspire other families to take the leap in whatever way that means to them," Sarah says from Uzbekistan, "and share time, culture and adventure as a family – whether that's near or far!"
Knowing that other parents have questions about life on the road, we asked Sarah to share her experiences.
What do you believe the value of travel is for your kids?
Travel itself brings so many opportunities for learning, that we loved the idea of worldschooling well before we even heard that term. Stepping in to a new country and culture requires stepping out of your comfort zone, as you are thrown into a whole new world of different languages, tastes, sights, sounds and people.
We hope to experience some of those new worlds with our boys, so they see that there are in fact so many other ways of living, being, and behaving; and that our way in the world is not the only way.
Why did you decide to make this lifestyle change?
We are both very passionate about our careers, but the lifestyle demanded more time at work than with our children. Fulltime travel offered the privilege of uninterrupted time as a family, and while we realize the boys might not remember each landmark or sight we visit, we wanted to create memories of time spent together — regardless of where that time was spent.
Why did you choose to travel when the boys were so young?
One of the most common clichés about raising children is that it all goes by too fast. Regardless of whether your travels are fulltime or not, somewhere local or somewhere further away; having uninterrupted time together is a treat, and that in itself does wonders to slow that feeling of hurry down.
Have you seen your children grow or mature because of a travel experience?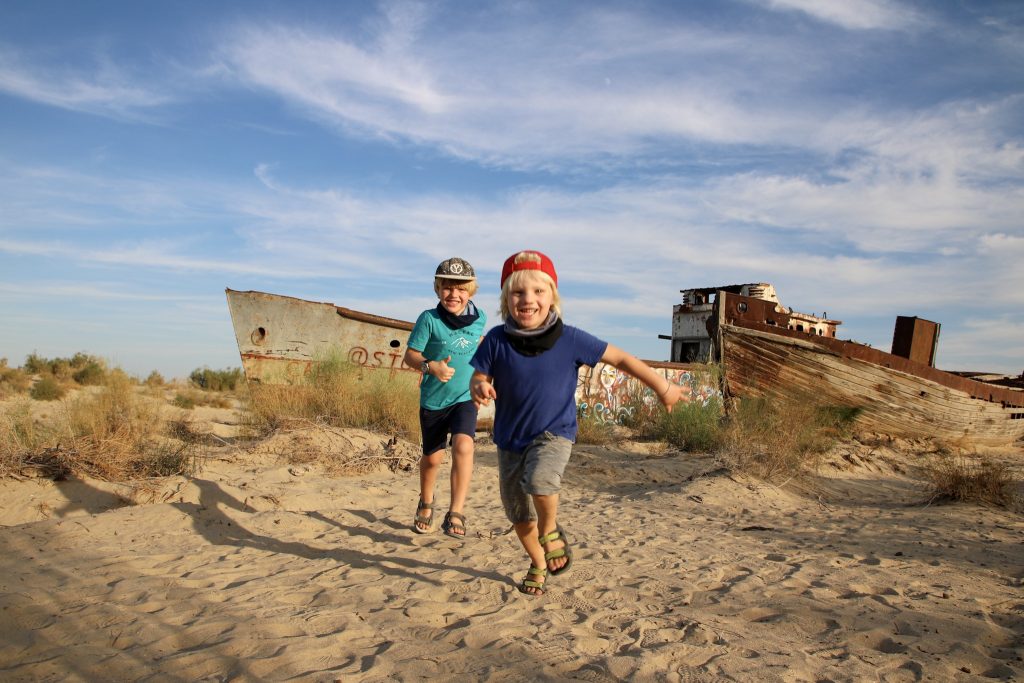 Both boys have grown in so many ways! We wondered before we left how they would fare making friends with children that we met as we travelled, but this has by far been one of the most rewarding lessons to watch them learn. Both boys have grown massively in terms of self-confidence, and genuinely enjoy meeting and talking to new people.
They are both capable and competent at initiating a relationship and can shake hands and introduce themselves to anyone; young, old, or in between. Harry amazes us communicating with both children and adults despite language barriers. He was a little shy to begin with, but I admit I felt choked up watching him use a combination of basic English and his own kind of sign language to join the hilltribe kids in Sapa to catch tadpoles in the rice paddies!
How have the boys changed physically and emotionally?
Both boys have gained so much confidence in the water! Oscar (age 4) was scared to put his head in the water before we left but had a go at snorkeling for the first time in Boracay. We have spent days at the beach and swimming in rivers and pools since then.
Even down to simple self-help skills that are part of our daily travel life but not necessarily lessons we focus on; Oscar is confident now dressing himself, carrying a small backpack and learning all the time to be responsible for the limited toys that he has chosen to carry and care for.
In the background, we hope that travel helps them to grow up with an open mind and the basis of what will support them to develop their own, but global, worldview.
Do you worry about them missing out on normal schooling?
That particular parental feeling of anxiety never goes away entirely, and some travel days we question for the 127th time if this is the right thing to be doing. But then we see our boys learning to cast a net on the Mekong River, trekking in the hilltribe villages of Sapa, discovering fossilized dinosaur footprints in South Korea, or learning about the man-made consequences of the Aral Sea, and we are reminded why we set out.
Has a nomadic lifestyle benefited your own relationships?
The chance to be together fulltime and removed from the day to day demands of routine life is definitely a privilege. We had cautious worries about how the realities of being together 24/7 would actually pan out but once you take away those routine demands, the chance for exploration and challenge undoubtedly tightens you as a family unit and you learn a lot more about each other's strengths and each other's limits.
Do you believe a short trip also has these benefits and if not, then why not?
A short trip can be just as fun! A short trip amidst home life does interrupt routine and children thrive on routine. However, more often than not, the chance for adventure and time as a family outweighs the challenges of routine-interruption.
Traveling long term has allowed us to find our own rhythm and routine, even when the landscape or environment changes, we fall into a general rhythm that works for us as a family.
After 14 countries and 6 months on the road, how do you feel?
We have always loved to travel and didn't want that to stop with having children; we wanted to share that thrill of adventure, culture, and wanderlust with them. Children have a natural curiosity and travelling with them makes the adventure different, and even better.
Turning that curiosity and our love of travel from a holiday into a lifestyle is a decision we will never regret.
Sarah and Gavin Steiner of AwayWithTheSteiners, and sons Harry (6) and Oscar (4) have been traveling fulltime since March 2019. At home, Sarah works in Early Childhood Education and Gavin, in the earthworks industry, but they have put careers on hold to take time out to travel, adventure, and share time together while their children are young. Follow their journey online on Instagram: @awaywiththesteiners and Facebook: @AwaywiththeSteiners
Dear Reader: This page may contain affiliate links which may earn a commission if you click through and make a purchase. Our independent journalism is not influenced by any advertiser or commercial initiative unless it is clearly marked as sponsored content. As travel products change, please be sure to reconfirm all details and stay up to date with current events to ensure a safe and successful trip.
---