Give in to the gravitational pull of Star Wars: Galaxy's Edge at Disneyland and Walt Disney World because there's just no resisting it. Whether or not you're a Star Wars fan, whether you side with the Resistance or the First Order, these duplicate 14-acre "lands" – the largest in Disney's history – are so immersive that being there is just, well, irresistible.
Bright sun or rising moon, welcome aboard.
Making Star Wars happen
The demand for Star Wars: Galaxy's Edge is out of this world. Book a room at one of the three Disneyland Resort Hotels or any of the Walt Disney World resorts however, and you can use the hotels' ticket allotment to design your own intergalactic adventure. Hotel guests will have early and additional access to this much in-demand attraction.
At either theme park, experienced pilots will use Disney's timed ride apps, FastPass or the MaxPass, to book their ride time on the thrilling Millennium Falcon: Smugglers Run and a second ride opening at year's end to participate in the fun. Ditto for the Disney Play app, which savvy younger crew can use to hack into elements of this rich new land, translate Aurebesh lettering and interact with droids and other Batuu residents.
Seamless technology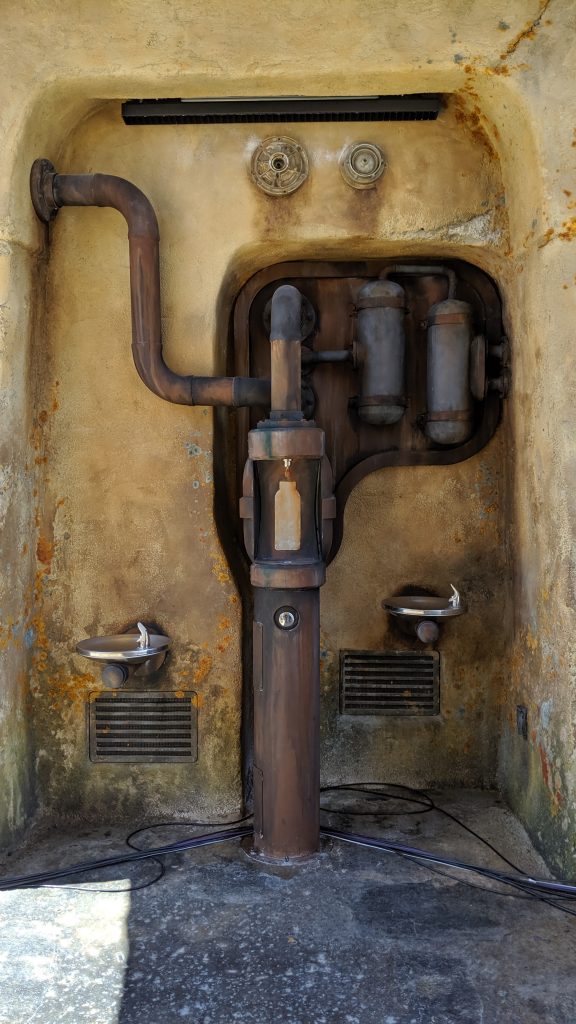 What makes Disney's latest theme park expansion so successful is the use of technology to bring Black Spire Outpost to life on the new planet of Batuu. The new land I flew into, at Disneyland tucked between Frontierland and Fantasyland, is crafted like a good film; the scene is revealed slowly, teasingly, building toward your first view of the remarkable, full-size Millennium Falcon.
The immersive 4D environment (4D because the sound effects here are brilliant) was inspired by Arizona's Petrified Forest. God is in the detail everywhere as you hunt for the Resistance or hide from the First Order; your choice. Orient yourself to the darkest simulated rock, Black Spire, get lost in the covered market, examine junk spacecraft and enjoy the alien gardens.
Ground-breaking Audio Animatronics tools animate the on-beat DJ at Oga's Cantina. The wily metallic smuggler, Hondo Ohnaka (the popular scoundrel seen on the "Star Wars: Rebels" and "Star Wars: The Clone Wars" TV series), sends guests out on their Millennium Falcon run.
Most importantly, none of the tech matters.
Drifting as if weightless through the back lanes of Batuu — actually inspired by the other-world souk of Marrakech and bazaar of Istanbul – transports you to a time far, far away when none of us will even notice the use of technology.
Life on Batuu is seamless.
Thrilling adventures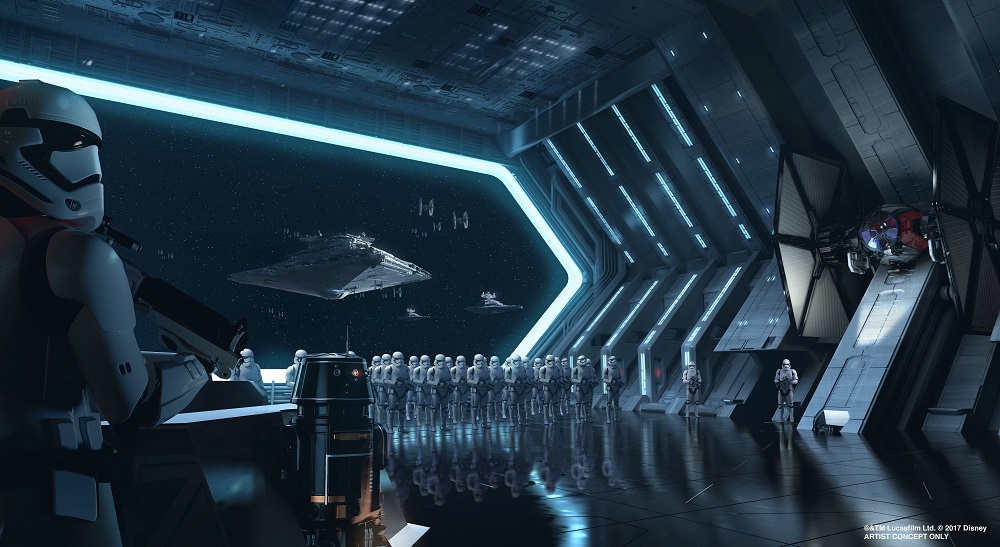 The whole place has a rogue edge and a backstory that will make Resistance sympathizers keep their politics to themselves.
As a first-gen Star Wars fan I happily admit to the thrill of piloting the Millennium Falcon on the land's new ride. My first flight as a gunner was super fun and a supreme failure because the two engineers on our six-person team (all ages, minimum height 38") were unable to keep up with the chaos. Our team's wretched pilots had so badly damaged the fastest hunk of junk in the galaxy that repairs outweighed the bounty I was supposed to earn for the mission.
When I took control on the next ride, er, flight, we came out with 300 Credits for stealing two Coaxium capsules – not enough to purchase the Princess Leia replica necklace I saw (2,000 Credits) but respectable, nonetheless.
Ogle the X-wing and A-wing fighters docked opposite the Rise of the Resistance entry and get ready to take home models of starships, like the gorgeous larger-than-life TIE Echelon that you've never before encountered.
Of course, when the newest ride Star Wars: Rise of the Resistance opens at both parks, it promises to blow everything else away. Literally. Disney's CEO Bob Iger has already announced that "no one has ever attempted anything of this magnitude," so our expectations are quite high. This ride (the only other one planned so far) is set to open in Orlando on Dec. 5, 2019 and at Disneyland's Star Wars Land in Anaheim on Jan. 17, 2020.
A merchant's bounty in light sabers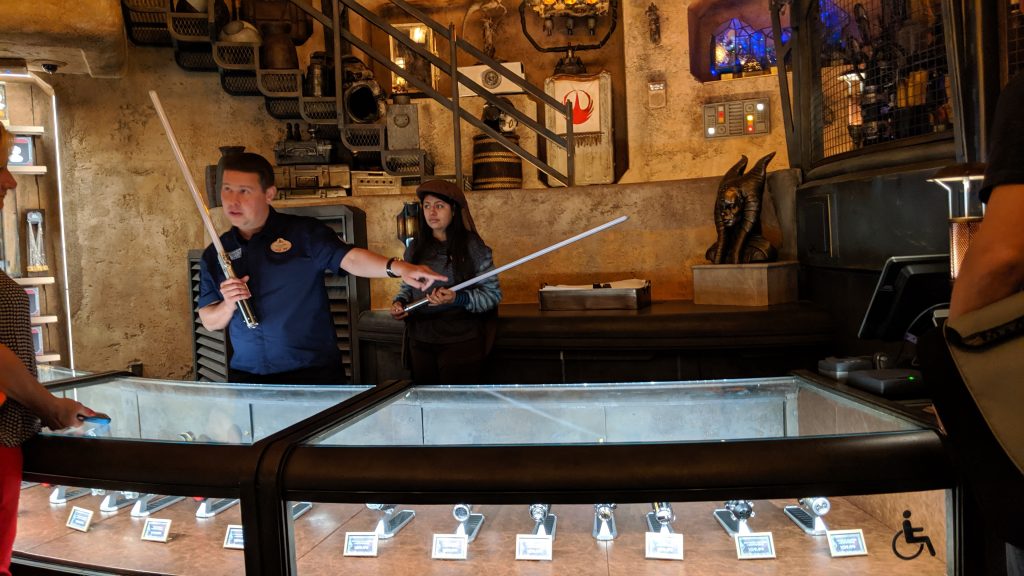 The biggest win here is the merchandise, which is marketed in such dramatic settings that the upscale shopping is totally captivating. Collect your Credits (U.S. currency exchange rates at our visit were US$1 = 1 Credit) and be prepared to spend.
Depending on your crew, start at Savi's Workshop, the very discreet place to build your own 200-Credit custom lightsaber using parts collected by Batuu Gatherers. Once you select a theme for your grip, the secretive Resistance merchants provide parts from old Jedi temples, remnants of dark side weapons, Rancor teeth or perhaps a hilt inscribed with symbols of the Force to meet your needs. Load it with Kyber crystals for extra power.
Dok-Ondar's Den of Antiquities is run by Dok, a junk merchant and pirate who we met in "Solo: A Star Wars Story." Older generations and nostalgic millennials will enjoy the collection of legacy lightsabers, mostly of the Jedi and Sith variety. They faithfully replicate those used by Luke Skywalker, Obi-Wan Kenobi, Darth Maul and others (Luke's lightsaber, a narrower legacy model, has a twist-off fitting to accommodate the new, wider diameter green blades), and cost 109.99 to 199.99 Credits.
(By the way, other lightsabers, much less expensive, are still sold in old school shops like Star Traders in Tomorrowland and come in variety of colors.)
Droids to take home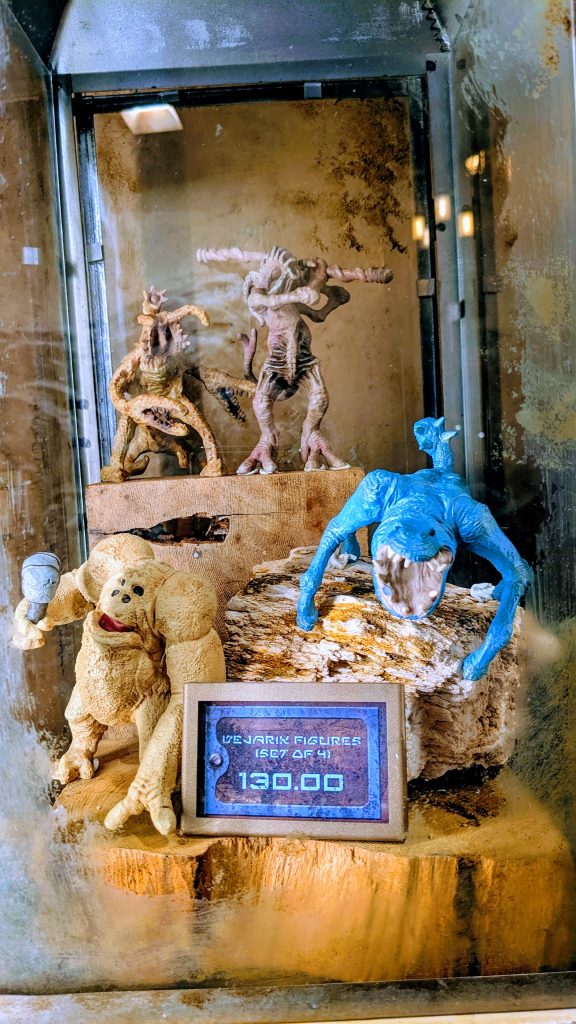 For an indispensable companion, head to the Droid Depot where you can buy premium action figures, including a full-size R2D2 for 25,000 Credits as well as droids with speakers who make DJ sound effects.
Be an astromech maker and build your own (with help of cast members, if needed.) For 100 Credits, choose between an R- and BB-series model and select the necessary parts from a conveyor belt stocked with spares. These battery-operated buddies are remote controlled and interact with other drojds on Batuu via Bluetooth. Best feature? You can change your droid's personality later on with an insertable chip
A foodie Instagramathon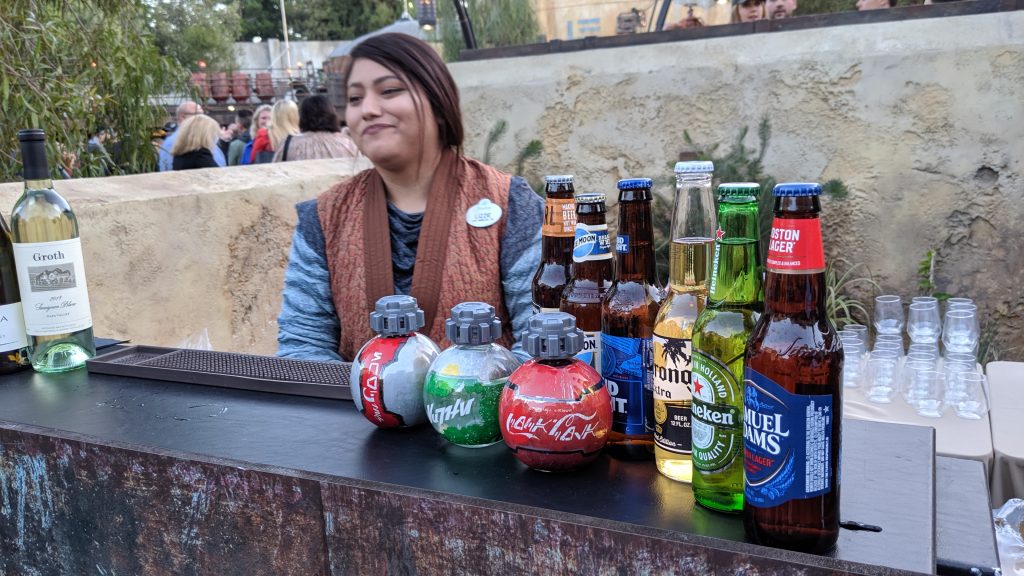 Hungry? Kids can order fried Endorian Tip-yip – a fried chicken concoction with light-saber-green gravy that is out of this world. Sidle up to Milk Bar to sample Blue Milk and Green Milk, sold as slushies or straight up depending on which dive you fall into. Tapioca pearls, oddly shaped star fruit and creative flavor combos ensure you won't starve on Batuu.
Who can forget the Mos Eisley cantina from the very first "Star Wars: A New Hope"?
Oga's Cantina rules the social scene on Batuu, thanks to the heavy beat provided by DJ R-3X and the wild assortment of food and drink. Nerdists will be pleased to know that on all of Batuu, this cantina is by the original Star Wars design genius, Ralph McQuarrie, whose plans for an unused set were found in the Lucasfilm Archives by Disney Imagineers.
And imagine they did. The tanks and tubes curling around Oga's Cantina serve a plethora of imaginative cocktails and non-alcoholic drinks; many are plant-based beverages that cater to dietary restrictions.
Cast and crew in overdrive
The delightful cast members, all seemingly reared in Starwarslandia, have been given a range of mix-and-match gear that Rey and Anakin would envy. Some in snappy outfits are obviously with the First Order; others are so scruffy they may sleep in porg nests with those annoying sea birds from The Last Jedi.
One Resistance-empathizer I whispered with suggested he had a possible hundred variations between his reversible vests, jewelry and head gear, and he delighted in changing his character daily.
That spirit and devotion to lives on Batuu add much to the experience. Of course, Disney's superb cast members also do on-earth chores like assist guests in selecting light saber grips or helping those with food allergies in making the appropriate choices.
Refresh your Star Wars IQ
Grandparents and parents may want to refresh their knowledge at Star Wars: Launch Bay in Tomorrowland beforing taking off for Batuu. This multimedia archive of past and present Star Wars characters features their uniforms, spacecraft and allegiance to either the First Order (Imperial troops back in the day) or the Rebel Alliance (Jedi and friends).
Of particular interest is the model of Batuu that is the basis for Stars Wars Land: Galaxys Edge and the video that explains the story''s origin. Wait a few minutes for a chance to meet Chewbacca or Darth Vader in their own habitats and take some photos.
Star Tours, the reimagined 3D motion control ride piloted by C-3P0, is a fun if nostalgic adventure. You'll be passengers in a space transporter trying to evade enemies and obstacles; relying on cranky C-3PO to steer you away from trouble is the fun part.
Are you still feeling character and craft challenged? Trying to impress the grandkids?
Batuu visitors may benefit from purchasing the new line of Star Wars: Galaxy's Edge comics or any of the young adult novels being published about the new land. (Yes, they sell books in the gift shops!)
If reading is not your thing, just go and enjoy. It's all there to revel in no matter the depth of pop culture nerdiness in your group.
Given the ever-shifting allegiances on Batuu, we quietly empower you with, "May the Force be with you."
Dear Reader: This page may contain affiliate links which may earn a commission if you click through and make a purchase. Our independent journalism is not influenced by any advertiser or commercial initiative unless it is clearly marked as sponsored content. As travel products change, please be sure to reconfirm all details and stay up to date with current events to ensure a safe and successful trip.
---