At the heart of Rome's family attractions is la dolce vita – that easy-going, laidback lifestyle the Italians have perfected. Why not do as the Romans and allow plenty of time to savor each of our top family attractions over a cappuccino or gelato? Anything you don't get to do on this trip will wait for your next visit to the Eternal City.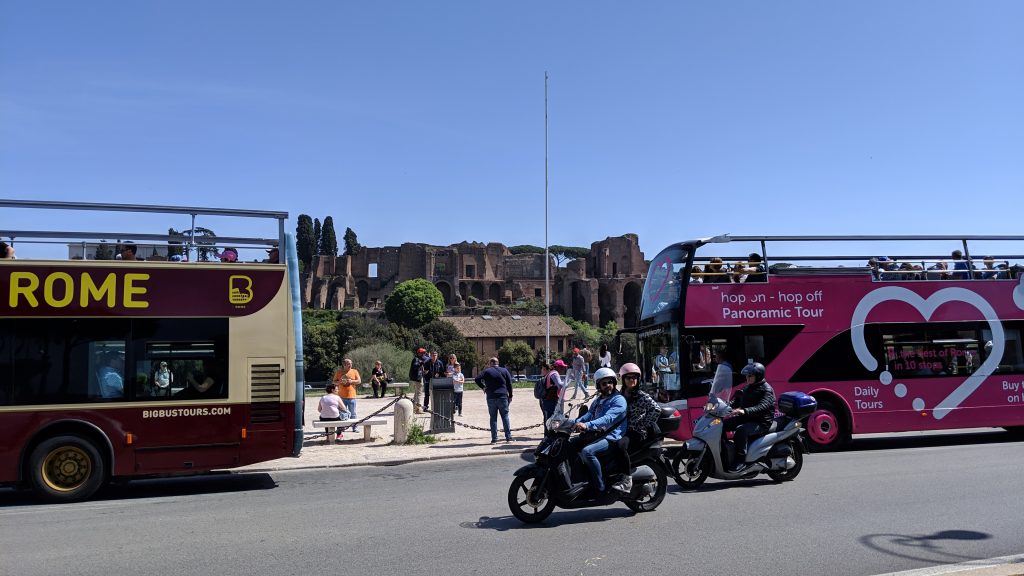 Great Fun for the Kids
(Toddler to Age 8)
Spanish Steps
The beautiful Scalina Spagna were begun in 1723 to connect the Spanish Embassy to the Holy See (Vatican) with the Trinita dei Monti church above the square. The irregular shape and curved terraces of the widest staircase in Europe are a playful example of Rome's Baroque style. It's a good place for people watching in nice weather, and there's always the Antico Caffè Greco which has been there since 1760. Marvel at the photo of Buffalo Bill Cody and two Native Americans dining at the very same cafe. Most impressive, the clever owners accepted payment in oil paintings, small sculptures, charcoal caricatures as well as reams of red velvet over all those years. Today this charming tea room serves tea, hot cocoa, fabulous ice cream creations and a line of pastry, sandwiches and other tide-me-over fare to a well-heeled crowd of shoppers on the via Condotti, Rome's fanciest thoroughfare.
Gelato Wars
When it comes to fights over the best gelato in every Roman neighborhood, there are no prisoners and no losers. As long as you visit the local gelateria, you're entitled to an opinion. During our summer visit, Frigidarium at Via del Governo Vecchio, 112, near Piazza Navona was very popular. Gelateria delle Palme at Via della Maddalena, 19-23 was also vying for 'Best Of' title in the creaminess and exotic flavors categories.
The Pantheon
The Roman Pantheon, a beautiful church with soaring coffered ceilings and an opening to the sky, is the best preserved of the ancient sites. Built as a temple to the pagan gods of ancient Rome between 118-125 A.D. it has the largest dome of unreinforced concrete in the world. When you're done exploring, head to the original branch of Giolitti at Via degli Uffici del Vicario, 40. This ice cream parlor was founded in 1900 and is still known for its generous portions. Sample what you please at seating indoors and out; it's open 7.00am to 1.30am daily.
Doubledecker Bus Tour
We love those hop-on, hop-off sightseeing bus tours because they keep toddlers entertained and give everyone a chance to rest their feet. However, in Rome the traffic is slow going. Also, the bus stops are infrequent so you may have to walk quite far to some of the attractions. The main companies (Big Bus, Gray Line, Citysightseeing) use the same bus stops, a similar route and the audioguides are unreliable, so just pick the best value.
Fun for Older Children
(Up to Age 18)
Gladiator School
You can dress up at the Colosseum but this is where you can train to be a gladiator at a fun, designed for tourists gladiator school. The 2-hour lesson will set you back more than 80 Euros and is suitable for adults and children. It takes place on the Via Appia Antica where you can learn sword fighting skills and the history of gladiators in ancient Rome. Book ahead.
Piazza del Popolo
The Piazza del Popolo or People's Square is less than a half-mile from Villa Borghese and inside Porta Flaminia, Rome's northern gate where foreigners arrived during the era of the Empire. Admire this magnificently decorated square and the Obelisk dedicated to Ramses II. Art lovers will want to check out the two Caravaggio masterpieces inside the Santa Maria del Popolo Basilica and look inside the churches of Santa Maria dei Miracoli and Santa Maria in Montesanto.
Fan Favorite "Angels and Demons" Sites
Along with Piazza del Popolo, the Capachin Crypt is featured in "Angels and Demons," the spooky bestselling novel by Dan Brown. It is a series of small chapels beneath the Church of Santa Maria della Concezione dei Cappuccini. This rock cut burial vault contains the bones of approximately 4,000 people so it's also called the Bone Church of Rome.
Whizzing Through Rome
Rome by Segway offers multi-lingual guided tours, or a pre-loaded audio/video iPod for your self-guided tour of the city. It is a great way to get around if your time is limited. Check the height and weight restrictions before booking, as Segways are unsafe for young or very lightweight children.
Another really fun alternative where preschoolers ride with you is offered by Bici & Baci, who rent Vespas from four central locations and give guided tours. These Vespa groups make fun sightseeing stops, provide snacks and help catch some of the sights you may have missed on your own. The company's Vespa Museum Space displays vintage models from 1946-1980. (Note that bicycle riding is not recommended within the city.)
Vatican City
At Vatican City, even young children can appreciate a palace of this magnitude. Buy timed entry tickets and tackle it in two brief visits and you'll be richly rewarded.
On day one, visit the grand, gilded St Peter's Basilica (free entry) and watch your kids race down below to linger over the mausolea and mummified remains of various Catholic luminaries. Do not miss the Michelangelo Pieta inside. Attend the Papal Audience (Wednesdays at 10am when the Pope is in Rome; call ahead to reserve free tickets) and hike up the Dome for the views. Basta for one day!
Return for the Vatican Museums and the Sistine Chapel. Guide do an audio tour through headsets as you shuffle past hundreds of extraordinary artworks. It's so crowded that giving kids postcards to refer to will make it more fun for them. By the way, we heard the "before it opens to the public" tours were equally crowded! Guides, licensed by the Vatican, are excellent.
Fun for the Whole Family
Colosseum
Colosseum , or Colosseo, should be on top of your list. It is without doubt the city's biggest draw, and so over-crowded that you'll have to buy entry tickets online in advance, or book a tour guide, in order to see it. With older kids, spring for the more expensive behind-the-scenes tours which go down under the main arena to the cells where animals and gladiators awaited their call to the stage.
History buffs should buy tickets that include the Roman Forum across the way – this is a highlight of antiquity that really shines when explained by a talented, story-telling guide. Younger children, well… posing with costumed gladiators out front is the most fun thing for them about visiting this legendary site. By the way, they never fed any Christians to lions here.
Trevi Fountain
Named the Trevi Fountain because it was built at the meeting point of tre vie (three streets), this gorgeous marble artwork is probably the most Instagrammed place in Rome. Tourists flock there for selfies tossing in coins — about 1 million euros are collected annually and given to Roman charities.
Why? Well, the myth began with the 1954 movie, "Three Coins in the Fountain" which explained that magic would happen if you used your right hand to throw the coins over your left shoulder. How much? Well, if you throw one coin, it's said you will return to Rome. With two coins, you will fall in love with an attractive Italian; and if you throw three, you will marry that attractive Italian. Don't miss the Trevi Fountain; it is located about 1/3 of a mile from the Spanish Steps.
Borghese Gallery
The Borghese Gallery, one of Rome's most beautiful palaces, houses one of its best collections of Italian art. If the spectacular Bernini sculptures don't fascinate your kids, they'll certainly enjoy running around the gardens or riding a bike through the adjacent park. Book your timed entry tickets online in advance; guests can only stay inside for two hours and the tours are excellent.
Bocca della Verita
Take the original lie detector test at the Bocca della Verita, the mouth of truth. The round sculptured medallion of an old man's head was built with the church in the 8th century. According to Roman folklore, if you put your hand in his mouth and tell a lie, the mouth will slam shut and bite it off. The sculpture is located in the portico of the Chiesa di Santa Maria in Cosmedin.
Piazza Navona
Another one of Rome's beautiful squares, Piazza Navona was built on the site of the ancient Stadium of Domitian and several cafes surround its rough oval shape. Among many striking architectural elements is the gorgeous Fontana dei Quattro Fiumi (1651) or fountain of four rivers which depicts each river god with grand Bernini sculptures. Be sure to pause for a break at the classic Caffe Tazza d'Oro where the worn gilded mirrors date to the cafe's founding. By the way, this area is very romantic at sunset with the dim lights, fountains and street musicians that perform live.
Some Pre-Trip Homework
Do your homework before a trip to Italy. Find reading material, Italian recipes, music and movies to introduce Rome and its culture to kids before arrival. If you encourage your family to study the known pastas, watch "Ben Hur" or "Spartacus," you'll begin building an Italian vocabulary. Then take everyone to see the local museum's collection of Roman antiquities to emphasize how much Italian arts and architecture permeate life at home.
Here's some suggested reading with kids.
Rome Past and Present by R. A. Staccioli (Getty Trust Publications, 2008) is a large, vinyl bound book filled with photos of the major sites and transparent overlays of the way they looked in ancient times. This format really brings the sites to life, and is the perfect tool to create hunt and seek adventures among the ruins. Just take it into the Roman Forum and you'll see exactly how neat a pile of old stones can become.
Mission Rome: A Scavenger Hunt Adventure by Catherine Aragon (2014, also in Kindle) is a hands-on guide that gives readers tasks around the city, such as searching for clues in great artwork or investigating the façade of the Pantheon, all in service of solving a mystery and gaining points. Fun way for all ages to learn something.
Ancient Rome for Kids by Baby Professor (2015) is an easy-to-follow paperback that explains the history, science, government and arts behind Rome's top ancient sights. It is written especially for kids, with lots of neat factoids about the ancients.
Is this your second visit? Here are some of our favorite activities after you've done the above.
Dear Reader: This page may contain affiliate links which may earn a commission if you click through and make a purchase. Our independent journalism is not influenced by any advertiser or commercial initiative unless it is clearly marked as sponsored content. As travel products change, please be sure to reconfirm all details and stay up to date with current events to ensure a safe and successful trip.
---