Did you know that travel planners visit an average of 6.5 different websites on different devices to search and compare flights? Two new websites, Directflights and flightroutes, make the process easier. Both websites provide current information about airlines, where they fly and accurate flight schedules. Timely information enhances accuracy in a way that's rarely seen on most travel searches.
Flightroutes.com shows you the best flight path to your chosen destination, whether non-stop or connecting. Dreamers will enjoy playing around with it to see the longest routes with the most stopovers so they can sample different countries enroute to a final destination.
Compare Flights Fast with Direct Flights
Directflights.com is our pick for travelers who know where they want to go because it makes all your options clear. The best search and machine learning technologies are applied to sorting through data about the 70,000 direct flight routes currently available between the world's airports.
Users do not need to register or log in, a relief in from data-hungry, marketing websites. Only details on your flight data, dates of travel, class and number of seats are needed to produce results. Once you've selected the route that works best for your needs, the "Check Prices" tool displays airfares from partner sites such as the metasearch engine Kayak.com.
Additionally, compare cheap flights from other online travel agencies or smaller travel agencies selling air tickets online.
Why Do I Need Directflights to Compare Flights?
It used to be a nightmare to figure out which airlines served which destinations, and which days of the week some flights flew. Once the airlines started code-sharing with each other, the task became monumental.
Directflights.com displays current schedules for almost every major airline. The sites provide an overview of your direct flight options from Point A to Point B. You can see the full departure schedule for each airline together with aircraft, typical flight delays and other useful flight information.
What is a Direct Flight and Why You Should Care
For those who don't know, a direct flight (see Aviation Terms) has a stopover enroute to your final destination. Unlike connecting or transit flights which also make at least one stopover, you won't need to change planes. While direct flights do make at least one stop, they are much easier for travelers than flights requiring a plane change or terminal transfers. Your airline ticket may be more costly, but in the end most travelers save by not having to pay exorbitant fees to change terminals, or even airports.
If you need an example, ask me about the cheap tickets we once bought from New York to Greece via London. We were swayed by EasyJet's bargain airline tickets to Athens. We were too dumb to realize that getting from LHR (London Heathrow), where we landed, to Luton Airport, where EasyJet operated, would take 4.5 hours by public bus. We were forced to spring for a London taxi, and just made our connection. Each of us arrived £55 poorer.
Travel Dreamers Tool: Flightroutes Search Engine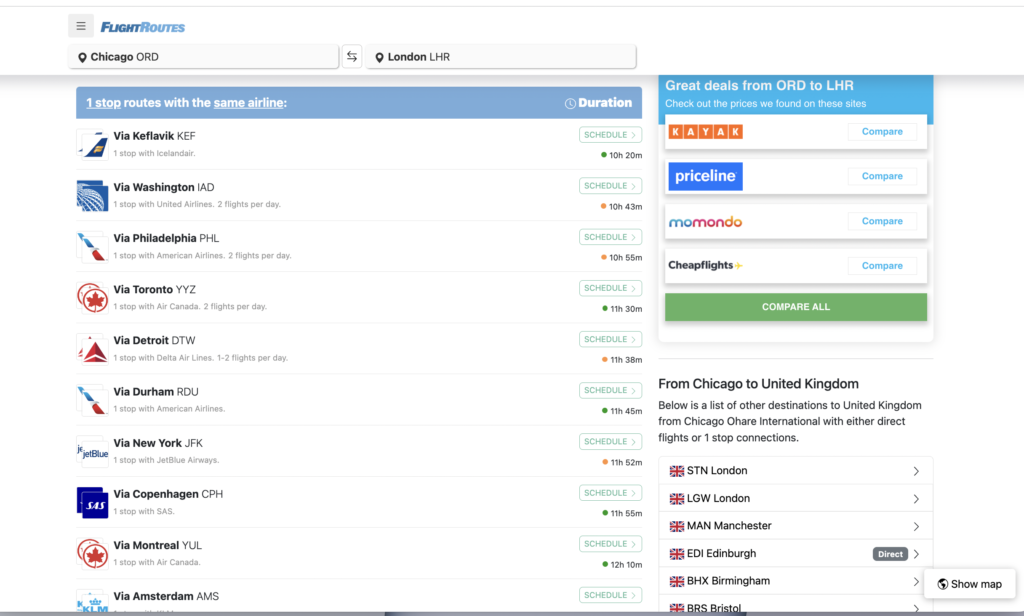 Sometimes you don't care where you go if it's special. And maybe far away. Flightroutes.com is for those times.
As an example, we searched the options for getting from Chicago ORD (O'Hare International) to London Heathrow. We were looking for an interesting stopover more than comparing flight prices. The Flightroutes site gave us several options.
Twenty-two airlines operate on the ORD to LHR route. Together, they flew several non-stop and 29 different connecting flights. Among connecting flights, we learned we could book five-hour layovers in the thrilling cities of Montreal, Toronto, Madrid and Paris.
Why Would Anyone Want a Layover?
My family loves layovers. Think of it as slow travel. On a flight from Berlin to Birmingham a few years ago, American Airlines gave me the option of a 15-hour layover in Barcelona. Such a lengthy layover made it the cheapest flight option available. Cool stopover and bargain priced airline ticket? It was a win-win.
We took advantage of the time in Barcelona to see the progress on Gaudi's Sagrada Familia. We had an unforgettable tapas and vino tinto break at a little place off Las Ramblas. These adventures made the whole experience a richer one. Plus, these airline tickets were truly the least expensive option.
Both Sites are Fun for Airline Geeks and Dreamers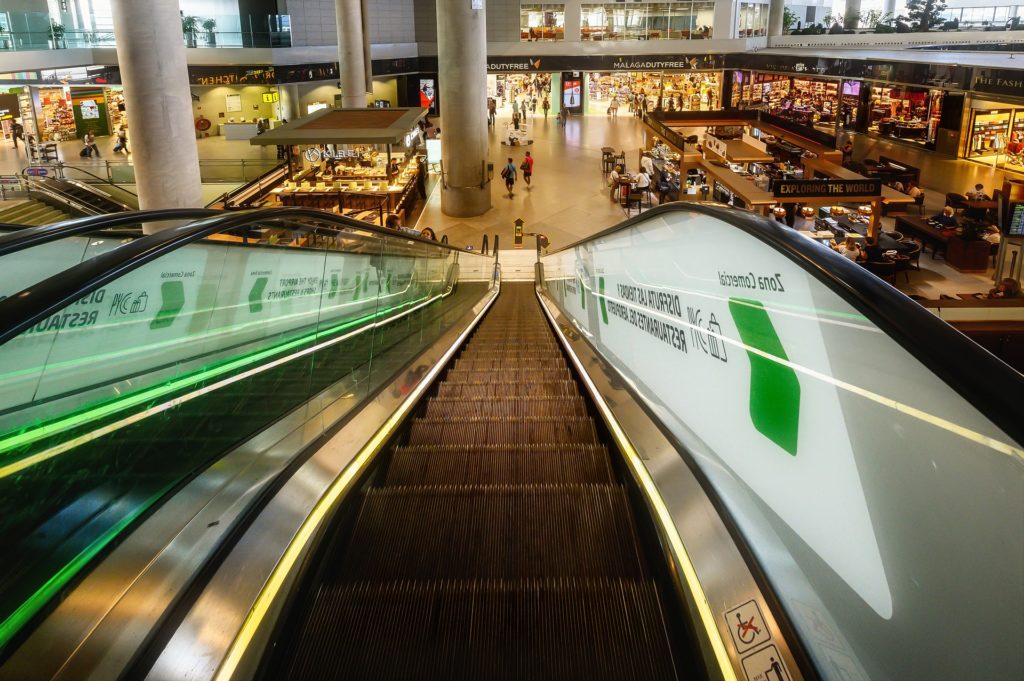 Are you curious about the most connected airports in the world? Geek out on both sites with information about the 50 busiest airports, their main routes and carriers. Especially helpful tips, such as what passengers can expect when they land, are included.
Additionally, discover which airlines offer the most legroom with your airline ticket. Learn which routes have the greatest number of flight delays so you can avoid them. Speaking of legroom, ever wondered why it doesn't seem like you're getting 30" of space between your knees and the seatback in front of you? That's because the term legroom applies to the distance between headrests, not your seats!
Travel dreamers can find something to love in both websites. On Directflights, for example, we discovered that from Malaga, Spain's southernmost city, you can fly direct to Doha on Qatar Airways. We learned from the 'check prices' link that Qatar is the most expensive airline flying this route. Instead, Kayak revealed that we could fly on THY, The Turkish carrier, change planes in Istanbul and pay about 25% less.
Hmm, a layover in Istanbul. Sounds dreamy to us.
Author Kyle McCarthy, editor at Family Travel Forum, will go anywhere if she finds cheap airline tickets. She wrote this post on behalf of sponsors DirectFlights.com and Flightroutes.com and all opinions are her own.
Dear Reader: This page may contain affiliate links which may earn a commission if you click through and make a purchase. Our independent journalism is not influenced by any advertiser or commercial initiative unless it is clearly marked as sponsored content. As travel products change, please be sure to reconfirm all details and stay up to date with current events to ensure a safe and successful trip.
---