Stick to your resolutions with these simple travel fitness exercises from a top New York City trainer. We guarantee they'll help travelers keep in shape with a quick and easy-to-do exercise routine.
Even if you're not familiar with New York City's Type A personal trainers, you probably realize that the city that never sleeps spends a lot of time working out. You should too, especially when you're away from home.
Staying Fit and Having Fun with Your Travel Fitness Exercises
Fitness professionals agree that the hotel pool is probably the traveler's best source of exercise. Try to do some laps or water play at least once a day if possible. Exploring your destination on foot or by public bike will add some cardio work to your day.
Another pasttime travelers encounter now is pickleball. Courts are popping up at many resorts, including on Holland America Line cruise ships. Dr. Reuben Chen, MD, a sports medicine expert, recommends pickleball as a low-impact and injury-friendly racket sport. It's easy to learn for all ages, too.
Ice skating is a fun alternative which Dr. Chen says burns 500 calories per hour. Ice skating works nearly every muscle group in the body. It improves movement and joint flexibility and, Dr. Chen adds, it gets blood pumping and the heart rate up. Urban downtowns from Dallas to Phoenix have outdoor skating rinks that open around Thanksgiving and stay active till spring. All provide access to rental skates.
In Room Travel Fitness Workout
No pool or court? Can't get the kids to leave the room? That's why Chris Skoglund, formerly Advanced Trainer at Chelsea Piers Fitness, developed a variety of simple hotel room workouts using resistance band training.
First, get to know your resistance band. These inexpensive, lightweight rubber straps are color-coded depending on how much resistance they have. The more resistance they provide, the greater the workout. You can also modify your travel fitness exercise routine by altering the distance the bands are stretched.
Simple Exercises Bring Fitness to Your Room
Chris and other colleagues say you can keep calories at bay with the most basic travel workout using a resistance band.
First tip: Always actively engage the core of your body during exercise, including the torso muscles at the abdomen, obliques and lower back. Ready to try it?
Here's the Curl, Squat and Press, a full body exercise for anyone with enough space to stash a band in their suitcase and stand up in their hotel room.
Start by standing in a squatting position, legs slightly wider than hip width, the resistance band stretched under the middle of both feet. Pull it upright, in a "U" shape, tightly by your sides.
As you begin to straighten the legs, pull the band into a bicep curl until your fists pass your shoulders, then press arms overhead until they're raised as high as possible.
Do this arm movement without overextending your elbows.
Repeat.
This is a good workout even if you don't have fitness bands with you. Now try to get the kids to do it, too.
Special Hotel Fitness Facilities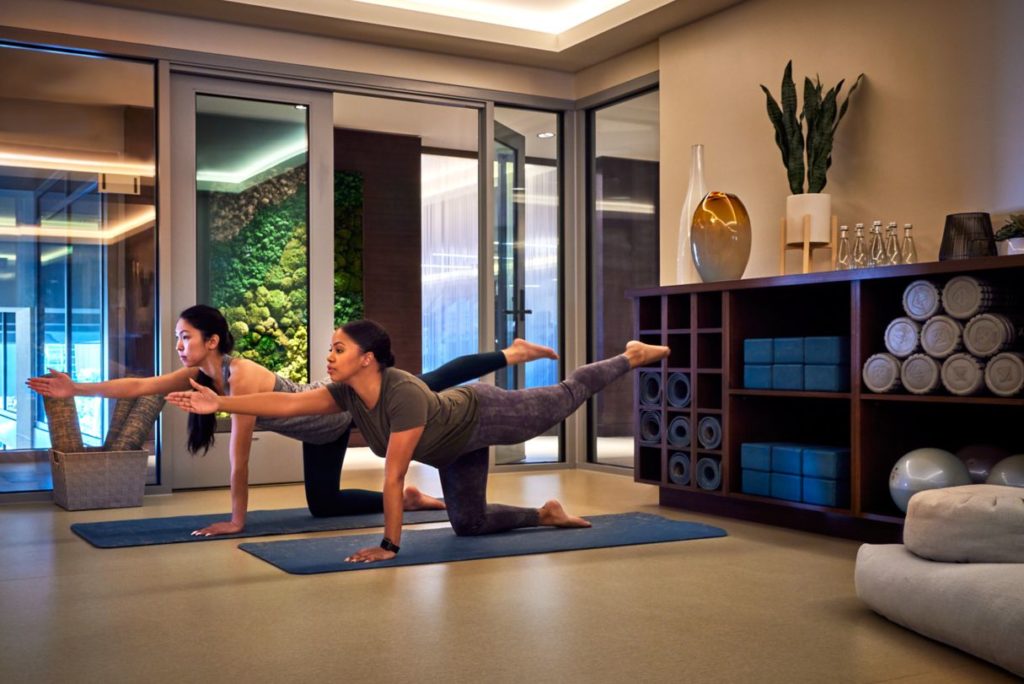 Westin pioneered Workout Rooms nearly 20 years ago. Guestrooms came equipped with their own fitness equipment, a yoga mat and a treadmill. These rooms specifically designed to keep travelers exercising were just the start of an industry trend.
Now Westin has shifted its focus to Wellness at Westin. The brand-wide initiative includes healthy foods for adults as well as the kids menu. Westin spas are enhanced, aromatherapy is delivered at turn-down. Hotel staff even scout out running paths for guests who want to jog around a new neighborhood.
At any of the Omni Hotels, guests can borrow a Get Fit Kit which includes a floor mat, two hand weights, elastic bands, towels and water. Want to grab the kids and workout in public? Omni's hotels and resorts are equipped with expansive fitness rooms packed with state-of-the-art gear.
Expect a fitness focus at Marriott Hotels & Resorts. The new JW Marriott Anaheim Resort near Disneyland, for example, is all about holstic wellness. It boasts a yoga and Zen room, expansive fitness center, outdoor swimming pool, rooftop bar and healthy eating options. Bonus — you can see Disney's nightly fireworks from the hotel.
The new EVEN Hotels brand from IHG has taken fitness to a new level. They cater to guests pursuing a healthier lifestyle, even on the road. Snack bars include gluten-free and vegan treats. The staff is coached to be "wellness-savvy" and bedding is topped with natural eucalyptus fiber. Not interested in group classes or machines in the Athletic Studio? Guestrooms are designed with training zones. Look for workout mats, inflatable balls and more gear in your own space.
Up and Away with more Wellness Perks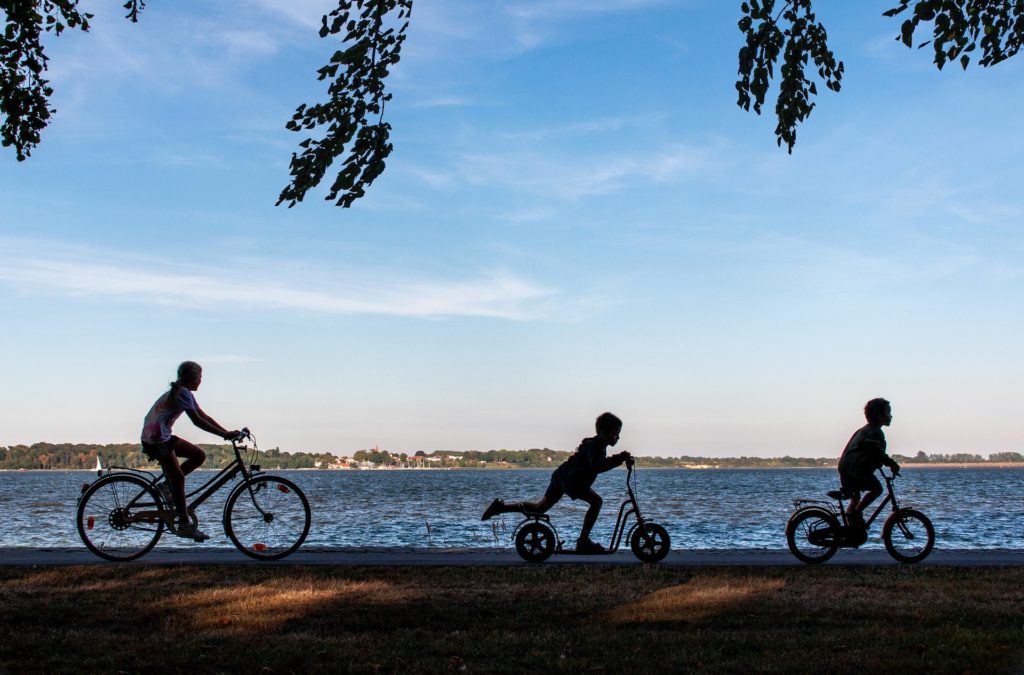 That's no excuse to leave a resistance band at home. With your own band, you can hop on your computer or cellphone and get fit with a trainer or yogi on Zoom.
There's more to come, too. Keep your eyes open for health and wellness value-adds such as complimentary 24/7 fitness rooms, loaner free weights, complimentary workout gear and bathing suits at hotel pools, vegan menus, and Chi (Chinese energy) spas.
Don't expect to find chocolate on your pillow, either. Many hotels are cutting out the sweets in order to promote health and wellbeing for their guests.
This take-on-the-road fitness routine is derived from classes taught at Chelsea Piers, New York City, by Chris Skoglund. Thanks to Chris for the inspiration!
Dear Reader: This page may contain affiliate links which may earn a commission if you click through and make a purchase. Our independent journalism is not influenced by any advertiser or commercial initiative unless it is clearly marked as sponsored content. As travel products change, please be sure to reconfirm all details and stay up to date with current events to ensure a safe and successful trip.
---