Fall in love with the sheep of Sun Valley any time of year and especially in October. That's when thousands come down from the mountains to southern Idaho for the Trailing of the Sheep Festival. Spend Oct. 4 to 8, 2023 in Sun Valley and experience how sheep have shaped this delightful resort town.
The award-winning Trailing of the Sheep Festival (TOTS) is one of America's top autumn festivals. Visitors love its heritage elements and many moments of authentic Americana. Rancher Cory Peavey commented in one TOTS workshop that, when it began 26 years ago, there were more sheep than people. In 2022, huge festival crowds pumped more than $6.2 million into the economy of Ketchum, the town that supports the legendary Sun Valley resort.
Fall for Sheep at Trailing of the Sheep Festival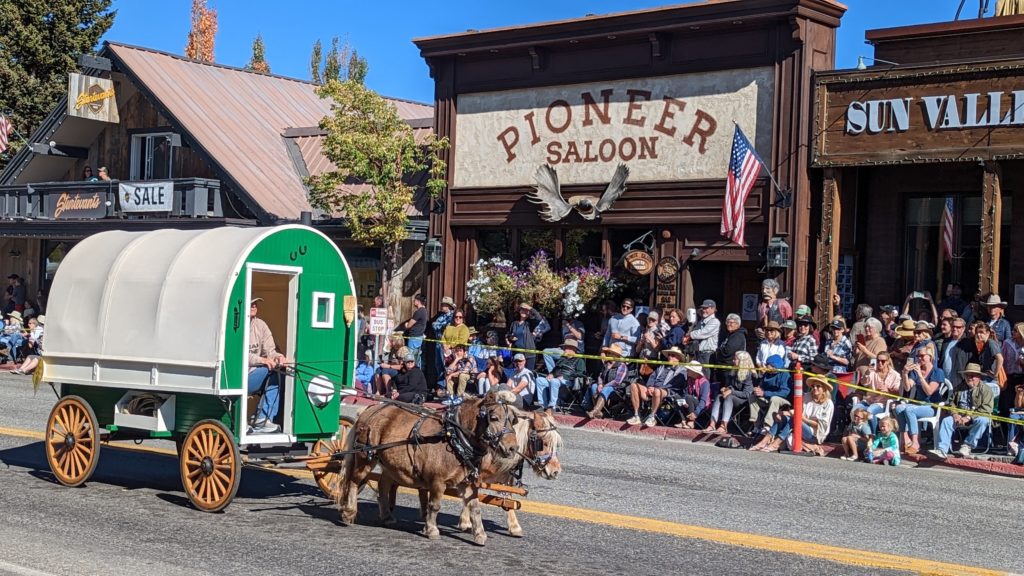 TOTS cultural activities begin even before the festival with sell-out cooking classes. Special farm-to-fork meals are hosted by farmers and ranchers. Guests may feast on Lamb biryani, curried lamb, Basque roast lamb or Peruvian lamb stew. Buy a For the Love of Lamb ticket book to sample an amazing variety of lamb dishes from local restaurants.
We met our first real sheep (family-raised pets) at the Saturday Folk Life Fair. Explore dozens of vendors who show off handmade skeins of yarn, woolen booties, felted blankets and fiber art. Play at the Kids Fluff booth. Sample lamb fat soap, lanolin creams and exotic sheep cheeses. Join the food truck lines for lamb gyros, pulled BBQ lamb sandwiches and lamb burritos. Vendors everywhere sell heepskin pelts.
The Big Sheep Parade is the don't-miss highlight of the festival. Local ranchers work for weeks to move their sheep closer to town. The people parade includes proud Idahoans of Greek heritage, many Basque musicians and dancers, a Peruvian folklore troop. Pretty girls wave from pickup trucks towing covered wagon-style shelters called sheep camps. We spot a miniature pony and a Rabbi blowing a shofar to welcome the sheep. The MC warns all involved to stay out of the street. "Don't spook the sheep," whisper children squatting on the curb.
When up to 1,500 sheep trail down Main Street, the crowd is silent. The sheep of Sun Valley are so woolly and packed together — and quick — we cannot count them. There's barely enough time to appreciate their cuteness.
We smile throughout the Happy Trails Closing Party as locals dance in the Ketchum Town Square.
What Sheep of Sun Valley and Their Dogs Do in Fall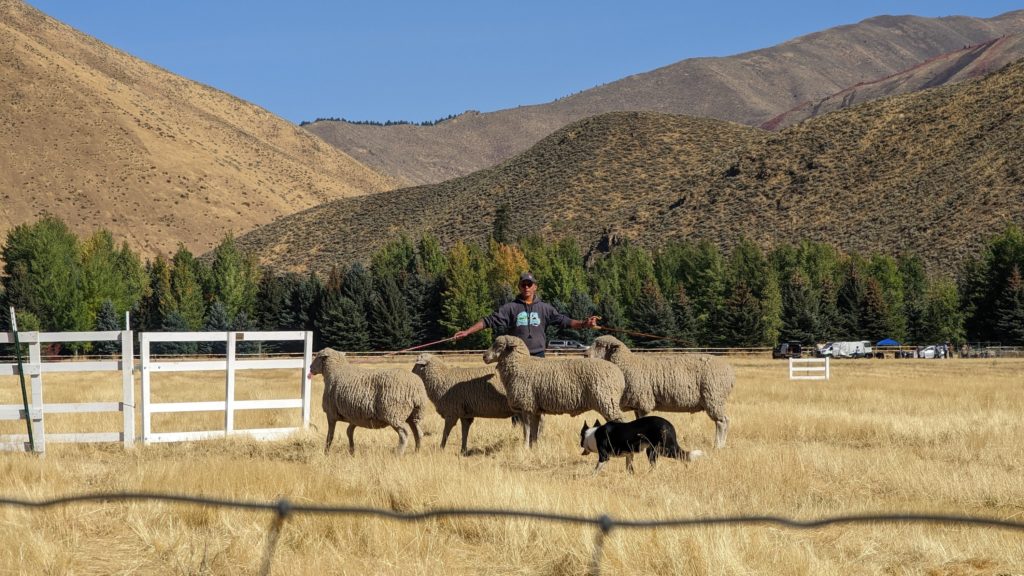 Fall is generally a busy time for sheep. During autumn breeding, one ram is penned with every 50 or so ewes for mating. Around this time, most Idaho sheep are shorn of their wool. Specialist sheep shearers take their mobile barber shops to each farm and get to work, doing as many as 200 sheep per day. We saw one sheep's coat yield about 10 lbs. of raw wool.
As part of a worldwide competition, the TOTS Festival hosts timed Sheepdog Trials. These contests pit Border Collies against wild sheep who stubbornly resist penning. Over five days, the audience and their pets watch intently to learn the latest tricks.
There is a lot of talk in sheep country about Great Pyrenees dogs (also known as the Pyrenees Mastiff.) Great Pyrenees puppies bond with the band (or herd) of sheep they are raised with. Incredibly loyal and brave, they fight off coyotes and wolves. They are known to stay with any lamb that separates from her flock until a sheepherder comes to retrieve it.
The Outdoors Lover's Guide to Sun Valley in Winter
The TOTS celebrates trailing sheep from the Wood River Valley south before winter's heavy snow. When the sheep have passed, more than 140 kilometers of trails, many dog-friendly, reopen for hiking, biking and cross-country skiing. Additionally, the Blaine County Recreational District manages 37 kilometers of packed snow tracks for snowshoeing with its BCRD Nordic Pass.
Even more outdoor recreation trails are managed by the Sun Valley Resort for Nordic and alpine skiing in winter. Locals and visitors skate on two skating rinks – one outdoors and one inside – next to the Sun Valley Lodge.
Meanwhile, sheep have moved to winter ranges at lower altitudes. These pastures are easier for sheepherders to access yet offer ample grazing.
Lambing, the birth of lambs, takes place between January and March. We heard that back in the days of spring shearing, ewes in their heavy winter coats might not feel their young nursing through pounds of curly wool. Newborn lambs were sometimes smothered. Now, the mothering up of ewes and their valuable lambs is monitored. Did you know that bonus lambs, rejected by their mothers and hand-fed by farm families, grow up with sheepdogs? Thanks to their legendary herd mentality, these sheep enjoy herding other sheep.
How the Sheep of Sun Valley Launched a Resort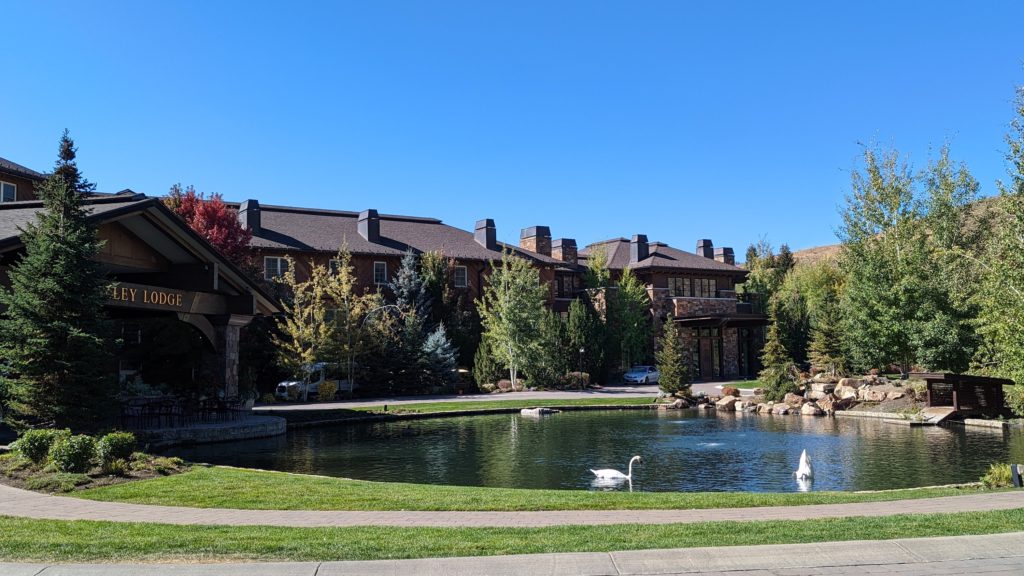 Idaho's ore mining boom crashed when silver was demonetized by the US government in 1873. By the 1880s, sheep ranching dominated the economy. Within two decades, millions of Idaho sheep boarded trains each summer bound for slaughterhouses and wool processing plants across the country. Once the snow fell, however, the town of Ketchum went dead. The Union Pacific Railroad was not happy.
UP's chairman, Averell Harriman, gambled that establishing the first destination ski resort in the US would stimulate winter rail travel. In 1936, he built the European style mountain resort of Sun Valley surrounding Ketchum. It boasted the first chairlift, a contraption designed by Union Pacific Railroad engineers, as well as a casino. Sun Valley was an instant success.
The recently renovated Sun Valley Lodge is lined with photographs of celebrities who spent time here. Marilyn Monroe, Ernest Hemingway, leading men such as Clark Gable and Jimmy Stewart turned Sun Valley into an exclusive retreat. The film "Sun Valley Serenade" starring Sonja Hennie, John Payne and the Glenn Miller Orchestra came out in 1941, giving the world the Oscar-nominated song "Chattanooga Choo Choo." Among the memorabilia, look for images of John Wayne on horseback, Clint Eastwood on the slopes, the Kennedy family hiking. Stars like Tom Hanks, Arnold Schwarzenegger, Bruce Willis and Justin Timberlake currently have homes neighboring the mountain resort.
Sun Valley, a Year Round Sustainable Mountain Resort
The storied resort is still treasured for leading the way in sustainable tourism. Blaine County ordinances, for example, restrict development at the foot of the mountains and up the slopes. That's why Sun Valley doesn't look like other mountain resorts dappled with condos. Ski in/ski out convenience doesn't exist. The green alternative is a free shuttle system that bring snow sports fans to base lodges at several mountains bordering the town.
Visitors love the local vibe, restaurants and excellent grooming that have earned Sun Valley Ski Magazine's 2022 "Top Ski Resort in the West" honor for the third year. Sun Valley is part of a Western bucket list trip that includes the Jackson Hole and Big Sky resorts. It's economical to do since all three accept both Mountain Collective and IKON lift passes.
Enroll the kids in Sun Valley's highly regarded ski schools. Novices have their own learning terrain at Dollar Mountain. More skillful skiers and snowboarders head to the famous Mount Bald or "Baldy." This steeper hill has been cut to allow long, top-to-bottom runs. By the 2024 season, Baldy will open 79 more gladed acres groomed to decrease the risk of forest fires. The Alpine Skiing National Championships are bringing new chairlifts and base area development.
Too soon for some, spring arrives.
Springtime for the Sheep of Sun Valley
Those innocent newborn lambs suckle in spring, growing large enough to follow the herd. Nursing ewes may be shorn to make their teats easier to reach. Unproductive ewes, and lambs who are aging into yearlings, are culled from the herd for sale.
Sheepherding remains a timeless nomadic existence. No one uses the term shepherd yet they carry the same crook Charlton Heston did in "The Ten Commandments." Locals love the sport of deciphering arborglyphs, old tree carvings left by sheepherders, now scarred over with sap.
Summertime for Sheep and Sun Valley
As the snow melts, growing bands of sheep head to new, higher pastures. Picture more than 800 wild ewes and 1,300 lambs seeking fresh grass, alfalfa and wildflowers because they're hungry.
The new industry of targeted grazing, embraced by fifth generation Idaho ranchers, flourishes out West. Early in summer, sheep and goats graze on dry grasses to clear perimeters around schools and other buildings in potential fire corridors.

But the sheep of Sun Valley basically live the same way sheep always have, in what locals call "the world's second oldest profession."
Summer is visitor high season in the largest wilderness area in the Lower 48. Ranges are remote; therfore you are unlikely to see any sheep. Instead, head to Sturtevants of Sun Valley to rent mountain and street bikes — or just hike and enjoy the miles of trails. Locals will remind you that sheepherders always maintain right of way.
Fly fish for trout in the blue ribbon Silver Creek Preserve and other streams. Or, golf with locals at the Sun Valley Course and follow it up with a craft beer.
Trip Planning Details for Ketchum, Sun Valley and Sheep Peeping
Ketchum is still small, making it a walkable and easy to explore Western town. Shop the Village Market and stylish boutiques. Get to Grumpy's early for the best burger and a 'schooner' of craft beer. Hang out at the favorite dive bar, Casino, or the Pioneer Saloon. Grab healthy tacos at KB Burritos, gourmet lamb chops and potatoes at Enoteca or lamb shanks at its more laid-back sister, Ketchum Grill.
Make Limelight Ketchum, an offspring of parent Aspen Skiing Company, your home base. This hip hotel in the heart of town boasts views of the Rocky Mountains, Sawtooth National Forest, Boulder Mountain Range and Sun Valley's ski slopes. Choose among 99 rooms and suites designed for the active, outdoors lifestyle cherished in ski towns. Relax at the outside deck's heated pool, hot tub or fire pits to enjoy craft brews and burgers over live music.
Families choose between rooms with double queens, suites with sofabeds and multigeneration-perfect residences that expand to five bedrooms. (See our video here.) In high season, join guided hikes, snowshoe tours or sightsee while test driving an electric Audi SUV. Limelight Ketchum is not a budget option, yet the hotel's many amenities and bountiful, healthy breakfast buffet make it a good value.
The local Sun Valley Ketchum Visitors Center, a block off Main Street (also I-75), houses a Starbucks franchise and friendly travel advisors. Ask about Ernest Hemingway, the author and long-time resident who ended his life in Sun Valley. Get a map to the many soulful Hemingway landmarks including his grave and memorial.
And, ask where the sheep of Sun Valley are grazing today.
Dear Reader: This page may contain affiliate links which may earn a commission if you click through and make a purchase. Our independent journalism is not influenced by any advertiser or commercial initiative unless it is clearly marked as sponsored content. As travel products change, please be sure to reconfirm all details and stay up to date with current events to ensure a safe and successful trip.
---