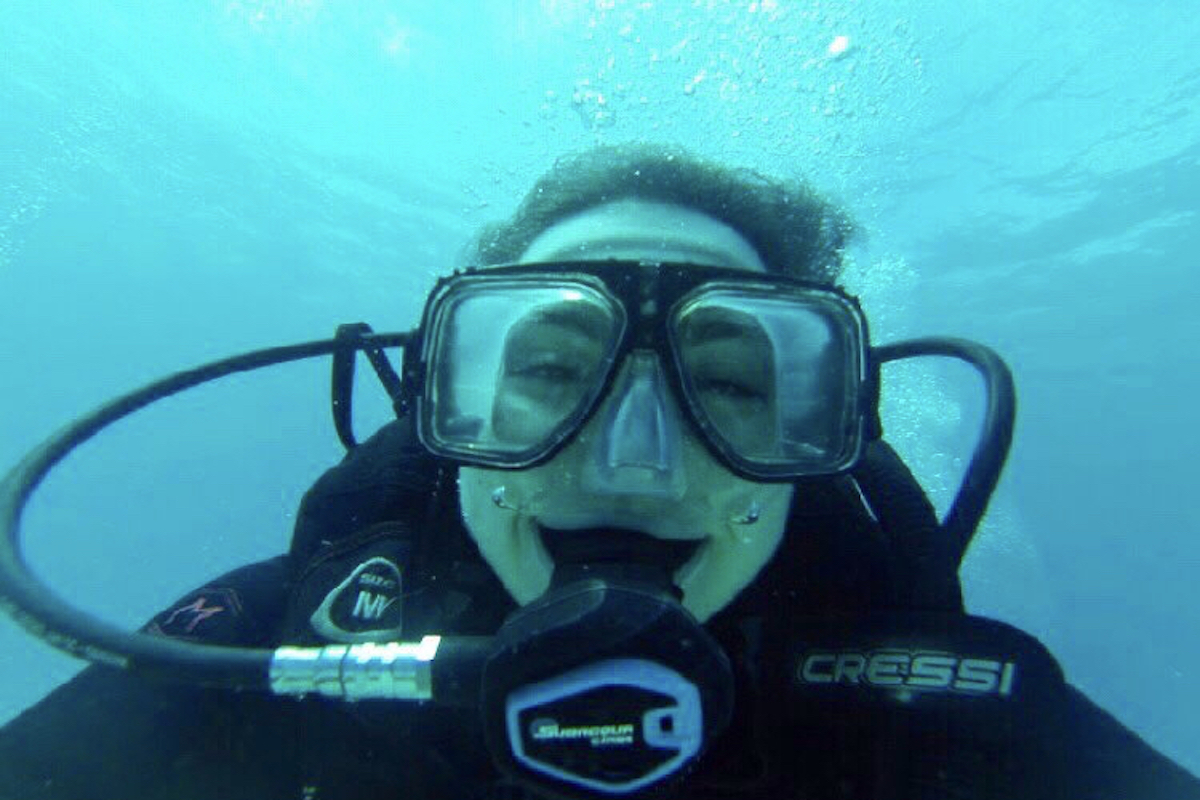 ---
Imagine that you're in the ocean, effortlessly floating in the softly undulating waves, hearing nothing but each and every one of your own, deep breaths, loudly but with rhythm, like a metronome in a quiet room. You look straight ahead, you can only see for about a hundred feet, but you know that behind those hundred feet there are miles and miles of deep, blue sea. There's coral to your left and seaweed to your right, fish above you and octopus below. All around is pure and utter beauty– that's scuba diving.
The spring before my Sophomore year, my dad decided that my family was going to take a scuba diving trip to Cozumel, Mexico over the summer. I was not a happy camper. My pessimistic attitude surrounding scuba went against my try-anything-once policy; however, the ocean was something that absolutely terrified me, something that wanted nothing to do with me nor I with it. As much as I wanted to get excited about this trip, I was seemingly unable to get past the mental block I'd built up in my head. I'd reluctantly began studying, passed my written certification test, and began pool training, which softened me to the idea of scuba diving. We suited up, BCDs and all, and jumped in the swimming pool to practice rescue missions and safety precautions. My eyes were beginning to open to the magnificent world of scuba. Once the instructor deemed my sister and me ready, we packed the car and headed to Lake Pleasant, the only scuba diving spot in Arizona.
As terrified as I felt, I was determined to enjoy this excursion. As I submerged into the depths of Lake Pleasant, I was awestruck. Despite the water being so murky that you could barely see your hand in front of your face, it was still amazing to be able to sit calmly 40 feet underwater. Hearing yourself breathe and nothing else was the most relaxing feeling in the world– one that I don't believe can be replicated or simulated in any other way. After going through safety precautions and practicing ascending and descending, I was officially a certified scuba diver, ready to take on my first recreational dive.
We finally made it to Cozumel, and on our second day abroad, we ventured out on our first dive of the trip. Diving in Palancar Reef was even more enrapturing than diving in Lake Pleasant (for obvious reasons). You could see for what seemed like forever and the water was perfectly clear, unlike anything I'd ever seen before. Throughout the week, we swam through, over, and around numerous coral reefs filled with thousands of unique, beautiful creatures. Words cannot describe the feeling of wonder that diving brought me. Being underwater at depths around 70 or 80 feet for nearly an hour seemed like only a few minutes. The ocean offered so much joy and relaxation; it was unreal.
I've only been scuba diving a handful of times since my trip to Cozumel, but with every scuba adventure comes even more scuba memories. I find that diving is unmatched with any other feeling in the world. I look forward to the many diving trips that my future holds, and I am excited to explore the world one bubble at a time.
Dear Reader: This page may contain affiliate links which may earn a commission if you click through and make a purchase. Our independent journalism is not influenced by any advertiser or commercial initiative unless it is clearly marked as sponsored content. As travel products change, please be sure to reconfirm all details and stay up to date with current events to ensure a safe and successful trip.
---