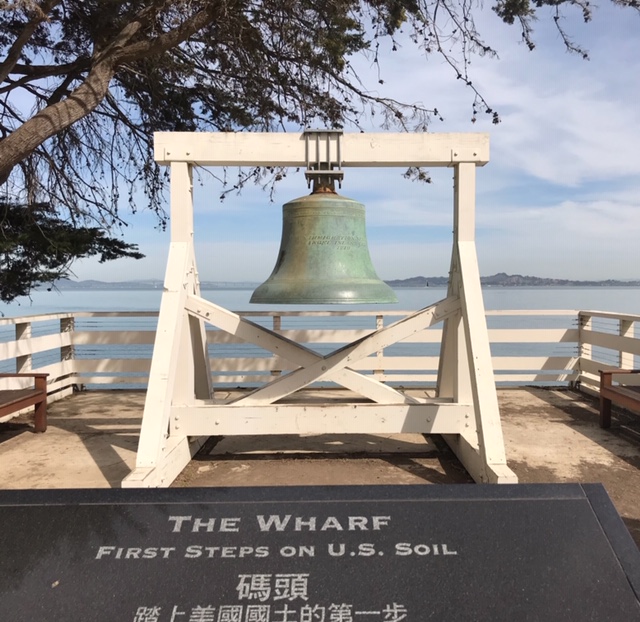 ---
Angel Island was lush, green and beautiful. A typical vacation spot, obscured by forests which resembled the Amazon Jungle. The Golden Gate Bridge overlooked the tiny speck of paradise. However, it had a complicated history. Along with being a modern fairytale island, Angel Island was the immigration point for Asian immigrants. An "Ellis Island of the West." But unlike Ellis Island, which allowed millions of immigrants to America, Angel Island was designed to keep the immigrants out. They were held there in inhumane quarters; families were separated and racism was rampant. As a relief, Chinese immigrants carved poems on the wall, a picture of their never ending suffering. Many were not cleared to go to America and thousands were sent back to their homelands in shame. It was a history filled with misery.
I stumbled on this little piece of pain doing a research topic for school. Eventually, I thought it'd be a good idea to visit the island and gather even more research. Learning of the poems of agony, I knew that seeing the poems etched on the walls would allow me to understand and empathize.
We flew to San Francisco and took a boat to this minuscule hidden island (it had a 1 mile area). Most of the tourists on the boat were heading to Alcatraz Island; it was much more famous and had an appealing history. However, as we got nearer to Angel Island, we could see how much more intimidating it was compared to Alcatraz.
The island had a cafeteria, a detention center and the barracks. Snaking through all of the buildings were hidden footpaths with mint green vines. We visited the cafeteria first, noting that it was musty, dark and wooden. The detention center was also not a cheery place; there, the immigrants had been questioned extensively for their eligibility to come into the United States. Officers were racist and greedy. But the barracks were the most impactful for me. I saw the words of pain, loneliness and depression stitched on the wall. The broken people carving their simple words of advice for the next group of hopeless immigrants. One of the most defined poems was beautiful. Written in Chinese, I needed my dad's help in translating. It read simply,
Crossing the faraway ocean to arrive in America,
Leaving behind my hometown, family and friends–
Who would have expected to be stranded in a wooden building,
Not knowing when I can hold my head up with pride?
It was descriptive of what many immigrants felt; hopeless, their pride wretched out of their flesh, their bones stripped bare of any human dignity. Staring at the simple carvings written by stone, I was amazed at the treatment that America gave its immigrants.
The immigration officials had tried to cover the poems, but to no avail, since the immigrants would only rise again and solidify their lasting legacy. They were beautiful, some just a couple of hasty yet haunted words, some a classic stanza of Chinese literature. Coupled with the pictures of the immigrants that I learned in my research, a vivid image of the people and their indignity here has stuck to me.
Since then, I have traveled to many places where immigrants were once held. I have been to Ellis Island and to the Statue of Liberty, a symbol of freedom for the immigrants. Though those places have hit me hard, Angel Island has filled me with empathy for those Chinese immigrants. Through their simple words, they have created a bridge of understanding for me to reflect on and attempt to understand their pain.
Dear Reader: This page may contain affiliate links which may earn a commission if you click through and make a purchase. Our independent journalism is not influenced by any advertiser or commercial initiative unless it is clearly marked as sponsored content. As travel products change, please be sure to reconfirm all details and stay up to date with current events to ensure a safe and successful trip.
---