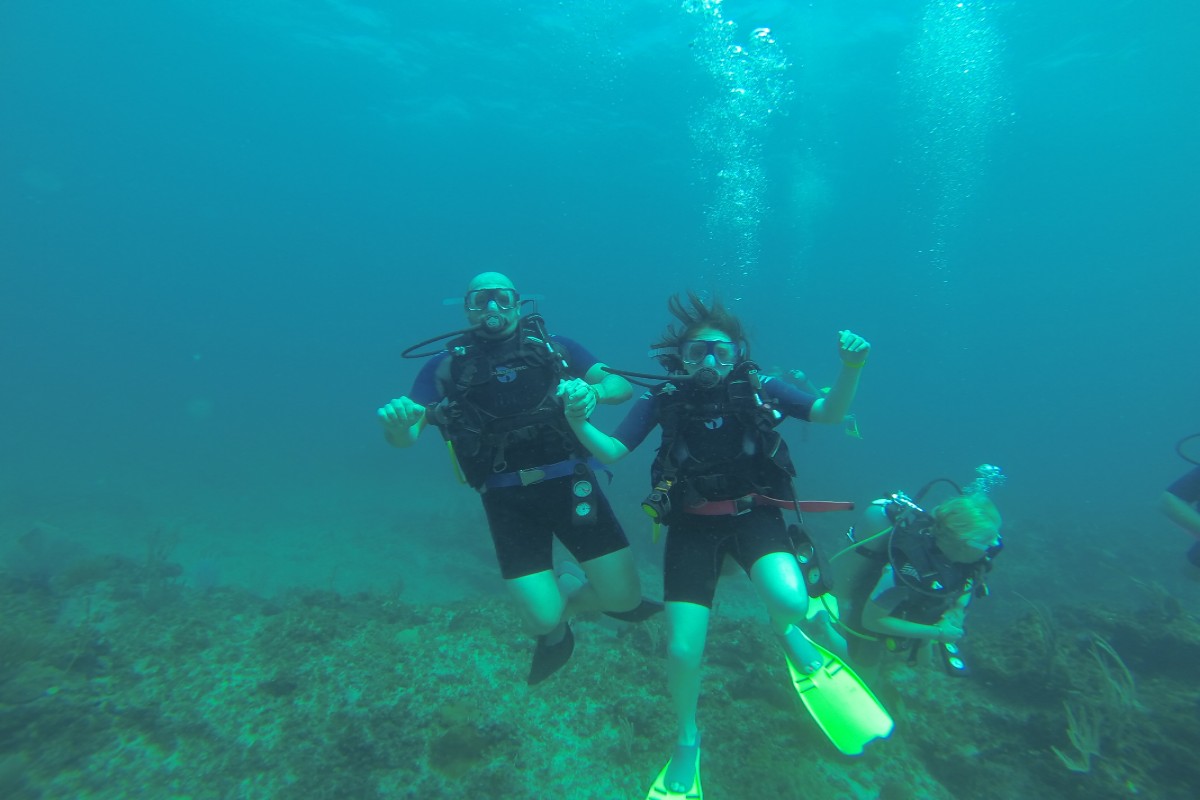 ---
I was staying at the Barcelo Bavaro Palace Deluxe Resort in the Dominican Republic. Since I had learned to scuba dive only three days ago, I was nervous and excited to go on my second dive. "What if there are sharks?" I worried, "What if I run out of air?" My dad assured me that I didn't have to go on the dive if I didn't want to, but I knew that I had to face my fears. With that in mind, I began to prepare for the dive. I pulled on the damp wetsuit and slipped my arms through the mechanism holding my air tank. The warm water lapped at my ankles as I climbed onto the small dive boat. I put my scuba tank in the holster in the center of the boat and sat next to my dad. We sped off once the six other divers boarded the boat. On our way to the dive, we met our dive master, Kelvin. He told us that we would be diving at the dive site "El Parque" and that it would have a maximum depth of 38 feet, 19 feet deeper than my first dive. The wind whipped my face and the saltwater pierced my eyes as the small, makeshift dive boat cut through the waves. Suddenly, the boat crashed down as if it had been dropped 10 feet and hit the surface of the water with a loud splash.
My dad explained to me that as the boat went over a wave, it came crashing to the ocean below because there is nothing "after" a wave. As we kept going out, the waves became larger and more frequent, leading to louder and more uncomfortable "crashes." All I wanted was to be off of the boat, whether that meant I was back on land or underwater. The boat ride seemed to last forever, and after what felt like hours (but was actually more like 30 minutes), we arrived at El Parque. I put on my air tank and mask and put the regulator into my mouth all while the boat was rocking violently. I was told to swim to the front of the boat, where my dad and Kelvin would be waiting for me to begin our descent. Taking a deep breath, I held my mask and regulator in place and flipped backward into the warm, Caribbean water. I rose to the surface and looked around. The small boat seemed large when it was being controlled by the sea, thrashing around mere feet from me. I felt like I was going to be crushed by it! When I got to the bottom, it was beautiful. I saw colorful coral, pufferfish, and more. Many different types of vibrantly colored fish weaved through the coral, being pulled and pushed by the calming current. I felt so at home and realized that I had nothing to be nervous about. Before I knew it and before I wanted to, it was time to go back to the boat. I took one last look at the sea fans swaying along with the current, as if they were waving goodbye to me. Soon I felt the warm air on my face and knew I was at the surface. I was helped back onto the dive boat, and the boat ride back to our resort was smooth and fast.
Thanks to my experience in the Dominican Republic on my second dive, I know that sometimes, you have to face your fears in order to have an incredible, unforgettable experience.
Dear Reader: This page may contain affiliate links which may earn a commission if you click through and make a purchase. Our independent journalism is not influenced by any advertiser or commercial initiative unless it is clearly marked as sponsored content. As travel products change, please be sure to reconfirm all details and stay up to date with current events to ensure a safe and successful trip.
---