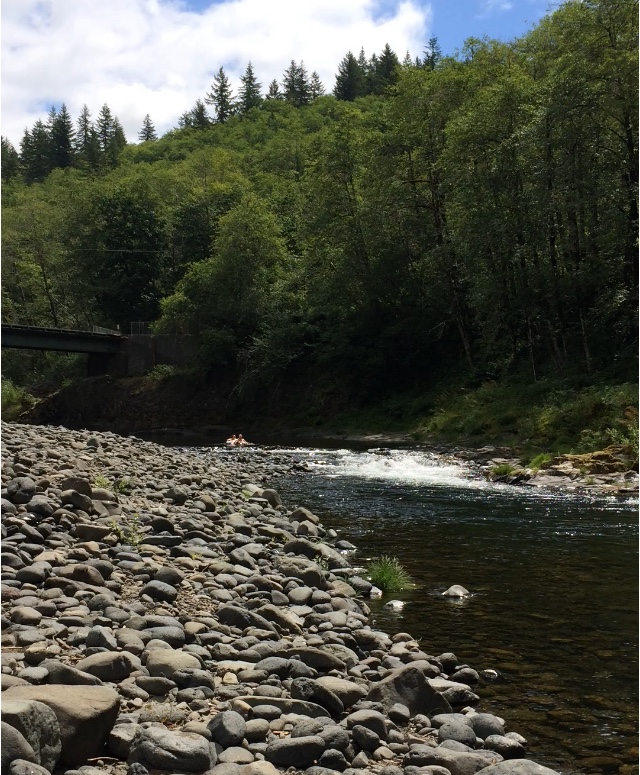 ---
My legs shake as I try to grip onto the slimy rocks beneath me. Each time I try to plant my foot down into the freezing cold water and onto a rock, my foot slips from the algae and my entire body is plummeted into the river.
"Come on," my best friend yells, "the current is pulling the raft away!"
My eyes widen in fear from the realization. The realization that if I don't get onto that raft soon, I'll get swept into the river rapids with no raft, something that could very much kill me.
For the first week of summer break, my friend and I wanted to do something we had never done before. When we heard about the insanely rocky and fast river rapids at Jones Creek, Oregon, we couldn't have driven over fast enough. I remember as we left for the river, my mom stopped me for a talk.
"Make sure to be careful on those rapids, Madaline," she lectured.
I rolled my eyes, bouncing back and forth on my feet, eager to leave. "I promise I will."
She gripped my shoulder. "I'm being serious. It takes one slip to fall off the raft, and if that happens, you could hit your head on the rocks and become unconscious."
As I play back the conversation, my stomach drops and my hands shake from anxiety. I was drifting closer to the rapids and I still wasn't on the raft.
I now dash through the water at a quicker pace but I never get close enough to the raft to get a good hold. The algae infested rocks kept making me slip.
With only a few seconds to spare, I realize that I have no other choice but to just jump towards the raft, praying that I can grab onto the raft with more ease with the added leverage. When I leap from the water, my heart races as I frantically grab for the raft. My whole body was numb from falling into the water so many times that my hands were too weak to hold onto the raft.
With all hope gone, I start to think to myself, 'This is it. This is my end.' But before I let go from the raft, two hands grip onto my wrists, pulling me out of the water.
"I'm not letting you go that easily," my friend snickered.
I smile knowing I was safe and on the raft, but the smile wore off in an instant as the raft entered the rapids. Neither of us were ready for the quick bumpy currents that swept us through the river. I scream as a huge rapid tilts our raft sideways; and because I wasn't ready for the rapids, I never got a good hold onto the raft to secure myself for the ride.
And all it took was that one rapid to throw me back into the freezing, and now insanely fast, river.
The rapids slammed my body into rocks hiding beneath the current. Every time I tried to pull myself back onto the raft, I slipped and I fell back into the water and scraped my legs on the rocks. I close my eyes due to the fear of my head slamming into the rocks next. In fear of dying once and for all
As soon as I closed my eyes, however, I no longer felt the current pulling my body in every direction. When I opened my eyes, the raft was now in slow, open water and the rapids were far behind me, taking my fear of dying with it.
Dear Reader: This page may contain affiliate links which may earn a commission if you click through and make a purchase. Our independent journalism is not influenced by any advertiser or commercial initiative unless it is clearly marked as sponsored content. As travel products change, please be sure to reconfirm all details and stay up to date with current events to ensure a safe and successful trip.
---