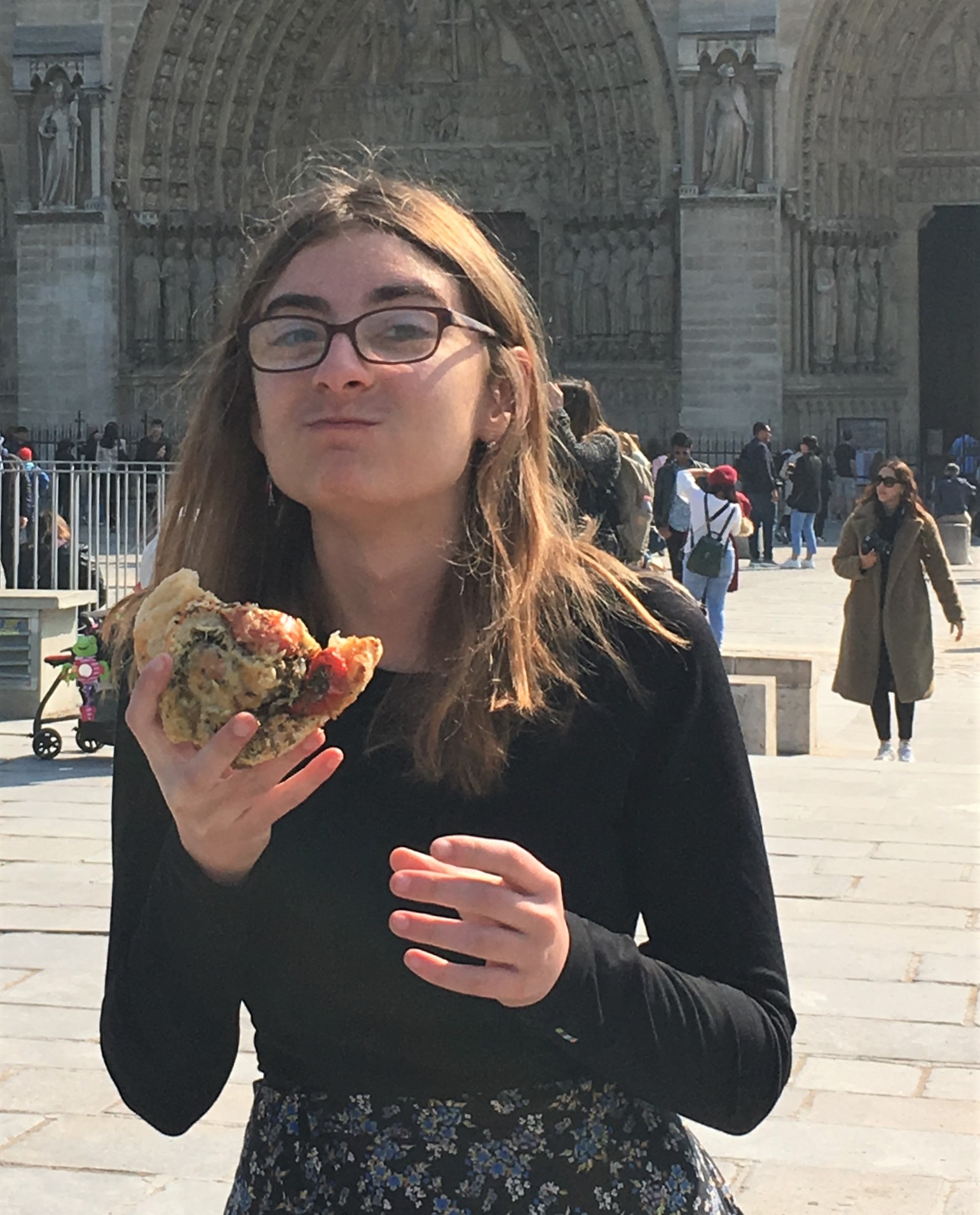 ---
This lunch may have taken place on the first of April, but it was no joke. No brief article, thousand page book, or number of sonnets can begin to describe the beauty of this experience, but it would be a sin to leave it undocumented.
As my friends and I wandered about Rue d'Arcole in Paris, searching for something to eat, we passed by several lovely looking patisseries and cafes. Our fate was not to stop in these though, but to go to one boulangerie, Huré, Créateur de Plaisir. On the surface, it was so forgettable that none of us even noticed this name. However, the wardrobe that led to Narnia did not look so special either. What matters is what lies within.
We heard the customers speaking french, so we decided to trust it. As I ordered, I did my best attempt to show off my french speaking skills. I was obviously not a convincing local, because the shopkeeper immediately asked, "Where are you from?" He gave me tips on improving my manners in France, and then he handed me the most delicious food of my life.
I could smell it as I held it in my hands. It smelled like ripe tomato and some mysterious herb. It was excruciating to restrain myself from tasting it, while the three of us looked for a place to sit. Finally, we grew too impatient, and indulged. Our legs stopped working, and we plopped ourselves right on the curb by Notre Dame. There was no more talking.
I knew right then and there that I had peaked. That roule mozzerelle et tomate made me feel the purest and most exquisite pleasure of my entire life. I have never loved anyone or anything more than that roule. I could conjure a patronus with the memory of eating that roule. No award, no dance, not even my first kiss could compare to that roule. I wanted to cry.
About four and a half inches in diameter, it looked like the love child of a cheese pizza and a cinnamon roll. Its texture was soft and moist, but it still had a good bite to it. It was warm, but not so hot that I couldn't appreciate its flavors. There were incredibly few ingredients in it: mozzerella, tomato, herbs, and bread, but each flavor was bold enough to stand on its own. I could taste how fresh each component was. The simplicity of the roule did not take away from its quality, but added to it.
We ate slowly, to savor every bite, and our silence was only broken by spontaneous cursing and genuine moans of pleasure. I bought that roule as a girl, and finished it as a woman. When I was done, I kept its bag in my purse, so its smell might bring me back to that eternal, yet cruelly transient moment of perfect bliss.
Dear Reader: This page may contain affiliate links which may earn a commission if you click through and make a purchase. Our independent journalism is not influenced by any advertiser or commercial initiative unless it is clearly marked as sponsored content. As travel products change, please be sure to reconfirm all details and stay up to date with current events to ensure a safe and successful trip.
---