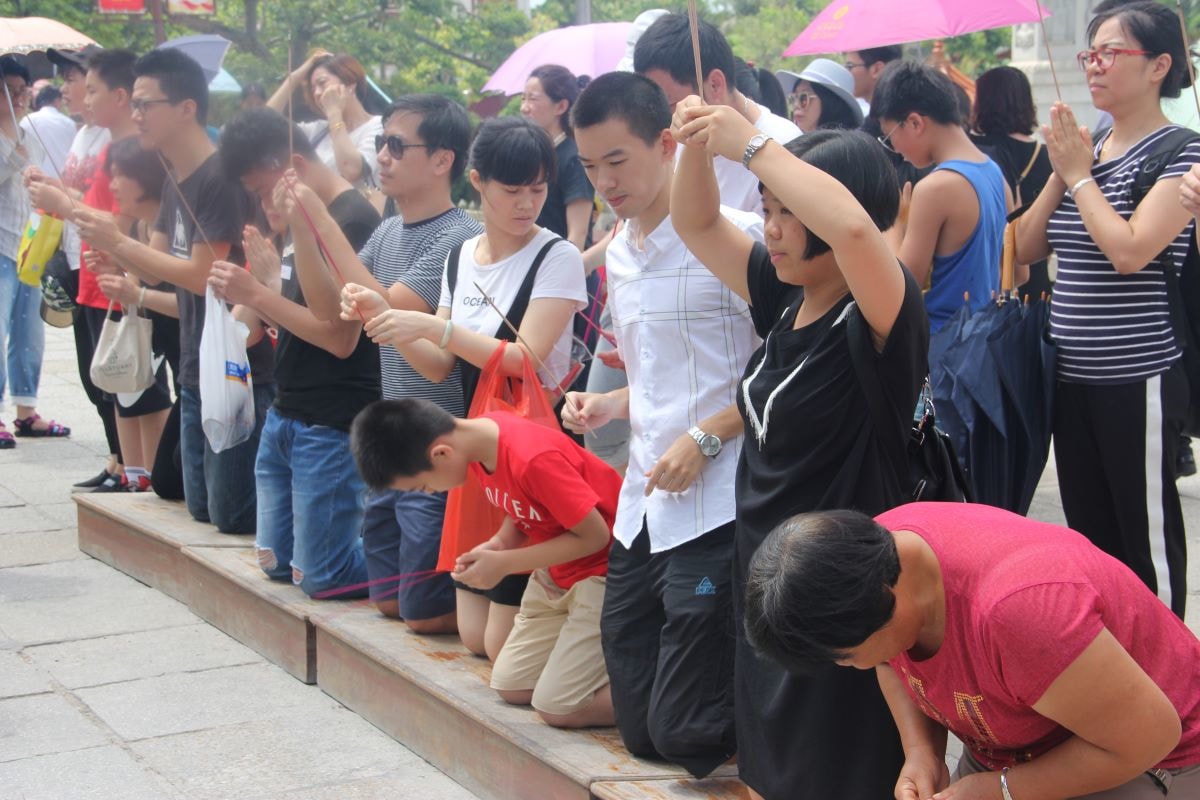 ---
A warm blanket of heat enveloped me as I clambered out of the group van. I had prepared for a fun school-organized trip to China, but hadn't prepared for these conditions. Sure, I had faced high temperatures before, coming from sunny Southern California, but Xiamen's sweltering heat still drew rivers of sweat from my forehead. Hot beads dripped down my neck as my group walked towards the towering arches of Xiamen's Nanputuo temple. For a second, I forgot the heat as I stepped before the 20 foot wooden doors looming in the entrance, open yet angled slightly inward, like they were threatening to close at any moment. As I walked through them, I understood the reason behind their intimidation: they were protecting the beauty inside.
Just past the entrance was a path leading around a large lotus pond, its glittering water full of green lily pads. Flowering trees and red-roofed pagodas lined the pathways, where tourists congregated for photo-ops. We made our way along the path before reaching a large temple with crowds of people forming around its base.
The crowds led us to a cart of smoking incense, and each of us grabbed a few sticks. I followed the visitors as they kneeled before the temple, bringing the burning incense to their foreheads, and bowing their heads down, focused in prayer. Woody scents of incense wafted above the heads of each prayer and into my nose. As I inhaled the smoke, I was transported back to my grandparents' house, where I was first familiarized with its distinct fragrance.
Ever since I can remember, incense has lain in the cupboards of my grandmother's home, waiting to be lit at the triannual family feasts. These feasts celebrate the lives of my deceased ancestors, and let me and my family communicate with them through prayer. Before gobbling down bowls of my grandmother's famous mi xào (fried noodles), the kids of the family line up, each grab a stick of burning incense, and pray to relatives for good fortune, health, and grades. Most of the time, these words of prayer are spoken in haste to allow a quick return to an unfinished bowl of food, an interrupted Youtube video, or a paused Minecraft game.
The same happens at the Vietnamese buddhist temples back home, where my family occasionally visits to pray to Buddha and other deities. Similarly, prayers here are a bit half-hearted. We kids don't mean to take these prayers lightly, but we have an inherent sense of detachment to them. Being American born Vietnamese comes with pressures to conform to Western culture, and we lose our connection to our roots. My siblings and I don't speak Vietnamese, so we don't understand the stories of Buddha preached by my parents' books, or the wishes of good fortune spoken by monks at the temple. The language and cultural barriers between our immigrant relatives and our americanized selves prevents us from connecting with religion the way they do. So it's hard to find the same passion in prayer as many of the adults around us.
But, when I heard the gentle whispers of prayers at NanPuTuo, I saw the world through their eyes. As I watched the people bow down to the temple, I saw their devotion, I understood it, and I found the beauty in their connection to their religion. Under the jade green rooftops of Xiamen's temples, I found a new spirituality, a new relationship with my culture, and a new understanding of my family. I had finally found the meaning behind worship. So I got on my knees, and I prayed.
Dear Reader: This page may contain affiliate links which may earn a commission if you click through and make a purchase. Our independent journalism is not influenced by any advertiser or commercial initiative unless it is clearly marked as sponsored content. As travel products change, please be sure to reconfirm all details and stay up to date with current events to ensure a safe and successful trip.
---