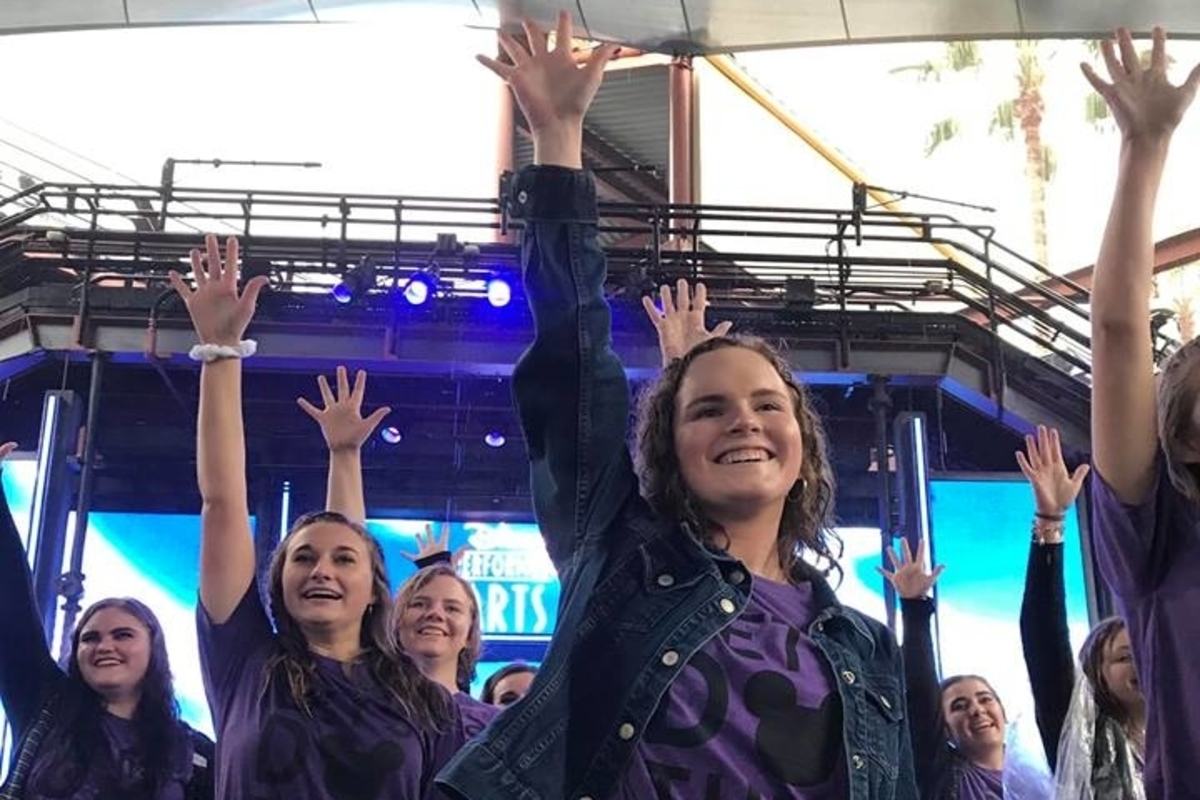 ---
It was late January 2019 when my heart thudded in unison with my landing airplane. As we touched down, I craned my neck, trying to catch a glimpse of any view there might be outside the window. Thanks to the red-eye flight, all I saw was blinking airport lights. Not exactly sunny California, but I didn't care. I was finally there. This was why I'd spent months working, saving, and waking up for way too many early morning rehearsals. In less than 24 hours, I would be in the happiest place on Earth.
Earlier in the school year, my performing arts group had been invited to perform on Disney's Hollywood Backlot stage, a stage dedicated to students. Thrilled, we'd spent months choreographing, writing, and rehearsing in preparation. The air in our hotel rooms the night we'd arrived buzzed with excited jitters.
Little did we know.
The forecast for the weekend was admittedly a little gloomy. Nothing could be done about it; this trip had been planned months in advance. It wasn't California's fault it was predicted to rain every day we were there. Being naive teenagers from the deserts of Utah, my colleagues and I were a little upset about the inclement weather, but nonetheless cheery. Forecasted rain in our hometown usually meant a few hours of light sprinkling – surely with how dry it was in California, it couldn't be much different.
What followed was a weekend wetter and chillier than anything my friends and I could have possibly prepared for. Imagine, if you will, a montage of me and my fellow actors doing our best to keep our youthful optimism as the following occurred: we were all forced to purchase multiple overpriced rain ponchos; we watched, open mouthed with horror, as employees literally swept water from the flooding sidewalks; we all huddled beneath a single picnic umbrella, doing our best to keep rain out of our soup; and we assembled every hair dryer we could find in the vain attempt to dry our only pairs of shoes before going back out and soaking them all over again. And that was just the first day.
And then the unimaginable happened. Due to the fact that the stage we were meant to perform on was outdoors and had been slicked by the rain, we were informed minutes before our scheduled performance that it had been canceled. All our hard work, costumes, props- the entire reason we'd made this trip- worthless. And they say a little water never hurt anybody.
And then, somehow, it got worse.
Our theatre teacher huddled us together after the devastating news to inform us that the show would, in fact, go on. What followed was a true train wreck of us singing and dancing without music, in our soaked clothes, all while squished within the few inches of wet cement between the stage and seats. Meanwhile, scarred patrons just trying to take cover from the rain looked on, probably pondering their own existence and what had brought them to that point as much as us performers were.
However, in the end, I'm happy to report that despite the rain, cold, and overall struggle and humiliation we all endured on this trip, my friends and I don't regret a thing. We ran through the puddles with smiles on our faces, we happily chowed on churros beneath shared umbrellas, and we snapped pictures despite the water on our camera lenses. And as we waved goodbye to the flooded California we left behind, we could all safely say: it was a trip we'd never forget.
Dear Reader: This page may contain affiliate links which may earn a commission if you click through and make a purchase. Our independent journalism is not influenced by any advertiser or commercial initiative unless it is clearly marked as sponsored content. As travel products change, please be sure to reconfirm all details and stay up to date with current events to ensure a safe and successful trip.
---