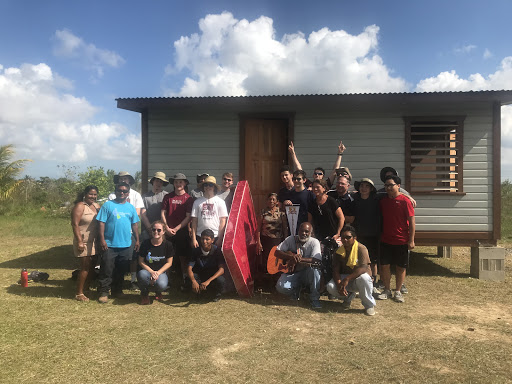 ---
We handed the key to Ms. Lyza, and she was elated with gratitude. Her broad smile is one that will stick with me for my entire life. During April vacation last year, I went on a school service trip to Belize City, Belize with other students to build a house for an elderly woman named Florence Lyza. She lived by herself in poverty. The trip was a welcome change of pace from the constant stimulation I encounter daily. It changed my perspective on my day-to-day life. I couldn't bring technology, which felt liberating, giving me more time to reflect and pay attention to my surroundings.
Belize's community was lively and communal. Everyone seemed to know each other, in contrast to my more disconnected home city, Boston. Many people there lived modestly, but everyone seemed content with what they had. What they didn't have that I had (e.g. television, video games) caused me to consider what I often take for granted. Something that stood out to me, however, was despite living with little, most of the people I met had the most recent smartphones. Our foreman in building the house, Beto, had a son who worked with us. Beto's son was around my age, and he had the newest iPhone, used Instagram, and liked to watch funny videos and soccer videos. This observation, along with my other interactions with the Belizean natives, helped me realize that we, as human beings, are more alike than we may initially believe.
Coupled with the heat of the scorching sun, building the house was some of the most physically intense work I've ever done, but never an inconvenience with my final goal in mind.
Ms. Lyza's previous house was dilapidated. The wooden stairs used to enter the house and the wood the house was made of were falling apart. A curtain served as a makeshift door, and rugs served as a bed and covers. Our work consisted of creating a wooden foundation, sawing, painting, nailing together, and raising the walls, as well as installing a roof and windows into the house. The day before we finished the house, I had a conversation with Ms. Lyza's daughter, Hermite, which made more of an impact on me than any other part of the trip. That day, Hermite painted the house with us, expressing her and her mother's deepest gratitude to all of us, and saying her mother had cried from happiness the previous afternoon. At that moment, I was overwhelmed by her emotions. This moment helped me reaffirm what I was doing this work for, making the entire trip worth it for me. I became a part of something bigger than myself.
The day after we finished building the house, we who had built the house and Ms. Lyza's family and friends convened to bless the house, which consisted of a prayer service, some songs, and the house key bestowing. Even today, I remember the look of childlike joy on Ms. Lyza's face. Seeing her gratitude, I felt grateful that I had the chance to participate in this trip. Gathering as a group to bless a home and witnessing the result of all of the effort put into it was profound to me. Two lessons I've learned from my experiences in Belize are to maximize my time with others and to be more grateful regarding what I have. I've always been a person who spends much time inside his head. Coming back from Belize, I've been more conscious about being present when interacting with others, and have gotten more out of my interactions with that mindset.
Dear Reader: This page may contain affiliate links which may earn a commission if you click through and make a purchase. Our independent journalism is not influenced by any advertiser or commercial initiative unless it is clearly marked as sponsored content. As travel products change, please be sure to reconfirm all details and stay up to date with current events to ensure a safe and successful trip.
---