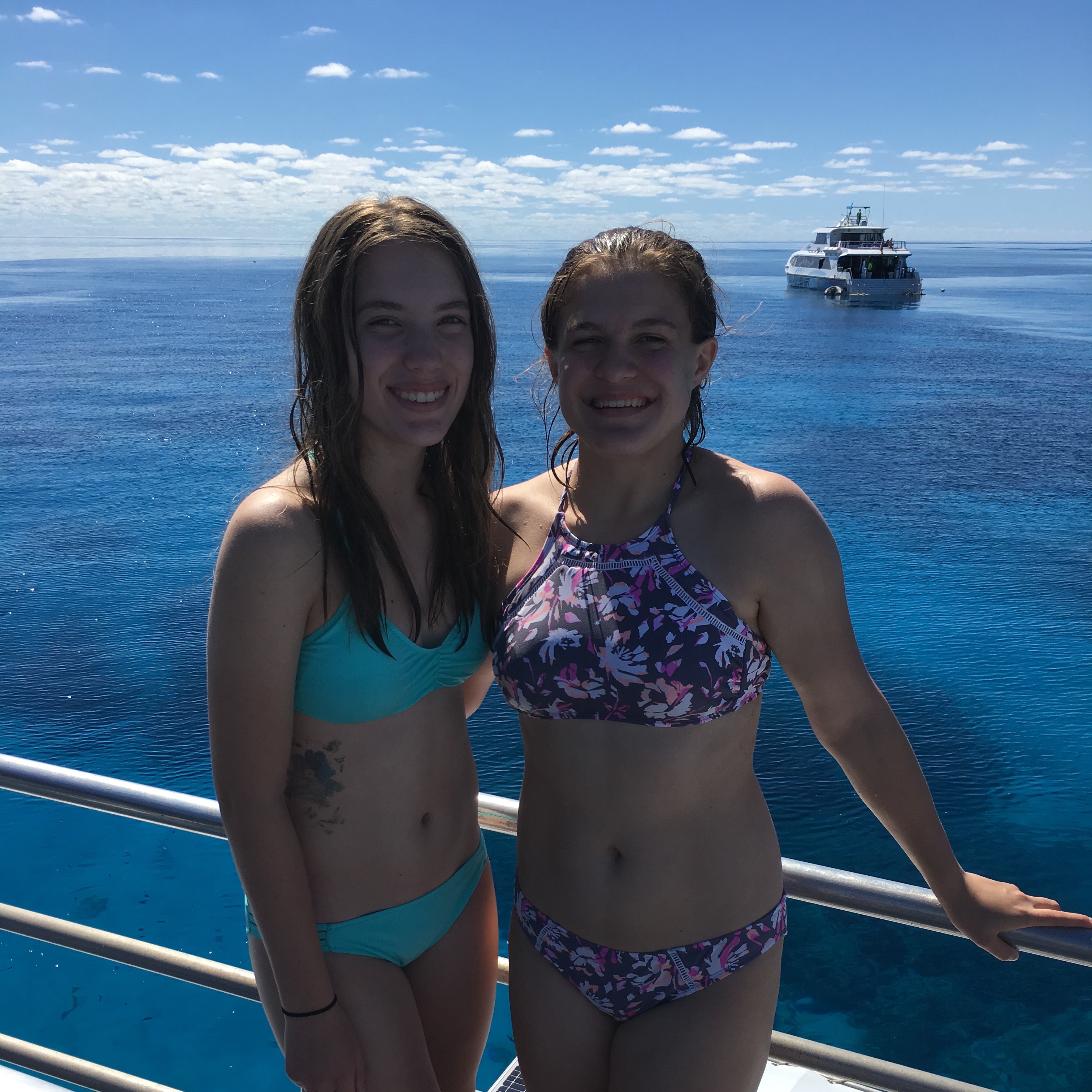 ---
As we stepped on the boat that would take us to the Great Barrier Reef, I was buzzing with excitement. My family and I had just arrived in Queensland, Australia and a new adventure awaited us. The sun was shining and the sky was clear; I had no idea what to expect, but was so happy I couldn't keep still.
During the boat ride my cousin and I gazed at the view. The water was crystal clear and a shade of greenish-blue that I had never seen before. In every direction, land was out of sight; for as far as we could see was the glistening ocean. Sprawled in front of us and reaching the horizon was shining turquoise spotted with shimmering deep blue water. The ride flew by as we marveled at the beauty.
When we started to slow down, I rushed to the edge of the boat. The water was so clear that I could see fish and coral as I looked from above. When I was called to get my snorkeling gear, I had to tear my eyes away from the amazing ecosystem. After getting ready, my cousin and I moved to the back. We quickly got dressed and hopped in. Floating blissfully in the warm water, we soaked in the sun before putting on our goggles to take a closer look at the world beneath us.
We quickly discovered that we were surrounded by beauty. My eyes were opened as I saw the wide variety of plants and animals. Immediately, I spotted a school of deep blue fish swimming near coral at the bottom of the ocean. The coral was colored with so many shades of pink, orange, and purple. As I looked around, I spotted two large sea turtles swimming past us. I immediately tapped my cousin and pointed. Their soft green skin and hard brown shells stood out against the clear water. We were mesmerized and gazed at them until they were out of sight.
I swam for over an hour, taking in the amazing view and ogling at animals I didn't know existed. We followed large yellow fish and tiny purple ones. The coral surrounding the ocean floor was magnificent. There were so many brightly colored hard and soft reefs. We could even hear fish nibbling at the bottom of the sea!
Afterwards, one of the guides took us to a secluded part of the reef. We saw more fish, coral, and even reef sharks! Although there were many colorful reefs, my eyes were drawn to some white ones on the bottom. The tour guide explained that these reefs were the result of reef bleaching, a growing problem caused by rising temperatures. My heart dropped when I heard that almost half of the reefs had become bleached. I couldn't imagine Earth being without this wonder, and the thought that future generations might not be able to experience this adventure was depressing. However, I learned that researchers have found coral reef eggs in some bleached reefs, proving they can come back to life! We continued to swim a while longer and eventually returned back to where we started.
When I hopped back on the boat, the tour guides asked how my experience was and all I could do was smile. I couldn't find the words to describe how in awe I was. I took off my gear and returned to my seat. Looking out at the water, the same saltwater I've seen on the beaches of Bora Bora, the fact that all oceans are connected is something I've always found incredible in my travel.
Dear Reader: This page may contain affiliate links which may earn a commission if you click through and make a purchase. Our independent journalism is not influenced by any advertiser or commercial initiative unless it is clearly marked as sponsored content. As travel products change, please be sure to reconfirm all details and stay up to date with current events to ensure a safe and successful trip.
---