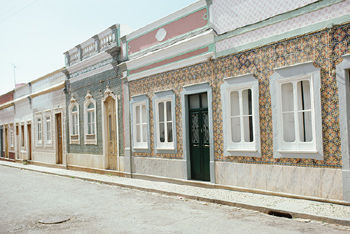 Finally, after six hours on the airplane, we are now landing. My family and I take our first footsteps in another country! Unfortunately, there is still another five to six hour drive to get to the little town in Portugal where my mother was born. I am very ecstatic because this is the third time in my life I have been here on vacation and every time I am here, I learn and experience new things that I cherish and won't trade for anything else.
In the car with my headphones on my ears and the music blasting, I am ready for the long drive. I notice the looks on my parent's faces and I can tell they are glad to be back here in their homeland where they haven't seen family members and old friends for a long time. I too have made friends in the village we always stay at that I am anxiously waiting to see.
After a few hours of driving, my father pulls over to a rest area for some food and just to stretch our muscles that have been crammed in our rental car. As we get some nourishment, I express to my father that the worst part of being here is the driving. Unlike America, automatic cars are very rare there because everyone drives a standard.
My father doesn't drive a standard, though he has before in the past. When we stop on a hill, our car rolls back about ten feet before we move forward one inch, so I fear that we will hit something. Also, to get to our destination, we have to climb steep mountains that I am afraid to fall off of and I get nauseous because it's basically hours of going in circles.
Luckily, that is my only worry on this vacation. After the long discussion about this subject, my father's response is, 'Don't worry, I have been driving for 38 years now, I know how to drive.' Back on the road again, I glance out the window to see acres of beautiful trees with large pinecones on them, farmers walking their cows and wild chickens running loose. This scenery is beautiful and I wish I could just paint a picture of it.
I love the culture here and how the citizens live their lives. From previous years I have been to Portugal, I learned that people here don't take the things they have for granted because they don't have much. After participating in feasts and experiencing their lifestyles, I have learned that their culture is extremely different than ours in the United States.
A huge smile crosses my face when I notice that we have reached our destination. It's around midnight now and I can barely see in the dark the small sign with the towns name on it. Driving down the dirt road and into the cobblestone streets, my father parks the car near the place we will be living in for the next three weeks.
We stay at my mother's house in this village where she used to live with her family when she was young, before she came to America. The house has been fixed a little since then, but it is still old and doesn't have much in it. Though it's not the biggest house and it has nothing in it but beds and a kitchen, it's a wonderful vacation home for me.
These three weeks have flown by fast. I have reunited with my friends I have made here, visited my family and participated in friendly soccer games. Usually when I leave for America again, I bring their customs with me and copy what they do because I get used to them. I am at my happiest state when I am down here because I feel at home.
This experience has been very meaningful for me because I get a taste of how my parents lived when they were young. Boarding the airplane to go back home again, I already can't wait for the next time that we will go to Portugal. There is still so much more for me to learn and experience that I can carry with me for the rest of my life. Going there for vacation has shown me that all cultures have different values, traditions, beliefs, religion and customs. All are special to the people living there and I feel privileged to have been able to be a part of them.
Dear Reader: This page may contain affiliate links which may earn a commission if you click through and make a purchase. Our independent journalism is not influenced by any advertiser or commercial initiative unless it is clearly marked as sponsored content. As travel products change, please be sure to reconfirm all details and stay up to date with current events to ensure a safe and successful trip.
---