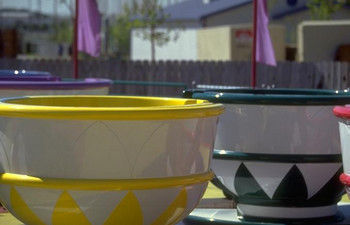 'CHEESE!' everyone yelled as the camera flashed. It was the fourth of July and my family was in California to visit our relatives and cousins. We were at one of my aunt's houses, celebrating Mai's, one of my cousins, TWENTY-FIRST birthday! All of the cameras were flashing every which way, nearly blinding me.
Since my sister and I had never been to Downtown Disney to see its fireworks show, Mai decided to take us there, along with another one of our cousins, Andy. The ride there was surprisingly quick. We got there at around 6:00 P.M., and the show did not start until 8:30 P.M.
The ride on the 'Lion King Cub' transit was really smooth and peaceful. When we reached the inside of Disneyland, we realized that we needed a camera, so we ended up going to different Disney stores searching for one. World of Disney, the biggest factory store there, was where we got ours.
We strolled around Downtown Disney taking care-free pictures during the two or so hours remaining. Boy, the time rocketed! At first we went to that place in Disneyland where every single letter of 'California Adventures' are carved as tall-teen-sized bricks in capital letters, and we posed as silly and as professionally as we could. Then we excitedly pranced to the strikingly fancy, huge, modern Disneyland Resort and took pictures there.
I swear no one would pass the entrance for the first time without getting mesmerized. There, instead of one of us taking the picture, we asked a stranger to take it of the four of us. We also asked him for the time; '8:15,' he answered.
It was finally time for the fourth of July fireworks. Hoping to get a good view of the show, we speed-walked to the place where it would be shown. When it started, cameras were clicking every few seconds.
I learned to admire fireworks outside from that day. They looked stunning. Seeing them in reality other than gazing at them from the television screen was spectacular.
The fireworks I had seen on T.V. in the past had looked amazing but seeing them for the first time outside was extremely breath-taking. One of the fireworks I remember taking a picture of was white and looked like a chandelier at one point.
Chandeliers are very fancy and gorgeous, and the color white made the 'chandelier' firework a classic. Some of the other ones were similar to that, first rising up really high and then soaring down; a couple others that I also thought were unique were the hearts and the outline of Mickey Mouse's face. I realized how crowded it was as the show ended. The four of us had to stagger hand-in-hand through the crowd to prevent us from getting separated. As we were walking to the exit, Mai exclaimed, 'This is the best birthday I have had in years!' I could tell that she meant what she had said, because her great attitude and ear-to-ear grin made it all too obvious. I thought about it for a second and knew that she had a point. We were having a blast. After all, there were no adults supervising us or little kids that would get our hands full. We took pictures yet again, as the 'Lion King Cub' transit transported us back to the parking lot. The last picture we took was of my sister and Andy who were sitting across from Mai and me. When we moseyed to the parking lot, I became aware that it was my family's last full day in California. A couple weeks after we were back in Mill Creek, Mai mailed us some of those pictures. Now, every time I open up my Disneyland album to look at them, I always think, 'this is as close as it will ever get to perfect.'
Dear Reader: This page may contain affiliate links which may earn a commission if you click through and make a purchase. Our independent journalism is not influenced by any advertiser or commercial initiative unless it is clearly marked as sponsored content. As travel products change, please be sure to reconfirm all details and stay up to date with current events to ensure a safe and successful trip.
---