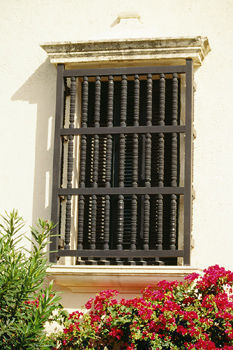 In December 20th of last year, I went with my family to my beautiful country, Cuba; presently thinking about it gets me agitated. I can just close my eyes and image myself been there. I had not been back to Cuba sense my family move to the United States seven years ago.
The trip over there was great I was kind of anxious to get on the plane, but I did it and everything when absolutely fine. When we got over there me and my brother could not stop smiling, what looked like a tank was a fire truck and what we call a work ban was an ambulance. So you can just picture me and my brother trying to figure what is what, it was funny.
When we went into the airport my uncle was there waiting for us to take us home. When we saw him we were so cheerful to see a family member, especially me, I was so happy to see my uncle. When we get into the car,' a Chevrolet from around the year 1950′, and it was smoking every where and it looked like it was about to break it was sort of scary.
I'm already used to here in the united states not having to worried about cars smoking all over the place and leaking oil all over the floor. When it comes to technology I don't think they know what that is in Cuba, unless you are high class. Well after three day of been in Cuba my brother and I rented a car.
On that car we went everywhere in Cuba I mean everywhere. First we went to the beach, the beach was so nice the water was so crystal clear I could see the fishes underwater with no problem, and the girls, I had never seen so many beautiful woman in my life. The sun and the water were in a perfect temperature.
After that we were going to rent an hotel and I was shock, my friend could not go in it because he was Cuban me and my brother were so mad, how can you live in Cuba and not be able to go inside the hotels that is unfair. So we left went home sleep, the next day my brother went his way and I went my so I was on my own today. So I decided to go to the country.
I was so nice I love it. I rode on a horse I saw my uncle milk a cow it was cool. That coolest thing about my uncles land is there is a river and in that river there is a waterfall, and there was like three rock that made like a triangle looking shape and when you sit in the middle it felt like been a Jacuzzi.
I slept that night in the country and the next day I went to that same uncle's beach house. When everybody saw me they went crazy of excitement talking about how much I had growing and how cute I looked, it was kind of embarrassing, but it was ok every body was very nice. My uncle's house has like ten rooms and a really big backyard.
I went fishing I caught about five fish they were big about 20 pounds each. Than I got sick from drinking some bad water, I was sick for about four days. Yea Christmas was not too good for me but there was a lot of people and food at the house so yea I gain some weight that day. When I finally got better I started visiting some museums, they were not as cool as the one in the here in the United States. Than December 31 at 12:00 everybody started partying and celebrating the new years now I had fun that day I was not sick. I got to see a lot of my family which I was glad to see.
Than the next day I was on my way back home so I stop by my uncle's farm first to pick up some milk and fruit. I got to eat some of the nice sweet juicy mango and some other fruits. I rode the horse for a little while; I almost felt it was so funny. Than we went home slept for a while than went out with my friends to the park took pictures and than went home. Than couple days later we were on or way back home to United States. I was glad to be back in a way, but than I was not at the same time. I am going to miss my family a lot, and yes the trip to Cuba was great, I had lots of fun, I got to see old family members and friends, I am hoping to go back when I get another chance. The trip to Cuba was definitely a d trip to remember I will never forget all the great times I had there.
Dear Reader: This page may contain affiliate links which may earn a commission if you click through and make a purchase. Our independent journalism is not influenced by any advertiser or commercial initiative unless it is clearly marked as sponsored content. As travel products change, please be sure to reconfirm all details and stay up to date with current events to ensure a safe and successful trip.
---