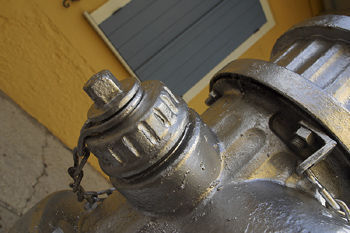 Going down to help with Katrina relief efforts was like nothing I have ever done before. You hear of these events in the news and at first you feel horrible and maybe even want to do something. A little time will pass and you just move on not thinking much of it anymore. At least that's how I was before I went down there.
I arrived and everything was still so devastated. This is nine months after the storm hit and many of these houses that the people had lived in were a wreck. I even learned that bodies were still being found. I stayed in the town of Pearlington, Mississippi in a tent city. The house that my group and I worked on was what they called a 'fresh' house.
This meant that it still had to be mucked out. We arrived and the house had to be on 16-foot stilts. We walked inside the house and the water level mark was four or five feet up the wall.
The people in the town had told me that a 30-foot wave had crashed through the area I was in. The floor of the house was covered with muck from the seawater and mostly everything in the house was ruined. There was a very distinct stench that sat in the housed the hole time we worked on it.
We would go room by room moving the ruined objects from the house to the curb. Objects such as the fridge, couch, TV, and other things that were two heavy to carry down the stairs were thrown over the house's balcony. When a few of us were moving the fridge, the door came open and maggots came pouring out.
If you can imagine the smell of a fridge that has sat in 90+ degree weather for 9 months you can begin to understand what we had to deal with. After two days of working on the house we were able to clear out all five rooms, rip up the floors and knock out the rotted portion of the walls. Yes, we met our goal and had the house ready for rebuilding during the two long days that we were there.
Ever since that trip, it has constantly been on my mind that there are still parts of Louisiana and Mississippi that haven't been helped yet. And I probably wouldn't have been one of the ones that helped either if I hadn't been presented with such a great opportunity. I wish there were more ways I could help people understand the gravity of the problem.
I have done local television interviews and written articles for the daily paper describing my experience. Each time I've stressed the importance of citizens volunteering their time and talents or sending contributions to the various organizations that are supporting the reconstruction. And, as I think about it I remained puzzled about why our government didn't respond more quickly with support when students like myself from another state did so.
Many thoughts and feelings surfaced as a result of this trip. Things such as the need for the respect for humanity — not to just sit back and watch something happen from a distance, but to act in some way when catastrophe strikes. I had tried to return to Pearlington on my own shortly after, but learned that I had to be eighteen to do so. I've made a commitment to myself to return as soon after my eighteenth birthday as possible and I have.
I have traveled down twice more. Once to Gulfport, Mississippi and then again to New Orleans, Louisiana. By working side-by-side with these people that were in need we became part of their lives, even though it was only for a short period of time. Our sweat and determination connected us with them and we helped in a way that is unexplainable.
Dear Reader: This page may contain affiliate links which may earn a commission if you click through and make a purchase. Our independent journalism is not influenced by any advertiser or commercial initiative unless it is clearly marked as sponsored content. As travel products change, please be sure to reconfirm all details and stay up to date with current events to ensure a safe and successful trip.
---