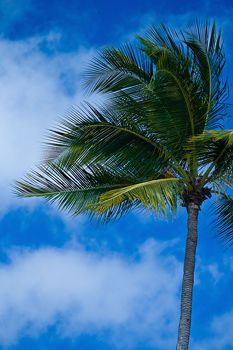 Tourists only see the Dominican Republic as a beautiful resort where everything is rich in beauty and nothing is out of place. In reality, most of the population is poor, jobless, uneducated, in need of healthcare, and lacking everyday essentials like food and clean water. I visited the Dominican Republic with my church as a medical missionary and teacher, and I realized it is nothing like how tourists see it.
We landed in the Dominican Republic, grabbed our bags and realized we were missing the one that was carrying some of the vitamins, antibiotics and pain killers we brought with us. The bag of medicine isn't worth much in the United States, but in the Dominican Republic it is worth its weight in gold.
When we arrived at the church, the first thing we needed to do was unload our luggage and supplies that were on the bus. We went one by one, struggling up the steep driveway and then the uneven stairs with our bags. Soon we realized that if we worked together as a team and formed a human chain, getting the luggage into the Church would be much easier and faster. This was our first lesson in teamwork.
Drips of sweat were pouring down our faces. When we were finished, all we wanted to do was take a shower and relax. But when we saw the adorable faces of the children, it made us forget about our own suffering. The eagerness in their expressions showed that they were glad we were there. They wanted to start learning and playing with us; we couldn't just sit there and relax.
Even though we were divided by the languages we spoke, we still had a great time getting to know one another. They taught us how to play some of their local games which are really creative in spite of the limited resources they have. Playing with them, watching their excited faces, and their appreciation made the whole trip worthwhile.
Every evening we had to prepare for the following day's work. If we were lucky, we had electricity for the night to give us light and the cool breeze from a fan. But most nights we had to work in the dark with the few flashlights we brought with us. We are very spoiled here in the United States and never think twice about all the conveniences we have.
This was a medical mission, so each night we had to divide up the countless pills to distribute to the local people. If we weren't dividing pills, we were preparing all the lessons and materials to be used for Vacation Bible School. One day, during our mission, we went to a garbage dump.
I had never seen anything like it in my life. Looking out the window of the bus, I was devastated. There were mountains of garbage as far as the eye could see. I saw scores of adults and children on top of those mountains. They were digging through the garbage looking for anything precious such as scraps of metal they could sell. They would use the little money they got in this way to buy food for their families. It was how they survived.
In the beginning, I didn't want to leave the bus because I felt secure where I was. By stepping out, I left my comfort zone. At the dump, I helped distribute food, clothes, and medicine to the people. Seeing the smiles on their faces was priceless. Not able to speak the same language with them was hard at times. But by showing love and spending time with them, I learned that making someone's day doesn't always involve money or material things.
When we reached the village where we would set up the material facilities, I was assigned to help out in the pharmacy. I needed to learn the different varieties of medicines and how to explain to the local people how and when to take them. Suddenly, I realized how important studying Spanish is in high school. Speaking as much of the language as possible, I struggled conversing with them. Luckily, most of them understood me and were extremely grateful for all the help we were providing.
Despite the language barrier, we had a week of Vacation Bible School where we taught in a little shack with about a hundred children crammed inside. As we sang songs and told stories, I saw so much joy in their faces. It was amazing watching these children having so much fun while having so little. Spending just a brief time with them doing arts and crafts could brighten up their day and make a difference in their lives.
During the two weeks in the Dominican Republic, we accomplished many things from a five day medical mission to a week of Vacation Bible School. Each morning we would wake up from the ear piercing noise of the roosters and motorcycles. By the end of our two weeks, this didn't bother me anymore. However, the lasting sounds in my mind are those of the children laughing and singing.
Dear Reader: This page may contain affiliate links which may earn a commission if you click through and make a purchase. Our independent journalism is not influenced by any advertiser or commercial initiative unless it is clearly marked as sponsored content. As travel products change, please be sure to reconfirm all details and stay up to date with current events to ensure a safe and successful trip.
---