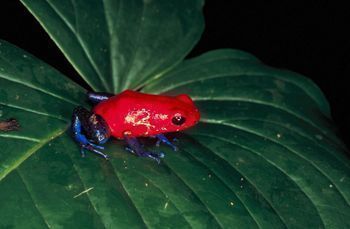 Recently, I ventured outside the United States, for the first time, on a trip to Costa Rica, where I experienced a way of life different from the ones I had encountered in my own nation. Walking through the streets of the country's largest city I saw men, women, and children young and old resting in courtyards and enjoying walks through the bustling streets. From my window at night I could hear the laughter and chatter from the streets below at all hours, never ceasing, always pulsating and full of life.
Rarely did I pass by a stranger who refused to smile in acknowledgement of the presence of another passerby, proud to represent his or her culture, heritage, and magnificently striking homeland. Unlike the cities I have lived in and been to in the United States, this city had calmness within the excitement that is almost indescribable.The city of San Jose was not the only place I encountered on my journey into this new world of wonderment; colorful regions and scenes portraying the extravagance of nature unfolded themselves like the petals of the orchid before me, lifting the veil that separated me from true realization. America's natural beauty was not something I felt unaccustomed to having traveled to more than half of the fifty states that make up my country, but nothing I had seen could have ever compared to Mother Nature's displays of creative perfection that enveloped me in Costa Rica.
Riding through the countryside, there were no roads or telephone poles, only the ever-extending blanket of natural glory. From the sapphire rolling hills and the light mist of the cloud forest to the pebbled beaches and the steaming hot springs, it was almost more than my senses could take in for my mind to process. Beyond the beauty of nature, I found, in these areas, a connection between man and nature foreign to me in such a raw and exquisite form.
With children bounding freely through the luxuriant pastures, and women rocking on their porches relaxing soaking in the sights, sounds, and feelings of nature through every tiny pore, it became easy to see the correlation between truly joyous love and the environment one lives in.Watching and analyzing the lives of these people so closely, I began to understand how living life is about leaving fears behind and climbing beyond the small barriers to exceed expectations and realize the potential that exists all around. As someone who spent her life with both feet on the ground afraid to venture outside of her comfort zone and try new things and build confidence through new experiences, I knew that making a change in the way I lived would be challenging, but I wanted to do it because of the lives I saw in this magical place. I no longer wanted to be tied down by my own self-imposed restraints.
Soaring high above the trees with the fresh air and light drops of jungle rain kissing my face on a zip line and swimming near the thunder of a cascading waterfall with fish tickling my legs, I finally felt true freedom.Life as I had known it was harsh and hurried, but in this new place, I discovered life was about so much more, and yet, so much less. Climbing the hills through lush forests, each new village, resting point along the journey, brought me more respect for the lives of the people I met there. I saw men, women, and children going about heir day to day all with songs of love in their hearts.
Even those who were traveling from one place to another seemed as though they had all the time in the world to get there, life was not in the form I had become accustomed to. In Costa Rica, I did not find a country more economically, technologically, or industrially developed, but I did find a country where people live their lives, and in them find the time to love not only each other but the world around them and all it has to offer. After making this trip and broadening my view of the world and the inhabitants within it, I found that it cannot be said for certain that being an American is synonymous with having and being the best, because everyone defines happiness and fortune in different ways and I found fortune in Costa Rica in the hearts of those who live and love life.
They call it 'Pura Vida.'
Dear Reader: This page may contain affiliate links which may earn a commission if you click through and make a purchase. Our independent journalism is not influenced by any advertiser or commercial initiative unless it is clearly marked as sponsored content. As travel products change, please be sure to reconfirm all details and stay up to date with current events to ensure a safe and successful trip.
---