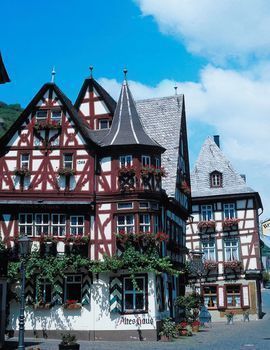 My freshman year of high school I went on a school trip to Germany, Austria, and Switzerland. It was amazing! I loved being surrounded by a culture so different from my own. The buildings there are all so unique and beautiful, you can really tell that they were built centuries ago, so unlike anything here in America.
The people were very kind and surprisingly most of them spoke English along with German and a lot of times Spanish as well. The first town we visited was Rothenburg, Germany. It was unlike anything I've ever seen before.
The town itself was so quaint — there were cobblestone streets and beautifully painted storefronts. This town was so old that there were battlements surrounding it, where the soldiers would stand watch for attacks. After that we went to Munich, Germany.
The buildings and streets of Munich are so old-fashioned and unique. There was street after street of shops, old buildings, and museams that you could tour, as well as an outdoor market to buy food. While we were there we actually visited Hitler's headquarters and even saw the desk he used to sign a bill putting more restrictions on the Jews.
It truly made things hit home for me. Normally we hear about the Holocaust and say 'That's terrible!' but it never really sunk in for me until that day when we also visited the concentration camp of Dachau. We were there in March so there was still snow on the ground making it seem such a solemn and lonely place. Seeing the barracks where so many men and women suffered so greatly gave me such a heavy heart.
After that day we definately needed some light thoughts, the next city we visited was Insbruk, Austria. The countryside of Austira was beautiful. I've never seen anything like it! It was just miles and miles of snowy hills. We also visited many cathedrals on this trip. My favorite was the one in Insbruk.
The ceilings were amazing! I cannot fathom how it was made, but everything was so ornate and beautiful, simply walking inside gave me a sense of peace. After Austria we went to Lucerne, Switzerland to see the Alps. They were incredible! Words cannot describe the awe you feel staring up at something so amazing, it was truly humbling to think of a God big enough to create something so enormous! After spending a few hours there we traveled back to Germany though the Black Forest and also stopped in Heidelburg where they are famous for making Cukoo Clocks.
We watched a man make one, it was really cool to see all of the work that goes into such a thing, there were no machines, no massive factories, just a few men slowly builing something beautful to be enjoyed by many. After that town, we made our way back to Frankfurt to return home. It was truly an encredible once in a lifetime experience that I will never forget.
It taught me much about culture and gave me a sense of awe that there's so many incredible things out there that you'll never see if you stay in the four walls of your home.
Dear Reader: This page may contain affiliate links which may earn a commission if you click through and make a purchase. Our independent journalism is not influenced by any advertiser or commercial initiative unless it is clearly marked as sponsored content. As travel products change, please be sure to reconfirm all details and stay up to date with current events to ensure a safe and successful trip.
---