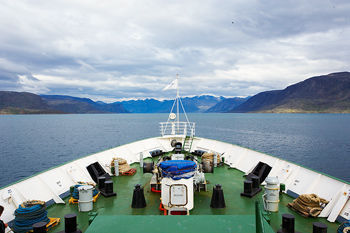 I had always dreamt of going on a magical vacation where I would find romance, adventure, and make memories that would last a life time. I wanted it to be something straight out of a movie — pure 'Mary-Kate and Ashley movie' fluff. Never did I imagine that this dream could actually come true.
I went on a cruise over spring break this past year. My father's entire side of the family went to celebrate my grandparents' fiftieth wedding anniversary. I imagined it would be filled with beautiful scenery, relaxing afternoons, and fun-filled excursions that would remain engrained in my mind forever.
I still had the idea of love and connection in the back of my mind but, as always, I never gave it a second thought. When the day came to finally depart on the vacation of a lifetime, I was ecstatic. My cousin, Lauren, and I were hardly able to contain our excitement. We had to endure the standard life boat drill before departure, followed by an hour of unpacking, but we eventually got to explore the ship.
That night Lauren and I went to the teen club aboard the ship to try and meet new people. That was when I saw him. Across the room, I spotted a tall, gorgeous guy who I had to meet. I quickly crossed the room and I did something I never thought I would do — I introduced myself to an absolutely breath taking stranger. The breath-taking stranger's name was Grant and he was from Virginia.
We hit it off immediately. We talked the whole night, not paying any attention to anyone else in the room. That night as Lauren and I went back to our stateroom, I realized something spectacular — my teen-dream vacation was finally coming true.
Halfway through the trip my dream was brought back to reality. One night after dinner, Lauren and I were going to watch the after dinner show when I saw Grant walking down the hall. I called his name and he turned to look, but did not stop or even acknowledge that he knew me.
I thought this was extremely odd considering how close we had become over the past days, but I figured he just did not recognize me. After the show, Lauren and I went to the club to hang out with our friends. On the way I saw Grant again. This time he was walking the opposite direction, holding hands with another girl. I was really confused. What happened to my dream vacation? That night I went to sleep confused. My dream had been crushed in a moment by a single boy.
The next day Lauren could tell I was hurt. She gave me the best advice I received that whole trip. Get him back. I did not want to hurt him. All I wanted to do was to make him think that I did not care.
That night I went to the club as usual, but I did something I had only done once before in my life. I introduced myself to a gorgeous stranger. This time I did not waste any time trying to build a 'love connection.' I simply asked him his name and if he wanted to dance. When he gave me my two answers, Mike and yes, I led him to the middle of the dance floor where I had seen Grant dancing moments before.
As I danced with Mike I glanced over my shoulder at Grant to see if he had noticed me. Sure enough he was staring straight at me with a confused look on his face. I then smiled as if to say, 'Looks like you're not that great after all.' The cruise was my dream vacation. Everything ever hoped for came true. I made friends, memories, and experienced the indescribable. Grant did not ruin my trip. He simply made me see that my dreams do not have to involve a boy because they only mess thing up.
Dear Reader: This page may contain affiliate links which may earn a commission if you click through and make a purchase. Our independent journalism is not influenced by any advertiser or commercial initiative unless it is clearly marked as sponsored content. As travel products change, please be sure to reconfirm all details and stay up to date with current events to ensure a safe and successful trip.
---