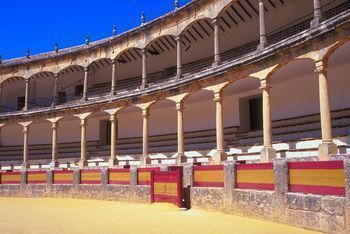 A tall blonde woman wearing a black skirt with stilettos was speaking Spanish into her cell phone faster than I have ever heard anyone speak before in my entire life. She walked at a very fast pace past my aunt and I in Madrid Airport. We had not even been in Spain for more than five minutes and we were already completely lost. My eyes met my aunt's eyes and there was an understanding between us that could be comprehended in any language: confusion.
I had taken four years of Spanish in high school, but I did not comprehend a single word that the tall blonde woman had said. My aunt was even more lost than I was; she does not speak a single word of Spanish. Luckily, this was a school trip and there were two fluent Spanish speaking teachers with us.
The first three days of our trip were quite similar to this moment in the airport. Whenever we entered a store, a museum, or a restaurant someone would greet us with an 'hola' and then continue to spit words at us so quickly that I probably would not have understood even if they were in English.
My aunt and I desperately wanted to buy souvenirs and gifts for everyone we knew because it was our first time in Europe. We quickly learned that this would not be an easy task. When we had free time on the second night, we ventured out of our hotel to the stores down the street. I immediately spotted shoes that I just 'had to have' because they were from Spain and I knew I would not be able to find these shoes in America. After realizing that European shoe sizes are very different from American shoe sizes, I tried to ask for my size in Spanish.
As soon as I opened my mouth, how to say every number in Spanish had completely escaped my mind. I stood there and stupidly asked for my size in English holding my hand up to make the numbers out in my hand. I felt foolish asking for the shoes this way but the man seemed to understand.
After our third day of being in Spain, I was gaining confidence. The Spanish I learned over the four years I had taken it came back to me quickly. I was starting to understand what people were saying to me in the stores and museums. I even had an entire conversation with a Spanish woman about a silver necklace I was wearing.
The trip became more relaxed and I was able to enjoy all the beautiful sights this country had to offer. There were so many mountains, which I had not known prior to this trip. Spain is the second most mountainous country in Europe.
I soon realized it was one of the most beautiful places I would ever see in my entire life. There were thousands and thousands of rows of olive trees decorating the hills and mountains on the sides of freeways. Even though it was April and the temperature was well above 80 degrees, snow covered the tops of these mountains making it even more beautiful to look at.
The grass was so green and the sky was so blue that it was hard to understand how these natural colors could be so vivid and beautiful. Perhaps the most beautiful sight was in Torremolinos on the Southern coast of Spain. This small city overlooks the very blue Mediterranean Sea. There were thousands of white and pink houses overlooking the sea near our hotel. This was a view that can not be found on any coastline in America.
The culture in Spain is also very different from the culture in America. While watching a bull fight in Sevilla, I knew that if this was in America it would be shut down immediately because many Americans would have protested that it was 'cruelty towards animals.' However, looking at the bull fight from a Spanish point of view, it is not 'cruel.'
While at the bull fight, a Spanish man who was sitting near me, my aunt, and one of my friends, told us about how bull fights are not considered cruel in Spain. The man even seemed offended when the word 'cruel' was mentioned in the same sentence as bull fight. He explained that the people of Spain love the bull and that bull fighting has been such a huge part of Spanish culture for many years that most people would feel lost if bull fighting was banished.
While the bull fight was occurring, it was hard not to notice the silence in the stadium. I expected people to clap and be shouting 'ole.' However, the entire stadium was filled with silence as the matador faced the bull. The only time there was cheering was when the bull was killed. I quickly realized that this was not a sport to the Spaniards, it was more of a spiritual bonding between man and beast.
After spending ten days in this beautiful country, I was sad when it was time to leave. I had seen over eight cities in the course of ten days, stretching from the Southern coast to the middle of Spain. I had seen mountains, castles, cathedrals, palaces, gardens, lakes, seas, museums, a bull fight, flamenco dancing, stores, restaurants, and so much more. I had experienced a new culture and had seen some unforgettable sights and shows. Traveling to Spain was the best experience of my life and I would not trade it for anything in the world.
Dear Reader: This page may contain affiliate links which may earn a commission if you click through and make a purchase. Our independent journalism is not influenced by any advertiser or commercial initiative unless it is clearly marked as sponsored content. As travel products change, please be sure to reconfirm all details and stay up to date with current events to ensure a safe and successful trip.
---