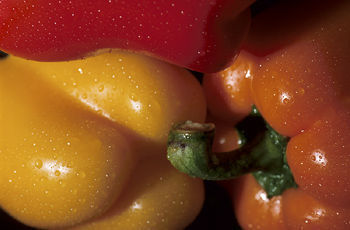 I began my vacation that summer in the damp, tropical lands of my parents. With no speed limit sign in sight, we sped eighty kilometers per hour down the earthy path inside the white Ambassador. After a long time of putting up with Malayalam music, I reached over and turned the ridged knob in hope of finding some kind of American music.
I slumped down in my seat frustrated. Soon enough, all the music lulled down and shrieks of static buzzed in my ears as rain began to affect the radio signals. After an hour of driving in the VW Beetle ripoff, my family and I finally reached our grandmother's house.
The itchy sensation of black peppers started to clear my sinuses with every step I walked closer to the front door. Ammachie opened the door and gave me her 'Ammachie kisses' by coming near to my cheek and breathing in slowly as if to get a whiff of my scent. When dinnertime arrived, a colorful parade of steamy dishes sat on the table.
Sadly, none of the dishes were t-bone steaks or mashed potatoes. Instead of flaky parottas, throat-burning chicken curry, and crunchy anchovies, I argued my way into chowing down a bowl of Easy Mac. Squeaks from the ceiling fan and crackling cocks of the early bird rooster tried to wake me up in the morning, but I still curled up underneath the sheets.
Nonstop hissings coming from the frying pan in the kitchen forced me awake. I tried many times to play around in the rugged yard, but the burden of my plastered left arm scribbled with a rainbow of 'get well' signatures had me officially 'handicapped.' Like a pirate hunting for Black Beard's lost treasure, I searched the house for anything electronic. Nothing around the house had helped pass by the time until I spotted my future best pal: the TV.
Ignoring every relative that came from faraway cities to see us, I rested my cast on a pillow and made friends with Scooby Doo. Often I saw Ammachie roll her baggy eyes and mumble under her breath as I stared at the glowing TV. Eventually, Amma brought me along with her to the markets to get me away from my TV addiction.
The burning exhaust of gas filled the air as our auto rickshaw weaved through oncoming traffic and parked in front of the pastry shop. A massive swarm of flies flew all over the pastries as we ordered. I followed the '5 seconds rule' and ignored the fact that flies have touched my food for hours.
When I came back to Ammachie's house I went to the backyard feeling like a spinning top. The awful smell of chicken funk made its blow and out came my breakfast and lunch. I puked seven times and as soon as I left the backyard the chickens swarmed in for their snack.
Feeling lightheaded, I drifted off and fell on the gritty marble floor. I woke up and found needles with IV stuck in my right arm. A nurse came in and gave me medication for food poisoning. Right away I got up and scuttled with the IV stand to the bathroom and remained there for the rest of the night. The clock rang at 8:15 a.m.
The next morning when Ammachie walked in carrying a small, whiskery basket. She said softly, 'These modern medications won't help you right away. Eat these herbs that I picked.' At that moment I didn't care what I took. After an hour and 15 minutes, I surprisingly had no diarrhea or pains. I looked at my smiling Ammachie and hugged her tightly. I turned off the TV and there sat with my Ammachie, side by side.
Dear Reader: This page may contain affiliate links which may earn a commission if you click through and make a purchase. Our independent journalism is not influenced by any advertiser or commercial initiative unless it is clearly marked as sponsored content. As travel products change, please be sure to reconfirm all details and stay up to date with current events to ensure a safe and successful trip.
---