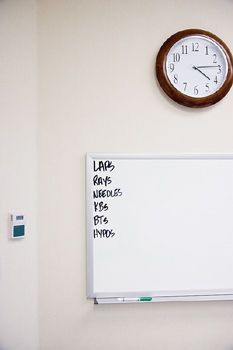 I watched her digging for her keys. My brother was already in the car; waiting. 'Visiting hours start soon,' I told my grandmother, my voice's hollow echo making me wish I had kept quiet.
A small jingle of metal told me she had found them. 'We'll get there soon enough,' she told me. I stood there for a moment, hating her for being so calm.
'How long will it take to get to the hospital?' These words were even more horribly quiet. I wanted to yell at everyone for not going faster. 'About an hour.' Why did they have to stick her so far away? There were hospitals ten minutes away, but they had to put MY mother in B.F.E.
I got in the car, the gray leather interior warm on my skin. How dare the sun be shining so happily today? Traitor. Gram pulled out onto the street.
The old car sputtered for a moment and then slowly picked up speed. Why wasn't she going faster? My arms were crossed over my chest. Why did I need to get there so fast? She wasn't in any kind of danger; she was probably sleeping.
Why did it matter? I didn't care that it shouldn't matter because at that moment, in that car with my silent family; it did matter. Well, it mattered to me anyway. My brother was playing a gameboy and my grandmother was humming a tune on the radio.
How dare they play a pretty tune on a day like this? The car stopped. I looked around, wondering what natural disaster could have caused the car to halt. Up ahead was a red traffic light.
Stupid light, didn't it know that I was in a hurry? The angry red stared back at me, as if in spite. We sat there for an eternity that even an immortal would consider drawn-out. It was a battle of wills between me and a machine.
What was I thinking? As I look back, I can't even tell you why I felt so ostracized. I do know that I was sweating. I know, a strange thing to mention, but it's more important than most would think. People sweat when they are hot and when they are nervous. Even though I was unaware of it at the time, my blood was boiling. My fingers were drumming madly against my leg. My feet were tapping a berserk tempo.
How naive I was throughout that drive. We had started traveling through farm country. I stared out the window at the passing grass. Even it was mocking me. I was leisurely growing longer, making the miles stretch on and on before me, knowing that if they just kept growing, I would never reach the hospital. I wanted to tear the tender vegetation by its roots and toss it in the faces of the cows that insisted on watching out passing car.
There it was.The hospital came into view. My heart started racing. No, it had already been racing, now it was tearing through itself, searching for the words I would eventually have to say to my mother. I jumped out of the car before it had even stopped. The sun glared down at me and the blacktop and I froze. I couldn't even breathe, knowing that in just minutes, I would have to face her.
Gram and my brother were headed for the front doors.'Coming?' The single word sent needles down my back. 'I'll be there in a minute.' Gram shrugged and continued on. What should I say? I now realized that I had never wanted to actually arrive here. On the inside, I had been thanking the traffic lights and the grass for slowing me down. If only I could have stayed in that parking lot, with the accusing sun beating down on my shoulders.
You have to go in, it told me, you have to apologize. But how could I? 'I'm sorry,' I whispered. 'I figured you would be asleep.' I remembered Gram telling me how sad mom had been that I didn't visit her. 'I didn't think you'd notice' —  It was then I realized that while the traffic lights and the sun and the pavement didn't care how long a car ride took, there was someone that did. Even if the radio stations didn't care who was in the hospital and who was visiting them, someone did. My feet began to move towards the doors. I'm sorry mom, I should have known.
Dear Reader: This page may contain affiliate links which may earn a commission if you click through and make a purchase. Our independent journalism is not influenced by any advertiser or commercial initiative unless it is clearly marked as sponsored content. As travel products change, please be sure to reconfirm all details and stay up to date with current events to ensure a safe and successful trip.
---