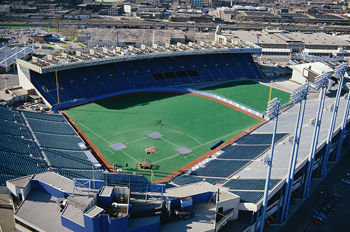 After a very delayed four hour plane ride, I finally arrived in St. Paul, Minnesota to be welcomed by my older sister, Mary. As we exited the airport, I was overwhelmed by the early June humidity that seemed to cling to me with my every movement.
I was disgusted and the car ride to Mary's apartment was not much better. Being from New Mexico, I am used to blue skies and open spaces. That day, however, Minnesota had dreary, gray skies and towering trees that were seemingly everywhere.
The trees caused a sense of claustrophobia that made me yearn for New Mexico's wide open space. I entered Mary's cozy, one bedroom apartment and was welcomed by Lucy, Mary's dog, and the sound of the 'American Idol' finale roaring from the television. When I entered, I was no longer disgusted, but found myself comfortable and at peace with my surroundings.
After staying up into the early morning catching up with Mary and making plans for my ten-day trip, I fell into a deep, much needed, sleep on Mary's brown leather, sunken-in coach. All of a sudden, my face felt wet and I woke up to find Lucy frantically licking my face in an attempt to communicate to me that she needed to go outside. I unwillingly got up and slipped on my flip-flops to take the dog outside.
On my way out, I glanced at the clock to find that it was already well into the afternoon. In a daze from being woken up so suddenly and in amazement that I slept so late, I took the dog outside. I left Mary's apartment complex and was welcomed by a blue sky and a beautiful lakeside view.
Seemingly overnight, Minnesota grew on me. Although my trip started when I got off the plane, it was in this moment that my vacation truly began. The following three days, we visited a series state parks that all consisted of lakes and towering trees.
We must have visited five parks, but the first that we visited stands out in my mind. White Bear Lake was a lake that formed a doughnut around a small island that was known to possess the most secluded gated community in all of St. Paul.
Being the nosy women that we are, Mary and I spontaneously rented a rowboat and paddled out to the legendary neighborhood. Upon arrival at the shore, we found that the high class community was nothing but a myth and that the island was completely uninhabited. Although I felt bitterness that I had paddled all that way for nothing, I felt a sense of pride in knowing that I had conquered an area had not yet been settled.
Although this feeling was short lived, it set my standards high for what I expected to see in Minnesota and only one other event met those standards — a baseball game. On a dull day, midway through my trip, Mary took me into downtown Minneapolis and surprised me with Twins tickets.
Being that the Twins are, and always will be, my favorite baseball team, I was ecstatic! We entered the stadium and were bombarded with the two things that are truly American… hot dogs and baseball. After eating multiple ballpark hot dogs and watching the Twins beat the White-Sox in the final inning, I took a moment to absorb the vastness of the stadium. The largeness of it reminded me of the open space of New Mexico and instilled in me a desire to be home.
Soon enough, I found myself packing my luggage and lying down on Mary's sunken-in coach for the last night of my trip. The following morning, Lucy woke me up by licking my face, just as she had in the beginning of my trip. It was time to go home. I kissed my sister good-bye and boarded the plane to be greeted by an overly happy flight attendant.
After eating some stale crackers and drinking a soda, I arrived home. I got off of the plane and was flooded by a dry heat that only exists in the Southwest. I suddenly had a new appreciation for the empty spaces and smiling faces of New Mexico that I had missed so much. It was good to be home.
Dear Reader: This page may contain affiliate links which may earn a commission if you click through and make a purchase. Our independent journalism is not influenced by any advertiser or commercial initiative unless it is clearly marked as sponsored content. As travel products change, please be sure to reconfirm all details and stay up to date with current events to ensure a safe and successful trip.
---